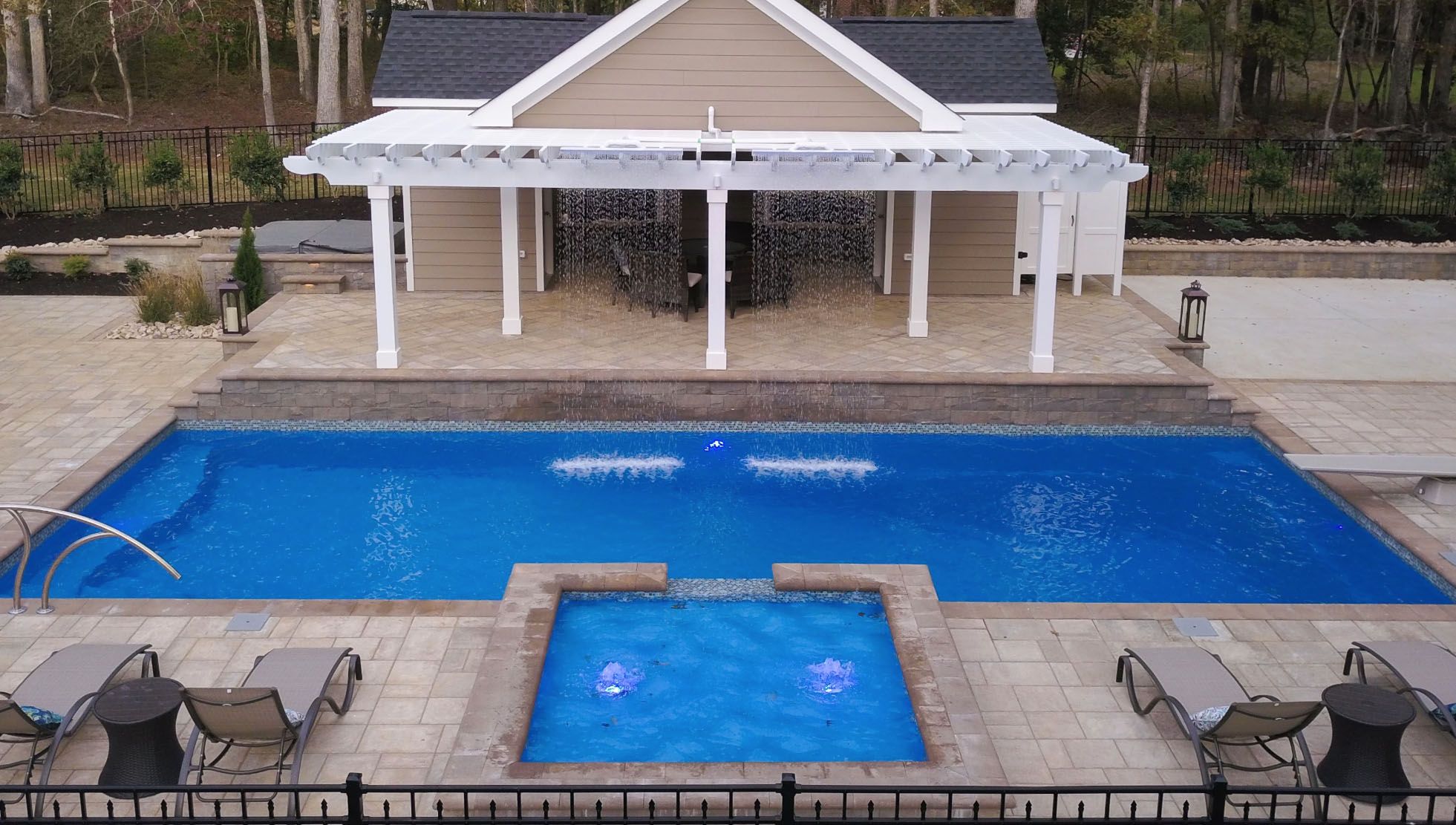 Subscribe
Large Fiberglass Pools FAQ: Cost, Designs, Pros and Cons
Fiberglass Pool Information | Cost and Pricing | Pool Design Guides
If you're shopping for an inground pool and if "go big or go home" is your motto, you probably want the largest swimming pool that you can afford.
At River Pools, we exclusively manufacture and install fiberglass swimming pools, so we know all about your pool size options and how they affect the price, installation, and long-term maintenance of your inground pool.
In this article, we'll share what we know about large fiberglass swimming pools, including sizes, designs, cost, installation, and more to help you decide if a large fiberglass pool is the right choice for your home.
What are the large fiberglass pool sizes?
While there are some size limits to think about when it comes to fiberglass pools (we do have to haul these things down the highway after all), fiberglass pools can actually be quite large. For the sake of simplicity, let's say that a large fiberglass swimming pool is anything bigger than 15x35 feet (about 21,500 gallons).
Because we do have to haul the swimming pool to your home, fiberglass pools are usually no wider than 16 feet. Any larger than this, and we would go beyond the oversize load limit, which would make it much harder to deliver the pool. Most fiberglass pools are also no longer than about 40 feet for similar reasons.
What large fiberglass pool shapes can I get?
Fiberglass pools come in all kinds of shapes, but overall, there are two main types to choose from:
Freeform

Rectangular (or linear)
Each type of pool shape has its advantages, especially when combined with a large area. Let's go over these two types of pool shapes in more detail and explain some of the pros and cons of each.
Large freeform fiberglass pools
Freeform pools are known for having organic curves that add more character to the landscape. They often do a great job of incorporating different activity zones as well. For example, our largest freeform fiberglass pool model comes with a tanning ledge, a spacious open interior, and a very large deep end bench.
C Series (16x35 and 16x40)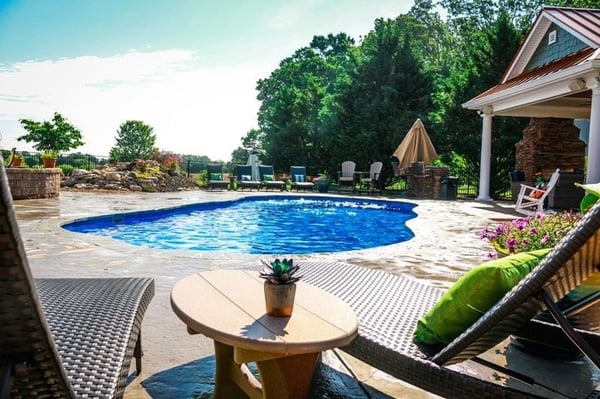 What are the advantages of choosing a freeform fiberglass pool? Mainly functional diversity and the ability to blend in really well with many types of landscaping and pool patios. The disadvantage is that they aren't automatic pool cover friendly.
Large linear fiberglass pools (rectangular)
Rectangular or linear pools are trendy among homeowners and can be just as versatile as freeform pools. Large rectangular fiberglass pools have the advantage of having a simple, minimalistic design, but they can also include a wide range of built-in features.
We have several large rectangular fiberglass pool models to offer as examples of what you can expect:
D Series (16x36 and 16x40)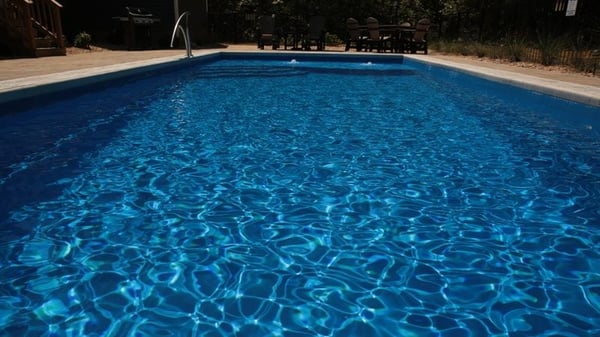 The D Series has a wide tanning ledge, deep end bench seats, and an open pool interior.
R Series (16x36 and 16x40)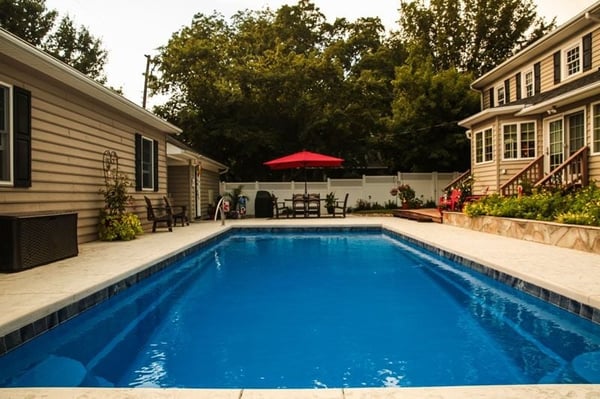 The R Series model has spacious shallow and deep end bench seating and an open pool interior that's perfect for fitness and play.
L Series (16x36)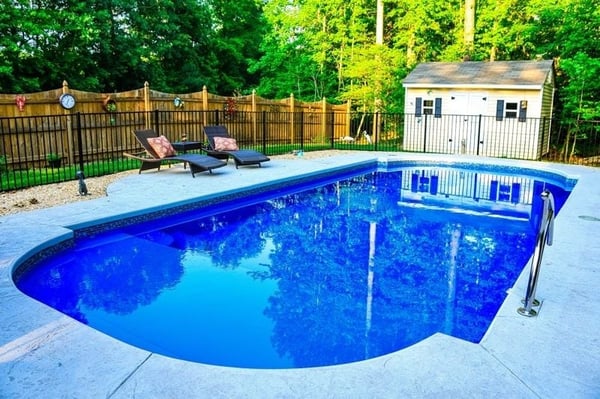 While our Roman-End L Series pool isn't a perfect rectangle, it does have a linear, rectangular shape. The L Series offers a large tanning ledge, bench seating, and an open pool interior.
T Series (16x40)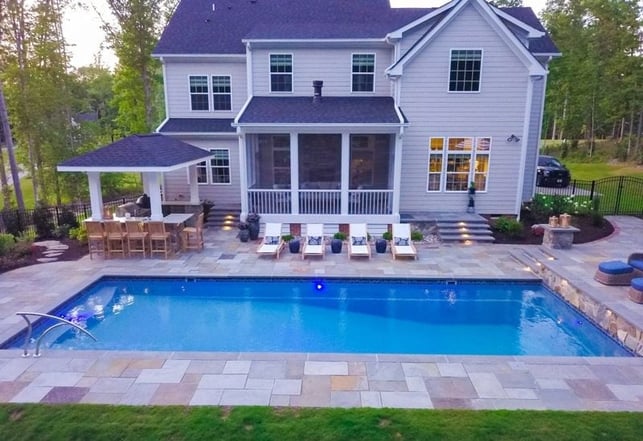 The T Series pool model is our largest and deepest fiberglass pool at 16 feet wide, 40 feet long, and 6½ feet deep. The T40 offers a large shallow zone, a wide tanning ledge, bench seating, and a very spacious open interior.
The main advantage of choosing a rectangular fiberglass pool is that it will be compatible with an automatic pool cover system. It's also classic and stylish and works with most homes and landscaping designs. There aren't really any disadvantages to this type of pool shape.
What's the best large fiberglass pool for entertaining?
If you want a big swimming pool for hosting pool parties and having guests over, you might want to choose a model that has a wide range of built-in features like tanning ledges and benches (the C Series and D Series pools are perfect for this). These spaces will offer more variety for casual socializing and hanging out in addition to swim space for exercise and games.
You should also consider the perimeter space around your pool, which could be used to add extra features, like pool slides or a fire pit.
Remember, fiberglass pools come with the features already built-in at no extra cost, whereas concrete and vinyl liner pools cost extra time and money to add them during construction.
What's the best large fiberglass pool for exercise?
If you mainly want a large fiberglass pool for the additional swim space that it can offer, you might want to skip the full tanning ledge for the largest and most spacious swim lane possible
Our top choice:
R Series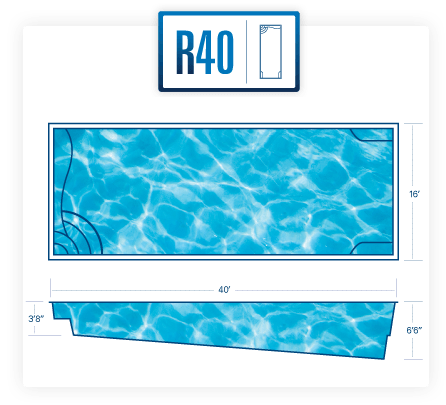 See all of our fiberglass pool models here.
How deep are large fiberglass pools?
Large fiberglass pools are generally deeper than small fiberglass pools at an average maximum depth of 6 feet and 6 inches. Keep in mind that large fiberglass pool depth can vary from 3.5 feet to 8.5 feet.
How much does a large fiberglass pool cost?
Large fiberglass pools usually cost a minimum of $45,000 to $50,000 for basic packages, and the cost increases with package upgrades and additional features. Overall, you can expect to pay up to $85,000 or more for a large fiberglass pool.
Pro tip: If you're trying to stay within a set budget, be selective about your upgrades. You can still get many of the upgrades that you want while keeping your costs lower.
Feel free to check out our pool cost and size guide to compare pool prices by size and type, and review our pricing guide for more details on inground pool packages and what they include.
For the most accurate estimate, be sure to contact us for a quote and in the meantime, you can try out our fiberglass pool pricing calculator below.
---

Want to see about how much that cost will be with all your favorite pool accessories?
Use our Design and Price Tool to walk through your options and approximate price!
---
How long does it take to install a large fiberglass pool?
Fiberglass pool installations, no matter the size, generally take between 2 to 6 weeks to install. This is a much shorter period than gunite pool construction (3 to 6 months).
Large fiberglass pools pros and cons
To wrap up this quick guide, here's a list of all of the pros and cons to owning a large fiberglass swimming pool:
Pros
More space for swimming and exercise

Plenty of room for pool parties

Fiberglass pools are the lowest maintenance inground pool type

Fiberglass pools are also the cheapest inground pools to maintain long-term
Cons
More expensive to maintain than a small swimming pool

More work to maintain (larger area to clean, vacuum, etc.)

May not be wide or long enough for your needs
Don't need a large swimming pool after all? Check out a similar article that we wrote about small fiberglass pools next:
What's the Best Small Fiberglass Pool for Your Needs? Costs, Sizes, Features
Where can I get a large fiberglass pool?
At River Pools, we manufacture our fiberglass swimming pools for customers across North America. To find out how much your fiberglass pool might cost, contact us to request pricing using the button below, and in the meantime, try out our pool pricing calculator for a fast estimate.
Before you go, be sure to download your free ebook to get started on your journey to a fiberglass pool. Happy swimming!
Up Next:
The Pros and Cons of Fiberglass Pools
Inground Saltwater Pool Cost: Salt, Cells, Generators, and More
Inground Pool Kits 101: Types, Costs, Tips