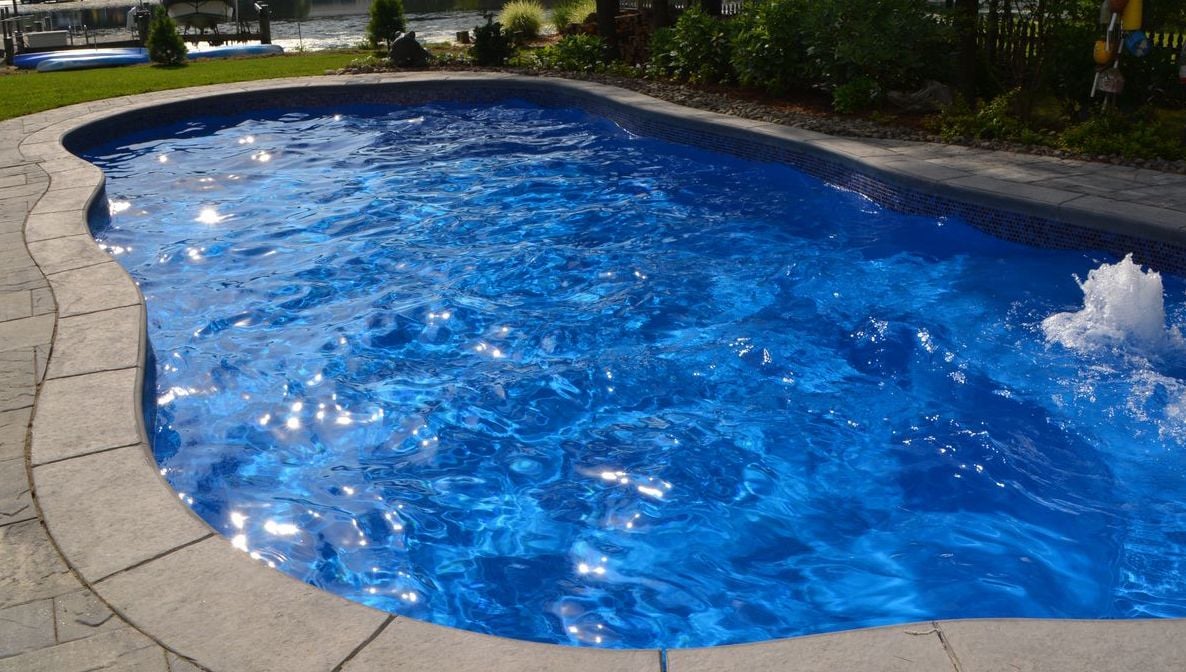 Subscribe
Fiberglass Pools: Pros, Cons, and Other Considerations
Fiberglass Pool Information | Fiberglass vs Concrete vs Vinyl Liner
Thinking about getting an inground pool for your backyard? You've probably been doing quite a bit of research on your options. Right now, you might be trying to narrow your options down to a fiberglass pool... or something else. By the end of this article, you should have a much better understanding of whether or not fiberglass is the best choice for your pool project.
Nothing in life is perfect. Fiberglass pools certainly aren't. We exclusively manufacture and install fiberglass swimming pools at River Pools, but we've been in this business long enough to understand that fiberglass isn't the best fit for every backyard.
We want all pool buyers to make the best choice for their lives and homes. Over the years, we've turned away hundreds of potential customers if they're clearly looking for something (a certain size, a specific shape, a distinct set of features, or anything else) better suited to a concrete or vinyl liner swimming pool.
At the end of the day, we want to make people happy -- whether or not they choose to work with River Pools. We believe everyone deserves the swimming pool of their dreams, whether it's made of fiberglass, concrete, or a vinyl liner.
We'll make our case for fiberglass pools, but you'll also get an honest assessment of the common disadvantages to fiberglass pools. Consider both sides, but always do your own research and consider your sources before making your final choice. Your pool should last as long as you own your home, so you should love whatever pool you get!
The benefits (pros) of fiberglass pools
Let's be up front before we get started: all fiberglass pools are NOT created equal. The advantages we'll cover here apply to high-quality, well-manufactured fiberglass swimming pools. Some manufacturers have higher standards than others!
You can learn more about the top 10 fiberglass pool manufacturers here.
Virtually everything in this guide has been covered in great detail throughout our comprehensive fiberglass pool buyer's guide. We highly recommend getting a copy (it's a free eBook you can download and read anywhere) so you'll have everything you might need or want on your pool-buying journey in one handy place. Just click the button below to get your copy:
Fiberglass pools are durable
One main advantage of fiberglass swimming pools is their high durability -- inside and out.
Both the structure and the surface of a high-quality fiberglass pool can last as long as you want them to, provided you take good care of it.
A well-made fiberglass pool can last at least 50 years, with less maintenance required to keep it useful and enjoyable decade after decade. Speaking of maintenance...
Fiberglass pools are low maintenance
Fiberglass swimming pools really are as low-maintenance as you've heard.
For example, the non-porous surface (the gelcoat) of a fiberglass pool resists algae growth and won't react with the chemicals commonly used to sanitize pool water. This simply means you won't have to spend as much time adding and balancing chemicals or scrubbing the walls.
You won't have to worry about acid washing your fiberglass pool's surface as you might with a concrete pool, or changing and/or patching holes in a vinyl liner all day.
Fiberglass pools require less ongoing labor
Continuing from our our last section, you'll spend a lot less time and energy keeping your fiberglass pool in good shape.
Fiberglass pools don't need to be acid washed, won't develop any wrinkles you'll need to smooth out, and they're also free from many of the other common maintenance chores you'd need to tackle with vinyl liner and/or concrete pools.
If you hate pool chores, you might want to explore fiberglass pool maintenance in more detail to see what you'll actually need to do.
You can always hire a professional cleaning service -- and it might cost less than you'd pay for professional pool cleaning with fiberglass or vinyl liner pools, simply because your pool cleaning pro won't have as much work to do each week.
Fiberglass pools have a smooth surface
That non-porous surface --the gelcoat -- is quite smooth, but it's still slip-resistant.
Remember scraping your knees and toes when you were a kid hanging out at your neighborhood's public pool? You don't have to worry about that with a fiberglass pool.
If you've ever jumped into the shallow end of a pool a bit too hard and scraped your foot on a rough plaster surface, the gelcoat surface of a fiberglass pool could be perfect for you.
Fiberglass pools (sometimes) never need resurfacing
While we're on the subject of pool surfaces, a fiberglass pool's gelcoat can last its entire lifetime without needing replacement or resurfacing.
This isn't true of every fiberglass pool in every backyard, of course.
Some people may find they'll need to resurface their fiberglass pool -- but this is often after twenty to thirty years of enjoyable pool ownership.
Compare this to vinyl liners, which need to be replaced about every 5-9 years, and concrete pools, which need complete resurfacing done every 10 years or so.
If your fiberglass pool is well-maintained, you may never need to resurface it.
However, if you ever find yourself needing to replace your fiberglass pool's surface, it can be done with a product like ecoFINISH -- a durable polyethylene powder coating with a wide range of colors and multiple textures. (Read our ecoFINISH review here.)
Fiberglass pools are algae-resistant
Algae is ugly. What's worse is that it forces you to use more chemicals to get rid of it. and algae often forces you to run your pump and filter more often as well.
A fiberglass pool's non-porous surface won't let algae stick to its walls, which makes algae much less likely to become a problem in your pool -- provided you maintain it regularly!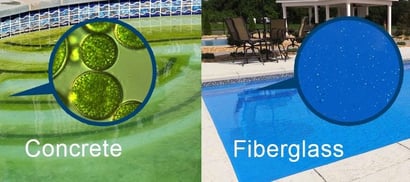 Concrete pools, on the other hand, quickly become algae breeding grounds due to their porous plaster surfaces. That's why you have to scrub your entire concrete pool surface with a steel brush every week.
Fiberglass pools have lower lifetime costs
All that acid washing, resurfacing, repairing, and liner replacing costs money.
We're talking tens of thousands of dollars over the life of your pool ownership.
Because a fiberglass pool doesn't need this sort of work to remain attractive and usable, and because your ongoing maintenance costs will be lower overall, you can often save thousands of dollars over the years over what you might have spent to upkeep concrete or vinyl liner pools.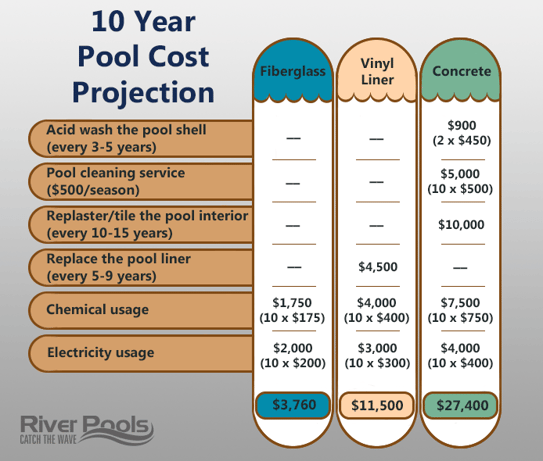 Fiberglass pools have faster installation times
Want your concrete pool fully built, in the ground, and full of water in two days?
It ain't happening. Unfortunately for concrete (gunite) pool fanatics, two-day builds are simply impossible with a concrete pool.
However, fast installations are the norm when you've got a fiberglass pool. The fiberglass pool shell -- which is basically the entire structure you'll swim and lounge in once it's in the ground -- arrives at your home completely manufactured and ready to be installed.
Once it's in the ground and we begin backfilling the pool, we must also fill the pool with water to equalize the pressure on both sides of the shell. This mandatory backfill-and-fill process results in a much faster installation process overall.
In most cases, your pool project should be wrapped up, with patio installation and everything else you've asked for beyond the pool itself, within just two to four weeks.
Concrete pools typically take three to six months for full installation.
Vinyl liner pools often take six to eight weeks.
Of course, your pool builder will need to be available before your pool can be installed, no matter which type of pool you get. The last two years have seen significant disruptions to both the supply of materials needed to build and install pools (it's much tighter) and the demand for new pool installations (it's much higher), which has resulted in longer wait times for new pools across the country and around the world.
However, if you'd like to save your spot for a pool project in the near future, get in touch with us today and we can get things started! Just click the button below.
Fiberglass pools are compatible with salt water systems
You might think, "salt water systems can work with any swimming pool."
But just because you can do something doesn't mean that you should.
You can use a salt system with a vinyl liner pool, but we don't recommend using salt chlorine generators if you have metal pool walls -- as vinyl liner pools typically do.
Salt plus metal equals corrosion, and that just shortens the lifespan of your pool.
But concrete works with salt systems, right? Eh... sort of.
If you have a plaster-based surface -- which you very well might with a concrete pool -- the salt could wear it down faster than it would wear down on its own (just using chlorine). More wear and tear on a concrete pool surface means you'll probably have to resurface your pool a lot sooner... and that can get rather expensive.
Fiberglass pools, on the other hand, work well with salt systems. The same surface qualities that make fiberglass low-maintenance and algae-resistant also help its surfaces hold up to salt water. If you'd like to install your own salt system, click here to check out our review of some top salt water systems for pools of all sizes.
Fiberglass pools are attractive
This might be more of a subjective opinion than an unarguable fact... but we'd love for you to browse our pool gallery, so you can see for yourself just how beautiful a high-quality fiberglass pool can really be.
Fiberglass pools (at least those made here at River Pools) come with multiple surface color options, and can also be customized with your waterline tile of choice.
Fiberglass pools also have sleek, smooth surface finishes and can utilize a range of attractive coping options (vinyl liner pool coping isn't always as pretty).

Fiberglass pools have built-in features
Want a tanning ledge, bench seating, or a built-in spa?
That'll cost extra when you buy a vinyl liner or concrete pool.
Fiberglass pools include these features for no additional cost -- if you choose a model that happens to have them as part of their design. This means that you can get a pool with all the hottest features without worrying about racking up unexpected additional costs.
(Read next: 7 Pool Extras That Won't Break the Budget)
Fiberglass pools are manufactured in a controlled environment
Do you live in a "weird" or just plain unpredictable climate? Are you worried about how the weather might impact the construction of your pool? Bad weather has a real and generally unwelcome affect on pool construction -- for concrete and fiberglass pools.
The largest part of a fiberglass pool -- the pool shell -- is manufactured off-site in a controlled environment, so even the worst weather won't affect the final quality of the swimming pool installed in your backyard.
We also allow our gelcoats to cure in a secure space at controlled temperature and humidity levels to achieve optimal strength and durability.
This process ensures every pool shell, for every model we sell, comes out of our warehouse with the same superior quality, whether it's going down the street or all the way to Utah.
Fiberglass pools can increase the resale value of your home
Not all swimming pools increase the value of your home. Fiberglass pools often do.
By comparison, vinyl liner pools tend not to be considered as permanent as concrete or fiberglass and won't contribute to the value of your home.
A fiberglass pool, on the other hand, can increase your home's value by around 5%. This always varies by home, region, and other factors.
Fiberglass pools can be installed above ground or semi-inground
Can't decide if you want your pool fully inground, semi-inground, or completely above ground with a wrap-around deck?
A fiberglass pool can be installed anywhere and any way you want, even on the roof.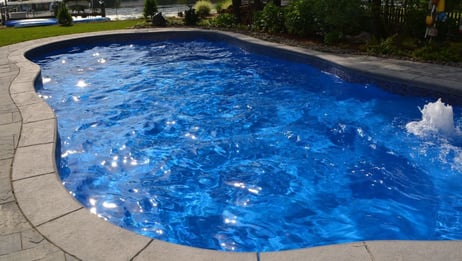 Fiberglass pools are more environmentally friendly
Fiberglass pools can save you thousands of dollars worth of chemicals and electricity, by helping you avoid the lifelong battle with algae that can plague other types of pools.
A nice byproduct of this benefit is it's easier on the environment, too.
If and when you decide to remove or replace your pool, the old fiberglass in your pool shell can even be recycled.
Fiberglass pools save money
Fiberglass is pretty durable, which helps you save a lot on long-term maintenance costs.
And because you never have to drain your pool to acid wash the surface or replace the liner, you won't have to spend money to refill your pool either.
Fiberglass pools are flexible and strong
The earth doesn't just move when there's an earthquake.
In fact, it's perfectly normal for the earth to shift subtly over time, which is often the reason structural and/or cosmetic cracks can appear in concrete pools.
Fiberglass is strong, but it's also flexible enough to withstand the earth's movement without any major damage to the pool shell.

Fiberglass Pool Cons
As we said, fiberglass pools aren't perfect, and even if they were, they wouldn't be perfect for everyone.
Let's be up front about some common drawbacks fiberglass pools can present to pool buyers. We think you should know as much as possible about your pool before you buy it.
Fiberglass pool designs can be limited
There are a wide range of fiberglass pool designs to choose from. However you, as a customer, won't get to take part in the process of designing your pool.
You can still choose the surface color and add-ons you want with your fiberglass pool shell, but you can't create your own custom shape, or have your pool built to a specific size and/or depth.
Let's say you want our L36 pool, but you'd rather not have a tanning ledge, and you want it to be a foot deeper. Unfortunately, we can't do this without building a whole new pattern and mold.
A lot of work goes into building a mold.
Each mold can produce hundreds of pools over its lifetime. It would be costlier for both the fiberglass pool manufacturer and the customer if a brand new pattern and mold were to be built for every person who wants to modify their pool design.
Fiberglass pools can't be wider than 16 feet
Have you ever driven behind one of those trucks with an "oversize load" sign? This means whatever's hitched to the truck (i.e., a swimming pool, mobile home, etc.) is more than 8.5 feet wide. Shipping containers are built to stay within this limit, but many truck loads are nonetheless too big to fit in a container.
To get our oversize-load pools from our manufacturing plant to your home, we have to get permits and follow certain transportation rules.
Anything that exceeds 16 feet in width is classified as a superload.
Superloads are much harder to transport. They face significantly more regulations than oversize loads, require a more extensive government approval process, and may possibly even need a police escort). This is the main reason fiberglass pools are typically no more than 16 feet wide.
However, staying within these mandated width limitations allows us to ship our pools all over the country without much hassle.
Fiberglass pools are harder for DIY-ers
Fiberglass pools can be installed DIY, but the process can be more challenging than it is for vinyl liner pools, despite the fact that fiberglass pools essentially come in one piece.
For starters, it's often tricky to get the pool level (and it's important!).
Pouring coping around a fiberglass pool can also be a challenge. We always recommend you at least consult with someone who has experience building fiberglass pools, if you really want to DIY the installation. In most cases, the money you might save by doing it yourself simply isn't worth the risk of an improper or incomplete fiberglass pool installation.
Fiberglass pools usually cost more than vinyl liner pools
Fiberglass pools generally cost between $40,000 to $85,000, and can easily cost more for a turnkey professional installation. A professionally installed vinyl liner pool, on the other hand, typically costs between $25,000 and $65,000.
If your main goal is to have an inground pool for as little money as possible, vinyl liners might be a more attractive option. However, it's important to keep in mind the lower lifetime costs of fiberglass pools, and also their potential to increase the resale value of your home -- vinyl liner pools can often have the opposite effect, as home buyers don't want to deal with costly liner replacements.
---

Want to see about how much that cost will be with all your favorite pool accessories?
Use our Design and Price Tool to walk through your options and approximate price!
---
Repairs on some colored finishes don't always match
If your gelcoat needs a small repair for any reason, the repaired area may not exactly match the color on rest of your pool shell.
Fiberglass pools can fade slightly over time, and the repaired area might stand out a bit more than you might like it to be. A fiberglass pool's gelcoat may fade very slightly and at a very slow rate, but a fresh gelcoat patch can be obvious, depending on its placement (and other factors).
You can't resurface the entire pool with gelcoat
You might be able to make small gelcoat repairs on your fiberglass pool, but it's really impractical to resurface the entire pool with a fresh gelcoat.
Gelcoat provides a durable and attractive finish, but to cure properly, it needs to sit, or cure, at a certain temperature -- approximately 77 degrees Fahrenheit -- in a controlled environment.
Since your pool is already in the ground (and is probably) outdoors, this won't be an option.
Fiberglass pools can get osmotic blisters
Osmotic blisters remain a problem for many fiberglass pool manufacturers. We've found a way to beat this... but what is an osmotic blister, anyway?
Osmotic blisters are usually described as small bumps or bubbles in the surface of a pool shell.
They form when water molecules get trapped behind the gelcoat layer, causing a chemical reaction with glass fibers in the pool shell. Osmotic blisters won't compromise the structure of a fiberglass pool, but they do degrade its finish and can be rather unattractive.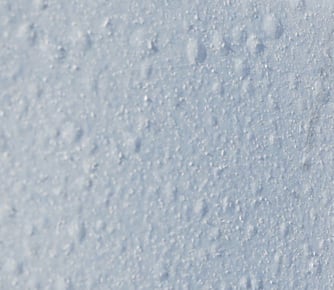 Have questions about fiberglass pools? Ask us anything that's on your mind (preferably about fiberglass pools) in the comments, and we'll answer as soon as we can.
At River Pools, we manufacture world-class fiberglass pools for customers across North America. Feel free to take a look at our catalog of models and visit our learning center today. Also, be sure to download your free ebook for more information on how to get started on your journey to a fiberglass pool.
Up Next:
Fiberglass Swimming Pools 101: Manufacturing, Cost, and More
What's the Best Small Fiberglass Pool for Your Needs? Costs, Sizes, Features

Should You Buy a Fiberglass Pool? (Infographic)