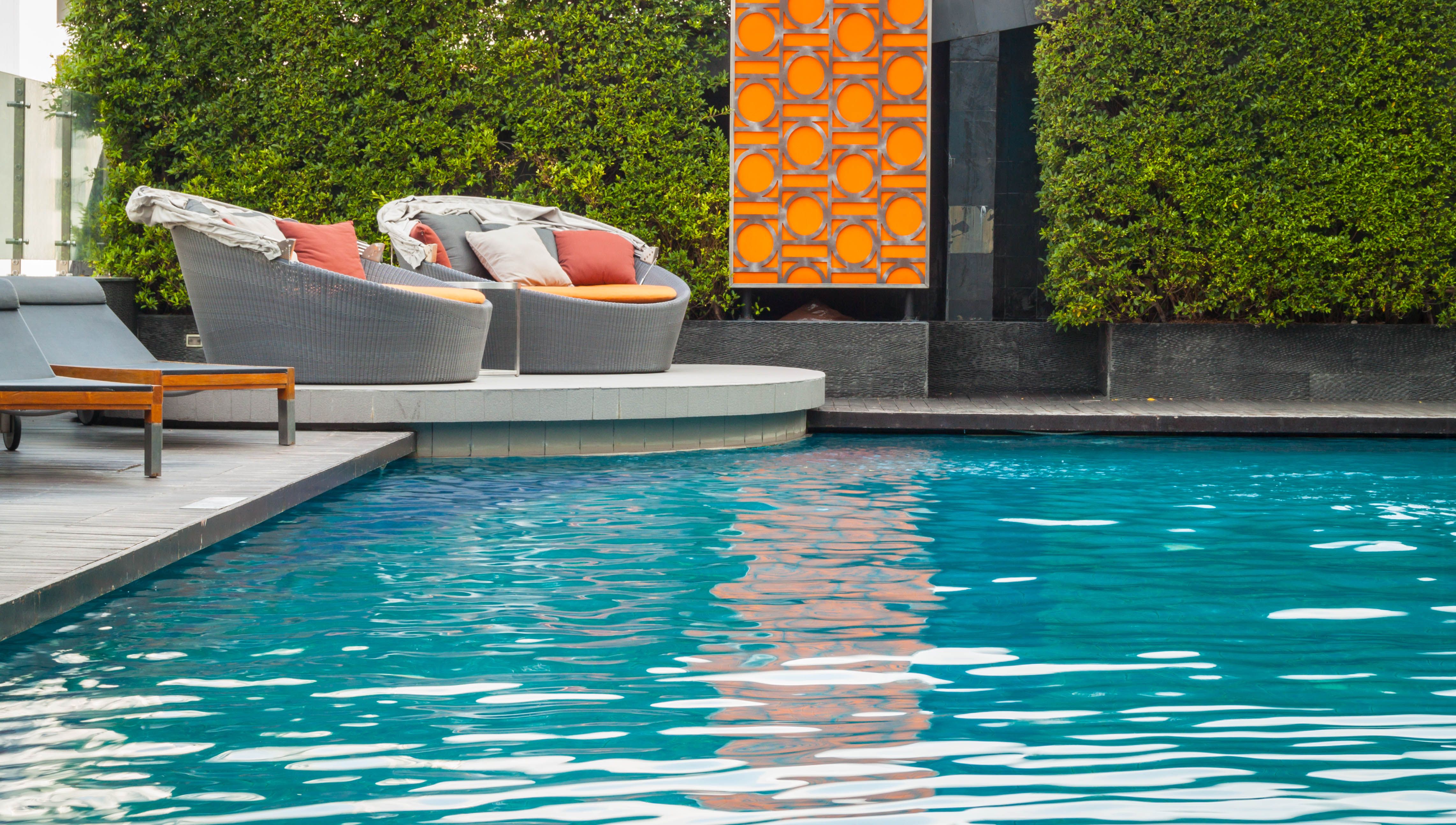 Subscribe
Who Can Get a Rooftop Pool?
Installation & Construction | Cost and Pricing | Swimming Pool Design
Let's say you'd like to get a pool, but you don't have a yard to put it in.
Maybe you're in a tight neighborhood and can't fit anything bigger than a kiddie pool on that little patch of grass outside your door.
You can give up on the idea, or you can get creative and put a pool on the roof.
Everyone knows that it's possible in theory, but can you really put a pool on the roof?
The answer is yes, and it's a great solution for some, but it's not the best option for everyone.
Rooftop pools are a little different from inground pools, and you have to consider factors that you wouldn't think about when putting a pool in your yard.
It's not just about the installation process, but that's one of the most important parts to get right.
Seriously, you don't need a flood inside your house. Especially from a swimming pool.
At River Pools, we have done our own fiberglass pool rooftop installations, and we want to help you figure out if a rooftop pool is right for you by telling you the things that you need to consider before you take any steps towards getting one.
Let's start by taking a look at some of the structural requirements, and then we'll get into maintenance, costs, and our final review.
What Should You Consider for a Rooftop Pool?
When you're planing a rooftop pool, there's a lot to think about. You have to consider the structure of the building and answer questions like:
Can my home support the weight of a pool? Is there protection against leaks? Can my home insurance cover any potential issues? And what about the neighbors?
When we talk about the weight of the pool, we're also talking about the weight of the water. It's easy to forget just how much strain water puts on a structure.
If you've got thousands of gallons in one spot, you'd better be thinking about how to support it all. The building has to be able to withstand it.
Here are a few key things to consider:
Find out if you can even get permission and permits to build a pool on your roof.

Check with your home insurance company to see what they cover in the event of a leak or other structural damage.

Meet with a contractor to see if you need to reinforce the building's structure first.

Think about the neighbors. If your home is very close to surrounding homes or if you share a building, consider the effect a rooftop pool might have on your neighbors and their homes.

You'll need to have a double vessel. A double vessel is a container that, in the event of a leak, prevents the water from getting down into your actual home. Don't forget this part. It's a big deal and can save you lots of trouble.
Be prepared from the start
If you decide that a rooftop pool is right for you, you'll want to choose the right contractor to install it. Experienced professionals will make sure that everything is sound and that you and your home are safe before they leave you to relax by your new pool.
Who Can Get A Rooftop Pool?
Before you make plans to get a rooftop pool, make sure that your home can truly support one. We've already covered structural elements, but it's not just about the weight of the pool and water.
In general, your roof needs to be flat and large enough to accommodate the swimming pool. Sure, there are smaller options, but even those need lots of space.
If you have a peaked roof, you can modify it to be safe for a rooftop pool, but keep in mind how costly that will be.
Also consider whether that's a smart choice for the building and the area in which you live. For example, if you live in a snowy climate, snow doesn't slide off of a flat roof like it does with a peaked roof. Freezing can cause a host of other problems.
Basically, if you want to get a rooftop pool, think about your environmental needs and decide whether you're willing to risk compromising your home for the sake of your pool. Don't make these decisions lightly.
What Kind Of Maintenance Does A Rooftop Pool Need?
When it comes to maintaining your rooftop pool, most of the maintenance is the same as a regular inground pool. You'll still need a filter and a way to keep your pool from turning that dreaded swampy green. Like any swimming pool, you'll have to clean it often to clear out bugs, leaves, and other things that fall into it.
Pro tip: You might want to invest in a robotic pool cleaner. These devices vacuum your pool with minimal effort on your part, so you don't have to spend hours doing it yourself.
When maintaining your pool, be careful with the chemicals that you use and make sure that they don't damage the integrity of the pool. You'll need to pay extra attention to this part with a rooftop pool since damage and repair can be more disruptive to your home.
How Much Does A Rooftop Pool Cost?
This one's tricky because you're not just looking at the cost of the pool here. You'll likely have to make structural changes to your home (reinforcing beams, changing the style of the roof if it's peaked, etc.) and take more precautions against leaks and other kinds of damage. A rooftop pool may even run up your homeowner's insurance.
Installing a pool alone typically costs a minimum of $25,000 and can cost more than $100,000 depending on the size and pool type (read our complete guide to pool cost by size and type here).
Structural changes to your home can cost anywhere from $5,000 to $20,000 or more depending on the size of the home and the extent of your needs.
Put together, you have a wide range for potential costs, which gives you another reason to have all your ducks in a row before you start the planning and construction process.
Can You Put A Fiberglass Pool On A Roof?
The simple answer here is yes.
Fiberglass pools are a good option for rooftops because they're durable, less susceptible to algae, and they're the fastest to install. Fiberglass pools also require the least maintenance of the three main inground pool types types, which is a huge plus if you're putting your pool on the roof.
Changing the vinyl liner or replastering your pool is a hassle as it is. Doing that on the roof of your house just makes things harder. With a fiberglass pool, you really don't have to worry about things like that.
We've installed our own fiberglass pools onto roofs, too, so if your home meets the criteria listed above, it will certainly be an option for you.
Our Honest Review of Rooftop Swimming Pools
Rooftop pools aren't for everyone. They come with a certain amount of risk, but if you have a structurally sound building that can support a swimming pool, it might be worth it for you.
They're often pricier than inground pools, but that doesn't mean that they're a bad option. If you can't put a pool in your yard and you're willing to make changes to your home, a rooftop pool might be a good solution.
At River Pools we manufacture world-class fiberglass swimming pools for customers across North America. We offer a wide variety of shapes and sizes as well as models that include built-in features like tanning ledges and benches.
If you're curious about how much fiberglass pools cost, check out our pool cost calculator tool for a rough estimate or contact us directly for a custom quote.
Not sure which type of pool fits your needs best? Download our free ebook below comparing the different types of inground (or rooftop) swimming pools.
Up Next:
DIY Inground Pools: Costs, Types, and Problems to Consider
A Quick Guide to Pool Patio Furniture and Outdoor Living Spaces
Types of In-Pool Furniture: Chairs, Tables, and Other Options