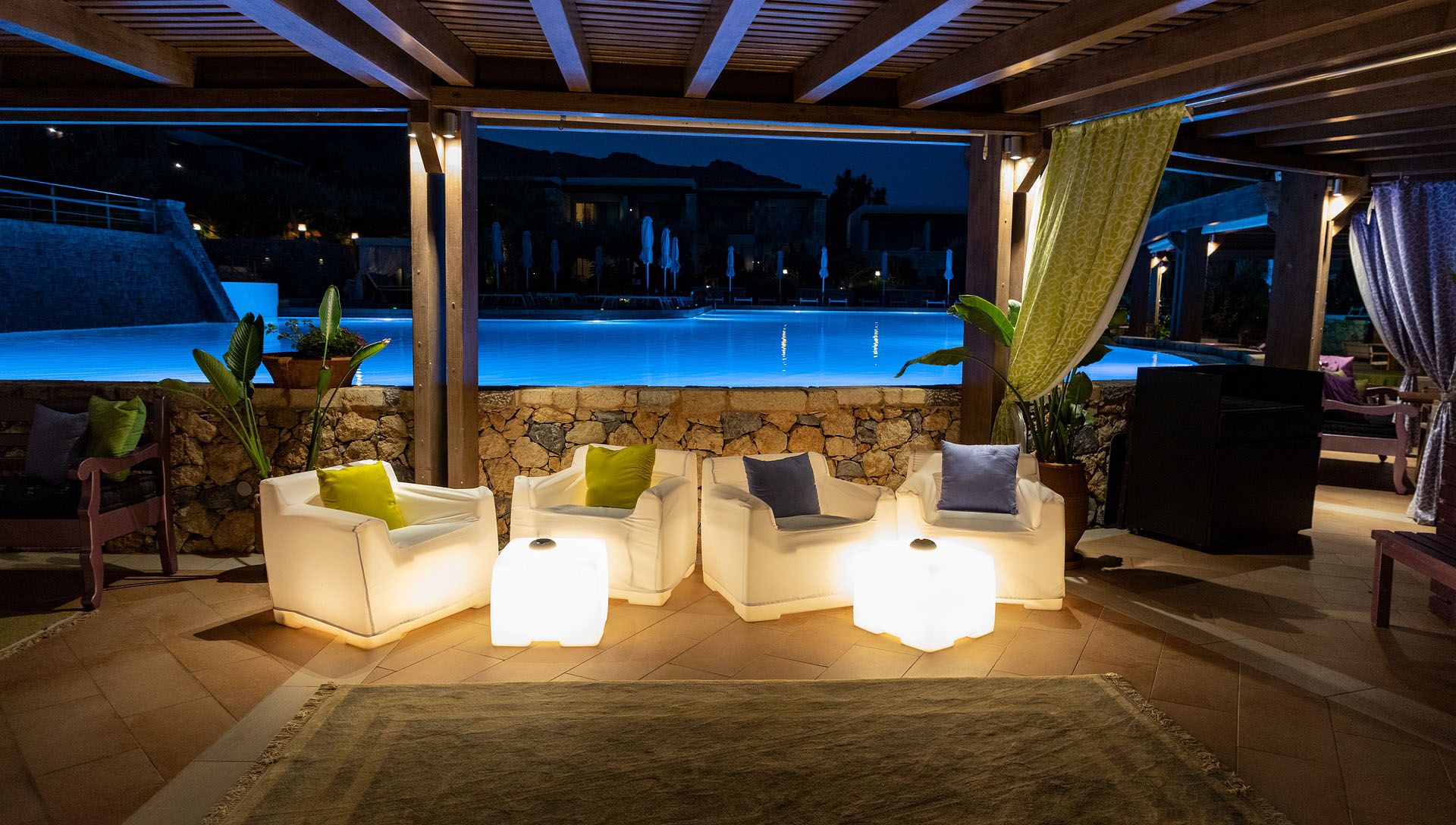 Subscribe
A Quick Guide to Pool Patio Furniture and Outdoor Living Spaces
Patio and Coping | Options and Accessories
Did you know that most pool owners spend 70-90% of their time around the pool rather than in it?
When you consider that the swimming season only lasts a few months out of the year, designing an outdoor living space that is functional and nice to look at becomes much more important.
But what are your options when it comes to pool patio furniture and decorating your outdoor living space?
At River Pools, we manufacture and install inground fiberglass pools across North America, and we also specialize in turn key projects which include designing and upgrading the space around the swimming pool. Whether you're on a tight budget or looking to splurge, we have some ideas to help you create your dream backyard.
In this article, we'll talk about the basics of pool patio furniture, cover some price options, and reveal some top ideas that can transform your home.
Let's start by briefly breaking down your pool patio furniture options.
Outdoor vs. Indoor Furniture
Typically, you wouldn't just put any furniture out on the patio. Indoor furniture isn't always suited for the elements, and it's often not waterproof (which you really want it to be if you're keeping it by your pool).
When you're choosing pool patio furniture, the first rule is to make sure it's made for that purpose.
The main difference between indoor and outdoor furniture is the material. You'll need something that can withstand the elements and will last a long time if it's going to be outdoors. If you want outdoor cloth, like cushions on your chairs, that usually means choosing a synthetic fabric (whereas with indoor furniture you can use pretty much anything).
There are other non-fabric materials that aren't suited for long-term outdoor use.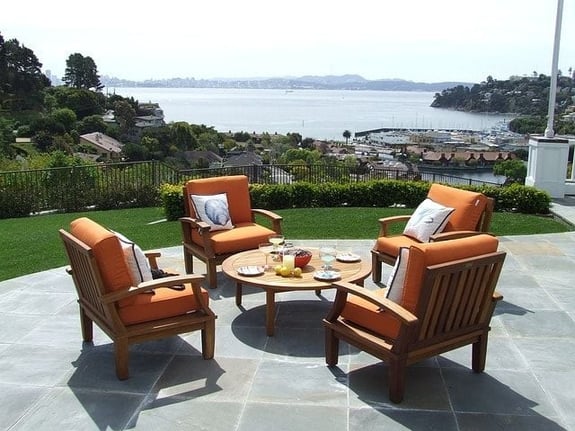 For example, not all types of wood do well when left outside. Sturdy woods like pine, teak, and cedar work best, and ideally, they would be treated so that you don't have to worry so much about your furniture getting damaged.
Another good option for outdoor furniture is metal (aluminum, wrought iron, steel, etc.). Metal chairs and tables are usually sturdy enough to withstand the elements and can last decades.
Wicker is a popular choice for outdoor spaces as well, but natural wicker will not hold up outdoors for long periods. Synthetic resin wicker furniture (usually made from PVC) gives you the same look and style and is better suited for long-term outdoor use.
Ultimately, it all comes down to what your furniture is made of. You will have tons of options, so take the time to shop around for what you want at the price you want.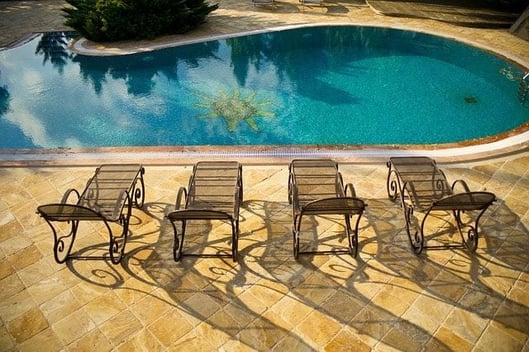 You can do a lot with your space no matter what type of furniture you choose. Just make sure that your pool patio furniture is made to stay outside.
Pool Patio Furniture Ideas on a Budget
As far as materials go, woods like pine and cedar are relatively inexpensive. Hardwoods are pricier, so if you want teak tables, chairs, or benches, you'll need a bigger budget. If you're going for metal, aluminum is your cheapest option, and it's one of the best options for keeping rust at bay.
Plastic furniture is also a good choice if you're looking to save money, but you'll need to make sure it won't blow away if you live in a windy area.
Since most pool patio furniture options aren't permanent, you can get what works for your budget now and make room to upgrade later.
Popular Outdoor Living Space Ideas
Your outdoor living space is for more than just sitting around. While dining sets and benches are nice, there are way more options to think about when designing the space around your swimming pool. Here are some of the top ideas to consider.
Outdoor Kitchen/Dining Area
An outdoor kitchen can bring any outdoor dining space to a whole new level. Outdoor kitchens can be as simple as a grill and a fridge, but they can also include a bar, a stove, and other typical kitchen appliances. This type of outdoor living space upgrade can be used even outside of the usual swimming season, like spring and fall.
For your dining area alone, you're going to need at least a 12x12 foot space for a standard dining set. For larger dining areas that can seat ten or more people, you'll need at least a 14x14 foot area (read more about pool patio space requirements here). To add an outdoor kitchen to your backyard, you'll need 10 to 20 linear feet, depending on the size that you want and the features that you want it to have.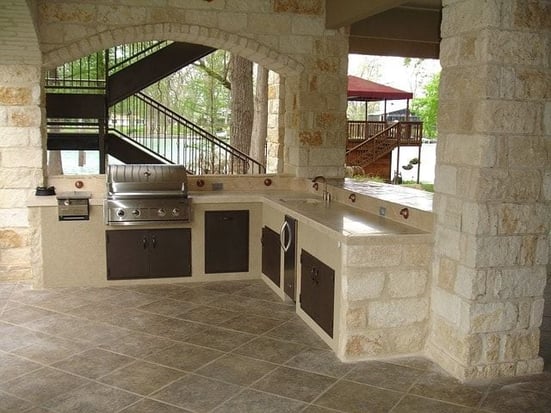 Outdoor Theater
How cool would it be to watch movies from your pool? Of course, you don't have to be in the pool to enjoy your outdoor theater, but just imagine having a big screen in your backyard to watch your favorite movies and shows. Outdoor TVs come in a lot of different sizes and price ranges, but it is essential that you purchase a television that is made for outdoor use. Please don't ruin a perfectly good indoor TV.
You can expect to pay anywhere from $1,500 to over $7,000 for a good outdoor television. Some TVs are better suited for shaded patio areas and others can be viewed in the full sunlight. This will affect the price with full sunlight TVs being more expensive, so you also need to keep this in mind when deciding where you're going to place it.
Alternatively, you can invest in a projector and screen for a true movie theater experience. Again, the price range for this can vary significantly, but you'll probably spend less than you would on an outdoor TV. For the best experience, you'll need to wait until it's dark outside to use your projector.
Plan to spend at least a couple hundred dollars on your projector and screen.
Fire Pit
With a fire pit, you can make your space warm and inviting and even extend the use of your outdoor space into the winter months, depending on where you live. Unlike an outdoor kitchen, a fire pit can be one of the more affordable outdoor living space upgrades. If you're interested in having a feature like this by the pool, you can build one for between $300 and $1,400. Fire pits are usually built from materials like brick, stone, or concrete and require at least 10x10 square feet of space.
Keep in mind that seating needs to be at least 36 inches from the fire pit whether you build permanent seating from brick or stone or you arrange seating (like lounge chairs) around it.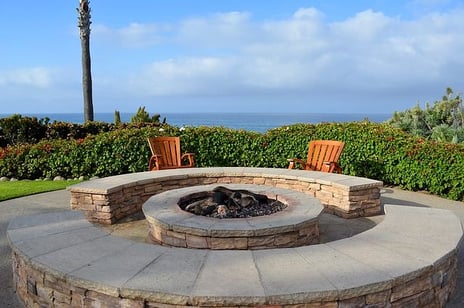 Spa
Just like a fire pit, a spa or hot tub is one of those upgrades that you can benefit from beyond the summer months. Depending on the type of spa that you want to get, the cost range can vary significantly, but they generally start at around $3,000 on the low budget end and go to $20,000 and up. For a high-quality fiberglass spa, expect to pay between $17,000 and $24,000.
Pro tip: If you have a wooden deck, make sure that the deck can support the weight of the spa before you invest in one.
Seating and Storage
Seating and storage can go hand in hand, and using dual seating and storage can maximize your space, especially if you have a small backyard. Try using dual purpose outdoor benches, couches, ottomans, and other furniture to store pool supplies and cleaning equipment.
This can help to keep the area around your swimming pool clutter-free while keeping your pool equipment easily accessible. You can find these types of storage seating pieces in wood, plastic, and other options to match the rest of your outdoor furniture.
A Last Word on Outdoor Living Spaces
If you're looking for a way to make your beautiful pool look even better, think about how you can work with your patio. Better yet, get a professional designer to help you bring your ideas to life. At River Pools, we manufacture world-class fiberglass swimming pools for customers across North America and we also take care of other aspects of your backyard project like landscaping and deck and patio installation. If you'd like to see what we can do for your backyard, contact us today or view our gallery for an overview of our projects.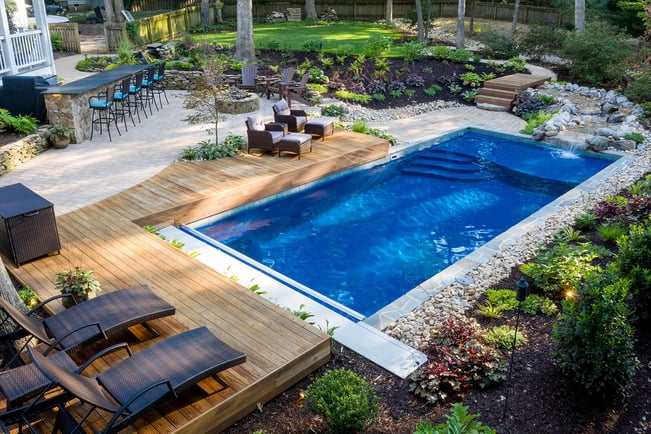 Want to know how much your inground fiberglass pool will cost? Try out our fiberglass pool pricing calculator today for a customized estimate.
If you're still shopping around for an inground swimming pool and don't know which type of pool is right for you, download our free ebook below for a full comparison of the main inground pool types.
Up Next:
How to Extend Wi-Fi to Your Pool Deck or Outdoor Living Space
Pool Patio Ideas and Options: A Personalized Guide
Types of In-Pool Furniture: Chairs, Tables, and Other Options