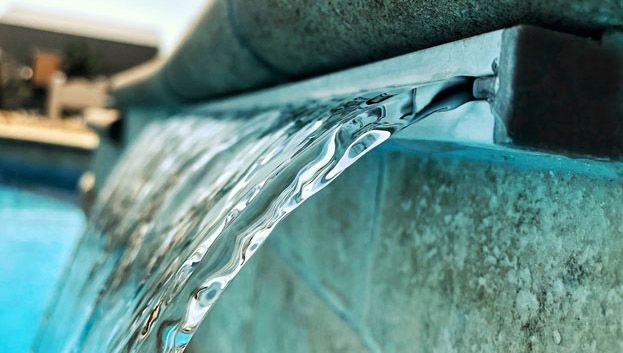 Subscribe
10 Hottest Inground Pool Options and Accessories [Video]
Patio and Coping | Pool Videos | Options and Accessories | Pool Design Guides | Retaining Walls, Fence, and Landscaping
In the market for an inground pool? If so, you're certainly looking for the options and accessories that best meet your needs.
Let's discuss 10 of the most popular and innovative pool options in the pool industry today! You'll learn why they are gaining in popularity and ballpark costs for each.
1. Salt Water Chlorine Generators
Salt chlorinators offer you great water quality and low maintenance.
We've had no complaints—100 percent great feedback on the 800+ units we've put in the field.
The unit itself will cost $1,200–$1,800 upfront. The salt will cost $50–$100 per year.
2. Heat Pumps
Heat pumps are about 75 percent more efficient than the traditional pool heaters that burn propane or natural gas.
Some units cool the water as well. That's a great feature if you get a lot of direct sun.
You can expect to spend $4,500–$5,500.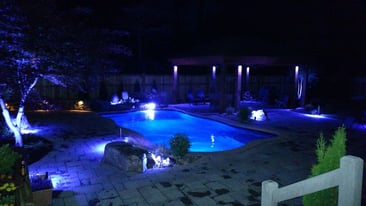 3. LED Pool Lights
These are far and away the most popular form of pool light today.
LED lights last a long time, saving you time and money.
They change colors and even do little light shows when you flip the switch, and that's really cool.
It only takes about five minutes to fix or change the bulb, and you don't have to drain the water to do it.
We prefer the PAL-2000 pool light by Fiberstars. They cost $700–$900 per installed light.
4. Jandy iAqua Link
This cutting-edge technology allows you to control your pool from your smartphone or any device with an internet connection. How cool is that?
The unit usually costs $1,200–$1,800.
5. Security Covers
This tried-and-true winter cover is one of the most popular options among pool owners.
They're low maintenance, last a long time, and actually look nice. The most popular color is green.
Security covers can have solid vinyl or mesh material.
The mesh option lets the water pass through and doesn't need a pump on top of the cover, so you don't have to worry about the pump functioning all winter.
The average security cover costs $1,200–$3,000 to install, but it can be more with paver patios because the installation takes longer.
6. Paver Patios
Pavers are gaining popularity because they look great and don't require the maintenance of sealing concrete like you do with stamped concrete.
If you ever have a problem down the road, you can simply pull the pavers up, do the repair, and put the pavers back.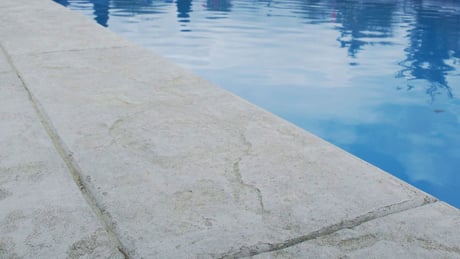 7. Stamped Concrete
A stamped concrete patio gives you a two-tone look. No question, it's beautiful.
The traditional method:
Add color to the concrete truck.

Pour that concrete.

Put another color on top as a powder.

Stamp the concrete.

Clean the powder off.

Seal the concrete.
You do have to re-seal it every 2–3 years, and because it's concrete it will crack.
Stamped concrete usually costs $12–$18 per square foot.
8. Aluminum Fence
Why is aluminum fence installed around 7 of 10 inground pools in certain parts of the country?
It's low maintenance and looks classy. It's not too conspicuous.
Aluminum fencing usually costs $30–$45 per linear foot. That's $4,500–$6,500 for an average pool.
9. Polaris 9300xi Sport
This robotic cleaner is taking the pool industry by storm.
It's four-wheel drive (and anything with four-wheel drive is cool), but it also gets in the nooks and crannies.
It does a better job of cleaning fiberglass pools than other robotic cleaners we found on the market.
It's also really easy to clean out the debris bag. Most of the time, you have a big, bulky bag that you have to dump and spray out, and it's hard to reassemble. With this cleaner, you pop out the little canister, dump it out, and put it back in. It takes a minute.
The Polaris 9300xi Sport is our favorite robotic cleaner because it's easy to use and does a great job cleaning.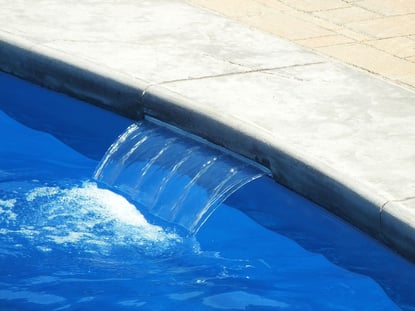 10. Cascade Water Features
This subtle but elegant water feature is easy on the pocketbook and transforms the entire outdoor setting.
This isn't a big, bulky, expensive water feature that sits poolside. This is a subtle water feature that sits right on top of the pool shell and below the coping. When you turn it on, you get a nice sheer descent of water.
It provides the sound of falling water around your pool. That completely changes the atmosphere of the environment.
A cascade can cost $900–$1,200 depending on the size.
Want to learn more about inground pools? Check out our learning center or read our swimming pool cost guide today! Interested in fiberglass pools? Download your free ebook below, browse our catalog of models, and try out our fiberglass pool pricing calculator tool.
Up Next:
7 Pool Extras That Won't Break the Budget
Inground Concrete Swimming Pool Cost and Price Guide 2020
How Much Is My Fiberglass Pool Really Going to Cost?
---
Editor's note: This blog article was updated on February 10, 2020