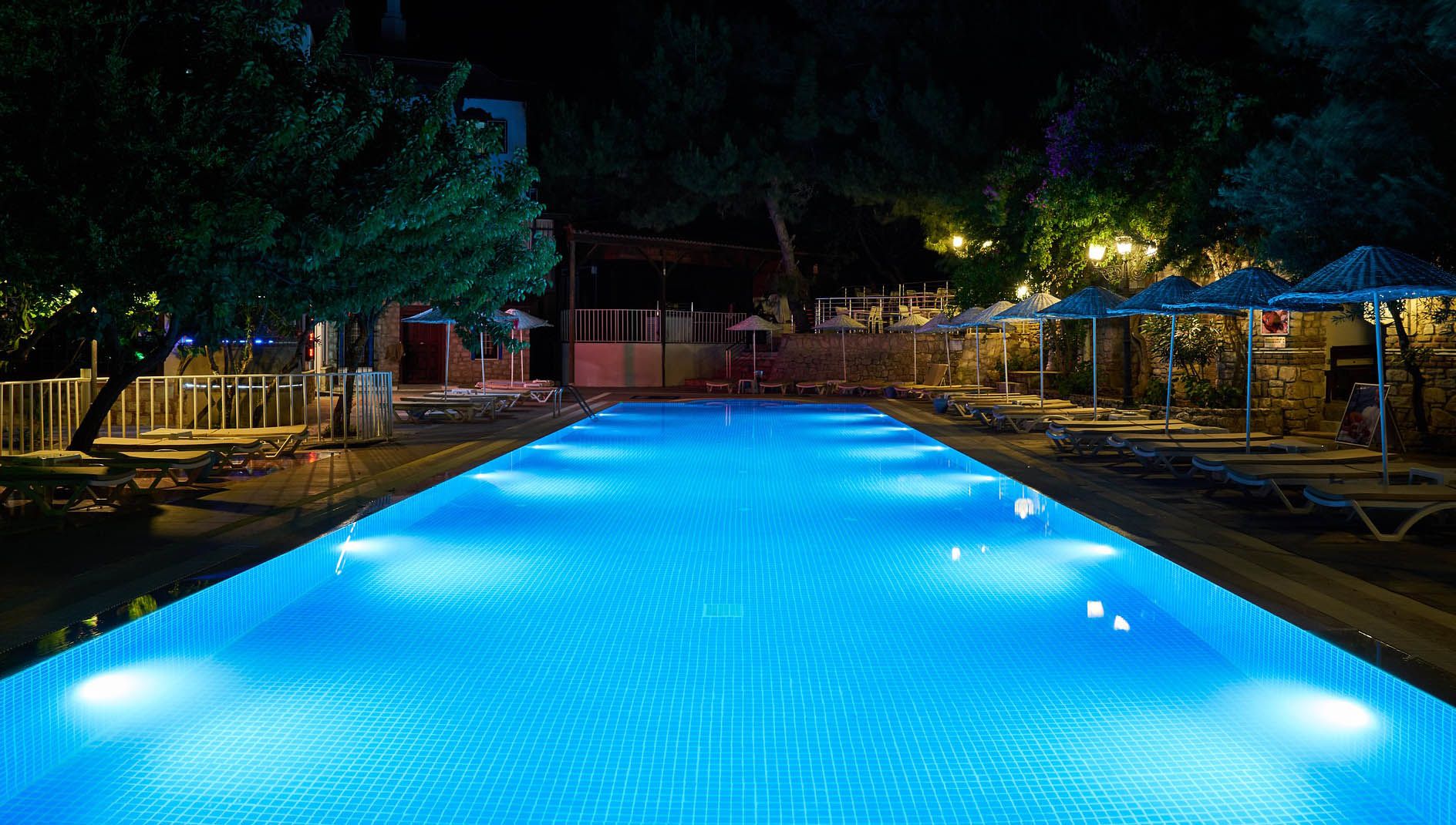 Subscribe
The 11 Best Swimming Pool Lights For 2021 (and 2022)
Options and Accessories | Swimming Pool FAQs | Swimming Pool Accessories | Pool lighting
What's better than a soothing dip in your own backyard pool on a hot summer day?
How about a romantic, thrilling, and/or just-a-little-taboo nighttime swim, with some cozy lights to set the mood?
The after-dark dip is a favorite of many pool owners, whether it's part of an intimate moment with a significant other, as the centerpiece of a rocking backyard house party, or just for some good old-fashioned night-owl fun.
But it's hard to enjoy your pool after dark if you've got nothing to light the way.
Luckily, there are a wide range of high-quality swimming pool lights on the market for all sorts of pools and pool owner needs.
You've got plenty of lights that can be installed into the walls of your pool itself -- we recommend talking with your pool builder about proper lighting installation procedures -- but you can also decorate your pool with floating lights, hanging lights, programmable LED lights, and many more colorful, engaging illumination options as well.
There are tons of choices when it comes to lighting your pool. We've tried to make it a bit easier to choose, by highlighting the most popular and well-reviewed swimming pool lighting options in a range of categories.
Best inground pool lights: Bonbo 6000K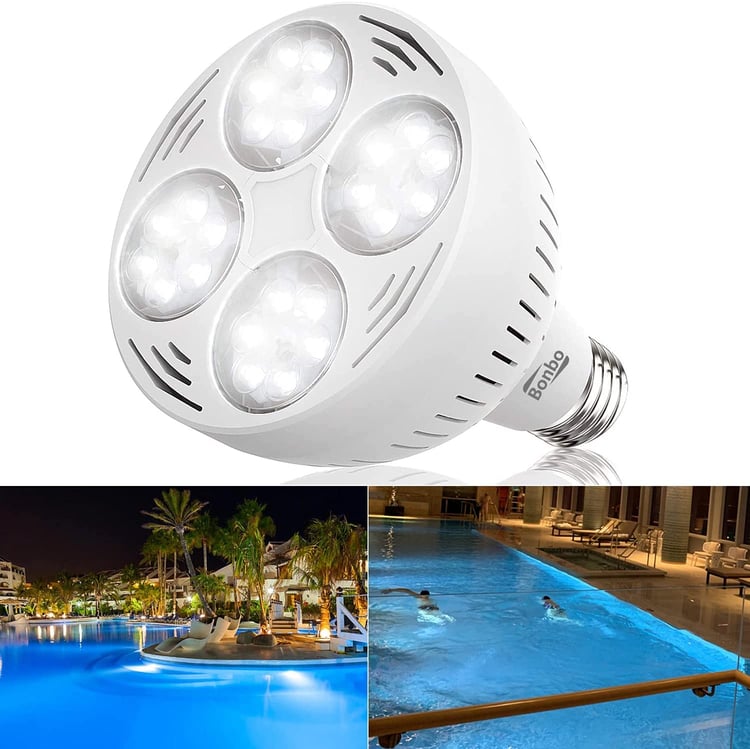 If you're looking for a durable, functional, and powerful way to light up your inground pool at night, you can't go wrong with the simplicity of a Bonbo LED.
Bonbo has two primary bright-white LED bulbs for swimming pools -- a 50-watt option to replace 300- to 600-watt incandescent fixtures, and a 65-watt bulb that can replace 500- to 800-watt incandescent bulbs.
The "daylight white" color of one Bonbo bulb can brighten up pools of up to 32,000 gallons.
The company claims to be compatible with a range of Hayward and Pentair pool light fixtures as well, so you may not need to do anything other than unscrew your old bulb and pop in a new Bonbo bulb.
The 50-watt bulb is rated for 10,000 hours of operation, and the 65-watt bulb is stated to work for up to 60,000 hours. It could be quite some time before you need to consider replacing these lights!
More great inground pool lights: iledlight 6000K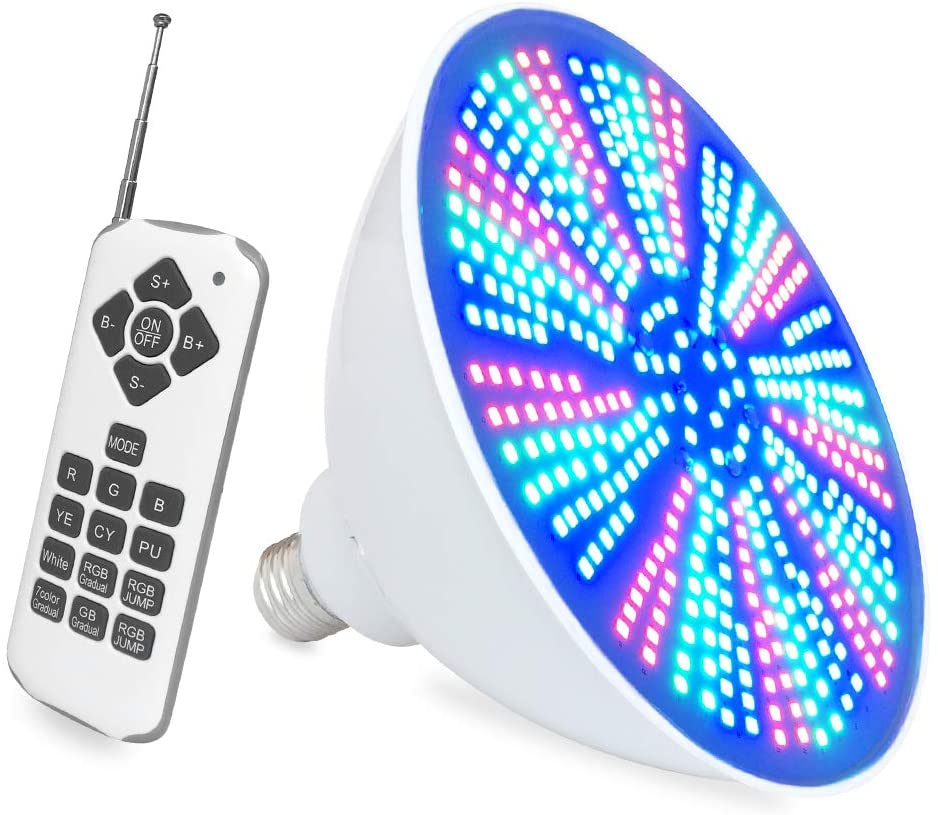 If you're looking for a wider range of potential inground pool lighting options, you may want to consider iledlight instead of Bonbo.
There are eight different iledlight bulb options, from a spa-suitable 12-volt 15-watt bulb to a color-changing full-RGB 120-volt 40-watt bulb you can control and adjust with a remote.
There's something for every type of pool (and spa) in the iledlight lineup, and both the white and RGB bulbs should be compatible with most commonly-installed Hayward and Pentair pool light fixtures.
Best underwater pool lights: Roleadro IP68 (corded)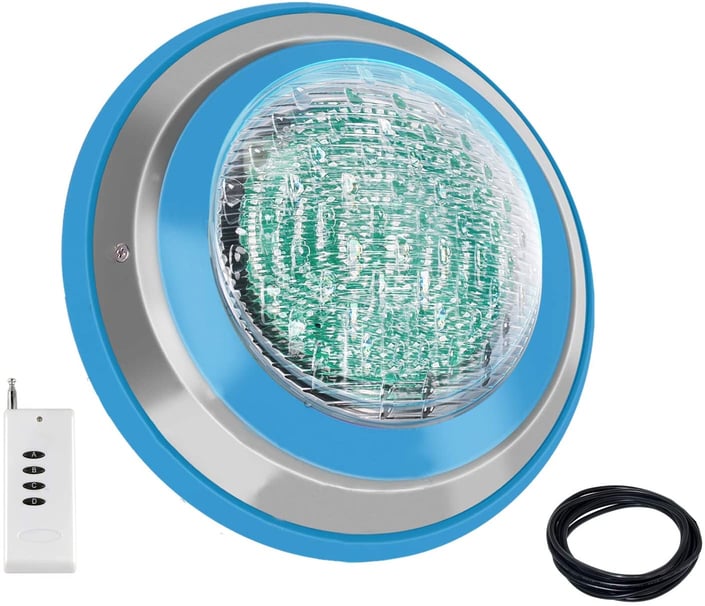 Want to light up your pool, but don't have any existing fixtures? No problem!
Roleadro's two inground pool lights can be screwed onto the wall of your pool with an included mounting bracket, and you can plug them into most standard outlets with a separate power converter.
These lights are similar to those mentioned above, and can also be remote-controlled to set the perfect mood for any evening occasion.
The entry-level option has a shorter cord (both lights have power cords to plug in) and doesn't include pure white lighting as an option, but the slightly more expensive Roleadro light has a longer cord and a pure-white option.
For range and versatility, we'd probably recommend the latter light.
Best underwater lights for small pools + spas: GlowTub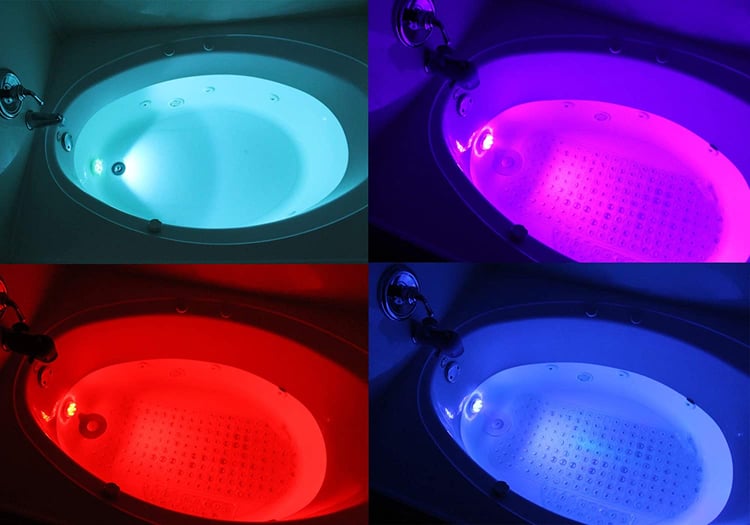 As its name might suggest, the GlowTub pool light is designed for more intimate environments, such as spas and hot tubs.
It attaches to the walls of your pool, spa, or hot tub with a suction cup, so you could conceivably use the GlowTub light anywhere you can stick a suction cup to for an extended period of time.
The light fixture itself has 10 LED inserts and can be remote-controlled. All you need is three AAA batteries and you're good to go!
Pick up a whole pack of these underwater pool lights and have yourself a party in any size pool. You can also just use one or two to illuminate your hot tub at night for an extra-sexy evening.
Best small floating pool lights: Chakev 3-Inch LED Ball Lights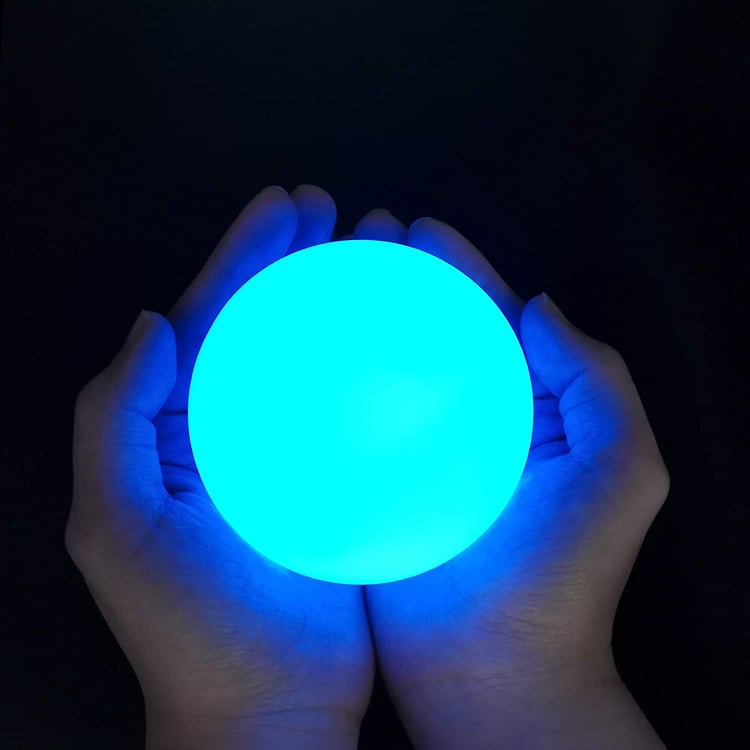 Is it really a party without some floating light-up LED balls?
You won't have to worry about that with Chakev's palm-sized 3-inch floating pool lights. One is just $5.99, but you can get a 10-pack for $39.99 to create a whole vibe in your backyard oasis without breaking the bank.
The ball lights come with remote controls and use two CR2032 coin-cell style batteries apiece, for up to 30 hours of use.
You can pick up CR2032 batteries on Amazon, too -- stock up on both the ball lights and their required batteries now, so you can stage a truly unforgettable pool party!
Best solar floating pool lights: Esuper 2-Pack Inflatable Lights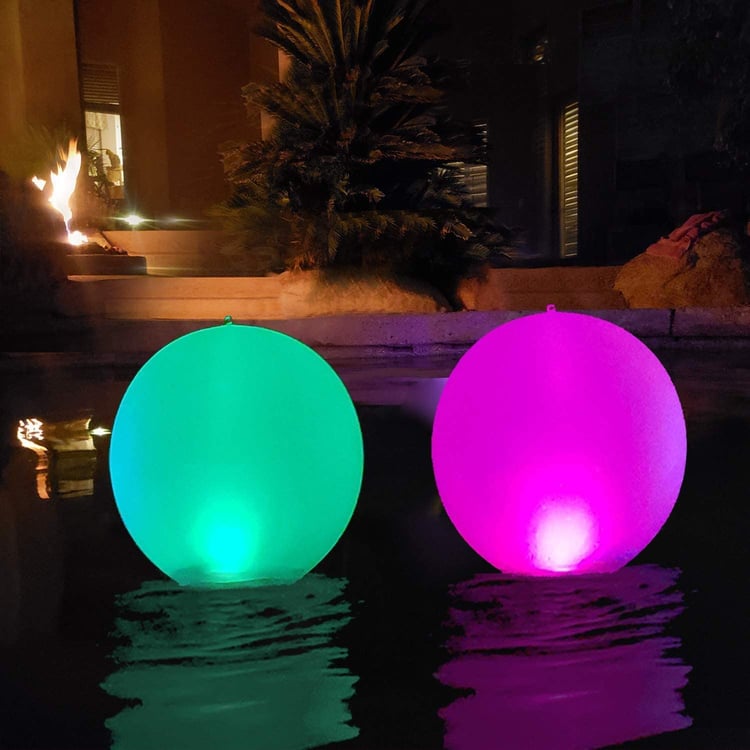 Don't feel like stocking up on batteries every time you have a pool party?
Try the Esuper floating ball lights -- they're solar-powered and much larger than the Chakev ball lights, so you can set the mood with a bit less legwork.
These 14-inch floating solar ball lights are inflatable, charge automatically in direct sunlight, and can even dangle in midair from overhead wires or poles thanks to their built-in hanging hooks.
The only real downside here is you don't have the same degree of control over the color these floating solar pool lights will display. They simply cycle through preset routines, which can be great if you don't need a specific color for your party, but it may be less than ideal if you're trying to use seasonally-specific colors for holidays or special occasions.
A two-pack of these 14-inch lights was on sale for just $33.99 when we wrote this article, so you could easily get both the Esuper ball lights and a Chakev ball light multi-pack for a broader range of possible pool lighting options.
More great solar floating pool lights: TIALLY Full Moon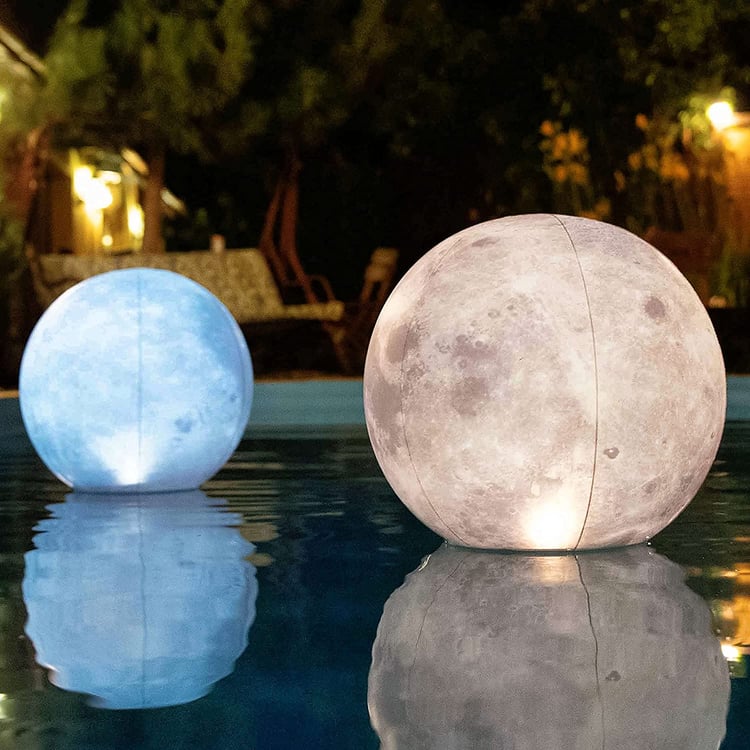 The (tidal) force is strong with these moon-print solar floating pool lights.
As you can see, the TIALLY lights are dressed up with a celestial-esque print, making them excellent options for amateur astronomers, aspiring astronauts, and anyone else with a strong interest in space.
They work similarly (and are the same size) as the Esuper floating solar pool lights, but have fewer color options. Pick up a two-pack if you'd like a somewhat more understated -- yet still distinctive -- lighting style for your next pool party.
Best solar pool lights: DeeprBlu Solar Lanterns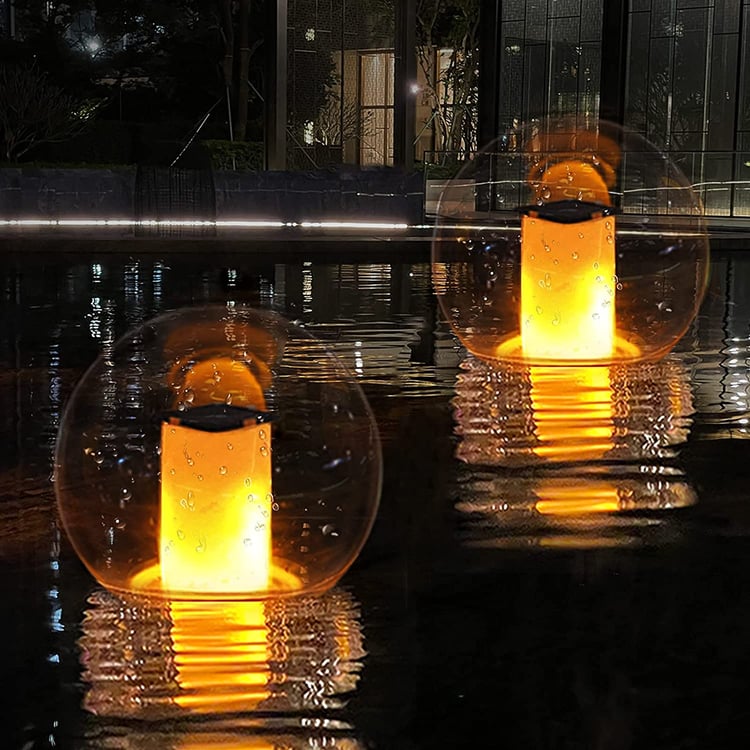 The previous solar light options were designed primarily for in-pool use, but DeeprBlu's lantern-style solar pool lights are versatile and welcoming enough to be used virtually anywhere outdoors.
These solar pool lights come with protective waterproof ball enclosures for in-pool use.
However, you can also place the DeeprBlu solar lanterns around the perimeter of your pool, along walking paths, or anywhere else you'd like to illuminate without the added protection -- so long as it's not going to rain on the day of your pool party!
These stylish solar pool lights can add a lovely and intimate vibe to your nighttime event, and DeeprBlu also plays up the romantic potential of using a few of these lantern-style lights in a spa or hot tub. We think these solar pool lights could be a great choice to light up your night with class and elegance.
Best LED pool lights: Happox Color-Changing LED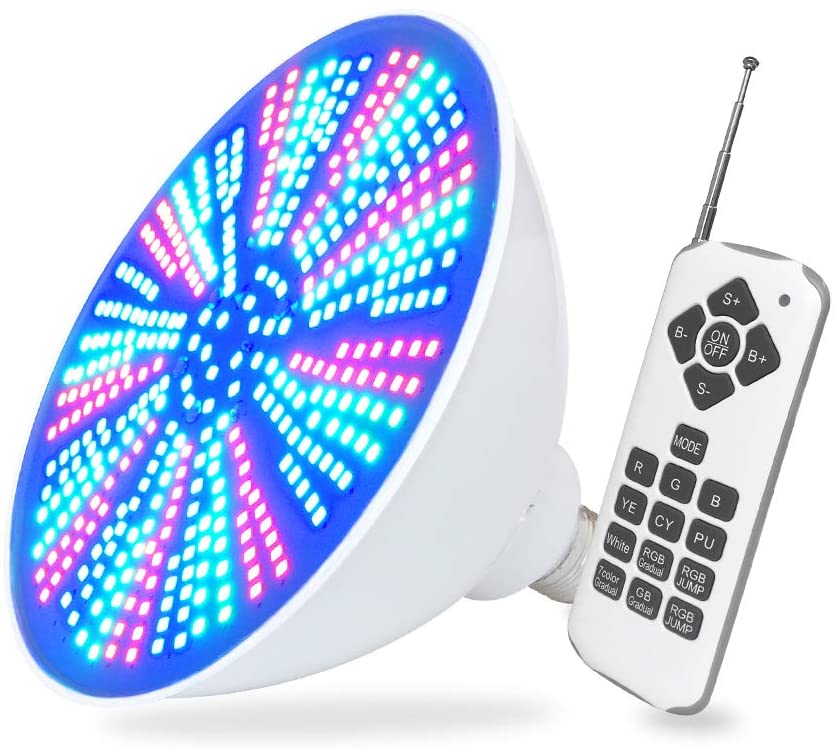 Want control over your pool lighting? The Happox range of bulbs includes two bright-white options and two full-color RGB bulbs.
The color bulbs come with one of the more elaborate remote controls we've seen for a pool light, allowing you to cycle through color shifts, adjust the color to your desired hue, and even choose from a variety of different preset animations.
These are powerful pool lights, and should be more than capable of illuminating your pool from existing Hayward or Pentair pool lighting installations.
Best pool fountain with lights: GAME Light Show + Fountain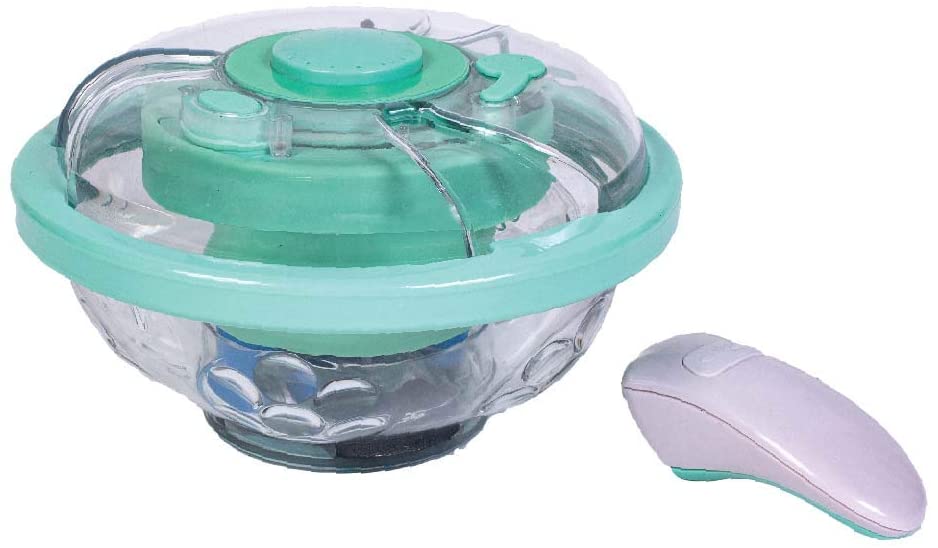 We've already covered a number of the best pool fountains available online. But sometimes you need a little extra -- like a light show to accompany your water feature.
The GAME pool fountain with lights can be used underwater or as a floating feature. It runs for up to three hours on a rechargeable battery and can be controlled with a remote.
You can also customize both the spray and the light display with the included remote control -- there are three unique settings for each feature -- to make your pool party truly memorable.
Best submersible pool lights: Chakev Submersible LEDs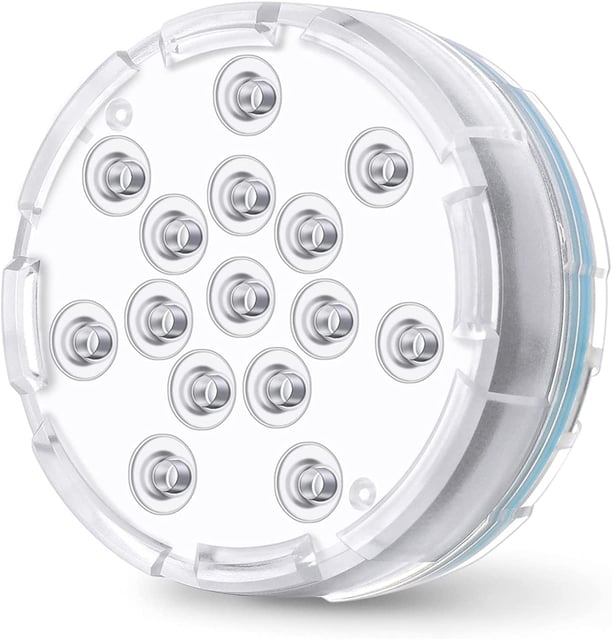 Chakev makes floating pool lights, but it also offers some submersible pool lights so you can glow up your pool party above and below the water.
These submersible LED lights come with a suction cup and a magnetic attachment point, and you can adjust the colors and brightness settings with an included remote control.
Chakev's submersible lights can be bought individually, or you can get up to eight at once to save some money and create the underwater light show you've always wanted.
Is your pool ready to light up the night?
A pool is a major investment. You shouldn't have to stop using it when the sun goes down -- and you won't have to when you've got the right lights in place.
We hope some of these options will help you create the perfect vibe in your backyard oasis, whether you're planning the neighborhood's best-ever pool party or just want to take a dip in the darkness with someone close to you.
Would you recommend different pool lights than the ones we've highlighted here? Are there better lighting options in any of the categories we've featured here?
Let us know in the comments, and we'd be happy to update this article with the best and most recent information available!
If you're shopping around for a fiberglass pool, feel free to take a look at our catalog of models, visit our extensive video library, try out our pool cost calculator, or request custom pricing using the button below.
Editor's note: This article was updated on September 20, 2023.