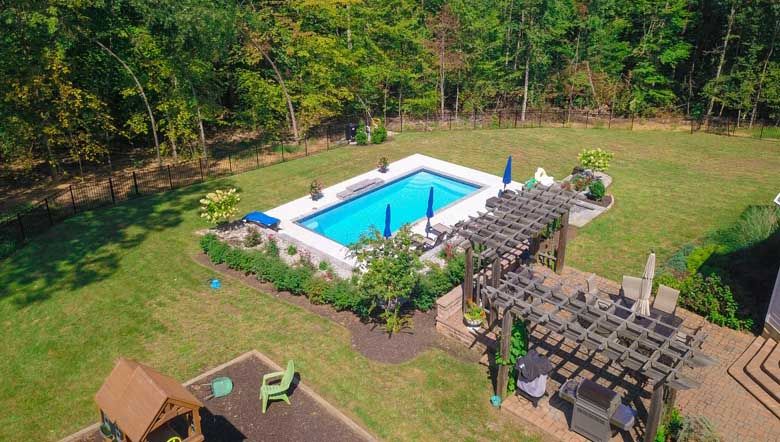 Subscribe
12 Outdoor Living Space Accessories to Add to Your Home
Options and Accessories | Retaining Walls, Fence, and Landscaping
Why have this…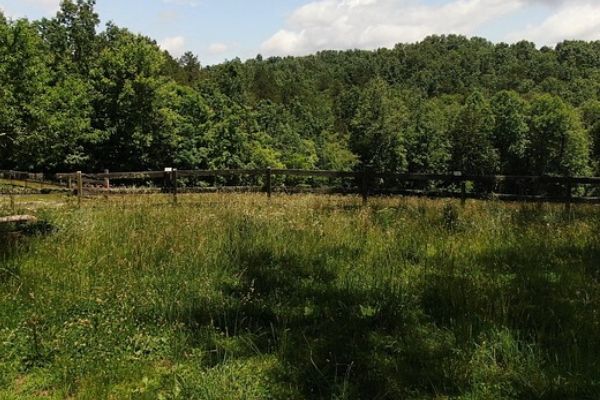 When you can have this?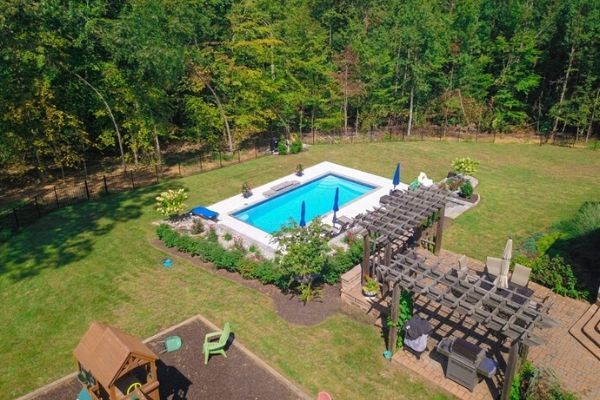 After all, outdoor living is about fun.


It's where you can make your childhood dreams come true and create an atmosphere purely designed to entertain (we know because we manufacture fiberglass swimming pools and often have a hand in the pool landscaping).


While zoning is the key to creating an outdoor living space that is both functional and nice to look at, the question is, what type of outdoor living spaces do you want to create? Who will be spending the most time there, and what's most important to you?


We hope that this article can provide you with some inspiration for your own outdoor living space and help you gather some new ideas for future home improvement projects.


Let's dive in!
Outdoor Living Space Ideas & Accessories
Jump to:
Fire Pit
Let's face it - no outdoor living space is complete without a fire pit. A fire pit can be used during all seasons of the year, and nothing brings people together like the warmth of a wholesome fire. The good news is that almost anyone can buy or even build a fire pit in their backyard.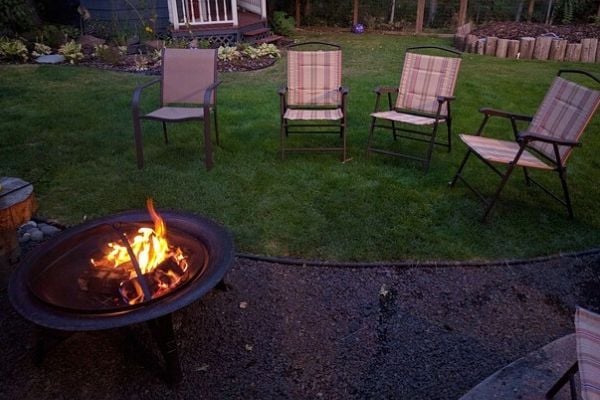 Pro tip: Make sure to read up on your county's fire pit regulations before you build or buy one. Most areas have restrictions on where the fire pit can be located and how big it can be. Other areas will require you to pay a fee for a fire pit permit before you can use one.
Types of Fire Pits
We've seen fire pits made from all types of materials, including brick, concrete, metal, and stone. If you don't want to build a fire pit yourself, you can plop a pre-made steel or stone fire pit near your seating area or look into getting a fire bowl (glass burning fire bowls are extra cool).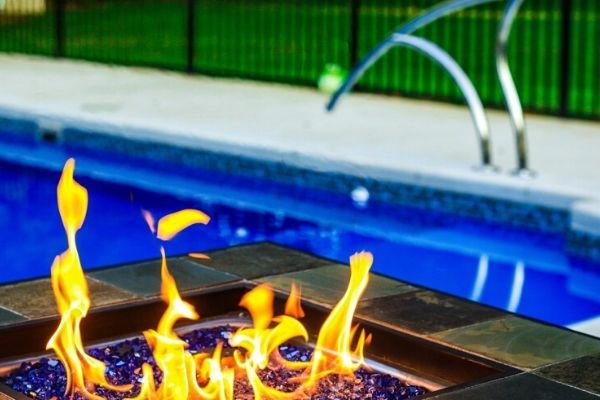 If you want a serious upgrade, trying building an outdoor gas or wood-burning fireplace on your back porch.
How much does a fire pit cost?
A fire pit can be extremely affordable (think DIY brick fire pit), but high-end fire pits can cost thousands. A budget-friendly DIY fire pit can cost as little as a few hundred dollars. On the other hand, you might pay around $2,500 and up for a professionally built backyard fire pit and $1,000 and up for a large fire bowl. Remember, The materials that you use will affect how much the project ultimately costs.
Pergola
A pergola is a perfect addition for anyone looking to add extra shade to their outdoor living area. These are especially handy in cities like Phoenix or El Paso, where the summers get extremely hot. Maybe you need shade for dining or seating, or you might just like the way that pergolas look.

With something as large as a pergola, space might be an issue if you're working with a small area. Most people will need a considerable amount of square footage to put up a pergola, but you can get one as small as 10 feet by 10 feet and as large as 20 feet by 20 feet and up.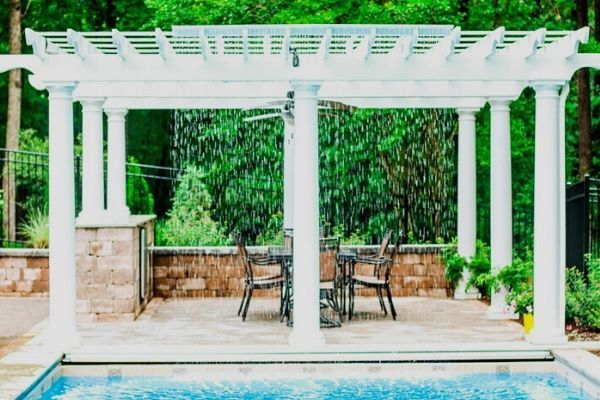 Types of Pergolas
You'll typically have two options when it comes to pergolas: you can build a custom pergola or buy a pergola kit. Pergola kits come in many different types of materials, and they may or may not include a roof or canopy. Most pergolas that we see are made out of wood, but many pergolas are also made from metals, vinyl, stone, or a mix of materials.
How much does a pergola cost?
Pergolas typically cost around $500 on the low end to $9,000 on the upper end. The average price for a pergola might fall somewhere in the middle at $2,000 to $5,000 and up.
Pool House
We're assuming you have a pool, but even if you don't have a swimming pool, a pool house can offer an excellent space for relaxation and fun. Many people also use their pool house as an office or guest house.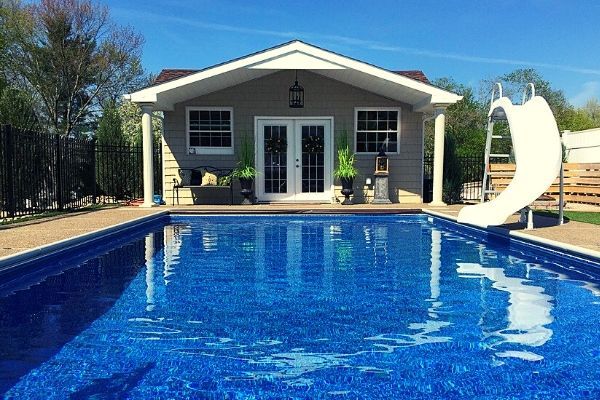 Types of Pool Houses
There are two main types of pool houses: prefab and custom-built. A prefab pool house would be similar to a modular home in that it's immediately ready to be set up and used. Custom-built pool houses allow you to do anything you want with the space, but there is also a wide selection of prefab pool houses with many different features, including bathrooms, kitchens, and more.
How much is a pool house?
Pool houses don't all cost excessive amounts to build. While they can get into a price range of $50,000 and up, pool houses can cost as little as $1,500 (for a shed) and $5,000 (prefab pool house). A custom-built pool house will likely cost $160 to $600 per square foot.
Read more: Should You Build a Pool House?
Outdoor Storage
Need extra space for your pool toys or outdoor decorations? Some storage ought to do the trick! Your first thought might be to get an outdoor shed, but you can also try using bench seating with built-in storage, storage ottomans, or buffet tables and cabinets.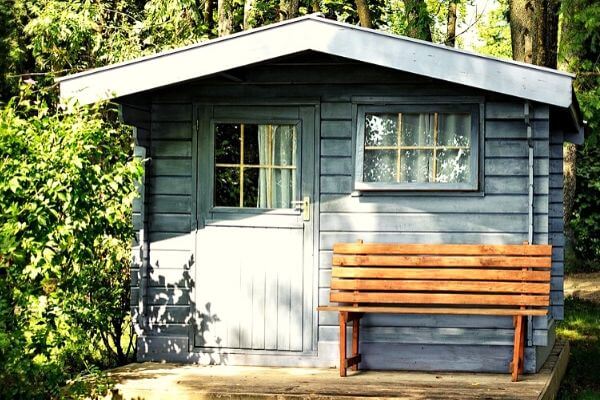 How much does outdoor storage cost?
A typical outdoor storage shed or chest might run you anywhere from $150 to over $1,000. Outdoor seating with built-in storage, like a bench, might cost around $50 to $250 and up. Building custom bench seating with integrated storage will likely cost more depending on the materials and how much of the work you do on your own.
Outdoor Seating
Seating is an absolute must in any outdoor space. Whether it's around the pool, under a pergola, or arranged on the patio, outdoor seating can add functionality and charm to every backyard. Note: Not all materials are suited for exposure to the elements, so you'll need to make sure that your furniture is made for outdoors.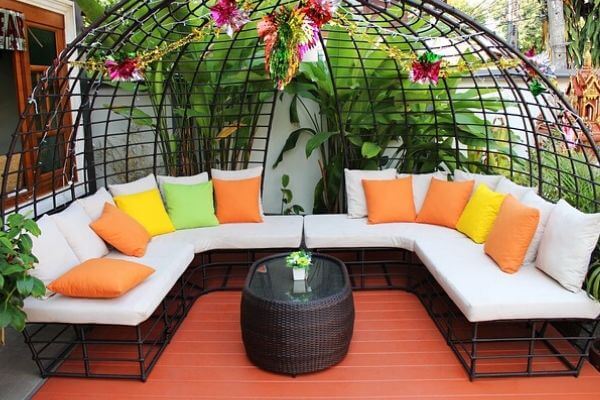 Outdoor Seating Materials
Having trouble choosing the right outdoor furniture? Here are a few outdoor-friendly materials for your sofas, chairs, and dining sets:
Wicker
Resin
Wrought iron
Wood
Aluminum
Synthetic fabrics
How much does outdoor seating cost?
You can expect outdoor chairs, benches, and couches to be as little as a few hundred dollars to several thousand dollars. For example, a couple of lounge chairs might cost $150 to $300 and up while an outdoor dining set can cost $500 to $1,500 and up.
Outdoor Kitchen
Want to really wow your guests and bring your barbecues to the next level? An outdoor kitchen can be the ultimate backyard accessory, but unsurprisingly, it can also be pricey.

Outdoor kitchens can consist of as little as a sink and a grill to a fully equipped kitchen with an oven, cooktop, refrigerator, and more on your back porch.

Pro tip: You can also integrate your kitchen into your pool house to save on space.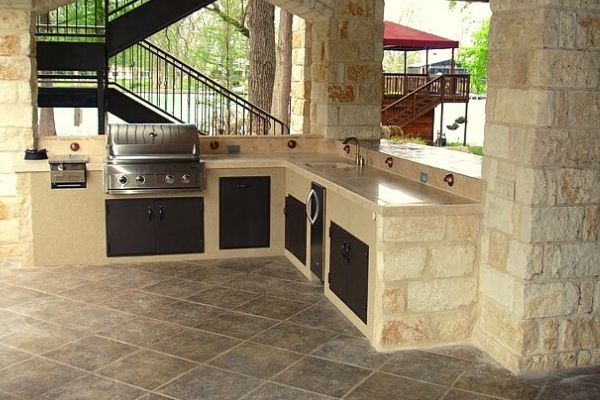 How much does an outdoor kitchen cost?
A simple outdoor kitchen can cost as little as $3,000, but for a custom outdoor kitchen with a full suite of appliances and countertops, you can expect to pay around $15,000 and up.
Outdoor Theater
The point of going outside is to get away from the TV, right? At least that's what we might tell our kids. But sometimes, it's fun to bring your movie marathon outdoors, and anyone can do that with an outdoor TV or a digital projector.

Keep in mind that you can't bring just any television outdoors. Your outdoor TV should be made for outdoor environments and varying temperatures.

Pro tip: Set up your screen by the pool for triple the fun.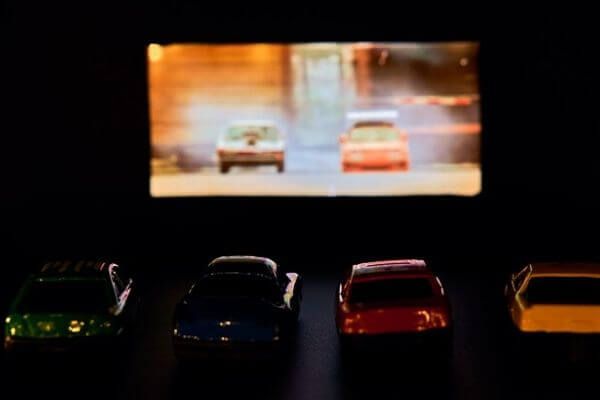 How much does an outdoor theater cost?
An outdoor television will likely cost anywhere from $1,500 to $7,000. A projector and screen can cost as little as a few hundred dollars. The obligatory popcorn machine might run you an extra $50 to $200.
Spa
Whether you have a pool or not, a spa or hot tub is a great way to spend your time outdoors throughout the year. If you've always dreamed of owning a spa or hot tub, why not take the plunge and add one to your outdoor living space?

Pro tip: You'll need an area of around 9 feet by 9 feet plus three feet of patio around it for a spa.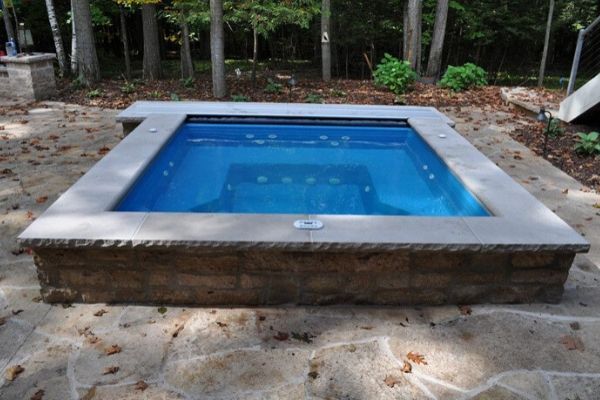 Types of Spas
Spas can be found in all shapes, sizes, and materials, but these are some of the most common:
Concrete (shotcrete/gunite pools) - Typically, these are custom-built inground or above ground spas.
Fiberglass - Fiberglass hot tubs are prefabricated in a factory and installed inground or above ground.
Acrylic - Acrylic spas are prefabricated in a factory and often ready to use.
Metal - Most metal spas are either stainless steel or copper, and some also integrate glass into the design.
Wood - Traditional wood spas (also called barrel hot tubs or wood-fired hot tubs) can be purchased from specialty stores, but you can also easily DIY a wood spa.
How much does a spa cost?
Most spas and hot tubs will cost between $3,000 and $20,000 and up. Our high-quality fiberglass spas might fall within the $17,000 to $24,000 range, including the installation. A wood-fired spa might cost you a minimum of $2,000 or even less if you DIY the project.

As a general rule, the bigger the spa is, the more you can expect it to cost.
Bar
Need a cool space to entertain guests? Want extra seating for cookouts and parties? A bar can give you a great setup for gatherings, birthday parties, and even bigger events like weddings. Your bar can be built into your outdoor kitchen, or you can integrate a standalone bar area in another part of your yard.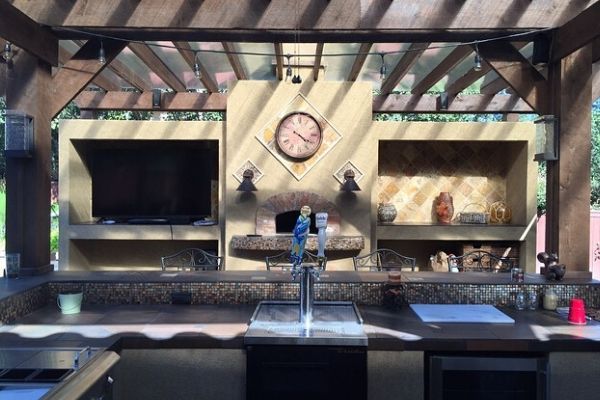 How much does an outdoor bar cost?
You can get a simple outdoor bar set for as little as a few hundred dollars, or you can build a custom bar for around $3,000 and up. More elaborate prefab bars are also available at varying price tags.
Outdoor Shower
Wouldn't it be great if you could jump out of the pool and straight into the shower? No more green hair.

Outdoor showers are pretty nifty, especially if you have a pool or hot tub. But is there enough privacy for an outdoor shower? Is it worth the cost? Where can you put an outdoor shower?

Outdoor showers can prevent you and your guests from tracking pool water throughout the house, and they can help you keep your pool clean, so most people find them to be a worthy investment. However, if you are concerned about privacy, here are a few ideas to try:
Build custom shower walls

Use trees, hedges, and other plants to separate the space

Buy an outdoor shower stall
Note: You can put your outdoor shower just about anywhere provided you have the proper drainage set up if it's near your house or another structure.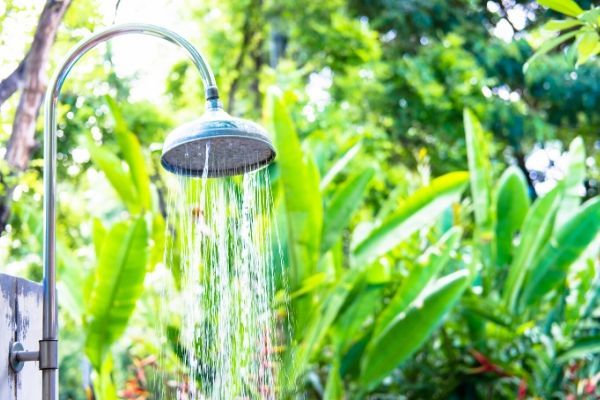 How much does an outdoor shower cost?
An outdoor shower might cost you $1,000 to $8,000 and up to build, depending on the design. You can even purchase an outdoor shower kit that comes complete with a privacy stall. These shower kits might cost anywhere between $700 and $3,000 on average.
Fountain
A source of running water is an attractive feature that people can not only see but also hear. A fountain can be a good addition to an outdoor dining or bar area, but you can place one or more fountains almost anywhere, depending on the size and space requirements. There are also many types of fountains such as in-pool fountains, rock waterfall fountains, and glass fountains, but most opt for a traditional tiered fountain or wall fountain.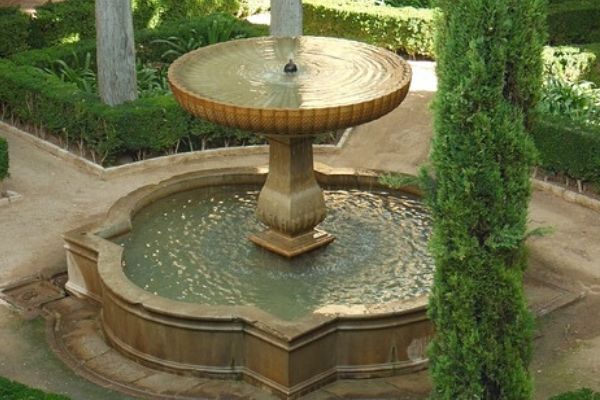 How much does an outdoor fountain cost?
A traditional outdoor fountain can cost anywhere from a few hundred dollars to over $5,000 on average. The bigger the fountain and the more elaborate the design, the more you will likely pay. Custom fountains designed and sculpted by artists can cost much more.
Outdoor Lighting
Nothing sets the mood for a gathering like good lighting. Investing in some strategic lighting for your outdoor living space is actually one of our top recommendations.
Pro tip: Consider where you're going to spend the most time and which points you want to highlight. Think about how you can eliminate harsh lighting and introduce soft, ambient lights into the space.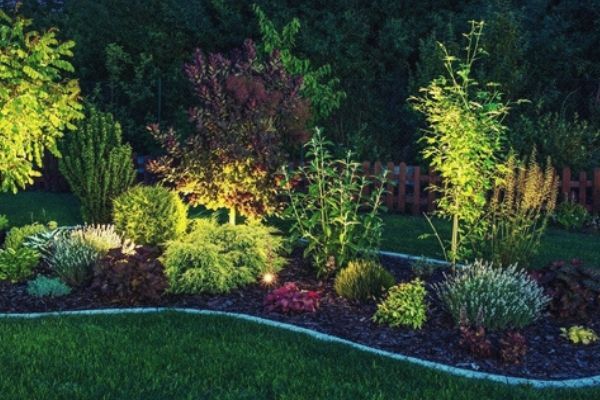 Outdoor Lighting Ideas
Here are a few ideas for your outdoor lighting in case you need some inspiration:
Hang string lights above your dining area
Add neon lights to your outdoor bar or kitchen
Install sconces on accent walls
Point spotlights at trees, fountains, or statues
Place tiki torches around the pool or bar area
Install path lights leading to your different outdoor living zones
Hang solar lanterns from trees and pergolas
How much does outdoor lighting cost?
Plug-in lights (like string lights) cost next to nothing and can be bought for as little as $10. Decorative solar lights are also often affordable and can fall within the under $100 price range.
Permanent, hardscape lights (like sconces, spotlights, path lights, etc.) and the installation of those lights can cost hundreds to thousands of dollars, depending on the type and quality.
Read more: A Beginner's Guide to Pool Landscape Lighting: Types, Tips, and Other Considerations
Have you considered adding a swimming pool to your outdoor living space? We manufacture high-quality fiberglass pools that can be installed fully above ground, inground, and semi-inground. Our pool shapes come in a wide range of shapes and sizes from 10x20 to 16x40. Fiberglass pools are also:
Algae resistant

Smooth to the touch

Low-maintenance

Fast to install
You can check out our catalog here, request custom pricing, or try out our pool pricing calculator below. Happy swimming!
---

Want to see about how much that cost will be with all your favorite pool accessories?
Use our Design and Price Tool to walk through your options and approximate price!
---
Need some more inspiration? Here are a few articles to give you additional ideas for your outdoor living area:
25 Small Inground Pool Ideas for All Budgets
Pool Patio Ideas and Options: A Personalized Guide