Subscribe
A Beginner's Guide to Pool Landscape Lighting: Types, Tips, and Other Considerations
Pool landscaping | Pool lighting
You may be asking yourself, "Do I really need landscape lighting around my pool?"

Good question, and the answer in most cases is yes for two main reasons: form and function.

With our collective experience within the inground fiberglass swimming pool industry, we've seen thousands of inground pool projects over the years.

Some of the pool landscape designs we see have minimalistic lighting. Others are more intricate. And so to help you answer the question, "How should I light the area around my pool?", we've produced the following guide.
What's Inside
Where to place lights around your pool
Automating your landscape lighting
Pool landscape lighting ideas for your backyard
Who should install your lights?
Where to place lights around your pool
Where you place lights around your pool landscape will depend on your backyard, the features that it has, and the elements that you would like to see around your pool.
You might want grass, trees, and flower beds, or you may want mostly concrete and tile. You may even choose desert landscaping with rocks, pottery, and minimal plant life.
However your pool landscaping will be decorated, here are some of the most common places to install outdoor lights:
1. Steps
2. Paths and walkways
3. Walls
4. Water features
5. Perimeters
6. Patios
7. Trees and plants
8. Statues and decorations
9. Seating areas
10. Garden beds
Lights embedded in concrete steps, stairs, and walkways can make your backyard more functional and beautiful. Beyond aesthetics, lighting these areas is a necessary safety precaution to prevent people from tripping and falling.
Accent lights can be placed in or near trees, along walls, and around water features (like pool fountains and waterfalls) to highlight these areas and increase the beauty of the space.
Let's say you have a statue, a fire pit, or even a koi pond. You'll want to shine some light on these focal points so that you can enjoy them after the sun goes down.
Patio, garden, and perimeter lights make the spaces where people spend the most time more visible at night. These can be lit with soft lighting to add warmth or with stronger, more powerful lights to make the space more functional.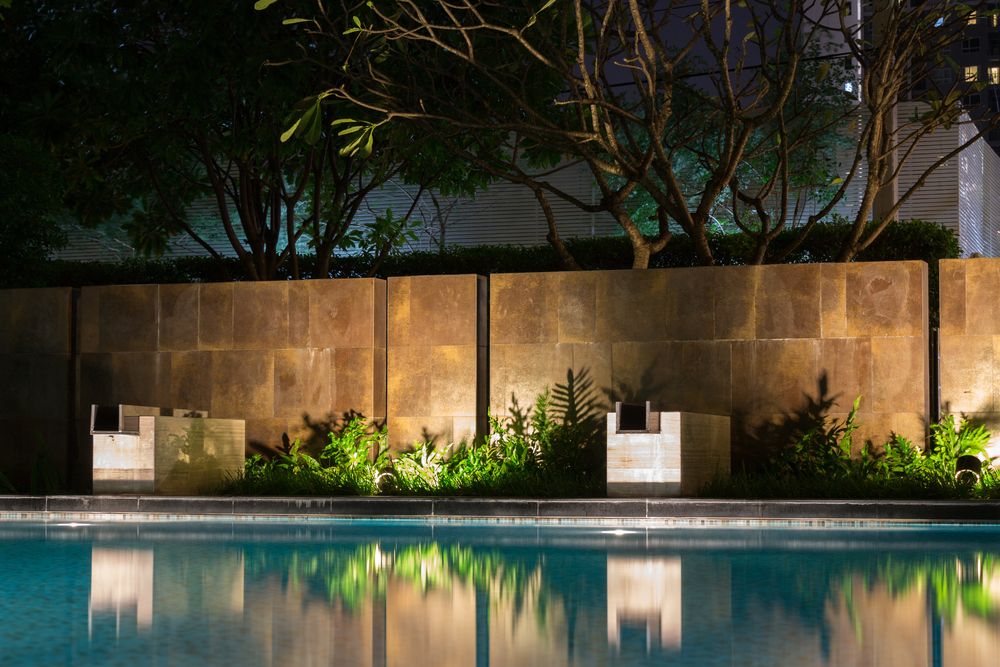 Types of landscape lights
Now that you have a better idea of where and what you need to light, we can move on to the types of lights that you can use.
In general, there are 7 types of lights commonly seen in outdoor spaces:
1. Floodlights
These are good for lighting large areas, especially when you want them to be well lit. Floodlights can illuminate entire portions of your yard, like a patio or a garden.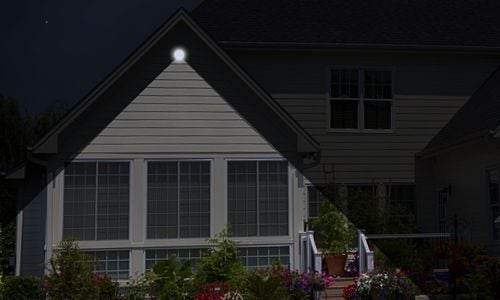 2. Spotlights
Spotlights are used to highlight your favorite features, such as a tree, a wall, or a fountain. You can use spotlights to create uplighting or downlighting for different effects.
Uplighting is when the light is pointed upward at an area or object, such as a plant, wall, or statue. Downlighting is when the light shines down from above, like from up in a tree.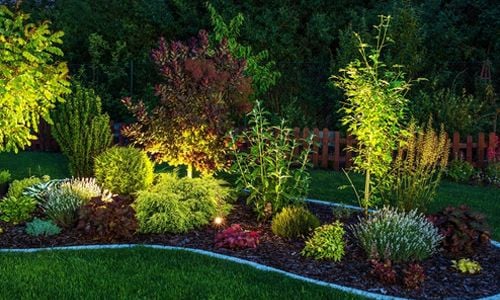 3. Hardscape lights
These lights are usually embedded in concrete and stone steps, walls, and pathways for safety reasons.
They're often subtle but still provide enough visibility for people to see where they're going. You might see these in steps leading towards the pool or integrated in seating areas around it.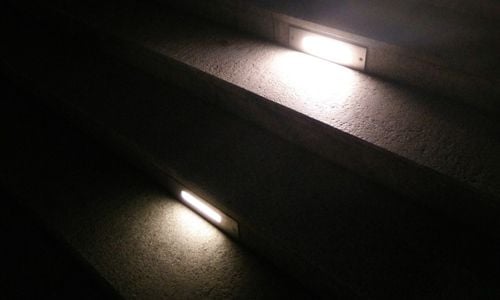 Pro tip:
make sure that your lights are not in violation of national or regional code in terms of how far they need to be from the surface of the pool. This will depend on the light's
IP rating
, so check with a professional or the manufacturer before doing any installations.
4. Path lights
Path lights are used to line and light pathways and stairways. These commonly substitute hardscape lights and come in a wide range of styles.
Try lining your path from the house to the pool with a combination of path lights and hardscape lights. Just make sure to use the right type of lights for areas that are close to the water.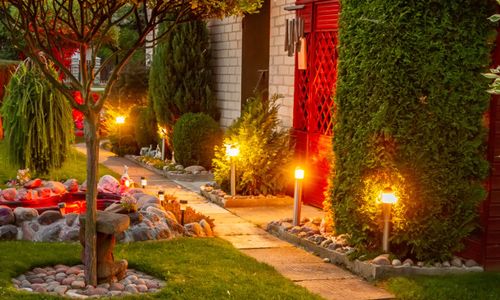 5. Torches
Outdoor torches, or tiki torches, can be used to light the perimeter of your yard. These usually come in tropical styles and add a lot of character to the area around the pool.
Caution: You should always be careful when using open flames around your property and the property of your neighbors. Solar, battery operated, and electric torches are good alternatives to flame torches.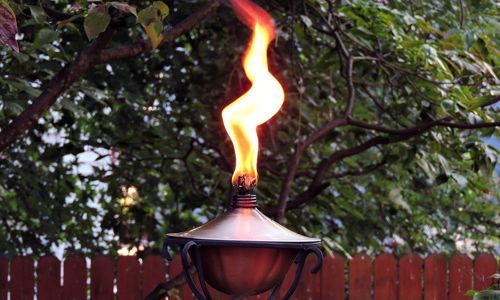 6. String lights
We all know that string lights and fairy lights aren't used for lighting as much as they are for aesthetics, but they can add both light and personality to your space.
These are good for hanging over patios and wrapping around trees and other plants. Get creative with the placement of your string lights, but be sure that you don't hang them over your pool or any other contained water such as fountains, tanning ledges, and ponds!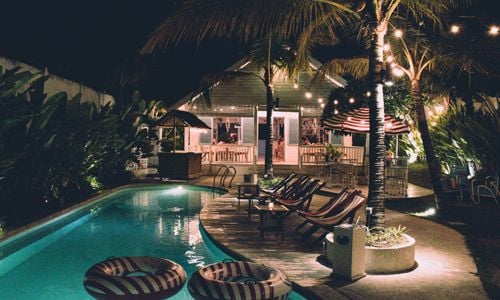 7. Well lights
Well lights are usually embedded in the ground and can be used to spotlight certain areas or to create additional lighting in dark patches. They can be installed flush with the ground or they can remain exposed, depending on your needs.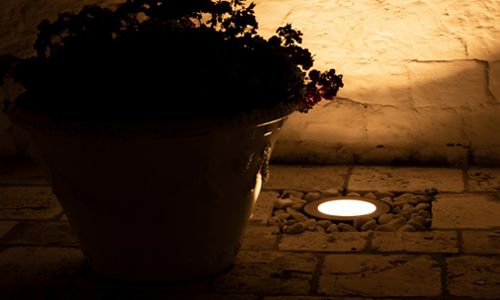 Which lights are the best for backyard pool landscaping?
In our opinion, LED low-voltage lights are the best because they provide high-quality, professional landscape lighting. These are also easier and safer to install on your own if you have a basic understanding of setting up lighting hardware.
LED low-voltage lights also save energy and money!
Lighting color and beam options
Your landscape lights shouldn't all look the same. Landscaping experts say that it's good to have some variation in color and beam spread for each area that you want to highlight.

For example, if you want to mount a light in a tree canopy to create a moonlighting effect, you'll probably use a white light with a slightly blue hue.

For most uplighting and path lighting, you'll probably use warm white or yellow toned lights. A good landscaper should be able to help you select the right lights for each part of your landscaping project.
Automating your landscape lighting
Tired of manually turning your lights on and off? You can set up a smart lighting system to control your pool and landscape lights. These sometimes include a control panel, or they may be operated using your smartphone.

Many systems have Wi-Fi and Bluetooth control options, making it easy to turn your lights on and off from different devices or locations.
Solar landscape lights
Solar lights are a budget friendly, diy alternative to traditional landscaping lights. Solar power is integrated into many stake lights, spotlights, hardscape lights, string lights, and more.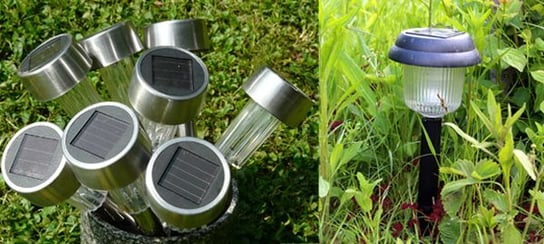 There are several benefits to using solar powered light fixtures, including:
Little to no wiring

Save energy (and money)

Safer near water and pool area

Easy to maintain
Pool landscape lighting ideas for your backyard
If you're looking for ideas about what to light around your swimming pool, here are a few suggestions:
1. Light your water features with spotlights
2. Uplight or downlight trees and plants with spotlights or well lights
3. Light your paths with path lights and hardscape lights
4. Use floodlights to illuminate your patio and other high-traffic areas
5. Uplight a wall with one or more spotlights
6. Arrange tiki torches around the perimeter of your pool area
7. Add hardscape lights to steps and seating areas
8. Spotlight pottery, statues, and other unique features
9. Hang string lights over your patio
Who should install your lights?
We highly recommend getting a licensed electrician to install your outdoor landscaping lights, especially when electrical outlets and wiring work are involved.
However, we think LED low-voltage lights are the best choice because they look better, save energy, and are safer to install if you know how to do it.
Solar powered lights and torches may be safely placed and arranged on your own as well, even if you have little to no experience with landscaping hardware.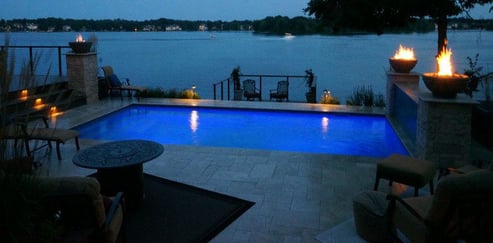 Now that you know the basics of lighting your outdoor pool area, you should have a better idea of what you need to light and how you will light it. If you have any questions, be sure to leave a comment below or contact us directly.
If you're currently shopping around for a swimming pool, take a look at our wide selection of fiberglass pool models, our pricing guide and download our free ebook below to learn the differences between concrete, vinyl liner, and fiberglass pools.
Editor's note: This article was updated on September 26, 2023.