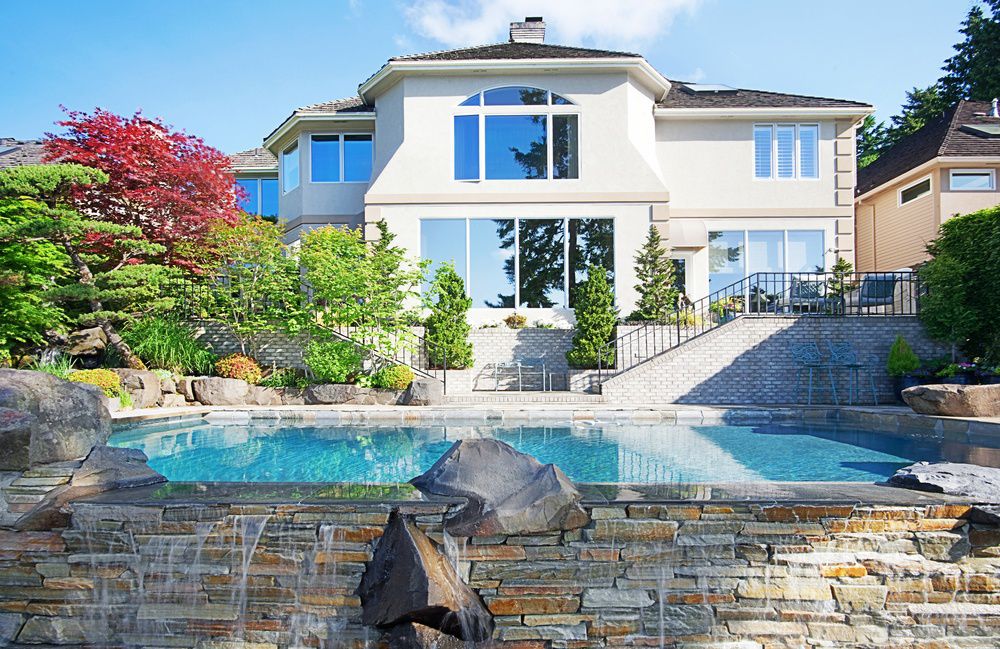 Subscribe
Everything You Need to Know About Inground Pool Landscaping
If you are installing an inground pool, you are likely excited about the prospect of being able to swim and play in the pool when you want. However, when people purchase a pool, they have an idea in their head as to what their space will look like. It may be green and lush, or it may be exotic and tropical. Regardless, the pool alone will not make your vision a reality. It is the landscaping around the pool that helps everything come together to give you the outdoor space you have been dreaming of. Choosing a look or theme will help you decide what type of landscaping to place around the pool.
Additionally, the landscaping you select may help lend to the privacy of the area, while also keeping things as low maintenance as possible. Learning about the inground pool landscaping options that are available to you will help you to start planning what you may want to place around the new pool that you are so rightfully excited about.
---
Before you complete your landscaping plan, it's important to know what type of inground pool is right for you and your family. Our comprehensive swimming pool comparison guide will help you determine the pros and cons of fiberglass, concrete, and vinyl liner pools.
---
Plants
Plants can contribute to the look and feel of the space you are going for. They add color and texture and can draw the eye up or down based on the height of what is planted. Here is some information you should consider when selecting plants to complete landscaping around your pool.
Potted plants are perfect for around a pool. You can plant many different things, such as annual or perennial flowers. Potted plants help add color without you having to dedicate a lot of space, making them ideal for crowded areas. In addition to the plants adding interest, the pots you use can also add interest and complement your chosen theme for the area. Blue pots match a Mediterranean theme, clay pots fit in with a Mexican beach theme, and rectangular, metal pots can set the tone for a modern theme.
If you have space to dedicate to planting shrubs, bushes, flowers, or other plants, a planter may be ideal. Using a planter helps to contain the dirt and soil so these items do not end up in your pool during periods of heavy rain or if you over-water the plants. A planter also raises the plants upward, drawing the eye up. This creates multiple levels of interest in your yard, rather than a single, ground-level interest level.
If you have empty space around your pool, grass is always a great way to fill in the area. It adds a rich, green texture to the outdoor space, helping to break up your concrete patio surroundings. Grass is also versatile and can be used by kids who are playing or people who want to lie out and tan.
Which Plants to Use and Which to Avoid
When you are planting plants or trees around your pool, you will need to consider how much falls off the tree, how safe the tree is, and what types of pests the plant may attract. Plants that have lengthy floral displays, evergreen trees that do not shed many leaves, and ground covers are best used around a pool. Avoid using plants that bear fruit, attract bees, have thorns or barbs, or are deciduous, as they drop their leaves.


Planting Yourself Versus Hiring Someone
There are many benefits to planting the plants yourself, and there are many benefits to hiring someone to do it. Planting can be laborious, as you may have to dig deep holes in hard soil. It can also be time consuming. However, some people enjoy gardening and planting. If it is something you enjoy, or you are looking to save some money, you may want to do it yourself. If you do not have a green thumb or have no desire to do the planting, hiring a landscaper is the best option for you.


Privacy
As you landscape around your pool, you want to keep privacy in mind. You likely do not want your neighbors to be able to sit on their patio and watch you and your family swim or lounge around the pool. Here are two inground pool landscaping elements that can help increase the privacy around your pool.
When you are landscaping around a pool, you may want to consider two different kinds of fences. Perimeter fences, often used to define a person's space and keep dogs in a yard, can be used to keep prying eyes out of your yard. The other type of fence is a pool safety fence. This helps to keep kids and pets out of the pool when the gate is closed. There are standard types of fencing, such as wood perimeter fencing and ornamental fencing that adds a decorative touch. Ornamental fencing can be pricier, but it also can enhance the look and feel of your space.
The second way you can get privacy around your pool is through the use of plants. High shrubs and tall trees can be planted outside pool safety fences to keep people from looking through the slats or spaces these types of fences typically have. They also can be planted around the perimeter of a perimeter fence. Not only does this help to increase your privacy, but it may also help shade your outdoor space, keeping it cooler during the hot summer months.


Doing it Yourself Versus Hiring Someone
When it comes to privacy around your pool, you want to leave fencing to the pros. Fencing can be time consuming and challenging to do yourself, especially if you are dealing with metal safety fences. In this case, you would need to weld the fence together. You also have to ensure the fence meets safety requirements, which can be tough if you don't know what those requirements are. On the other hand, if you are only considering plants for privacy, you once again need to decide how motivated you are to do it yourself versus hire someone. This is a decision only you can make.


Lighting
Lighting should always be used around a pool. Not only does it increase the safety of the space, but it helps enhance the beauty of your pool. When it comes to landscaping lighting, you have many options. Here are a couple of the different options you can use around your pool.
Solar-Powered Garden Lights
There is a wide variety of solar-powered garden lights that you can use to enhance the look of your outdoor space. Flood lights shine a lot of light down on the area specified. Up lights point upward at an angle to emphasis a tree, plant, fountain, or other element in your yard. Solar lights can be installed in concrete stairs around your pool, ensuring no one trips. And you can use solar-powered stake lights to define your patio space and walkway or just add a decorative touch.
Another option for adding light around the pool area is to use tiki torches. Tiki torches create a tropical and themed look. However, you will have to maintain the torch, and the pool area is only lit when you light the torches, rather than all the time with solar-powered garden lights.


Do It Yourself or Hire Someone
If you are having any electrical outlets or wiring done in order to place landscape lights, you should leave this task to a licensed electrician. There is a high risk factor when it comes to electricity and water, so this needs to be done by a licensed professional who knows what they are doing. If you are not using electricity or wiring for the lights, and simply using pure solar-powered lights or tiki torches, you can place the lights yourself. Most use stakes that can be placed firmly in the ground to hold the light in place.


Boulders, Stones, and Pebbles
If you are looking for a natural or desert-like look to your pool, you may consider landscaping around the pool with stones, pebbles, or boulders. Here is some information you should know if this is something you are considering.
When you are landscaping around your pool, you may consider using rocks, stones, pebbles, or boulders. It is highly recommended that you avoid using any small stones or pebbles. These items can end up in the pool, causing major problems to your pool filtration and vacuuming system. If you do decide to use stones or pebbles, place them in an area far from the pool and ensure they stay there.
Boulders or large rock formations can be used to add design and texture to the atmosphere of the pool. Some people use real boulders and stone to create formations such as rock waterfalls or rocks that someone can dive from. If you love this idea, then go all the way with it. Landscape your entire pool area in this theme to ensure it is cohesive. Randomly throwing in a few boulders at the end of the project may seem incomplete or may not fit in with the rest of the space. This is one theme you need to be all in on.


Hiring a Professional or Doing it Yourself
Landscaping with boulders is once again a task that is best left to either the pool design company or a landscaper. Boulders can be heavy. In fact, many are moved using pieces of machinery, such as a small excavator or even a crane. If you decide you want to use small or mid-sized boulders, you may be able to do the work yourself with the help of a landscaping cart or hand truck.


Patio and Coping Options
The last element that can tie your inground pool landscaping together and complete the look is the patio and coping options. Coping refers to the materials that are used to cap off the top of the pool shelf or wall. Here is what you need to know as you select your patio and coping options.
Concrete is the material that is most often used for patio and coping. This is because concrete is affordable and versatile. There are many techniques that are now used to transform a plain, grey concrete slab into something unique and interesting. Stamping concrete can give it a paver-like look. Coloring concrete can change its color. Etching concrete can make it look like a high-end natural stone. Learn the various techniques that can be done to alter the appearance of concrete and see if any of them fit in with the look, feel, and aesthetic that you are going for with your pool area.
The other material that is commonly used for pool patios is pavers. When pavers are used, pavers or tiles may be used for coping around the pool. The benefit to pavers is that you can create interesting patterns by laying the bricks, pavers, or flagstone in various directions. However, pavers have to be laid by hand, which can get expensive. If you are looking for a classic, high-end pool design, pavers may be the way to go for you.


Hire a Professional Versus Doing it Yourself
You should never attempt to do the coping around your pool yourself. You can break the liner or pool shelf, and you may void any pool warranty you have by doing so. As such, you should always leave this to the professionals. However, when it comes to the patio, you do have the option of doing it yourself. Installing a patio around your pool can be time consuming and challenging.
You have to determine what patio size is best for your area and what material to use. If you decide to go with concrete, you may have to rent a concrete mixer or hire a professional to bring you already-mixed concrete. You then have to smooth the concrete quickly before it begins to harden or cure. If you fail to do so, your surface may not be level. Laying pavers is also something you can do yourself. However, it can be time consuming. If you do not have a lot of time, or are not into do-it-yourself projects, this may be a task that you want to leave to the professionals.
Landscaping around your pool can help make the pool pop and transform it from bland to the oasis you have been envisioning in your backyard. If you are preparing to install a pool and landscape around it, you may have many questions.
Before creating your inground pool landscaping plan, it's helpful for you to know what type of pool you'll be installing. Our free ebook "Comparing Fiberglass, Concrete, and Vinyl Liner Pools in the Modern Age" covers absolutely everything you need to know about the 3 different types of inground pools. Get your copy today!