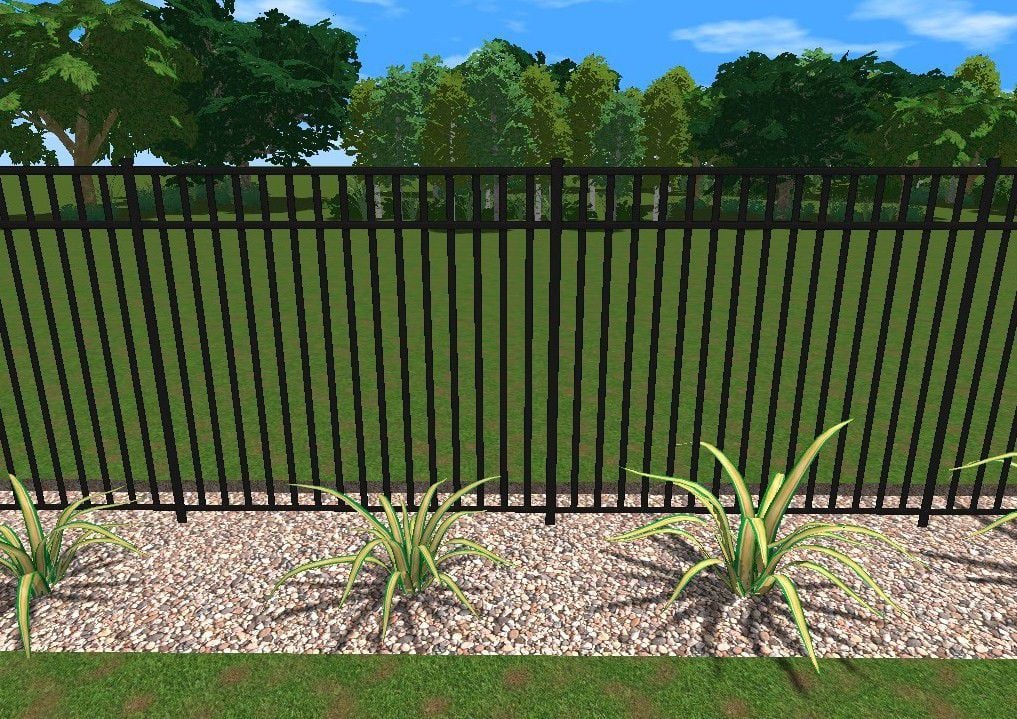 Subscribe
Choosing the right Swimming Pool Fence
Retaining Walls, Fence, and Landscaping
Pool fences have evolved over the years in many ways. In the past 10-15 years emphasis has been placed on regulating and enforcing fence requirements across the country. This has been a great thing, and has saved many lives, but it has also limited the fence options available to the consumer. There are currently three prominent types of fence used around pools today. This article will give a brief introduction to each of these three styles as well as discuss their inherent advantages and disadvantages.
Ornamental Aluminum
Ornamental aluminum has become the most popular type of pool fence in America due to its durability and elegant appearance. The aluminum is coated with a type of dry powder which is applied as a free flowing agent. This process is called powder coating and differs from conventional liquid paint because it does not require the use of a solvent to keep the product in suspension form. The coating is applied electrostatically and then cured under heat to allow it to form the skin that coats the aluminum. Powder coated aluminum fence is sometimes confused with wrought iron fence which is extremely heavy and has a painted surface. Iron fence is not frequently used around pools because it is much more expensive and time consuming to maintain. The panels for residential aluminum fence come in six foot sections and are composed of individual top and bottom rails and pickets that are fastened together with rivets or screws.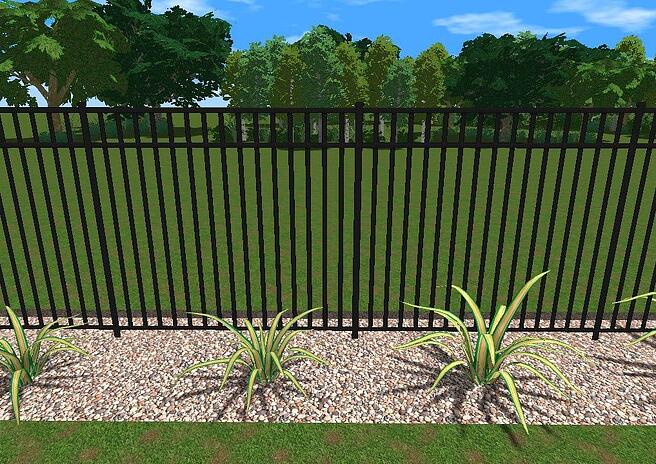 Standard 54" aluminum pool fence.
Advantages:
Extremely durable
Low maintenance
Relatively inconspicuous (especially darker colors)
Disadvantages:
Applications
Ornamental aluminum fence is perfect for any setting where low maintenance is important and a privacy fence is not required. Aluminum fence is also great for waterfront properties or any other setting where you want to limit the obstruction of a wonderful view as much as possible. This is primarily because of the narrow rails and pickets used to construct the fence. This is the only type of fence that requires absolutely no maintenance, and that's a huge plus for most people. Aluminum fence is also available in a variety of colors. The most popular color is black, but many manufacturers also offer white, bronze, or green.
PVC
PVC fence is also frequently used around pools. There are two primary styles: standard fence, which is 48"-54" tall with either solid slats or spaced pickets; and privacy fence, which is 6'-7' tall with the slats butted together to make a solid panel. Many privacy fences have lattice or spindles for the top foot of the fence to add ornament to the design. Let's take a look:
Lattice top PVC privacy fence.
Advantages
Great privacy fence
Low maintenance
Many solid and picketed styles available
Many manufacturers can adapt their styles to custom heights for little or no additional charge.
Disadvantages
Gates tend to sag over time
Pickets and rails are much thicker and considered bulky by some consumers
White color tends to be very conspicuous
Mildew can form on fence in wet shady areas
Applications
PVC is the undisputed champion of privacy fences. It's durable, low maintenance, and provides great privacy. What else could you ask for? It's frankly not my favorite choice for a standard pool fence because the bulkiness of the thick pickets and rails. However, we've used PVC in many settings, often when tying in with an existing PVC fence, and the projects have all turned out wonderful. Almost all PVC fences are white, but many manufactures also offer tan as another option.
Wood
Wood is a tried and true building material and continues to be a popular fence material used around pools. Over the past decade it has been overshadowed by PVC and aluminum because of their low maintenance benefits, but thousands of wood fences are still installed around pools every year.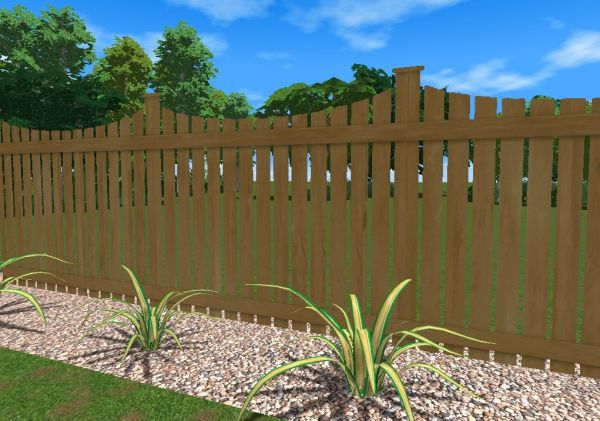 A standard concave wood fence.
Advantages:
Size and style are totally customizable
Less expensive than PVC or aluminum
Can paint or stain a wide variety of colors
Disadvantages:
Requires more maintenance
Can warp and twist over time
Applications
Wood has some very strong qualities to take advantage of, if you're willing to do your part on the maintenance end. It is a natural material, and there's power in incorporating various natural elements into a design. In some settings a man-made barrier constructed of plastic or aluminum may not work as well as wood. Notwithstanding the maintenance aspect, there's no disputing the fact that it looks great in any setting and also makes a wonderful privacy fence.
Which type of pool fence is for you? My experience has been that about 90% of inground pool clients go with the 54" black ornamental aluminum fence because of its sleek look and low maintenance unless they are in need of a privacy fence. In which case most go with the pvc. Hopefully this article has been a helpful resource in your quest for the perfect pool fence.