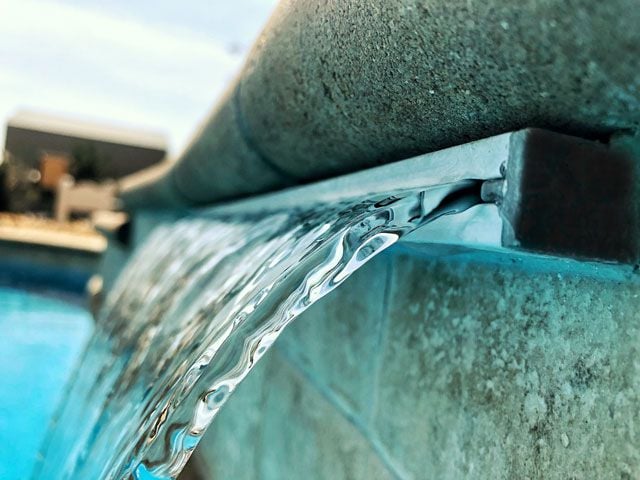 Subscribe
3 Benefits to Water Features on Your Inground Swimming Pool
Pool Videos | Options and Accessories | Fiberglass Pool Manufacturers | Retaining Walls, Fence, and Landscaping
When purchasing a swimming pool, many homeowners debate as to whether or not a water feature is a worthy investment. Although arguments could likely be made for both sides, I would emphasize here that a pool is an AWESOME addition to a back yard and to your family experience with or without such a feature.
Notwithstanding, there are some definite benefits to having a water feature installed on your swimming pool. Here are my top 3. Also, make sure you take a look at the following video as it shows a recent stone water feature we built on a 16x40 fiberglass pool.
Sound
Believe or not, the number one reason why people get water features on their pools is more for sound and less for looks. Simply put, there is just something very tranquil and relaxing about floating in a pool or laying out on a deck and listening to the sound of cascading water.
Aesthetics
Although sound is quite nice, the beauty a water feature can add to a pool project can be quite dynamic as well. Whether you're going for a simple, 18" cascade that comes off the side of the pool, or a dynamic, 10' grotto that is the talk of the neighborhood, water features can be quite pleasing to the eye and very much enhance the look of one's backyard.
Fun to Play In
My swimming pool has a very simple water feature on it called a 'Wonderfall'. Basically, it's a small piece of plumbing that connects to one of the pool's returns and uses the water pressure from the return to create a spraying water feature. Because this little tube can be rotated and manipulated, the kids have a blast spraying it at each other and also floating under it to get a simple 'cool-off' while on a raft.
So, there are 3 reasons to consider some type of water feature on your swimming pool. As always, if you have any questions or comments regarding this or any other pool topic, don't hesitate to leave your thoughts below.
At River Pools, we manufacture world-class fiberglass pools for customers across North America. If you're interested in buying a fiberglass pool for your home, you can browse our catalog, try out our pool pricing calculator, or request custom pricing below.
Up Next:
12 Outdoor Living Space Accessories to Add to Your Home

7 Pool Extras That Won't Break the Budget