Fiberglass Pool Manufacturers | Installation & Construction | Pool Videos
In February 2018, River Pools had the opportunity to build a fiberglass pool for former Vice President Joe Biden. This was in Delaware, though—outside the River Pools installation area. A problem? Not at all. Enter one of our nationwide dealers, Clean Cut Pavers and Pools. River Pools manufactured the G36 fiberglass pool shell and transported it to the dealer, who installed it in the Bidens' backyard. Some of the River Pools family went out that week to watch the installation and to highlight this dealer, their employees, and their good work. (Others of us—that is, me, myself, and I—were left at the office. I was kind of sad.)
When you're considering a pool for your backyard, you have big decisions to make. Here at River Pools, we aim to provide informative, all-inclusive content to answer your questions about inground pools. Even if you don't choose our fiberglass pools, we want you to know you've made the best decision for your family! In our blog and our videos, we've created content to help you walk through the three main choices: Is an inground pool right for your backyard? Is a fiberglass pool the best option? Who is the best manufacturer?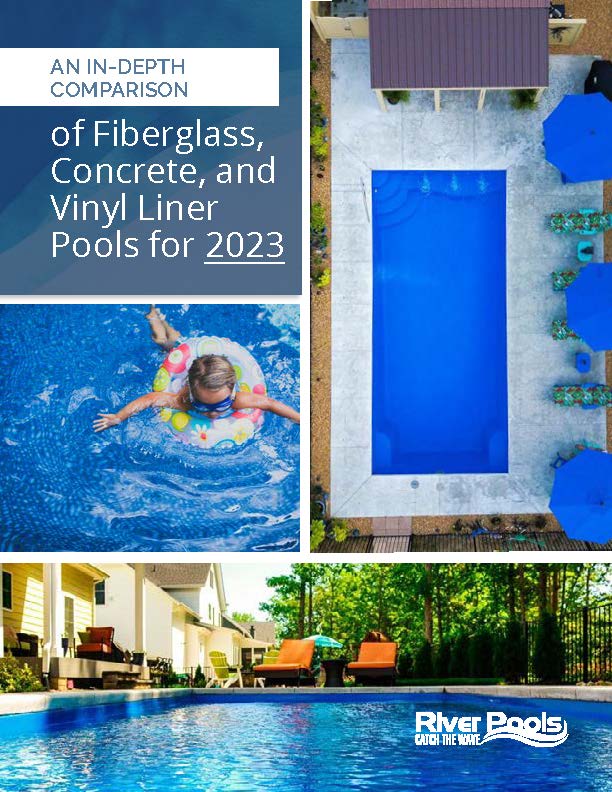 Comparing Fiberglass, Concrete, and Vinyl Liner Pools in the Modern Age
Don't blindly wonder if a fiberglass, concrete, or vinyl liner pool is right for you. Our educational ebook does a deep-dive comparison of the 3 types, all while noting the advantages and disadvantages of each.
Pool Maintenance | Pool Videos
We recommend cartridge filters for fiberglass pools with salt water systems. They work the best and are easy to clean.
Installation & Construction | Pool Videos
If you live in an area with a high water table, you may be wondering if a pool installation is possible, or how to manage ground water during the installation of an inground pool.
Patio and Coping | Pool Videos
Are you considering installing pavers around your inground pool? If so, you are in luck because today we are going to discuss some of the most common paver questions we receive here at River Pools.
Installation & Construction | Pool Videos
When we first began installing fiberglass pools in the early 2000s we encountered our share of problems. Despite the fact that we fixed each one and made sure every customer was happy, we were still left asking the question: What went wrong? Many of these issues were leaks that developed in the plumbing of the pool or in the fittings that the plumbing was connected to. In the following video we explain our process, called The River Pools Way, that we developed specifically to eliminate these plumbing problems along with the other challenges associated with fiberglass pool installations.
Installation & Construction | Pool Videos
What is The River Pools Way? Valid question, so here's the thing: an inground pool is a huge investment. And unlike a new car that you could simply return if things go awry, once a pool is in your backyard...it's your baby. That makes both the quality of the pool and the manner in which it is installed extremely important.
Patio and Coping | Pool Videos
If you are considering an inground pool, you've probably noticed there a lot of decisions to make! From the type of pool to options and accessories to the type of patio and coping...all of these details impact the look and feel of your finished pool (and your budget). One detail that may not initially stand out is the pool coping, or material that borders the perimeter of the pool. In the video below, we discuss a particular type of coping called cantilevered concrete coping.
Pool Manufacturing Process | Pool Videos
Have you ever wondered how an inground fiberglass pool is created? Let's break down the 3-step process to making a fiberglass pool from scratch: The production of the pattern or "plug" The production of the mold The production of the pool shell
Fiberglass Pool Information | Fiberglass Pool Manufacturers | Pool Videos
The fact that you've found this article means you are probably well into the process of finding the right pool for your family. Maybe you have already decided that a fiberglass pool is the way to go, and possibly that a rectangular shape is best for you….now it's just a matter of finding the pool design that meets your needs the best. If this is the case, you're in luck because today we're going to compare two of the most popular rectangular fiberglass pools on the market: The Casini by Trilogy Pools and The G36 by our company, River Pools.