If you've been shopping around for inground fiberglass pools, we're guessing that the name Latham has come up at least once. If you're new to Latham, they're a well-known brand within the industry and they have acquired a few other popular fiberglass brands, including Viking, Trilogy, and Blue Hawaiian. They also sell vinyl liner pools and other accessories.
Well, we did it again! Pool and Spa News (PSN) has named us a top 50 pool builder for the third time in River Pools history.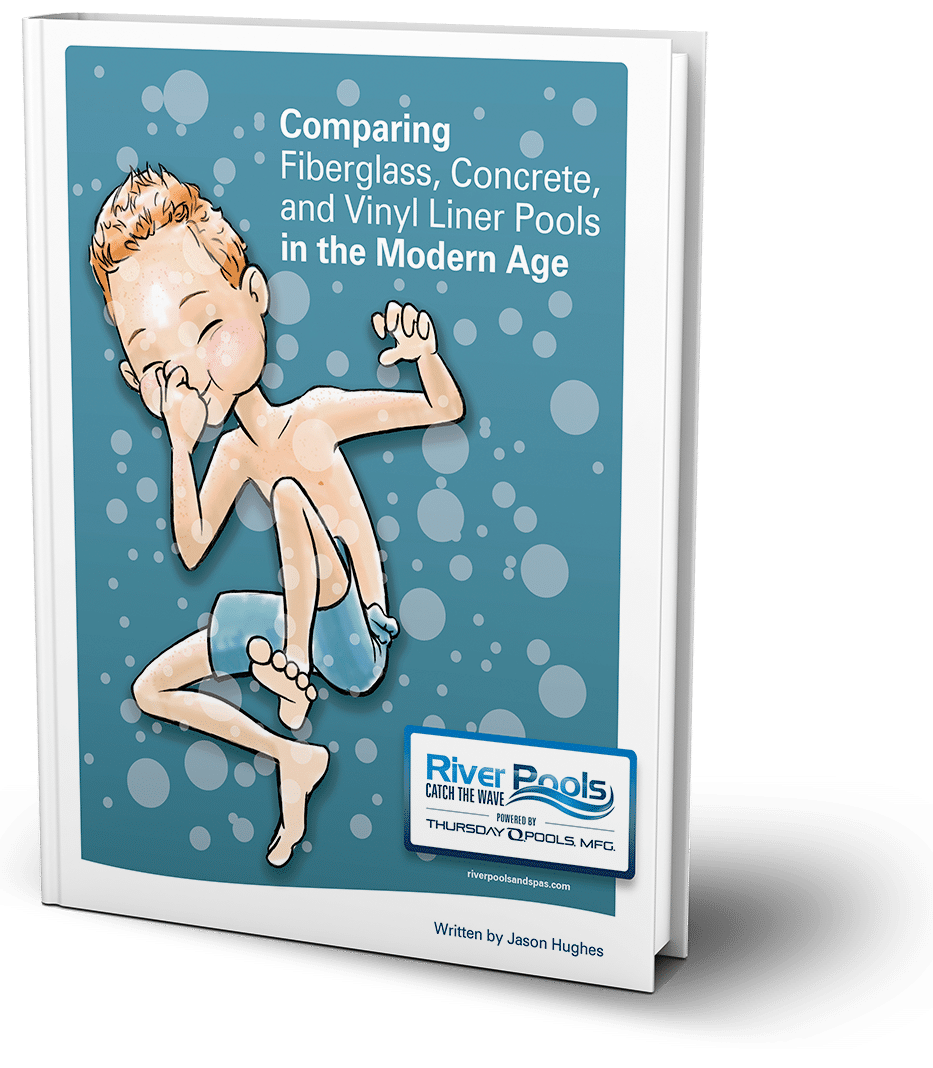 Comparing Fiberglass, Concrete, and Vinyl Liner Pools in the Modern Age
Don't blindly wonder if a fiberglass, concrete, or vinyl liner pool is right for you. Our educational ebook does a deep-dive comparison of the 3 types, all while noting the advantages and disadvantages of each.
Cost and Pricing | Fiberglass Pool Manufacturers
As you've likely already realized, here at River Fiberglass Pools, our obsession is your education. Simply put, we want you to be as informed as possible, which means we listen intently to our customer's questions and then do everything we can to answer them on this website.
Fiberglass Pool Information | Fiberglass Pool Manufacturers
If you are shopping around for a fiberglass pool shell, you'll find no shortage of options. Alaglas, Thursday, San Juan, Latham, Sun Pools, and Leisure are just some of the well-known names in the fiberglass pool industry, and each of those offers a wide selection of pool shapes and sizes. As fiberglass pool manufacturers with a reputation for top-quality pool shells, one of the most common questions that we are asked is, "How does River Pools compare to other fiberglass pool manufacturers?"
Fiberglass Pool Information | Fiberglass Pool Manufacturers | Swimming Pool Design | Swimming Pool FAQs
Once upon a time, fiberglass technology was in its infancy. Fiberglass pools often looked plain or cheap, simply because technology hadn't advanced very far yet. However, with time, science, and a passion for splashin', modern fiberglass pool manufacturers have blown those outdated appearances out of the water. Today's fiberglass pools are elegant and stylish, fitting beautifully into any backyard landscape.
Fiberglass Pool Information | Fiberglass Pool Manufacturers | Pool Design Guides
Fiberglass pools come in many different sizes and shapes. Back in the 1970s and '80s, you were limited in the selection of sizes and shapes of fiberglass pools. Fiberglass pools came in two colors, white and powder blue. But today there are a wide variety of fiberglass pools to choose from, including a wide variety of colors to pick from. This is due to more people getting into the manufacturing of fiberglass pools and the advancements that have been made in the gel coat industry.
Fiberglass Pool Manufacturers | Finding A Pool Contractor
If you are seriously considering an inground swimming pool, you've probably discovered that there are a lot of decisions to make! At the top of this list stands one preeminent question: How do I select a reputable swimming pool builder? This question is so important because the expertise and integrity of your pool builder will play a huge role in determining the final outcome of your project.
We have some exciting news today, so I'm going to take a brief break from pool costs and maintenance to share it with you!
Fiberglass Pool Manufacturers | Installation & Construction | Pool Videos
In February 2018, River Pools had the opportunity to build a fiberglass pool for former Vice President Joe Biden. This was in Delaware, though—outside the River Pools installation area. A problem? Not at all. Enter one of our nationwide dealers, Clean Cut Pavers and Pools. River Pools manufactured the G36 fiberglass pool shell and transported it to the dealer, who installed it in the Bidens' backyard. Some of the River Pools family went out that week to watch the installation and to highlight this dealer, their employees, and their good work. (Others of us—that is, me, myself, and I—were left at the office. I was kind of sad.)
Fiberglass Pool Information | Fiberglass Pool Manufacturers | Swimming Pool Design
Are you in the market for a freeform fiberglass pool and looking for the perfect model for your family? We're here for you! As manufacturers and installers of inground fiberglass swimming pools, we at River Pools have a unique determination to help homeowners (like you!) to find your perfect pool—whether that means choosing us or not.