Subscribe
River Pools: Top 50 Pool Builder, & Top 3 in Customer Service
We have some exciting news today, so I'm going to take a brief break from pool costs and maintenance to share it with you!
Every year, Pool and Spa News (PSN) lists the Top 50 Pool Builders in the US, considering multiple criteria:
Highest levels of staff management and training
Most revenue
Highest participation in industry associations
Highest involvement in their communities
Most impressive web presence
Best customer service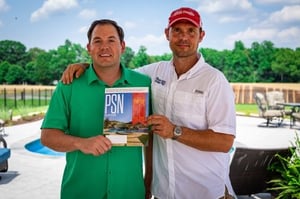 For the year 2018, PSN ranked us #32 among pool builders in America overall and #3 in customer service.
We also ranked in the top 10 for both web presence and community involvement.
And this is the second time we've made the list!
"It's an honor to be listed on the Top 50 Builders list," our co-owner Jason Hughes said. "It's something we strive for."
"Yooo, it's awesome!" I said, because I don't have to be formal.
Where we started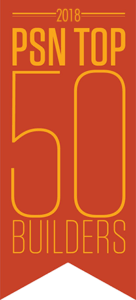 We didn't just show up and magically get our spot in the Top 50, though—we've been honing our craft for almost two decades.
As a refresher, we were founded in 2001, just two guys and a pickup truck, installing pools.
We opened retail locations in Tappahannock and Glen Allen, VA. By the end of 2007, we'd sold 300+ hot tubs, 400 above-ground pools, and several hundred fiberglass pools. We also moved from working with all three pool types to specializing in fiberglass pools.
Catastrophe hit when the 2008 economic collapse took us to the edge of bankruptcy. But instead of giving up, we turned our focus from retail to educational online videos and blog articles—and we experienced tremendous growth.
In the face of hardship that ended many pool companies, River Pools has grown into a premier fiberglass pool manufacturer and installer, with dealers across the country.
Who we are
River Pools specializes in manufacturing and installing inground fiberglass pools, but our vision is bigger than just that.
Our mission is to use swimming pools as a means to:
Bring joy to families
Provide the opportunity for financial peace to all team members
Improve the swimming pool industry
Make a positive difference in our community and in the world
Today, River Pools continues to focus on our goal that made everything possible in 2008: to be the best fiberglass pool manufacturers, installers, innovators, and educators in the world.
Check out some of the ways we're accomplishing that:
Any questions about inground pools, the Top 50 Pool Builders list, or the coolest fiberglass pool company in Warsaw, VA? (That last one is us, by the way.)
If so, contact us directly or comment with your thoughts below!