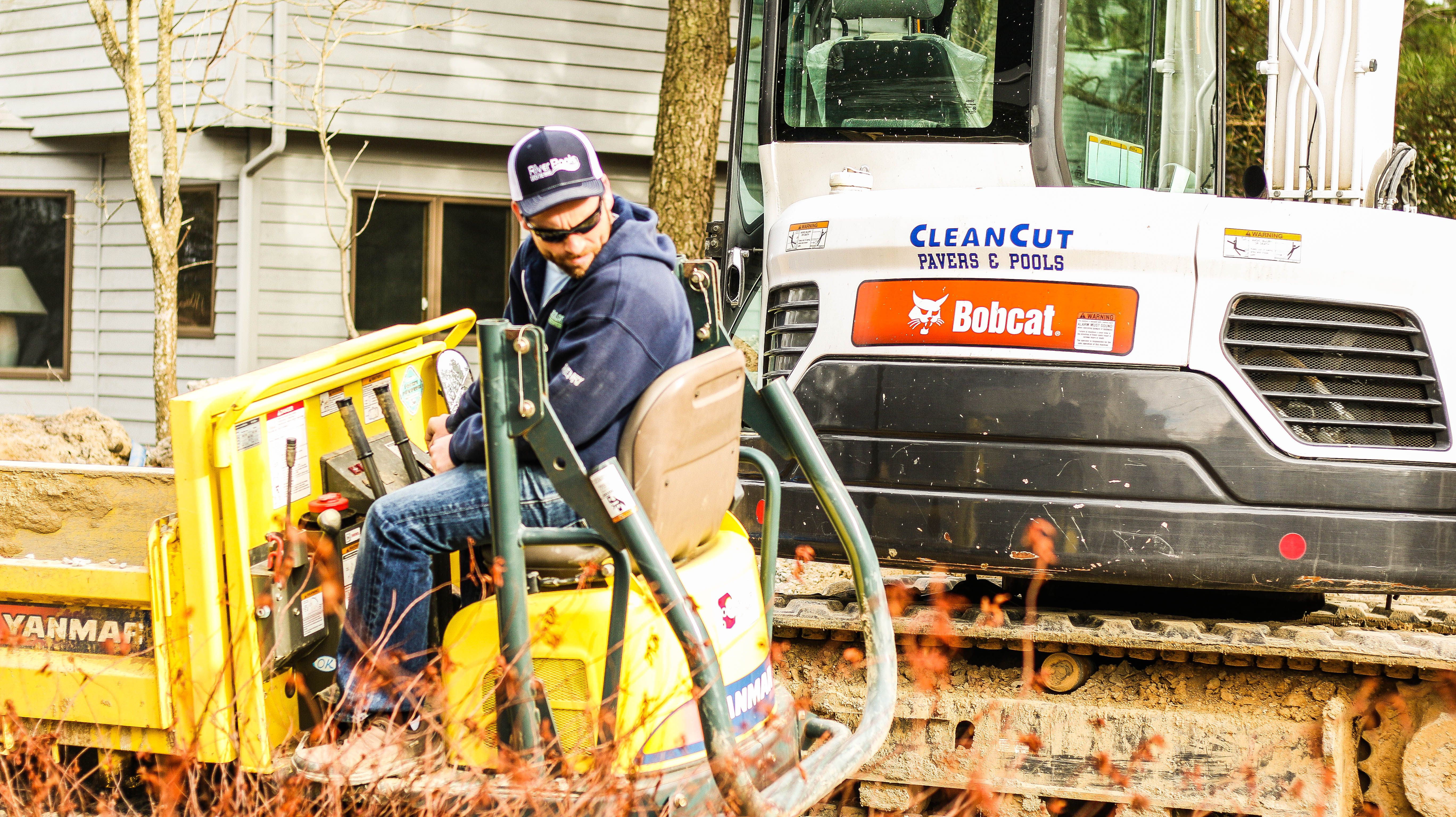 Subscribe
What Fiberglass Pool Installers Really Want: Shell Quality, Support, & More
Installation & Construction | Pool Videos | Fiberglass Pool Manufacturers
In February 2018, River Pools had the opportunity to build a fiberglass pool for former Vice President Joe Biden. This was in Delaware, though—outside the River Pools installation area. A problem? Not at all. Enter one of our nationwide dealers, Clean Cut Pavers and Pools.
River Pools manufactured the G36 fiberglass pool shell and transported it to the dealer, who installed it in the Bidens' backyard.
Some of the River Pools family went out that week to watch the installation and to highlight this dealer, their employees, and their good work. (Others of us—that is, me, myself, and I—were left at the office. I was kind of sad.)
The visit was a great experience, and the installation went well!
We're growing as a manufacturer, so we're talking to dealers all across the country. This is a new partnership we're excited about and they are as well.
During the pool installation process, we spoke with Doug Arcos and Rich Bell from Clean Cut Pavers and Pools to get their perspective as fiberglass pool dealers:
What do dealers look for in a pool manufacturer?
What do dealers look for in a pool product?
What do dealers want in leads from the manufacturer?
What are some current trends in backyard pools?
How do dealers handle pools in smaller lots?
Say hello to Clean Cut Pavers and Pools!
First, a quick introduction.
Clean Cut Pavers and Pools is a family-owned business in the coastal community where people from Pennsylvania, New Jersey, and New York come down for summer homes.
Rich Bell and his wife own the company; Doug Arcos is the general sales manager.
As you might deduce from the company name, they specialize in pavers and pools—and they do a great job of it.
The employees work as a team, involved in many aspects to provide great service.
They started as a landscaping company—Rich was 12 years old when he incorporated, which boggles the mind. Way to go for it!
Now they're expanding and getting into the pool space. They've installed about 130 pools so far, doing about 30 a year. Working with River Pools, they have 20 pools on the books for 2018... before March. Those are some lovely numbers.
What do dealers look for in a pool manufacturer?
The owner of Clean Cut Pavers and Pools, Rich Bell, insists on having these qualities in a manufacturer:
Support
Customer service
Standing behind your products
Communication
What attracted them to River Pools as a pool manufacturer?
As a manufacturer, we support them and have their backs. For example, our video highlighting Clean Cut Pavers and Pools will be a win-win for both us and them.
Our customer service is top-notch.
We stand behind our products. If an issue comes up, they know we'll take care of it.
We also provide open communication and support. If the dealer reaches out to someone, we're there.
Jim, one of the River Pools owners, asked them to let him know if there's so much as a scratch on the pool during delivery.
What do dealers look for in a pool product?
Pool dealers require certain qualities in the product itself:
Quality
Durability
Why did they choose River Pools' fiberglass pools?
Like all dealers, Clean Cut Pavers and Pools scrutinizes many companies before Rich puts his company name on the pool and installs it for customers.
River Pools produces high-quality and durable fiberglass pools, and we stand behind our products.
What do dealers want in leads from the manufacturer?
Influx in leads
Geographically nearby
Good information for the customers
What has River Pools provided them in terms of leads?
Since partnering with River Pools, Clean Cut Pavers and Pools has experienced an increase in leads.
Some are out of their area, but they can immediately respond to the ones nearby because of the River Pools website.
People call in, and Doug tells them to go on the website. It answers all their questions, such as the best pool size for their situation and why they should buy a fiberglass pool compared to concrete or vinyl liner.
Anything and everything is on the blog, and that accessible information makes it an easy process for dealers and customers. (And I'm not just saying that because I write a lot of it! That's straight from the dealer's mouth.)
What are some current trends in backyard pools?
Vinyl liner and concrete pools still in the market
A huge increase in fiberglass pools
Good service with a reputable company
There's no single pool that works for everyone; all 3 pool types have their own pros and cons.
Fiberglass pools are molded products, so you're limited to what they're molded to.
In Delaware, Doug and Rich still see many people purchase inground vinyl liner and concrete pool because the customer wants a specific size and shape.
However, they're also seeing fiberglass pools outsell concrete pools left and right. It's a significant increase in fiberglass pools as a preference. Their maintenance requirements are so much lower—a 98% maintenance-free pool package.
At the end of the day, as always, people want easy maintenance and good customer service with a company they can trust.
How do dealers handle pools in smaller lots?
10x20 for teeny yards
Tanning ledges
In beach towns, they chop the lots up pretty small. So how does a pool dealer provide a selection of models that will fit into those tight spaces?
Clean Cut Pavers and Pools sells a lot of tiny "cocktail pools," like 10 ft. by 20 ft., in spaces where you'd think it was impossible to fit a pool. Recently, in one extreme case, they had 1 inch on the fence and 1 inch on the house side to get the pool into the backyard.
Tanning ledges are also becoming popular, so they offer many pools with integrated tanning ledges.
What has River Pools provided them for small yards?
Jim, one of our owners, said to Doug, "Tell me what size pool you need." Doug came up with 10x20, and Jim said, "I'm going to make you a 10x20." And true to his word, we made it!
River Pools' best models for small backyards:
10x20 and 12x24 models in the R Series (with bench seats)
12x24 model in the D Series (with a tanning ledge and bench seats)
Interested in becoming a River Pools dealer?
River Pools has dealers across America, and we'd love to have you join the family!
We're dedicated to being the best fiberglass pool marketers, manufacturers, installers, and educators we can possibly be. We're excited to share what we have with those who'll put in the work to be successful.
Fill out our dealer form to start the conversation, and we'll contact you within 24 hours about becoming a dealer for the leading fiberglass pool company in the nation!
Next: How to Install a Fiberglass Pool with a Tanning Ledge—the Right Way
---
Editor's note: This blog article was updated on April 17, 2018.