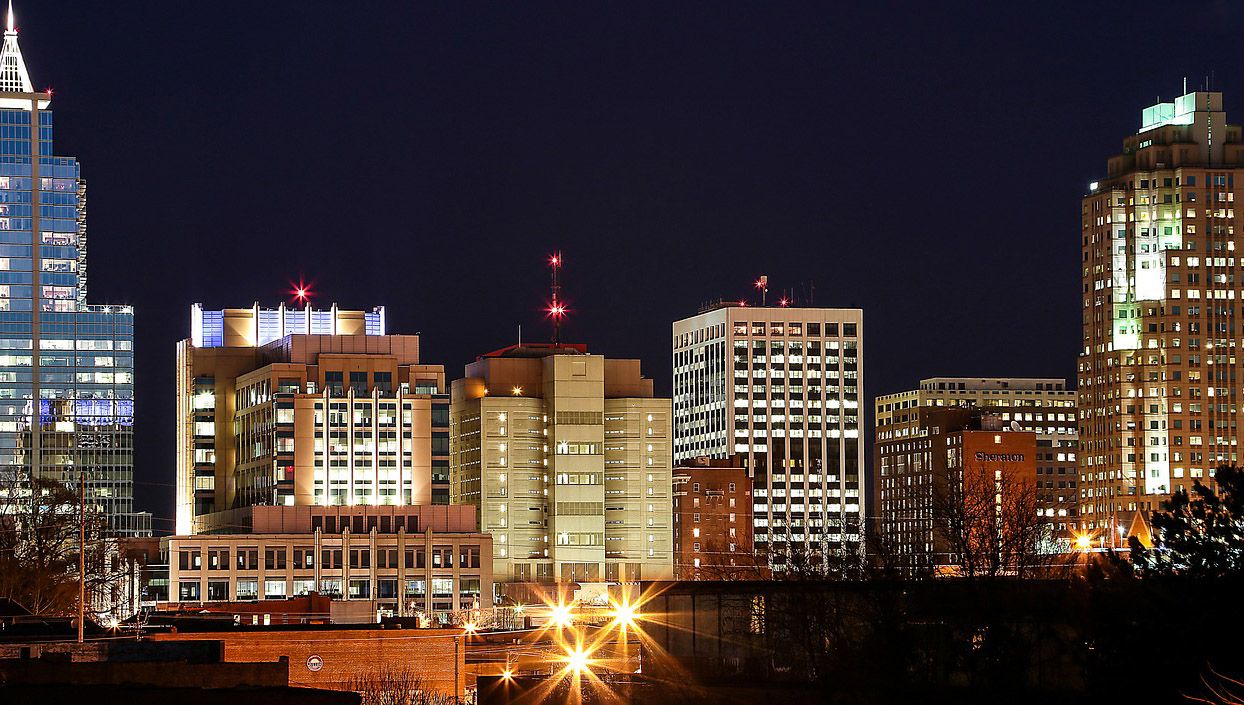 Subscribe
Who Are the Best Swimming Pool Builders in Raleigh NC? (Reviews/Ratings)
Shopping for a swimming pool in Raleigh or a surrounding county? Feeling overwhelmed by your number of options?
Being that we're manufacturers of fiberglass swimming pools, we hear customers say all the time how much work it can be to narrow down a list of pool builders who service their area.
To make your research process a little bit easier, we've compiled a list of the top pool builders in Raleigh and surrounding areas based on online reviews (as well as the experience we have working with homeowners in that area).
And although this list is by no means a "guarantee" that these companies will always be the perfect fit for you, we do hope this will help you find the perfect swimming pool contractor to meet your needs.
The Top Raleigh Pool Builders
Gress' Inc.
"As swimming pool contractors in Raleigh, we are able to deliver any service your pool needs. From remodeling to new builds, and additions like hot tubs or water features to regular pool maintenance, we've got you covered. We are master pool builders and deliver the very highest in quality for affordable prices. Call to get a free estimate!"
Pool types: concrete
Areas Serviced: Raleigh, Durham, Cary, and surrounding areas
Parrot Bay Pools
"For over 10 years the pool installation professionals at Parrot Bay Pools have created and installed every type of inground swimming pool across North Carolina. We serve a number of locations from Raleigh to Fayetteville including, Smithfield, Clayton, Pittsboro, Kenly and more. As leading licensed and excavation pool contractors we help guide you through all intricate details of custom swimming pool construction. As seasoned pool builders, we can provide expert guidance on ownership, service, and maintenance to fit all families, lifestyles, and budgets."
Pool types: fiberglass, concrete, swim spas
Areas Serviced: Fayetteville, Raleigh, and surrounding Eastern North Carolina areas
Backyard Leisure Hot Tubs and Pools
"Getting your inground swimming pool installed by Backyard Leisure couldn't be easier. We offer turnkey installation handling all aspects of the installation. We offer the best of vinyl-lined, fiberglass, and concrete swimming pools with an almost unlimited number of shapes and sizes."
Pool types: vinyl, fiberglass, concrete, swim spas
Areas Serviced: Raleigh, Greensboro, and Concord
Blue Haven Pools & Spas
"Blue Haven offices across America specialize in building gunite/shotcrete pools & spas. In addition, many offer major pool renovations & modernizations for homeowners and commercial aquatic facilities. From simple projects to complex masterpieces, you can choose any inground pool shape, size, depth, and configuration. All kinds of styles—rustic/organic, lagoon, traditional/classical, modern/contemporary—are possible. You also have a full spectrum of decorative and functional features ranging from tanning ledges to rock waterfall grottos."
Pool types: vinyl, fiberglass, concrete
Areas Serviced: Raleigh, Durham, Chapel Hill, Charlotte, and Greensboro
Anthony and Sylvan Pools
"Is it time for you to build an inground pool in your Raleigh backyard? Anthony & Sylvan offers spectacular inground concrete pool designs, customized to your specific needs, budget and backyard. Raleigh, North Carolina, otherwise known as the 'City of Oaks', is a haven for swimming pool fun. There is nothing better than enjoying a dip in your own pool during the warm spring, summer and fall. If you live in Raleigh and are ready to get started putting in a pool, contact us today for a free consultation."
Pool types: concrete, fiberglass
Areas Serviced: Raleigh and Charlotte
Backyard Oasis Pools Inc.
"When it comes to swimming pools and family fun, we have over a decade's worth of experience keeping everyone happy. In Raleigh, Cary, Wake Forest, Apex, North Raleigh, Chapel Hill, Durham and throughout the Triangle, we have an enviable record of helping our residential clients plan and implement their vision. Our pools, spas and water features represent both a major investment in the value of their properties, and the quality of their lives."
Pool types: concrete
Areas Serviced: Triangle area including Raleigh and Durham
Aqua Haven Pools
"Aqua Haven Pools specializes in building all pool types, swimming pool and spa repairs and renovations and personalized pool maintenance services at competitive rates for the Raleigh, Durham, Cary, and North Carolina areas. Why pay for standardized pools or pool maintenance services when you can get customized pools of all types and personalized pool maintenance from an experienced expert? Aquahaven Pools is Raleigh's best choice for custom swimming pools and spas, swimming pool and spa repairs and renovations, and swimming pools and spa maintenance and service."
Pool types: vinyl
Areas Serviced: Raleigh, Durham, Cary, and surrounding North Carolina areas
Swimming Pool Contractor Jim Hinson
"What is it about Jim Hinson Pools that makes us so unique? Jim Hinson is a licensed North Carolina swimming pool contractor with a style of perfection. With over 30 years of experience, true gunite construction, and a meticulous crew, the end result is nothing less than spectacular. A pool from Jim Hinson Pools ensures a custom built pool, superior construction, and outstanding customer service."
Pool types: concrete
Areas Serviced: Raleigh and surrounding area
Superior Pools and Spas
"From our three locations in the Charlotte, Raleigh and Greensboro areas, we proudly serve Charlotte residential pools and commercial clients throughout much of the Carolinas. We are proud to bring our over thirty years of design and construction experience to bear on each and every project to ensure that your pool and spa truly are 'superior'!"
Pool types: concrete
Areas Serviced: Charlotte, Raleigh, and Greensboro
Premier Pools and Spas Raleigh
"We are Raleigh Pool Builders that specialize in building pools in North Carolina and take the time to educate the consumer and explain exactly how we are going to build your pool and what separates us from all the other pool builders in the Raleigh Pool Market. Our designers are innovative, comprehensive, and detail oriented. We work hard to match your style, custom building all types of pools in all sizes. And we don't limit our work to pools. We also offer you the best ideas in outdoor living – from outdoor kitchens to cozy living spaces."
Pool types: vinyl, fiberglass, concrete
Areas Serviced: Raleigh, Charlotte, and Triangle area
River Pools also works with pool installers across the state of North Carolina, including Raleigh, Fayetteville, and surrounding areas. If you're interested in one of our River Pools fiberglass pool models, please fill out our contact request form using the button below. You can also explore our learning center and try out our pool pricing calculator tool to see how much your fiberglass pool might cost.
Still trying to decide which pool type is right for you? Download our free ebook below to compare the three main types of inground swimming pools!
Up Next:
Fiberglass vs. Vinyl Liner vs. Concrete Pools: An Honest Comparison
How Much Is My Fiberglass Pool Really Going to Cost?