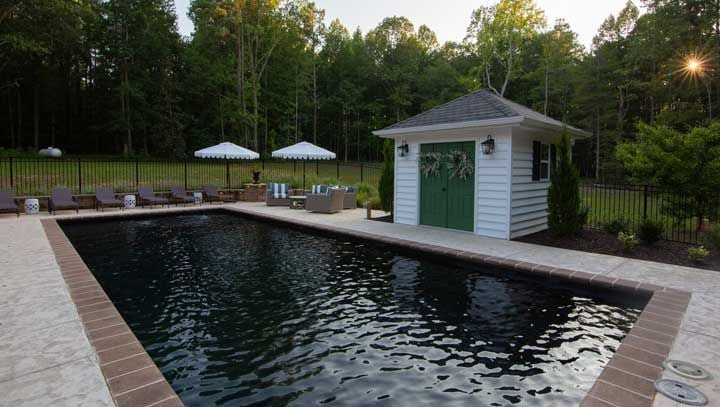 Subscribe
Should You Build a Pool House?
Installation & Construction | Options and Accessories
Starting to wonder if you should finally take your pool to the next level with a pool house? Have you ever considered it before?

A pool house may seem like a luxury that's just out of reach - too expensive, too much work, and takes up too much space. But the reality is that pool houses come in all different shapes, sizes, and styles that can work with a range of budgets.

As fiberglass pool manufacturers, we sometimes get clients who want to include a pool house as part of their outdoor living space.

If you think that a pool house would make a nice addition to your home, here are some of the key points that we think you should consider as well as some pool house design options to explore.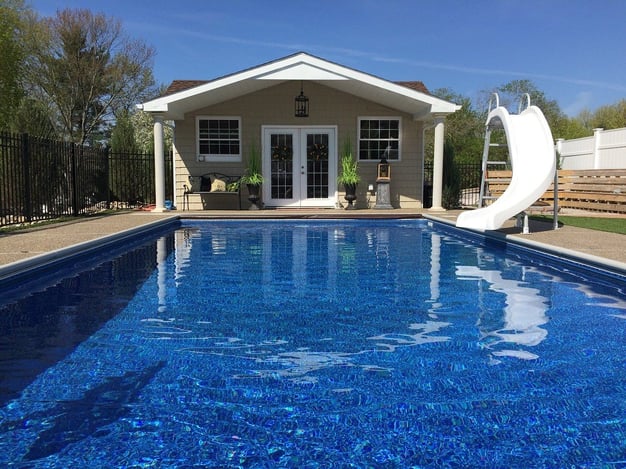 3 Things to Consider Before You Build a Pool House
Most cities require a building permit before pool house construction can begin. It's always important to keep your city or county rules in mind when considering whether it's worth it for you to build a new pool house or any other structure.
Pro tip: You can obtain a permit from your local city or county government.
Zoning laws and ordinances also apply, which can affect the size and placement of your pool house. For example, in some areas, structures that measure 120 feet or less don't require a permit unless they have utilities such as water.
Additionally, if you're in an HOA, there may also be bylines and regulations that require pre-approval.
What is a pool house used for?
All pool houses can serve different purposes, depending on why you want or need one.

While some may be comparable to large sheds that store pool toys, chemicals, and equipment, others can act as a guest house.

Your first step should be deciding how you want to use your pool house so that you can figure out the right size and decide whether it needs water or electricity.
Pool House Ideas
Don't know what you want to do with your pool house? Need inspiration? Here are a few cool pool house ideas to think about:
Pool House Changing Room
Having an outdoor changing room provides a private place for guests to get ready for an afternoon at the pool. But you may also consider how convenient it would be for your family to have someplace to change so that you don't track water throughout the house.


Pool Storage
A pool house storage shed can be your designated place to keep chemicals, pool toys, the pool cover, and even landscaping equipment. After all, pool noodles, rafts, balls, and nets can take up a lot of space.
Guest Pool House
Imagine having your in-laws over without them invading your space? If it's big enough, a pool house can double as a place for guests to stay while visiting. A guest pool house can also serve as a place to hold cookouts and parties (helps you keep your real house clean).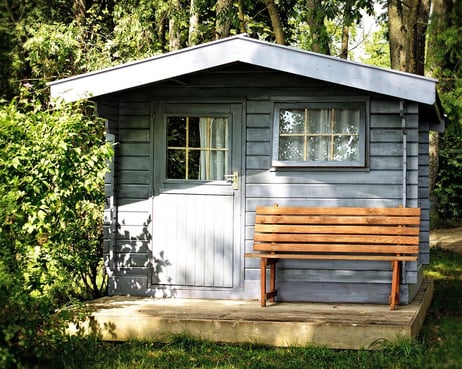 Built-In Bar
If you decide on windows, a built-in bar may be an easy add-on to install for guests to sit by the pool while you serve drinks from inside. You can also integrate a bar area in a covered pool house porch.


Pergola
Want something beautiful that will eventually be covered in gorgeous greenery for shade? A pergola is a great option, and many choose to attach one to their pool house. On average, a pergola is $100 to $9,000.


Pool House with Bathroom
Building a pool house with a bathroom is the ultimate way to make sure that your kids (and let's be real, your friends) actually exit the pool before "going to the bathroom". It's also super convenient to have an outdoor bathroom when hosting pool parties and cookouts.
Outdoor Shower
How amazing would it be to hop out of the pool and immediately rinse off in an outdoor shower? If your pool house already has a water line, why not consider building a small shower to make it extra convenient. Outdoor showers can cost as little as $1,000 to install and as much as $8,000, depending on how extravagant your design is.


Pool House Types and Add Ons
Once you've got step one down and have figured out what functions you need your pool house to provide, you can start working on the pool house design and add ons.

This is the fun part where you can decide what your pool house is going to look like.

There are two main types of pool houses: custom pool houses and prefab pool houses.
Custom Built Pool Houses
A custom-built pool house is a structure that you build from the ground up and becomes a permanent part of your property. This type of pool house gives you the most room for customizing how you want the pool house to look and function.
Pro tip: Any time you build a structure for anything more than storage, it may also require insulation, water lines, and electricity.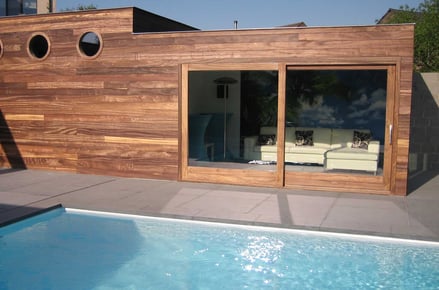 Prefab Pool Houses
A prefab pool house is a pool house that's pre-built and ready to be installed in your yard (kind of like a portable home). You may not have as much control over the design of a prefab pool house, but you also won't have to deal with a lengthy backyard construction project.
Bonus: You may even be able to bring your pool house with you if you move, depending on how it's placed or installed.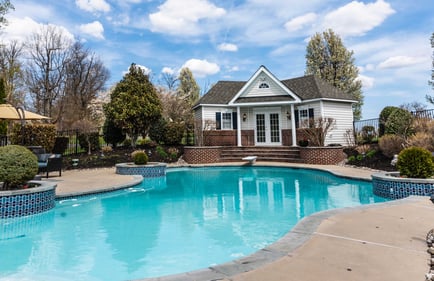 Pool House Designs
If you decide to custom build your pool house, here are some pool house design and construction options to think about:
Pool House Siding
One of the first choices you'll have, other than size, is which materials will make up the exterior of your pool house. When picking your pool house siding, it's important to remember that your structure will be next to a body of water, so make sure to choose something durable that's resistant to rot and rust. Vinyl is a popular option and ranges from about $1 to $8 per square foot. Other popular choices include:
Wood

Fiber Cement

Stucco

Engineered Wood

Brick

Synthetic Stone
Pool House Windows and Doors
Your pool house will likely include windows, but how big will they be? How many will you add? On average, windows cost $300 to $700 to install. Sliding glass doors are similar in price but can stretch to as much as $5,000.
Pool House Furniture
Don't forget, whether it's shelves for storage, a couch for lounging, or patio furniture, you'll likely need to account for furnishings in the budget.
Pool House Cost
It all sounds wonderful, right? Hop out of your beautiful pool, jump under a warm outdoor shower, and sit at the bar where your significant other will promptly serve you a drink.
At this point you might also be thinking…that's nice, but how much does a pool house cost?

Your total pool house price will vary depending on added features, size, materials, location and contractor. However, for a structure like a pool house, you can expect to spend anywhere from $160 to over $600 per square foot to build a detached pool house.
To give you an example, if you want to build a 320 square foot pool house, you might spend over $50,000, depending on the design.
A prefab pool house should cost less at a starting price of $5,000 to $6,000, but you can likely get a pool house shed for $1,500 or less.
Larger prefab pool houses can also cost as much as $25,000 or more.
Keep in mind that all prefab pool house prices will vary by size, materials, and manufacturer.
| | |
| --- | --- |
| Pool House Type | Cost |
| Custom-built detached pool house | $160 - $600 and up per square foot* |
| Prefab pool house | $5,000 - $25,000 and up |
| Pool house shed | $1,000 - $1,500 and up |
*Remember, your pool house construction cost will vary by builder, materials, design, and region
Pool House FAQ
Will a pool house increase the value of my home?
Very often, yes. As a bonus, a pool house may add equity to your home, making it an excellent long-term investment. A prefab pool house may not, however, if it's not integrated as a permanent part of your property.
Is pool house construction messy?
Most construction projects are both time consuming and messy, and a new pool house is no exception. Even a prefab pool house will still need foundation and finishing work. If you want to spruce things up as soon as your pool house is complete, remember to include landscaping costs in your budget.
Does it cost more to add utilities to your pool house?
Yes, you can expect your construction costs to increase if you route utilities such as water and electricity to your pool house. This applies to both prefab and custom built pool houses.
Is a pool house right for your home?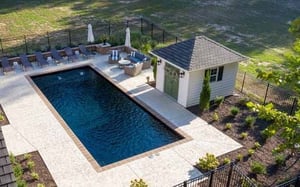 Building a pool house is going to require plenty of space and a budget of at least $1,500. On the lower end, you're looking at a nice pool shed, which can be great if you need storage, a simple changing room, or just a comfy indoor area by the pool. As you increase your budget, you'll be able to add things like a bathroom, shower, and even a full guest house with a bedroom, kitchen, and a bar.

Most people don't feel that a pool house is necessary, but if you'd like the extra storage, need room for guests, or want to upgrade your entertainment space, a pool house might be a good investment to consider.

If you can't afford a pool house at the moment, you may still be able to install an outdoor shower, buy a storage shed for your pool supplies, or even DIY a tiki bar to bring some of the elements you love most into your outdoor living space.

Let us know what your best pool house ideas are in the comments!
At River Pools, we manufacture world-class fiberglass pools for customers across North America. If you want to explore your fiberglass pool options, you can visit our educational video library, browse our fiberglass pool designs, or request custom pricing using the button below.
Not sure which inground pool is right for you? Download our free ebook to get an in-depth comparison of the three main inground pool types. Happy swimming!
Up Next:
Swimming Pool Accessories: The Ultimate Cost and Comparison Guide
A Guide to Inground Swimming Pool Size, Costs, and Prices: Everything You Should Know