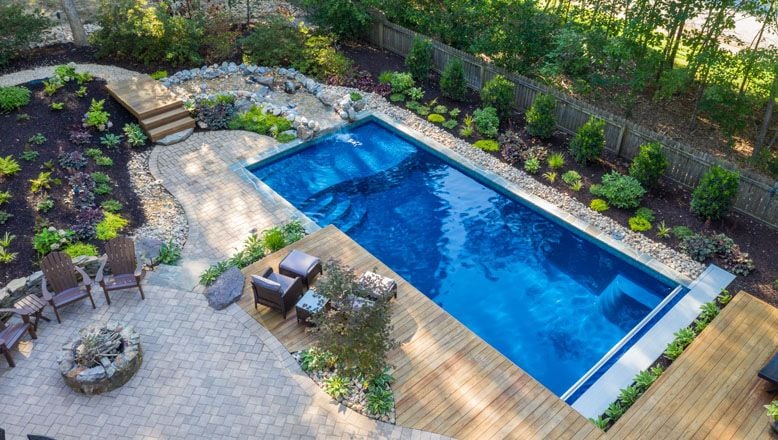 Subscribe
Fiberglass Pool Designs 101
Fiberglass Pool Information | Options and Accessories | Pool Design Guides | Swimming Pool Design
So, you want to get a fiberglass pool but are confronted with the dilemma of which design you like best.
We get that.
As fiberglass pool manufacturers, we see many people get stuck on which pool model they want to install, and it's not hard to see why.
Each fiberglass pool model has a unique shape and set of features that you won't find anywhere else. Fiberglass pools can also last 50 or more years and become a permanent part of your home.
If you're not sure which pool design will work for you, this article can help you learn more about your options and explore some of the pros and cons of the different fiberglass pool design features.
Let's quickly dive into fiberglass pool shapes and sizes, and then we'll cover popular features and installation options.
Fiberglass Pool Shapes and Sizes
To give you a brief overview, fiberglass pool models typically range from around 10 by 20 feet to 16 by 40 feet. You can find fiberglass pool models smaller than 10 by 20 feet, but the majority will be around this size or larger. (Learn more about small fiberglass pools here.) Because of shipping limitations, you'll also find that fiberglass pool models aren't typically wider than 16 feet or longer than 40 feet. (You can read about your large fiberglass pool options here.)
As far as pool shapes go, you'll have a wide range of options across all fiberglass pool manufacturers, but swimming pool shapes fall into two main categories:
Each pool shape comes with its pros and cons, and you'll find that there's much more to choosing a pool shape than aesthetics alone.
For example, freeform pools have a lot of character, but they don't always work with automatic pool covers. Rectangle pools are compatible with most if not all pool covers types, but some shoppers may find the design to be a little too plain.
Now that we've covered the basics of shapes and sizes, let's get into some of the features that you may find on a fiberglass pool model.
Fiberglass Pool with Tanning Ledge
A tanning ledge is a shallow shelf of water either built into or added onto the pool. Many fiberglass pool models come with a tanning ledge built into the design at the shallow end, but most manufacturers offer separate tanning ledges that can be added to any side of the pool model. Adding a tanning ledge to your pool can give you the best of both worlds if you decide to choose a model without a tanning ledge for extra swim space.
You'll find that most fiberglass pool shells with tanning ledges leave room for at least one chair, but some can span the entire width of the pool, allowing space for several more.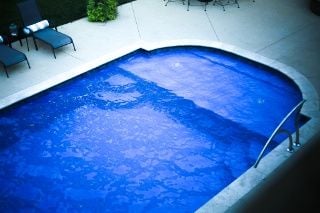 Fiberglass Pool with Tanning Ledge (Built-In) Pros and Cons
Pros:
Cons:
Sacrifices some swim space
Fiberglass Pool with Spa
Are you looking for a pool and spa combo? You'll also find many fiberglass pool models with the spa built into the design. This is a great way to save space for those who want a pool and spa but have very small backyards. Our I25s pool model, for example, is a freeform pool with a spa built into the shallow end.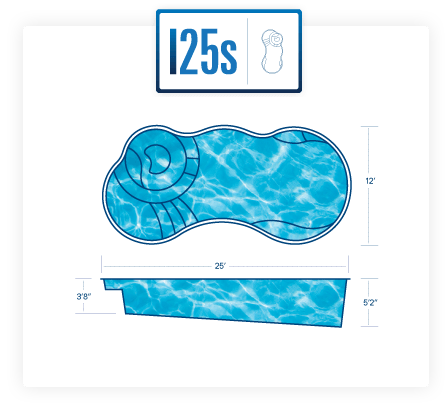 Like with tanning ledges, many fiberglass pool manufacturers offer separate spas that can be added to the side of any fiberglass pool installation.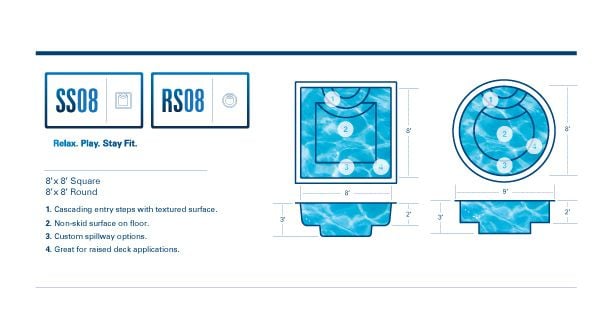 Fiberglass Pool with Spa (Built-In) Pros and Cons
Pros:
Cons:
Sacrifices some swim space

Requires additional maintenance
Fiberglass Pool with Seats
Let's face it - swimming is a workout. Even casually floating or paddling around for an hour can be tiring. Most fiberglass pools come with some type of seating (not the pool steps), offering a place to rest and relax for one or more swimmers. This means that your kids can sit comfortably between games instead of hanging on to the sides of the pool.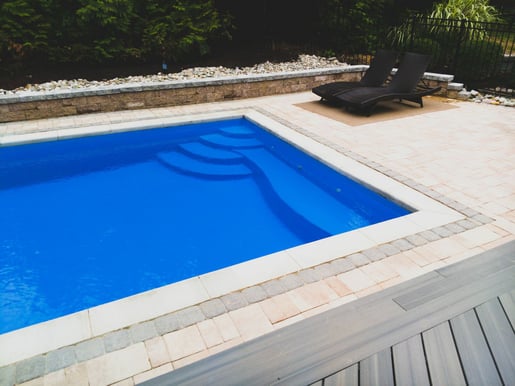 Rectangular fiberglass pool with bench seating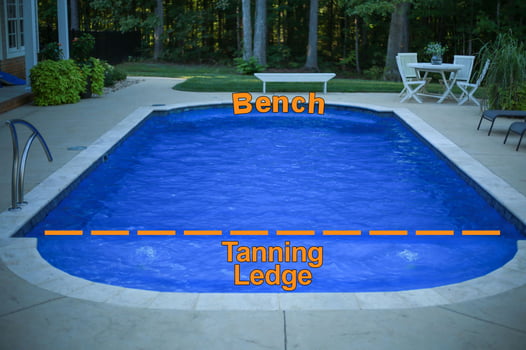 Fiberglass pool with tanning ledge and deep-end bench seating

As you can see, fiberglass pools usually have bench seating at the shallow end or deep end of the pool, but many have both.
Pros and Cons of Fiberglass Pool with Seats
Pros:
Space to rest after swimming

Space to relax and socialize
Cons:
Fiberglass Pool with Deep End
Most fiberglass pool models don't go deeper than six and a half feet because most fiberglass pools are small to medium sized (remember the size limits we talked about), but some fiberglass pools are up to 8 feet deep or more. Our T40, for example, is 8.5 feet deep and 6 inches deeper than most of the fiberglass deep end pools on the market. It also qualifies as a Type III diving pool.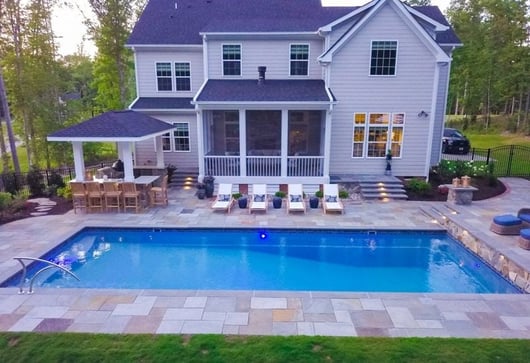 Fiberglass Pool with Deep End Pros and Cons
Pros:
Great for jumping in and doing cannonballs

Good for diving boards and pool slides
Cons:
Requires more square footage and costs more

Some models sacrifice play space in the shallow end
Fiberglass Pool Installation Designs
Did you know that you can take the same fiberglass pool shell and install it at least five different ways? This results in five unique design outcomes. These installation styles include:
Retaining wall

Semi inground

Above ground

Infinity edge

Inground
Let's go over these in some more detail.
Fiberglass Pool with Retaining Wall
If your home is on a slope or your yard's terrain is uneven, you may have to build your swimming pool with a retaining wall. Retaining walls do cost more, but they add a lot of charm and customizability to your project. Some retaining wall ideas include:
Wall fountains

Waterfalls

Planters

Semi-Inground
Fiberglass Pool
A semi-inground pool is a swimming pool that's built or installed partially inground and partially above ground. People build their pools semi-inground either because they like the way it looks or they need to due to uneven terrain or groundwater.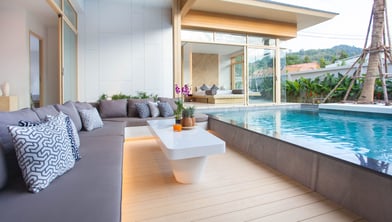 Like with a retaining wall, you can integrate fountains, waterfalls, and planters into your semi-inground pool design. You can also incorporate seating, a swim-up bar, and elements of your landscaping or patio.
Above Ground Fiberglass Pool
A fiberglass pool can be installed above ground if the homeowner wants or needs it to be installed that way. Before the pool can be set in place, however, it needs to be built to withstand the pressure of the water without the surrounding earth to balance it. This means reinforcing it with additional fiberglass to make the pool both thicker and sturdier.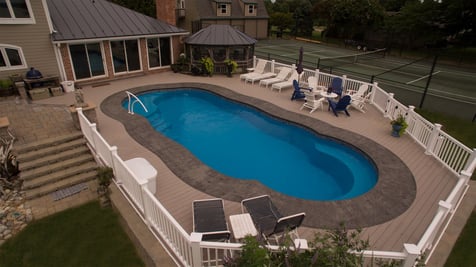 Note: Most people who install a fiberglass pool above ground also build a wrap-around deck, which can increase the cost of the project.
Fiberglass Pool with Infinity Edge
An infinity edge pool (also known as a vanishing edge) is a pool that's installed fully or partially above ground with water spilling over one side. This gives the illusion that the water stretches out to infinity, or at least over the hilltop or out into your landscaping.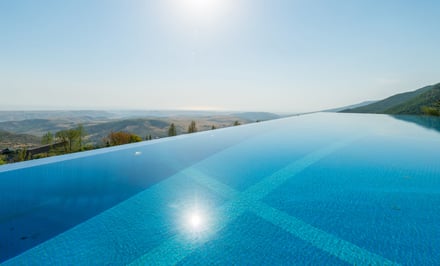 Fiberglass pools can become infinity pools during the installation. The builder will make the pool either semi-inground or entirely above ground to integrate the waterfall feature.
Keep in mind that an infinity pool design will significantly increase the cost of your pool project.
Fiberglass Inground Pool
Installing a pool inground is the traditional and most common installation method for fiberglass pools. An inground pool design is usually the most cost-effective, and it leaves plenty of room for customization between the patio, landscaping, and accessories.
Let's explore some of the accessories that you can add to your fiberglass swimming pool.
Fiberglass Pool Water Features
Clients often tell us that one of the best parts of designing their pool project is choosing the pool accessories and water features. Here's a quick breakdown of some of the most popular choices.
Fiberglass Pool with Waterfall
Fiberglass pool waterfalls not only look cool, but they are also a lot of fun for kids (they like to swim under them), and they fill the air with a relaxing sound.

Pool builders typically install waterfalls next to the pool, or they integrate them into a retaining wall.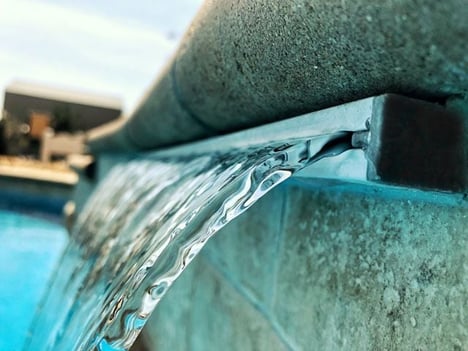 Fiberglass pool with waterfall


Fiberglass Pool Bubblers
You can also install bubblers inside your pool on steps and tanning ledges. A pool bubbler is a small fountain of bubbling water that can be placed in any shallow area of the pool surface.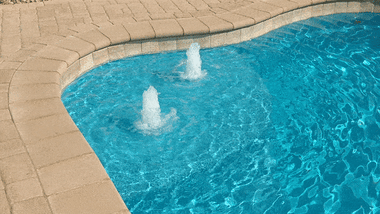 Fiberglass Pool with Jets
When it comes to water features, there are two main types of pool jets that we install as accessories in fiberglass pools:
Jets can be installed around bench seating to create a spa-like experience. This is especially nice when the seats can accommodate a group.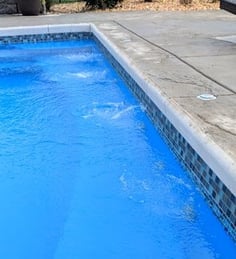 Deck jets are installed in the deck around your pool and send a stream of water into your pool, like a fountain.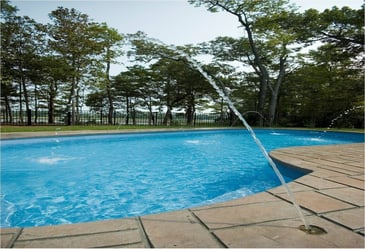 You can learn more about pool accessories and their prices here.

Remember, your pool's landscaping will also make a big difference in your pool's overall design and can give you a lot of room to add your personal touches to the space.
Fiberglass Pool Finishes
One of the most defining features of any swimming pool's design is its color. Most fiberglass pool manufacturers offer their pools in a wide range of colors, such as:
White

Light blues

Dark blues

Grays

Black

Sandstone
Note: Upgrading to a custom finish may cost extra, depending on the pool builder.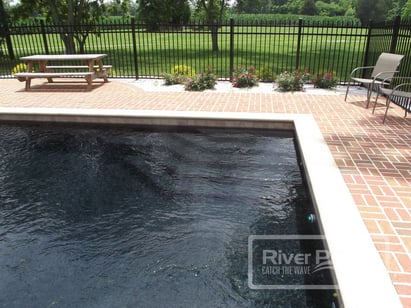 Black fiberglass pool
Fiberglass Pool Designs FAQ
Does a tanning ledge add to the cost of a fiberglass pool?
When it comes to your pool's installation, backfilling a model with a built-in tanning ledge can add around $370 to the project. The cost to buy a separate fiberglass tanning ledge can be between $5,000 and $15,000 with elevated tanning ledges costing more.
Can I put furniture on a fiberglass tanning ledge?
Absolutely! Unlike a vinyl liner swimming pool, the gelcoat surface of a fiberglass pool is durable enough for furniture and pets. And unlike concrete pools, the surface of a fiberglass pool is also smooth enough to relax on without a lounger.
How much space will I need for a separate spa?
If you'd like to add a separate spa to your pool project, you'll need an extra 9x9 foot area with another three feet of patio space around it. If you don't have the additional space, you might want to consider a model with the spa built-in.
How much more does a pool with a spa cost to maintain?
With the addition of a spa, you can expect to add $100 to $300 in electricity costs (depending on how often you run your spa heater). You can also expect to spend more on chemicals and water, and you'll need to put a little extra time into routine maintenance.
How long does it take to install a fiberglass pool with a built-in spa?
Fiberglass pool installations are fast, and fiberglass pools with spas are no exception. Your pool builder may take a few additional hours to a full day at most to install your pool if it has a spa built-in.
Can I add a spa or tanning ledge later?
If you want to save money on initial installation costs, you might be thinking about adding the spa or tanning ledge later. Even if your pool builder tells you that it's possible, it's not practical (and it can be more expensive) to build a spa or tanning ledge next to your pool after the pool and patio have been completed. For this reason, they should be added to the project during the pool's installation.
What's the Best Fiberglass Pool Design for You?
If you've read the entire article and still aren't sure which fiberglass pool design is best for your home, you can answer the following questions to help clarify your wants and needs. You can also browse our fiberglass pool gallery or follow us on Pinterest for ideas and inspiration.
1. Do you like the look of a tanning ledge, or do you want in-pool furniture?
If you answered "yes", then you might want to consider a model with a tanning ledge or you can talk to your pool builder about adding a separate one to your project.
2. Would you like to have a spa as well? Do you have additional space for a spa?
If you answered "yes" to both questions, you can take your pick among all pool models with built-in spas, as well as separate spa add ons. If you would like a spa, but you don't have the extra space, we would suggest narrowing your search to a pool with a built-in spa.
3. Which pool do you like more?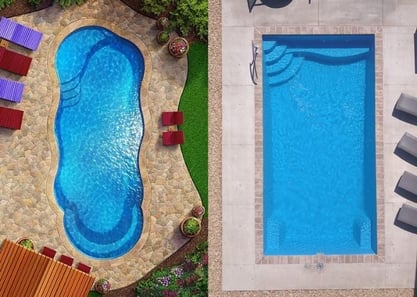 If you chose the image on the left, you likely have a preference for freeform pools. If you chose the image on the right, you probably prefer rectangular pools.
4. Is your yard on a slope, or do you have problems with flooding and groundwater in your area?
If you said "yes" to any of these, you might want to consider a pool with a retaining wall or even a semi-inground or fully above ground pool.
Need help choosing the right design? Want to get more information on installation and pricing? Feel free to contact us using the button below, and we will personally walk you through your options and answer any questions you may have.
At River Pools, we manufacture world-class fiberglass pools for customers across North America. If you're interested in getting a fiberglass pool for your home, you can check out our catalog of models, visit our video library, or download our free ebook below!
Up Next:
Everything You Need to Consider About Inground Swimming Pool Designs
10 Hottest Inground Pool Options and Accessories [Video]
How to Get a Pool Fast and Cheap