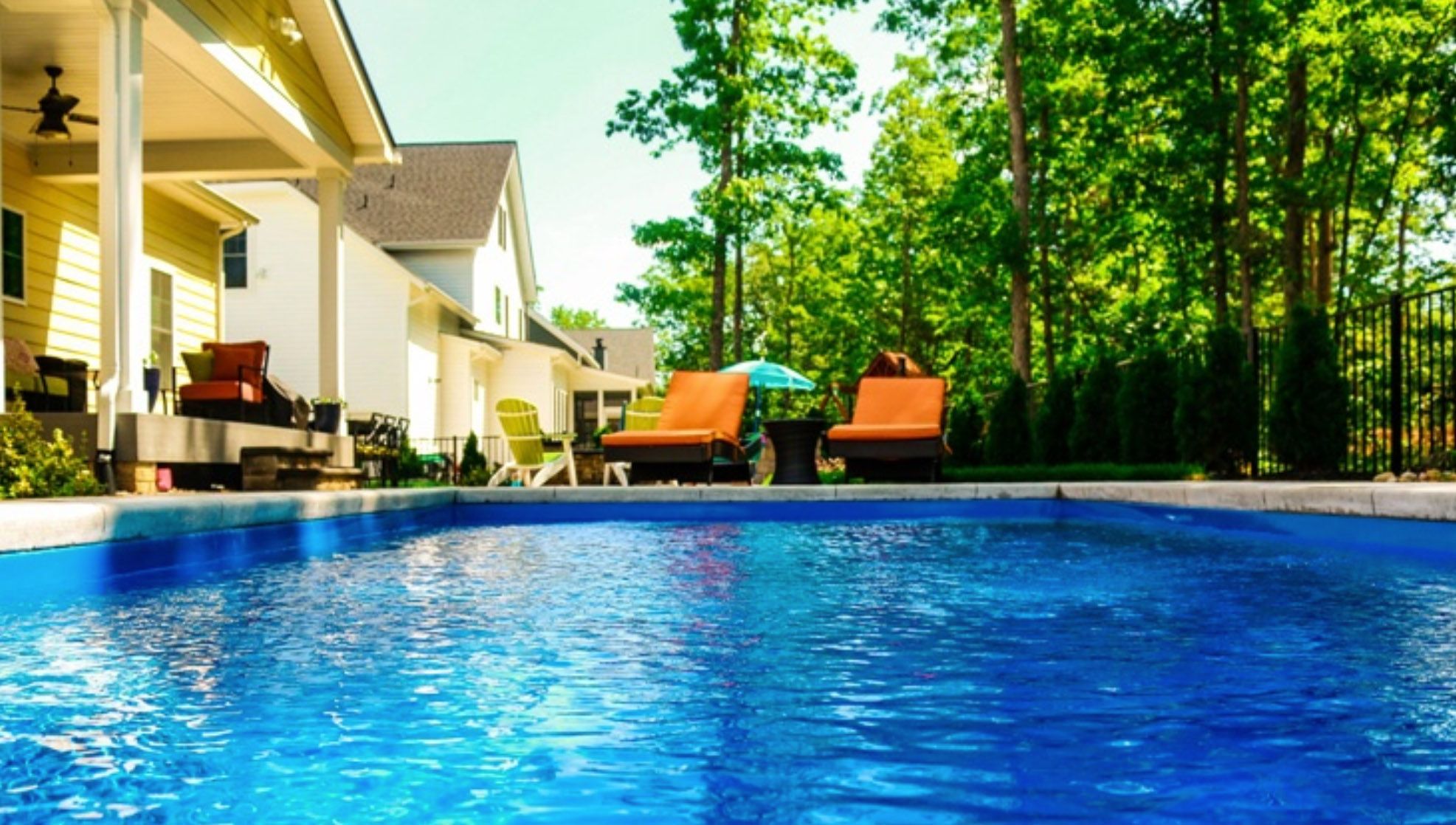 Subscribe
How to Get a Pool Fast and Cheap by Summer
Fiberglass Pool Information | Installation & Construction | Options and Accessories | Cost and Pricing
Are you dreaming of swimming pools? Do you wish you could have one, like, right now?
Based on our many years in the swimming pool industry, we can say without a doubt that it is possible to get an affordable swimming pool quickly and without planning months in advance.
If a pool is part of your home staycation plans, but you don't know how to get one, don't panic! Here's how you can get a pool fast, cheap, and in time for summer.
Can I put a pool in my backyard during COVID-19?
A lot of people have been asking us, can I build a pool in my backyard during a lockdown in the middle of a pandemic?
Although there may be some delays depending on where you live, the general consensus among pool builders is yes - you can still get a pool during the coronavirus pandemic.
We know that pool guys aren't exactly essential workers (huge, HUGE thanks to the essential workers out there!), but we have ways of safely installing a swimming pool that limits contact and still allows the job to be carried out as usual.
How long does it take to build a swimming pool?
Here's what we know from our many years in the swimming pool industry:
A concrete pool generally takes 3-6 months to install

A vinyl liner pool takes about 6-8 weeks to install

A fiberglass pool takes about 2-4 weeks to install (with patio and fencing)
As we mentioned above, there may be installation delays depending on where you live. However, overall, fiberglass swimming pools are by far the quickest inground pools to install. Most fiberglass pool clients are swimming by day two of the installation (the rest of the time is used to complete the patio and landscaping work).
We've even done complete fiberglass pool installations in a single day, including the coping and concrete patio.
This means that even if your patio, fencing, and landscaping aren't yet finished, you can still enjoy your pool and go swimming.
Read more: Pool Construction: Comparing Concrete, Vinyl Liner, and Fiberglass Installations
How to Get a Pool Fast
Now, if you're looking to get a pool in time for your summer staycation at home, you'll have two main options:
Install a fiberglass pool

Get an above ground pool
Fiberglass Pools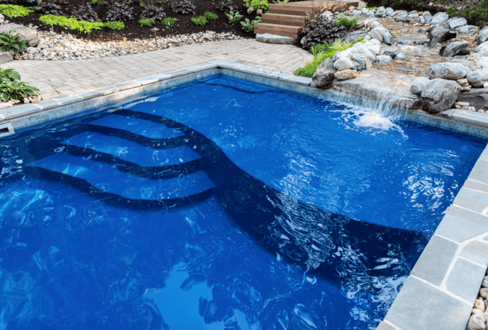 Installing a fiberglass pool is typically a matter of picking the pool shell that you like, finding a reputable pool builder in your area, reaching out for a consultation, and scheduling your project once everything looks good.
If you'd like to get your fiberglass pool as quickly and cheaply as possible, your builder can install the shell with some basic decking and then add all the extra bells and whistles (like patio and water features) later on in the fall.
Interested in a River Pools fiberglass pool? Feel free to browse our pool models, try out our fiberglass pool cost calculator, or click the button below to request a custom quote.
If you'd like to explore your other options, here's an overview of the top ten fiberglass pool manufacturers.
Read more: How Much Is My Fiberglass Pool Really Going to Cost?
Above Ground Pools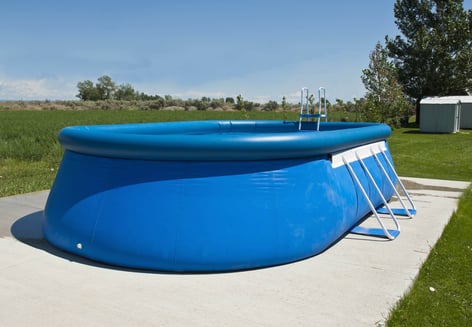 Above ground pools (like the type you can buy at Walmart, for example) are easy and quick to set up. They're also cheap at around a few hundred to a few thousand dollars, and you can easily get one in time for summer.
The downside to these pools is they don't last very long, they don't add value to your home, and well, they aren't very nice to look at.
Pro tip: If you do choose one of these quick setup pools, be mindful of safety and keep the pool secured when you're not using it.
How much does a pool cost?
Still debating which inground pool type you want to install in your home? Here's a rough cost estimate for each:
Vinyl liner swimming pool: $35,000 - $65,000 and up

Fiberglass swimming pool: $40,000 - $85,000 and up

Concrete swimming pool: $50,000 - $100,000 and up
Read more: How Much Do Above Ground and Inground Swimming Pools Cost?
Psst! Take a look at the long-term costs for each pool type in our chart below to help you decide which pool is best for your budget: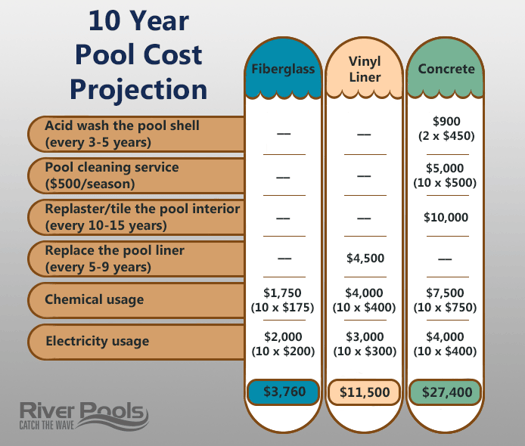 How to save money on a pool
At a time like this, when you need to get a pool fast, you may not have the pool budget available that you might have when planning a project over many months.
Because of this, a lot of our clients have been asking us, how can I save money when building a pool?
Since we have personally done thousands of inground pool installations over the years, here are our best cost-saving tips for inground pool projects.
How to save money on an inground pool installation
Install the heater later. Try using a solar pool cover or even solar rings to heat your pool in the meantime.
Add more patio later. To save on costs upfront, you can install the bare minimum in terms of patio or decking now and put in the rest later. This is especially cost-effective if you want more expensive patio materials.
Choose a smaller pool size. You don't have to give up on your dreams if you've always wanted a large swimming pool, but you can save thousands of dollars by switching to a medium or small inground pool.
Add features and accessories later. Things like waterline tile, slides, cascades, fire pits, and automatic pool covers may all be added later to save on upfront costs. However, you need to plumb for slides or water features during the pool's construction, even if you aren't going to install them yet. You can compare the cost of the top pool accessories here.
Do part of the installation yourself. We only advise that you take on part of the project (like the excavation or patio work) if you have the equipment and experience to do so. Some people DIY their entire pool project, but we don't recommend it to anyone but seasoned pool builders. If you do plan to DIY your pool,

you can read more about inground pool kits here.
Think your inground pool will be a little too plain? Here are a few inexpensive upgrades that you can add:
Jets in the bench seating. Most fiberglass pools come with shallow and/or deep end bench seating. Adding jets during the installation can add a touch of luxury at a low cost.
Bubblers in the tanning ledge. If your swimming pool model has a tanning ledge, one or two bubblers can add some extra budget-friendly fun and relaxing sounds.
In-pool furniture. A separate accessory sold from third party retailers, in-pool furniture can make all the difference in your pool lounging experience.
Read more: 7 Pool Extras That Won't Break the Budget
Financing Your Pool
Don't worry if you haven't saved all the money you need for your pool. Most people don't do this.
You can easily finance your pool using a home improvement loan. Here are some more resources if you want to research your financing options in more detail:
Swimming Pool Financing: How Can I Get a Pool Loan?
Pool Loans 101: Rates, Payments, and How to Qualify
An Honest Look at Fiberglass Inground Pool Prices and Monthly Pool Payments in 2020
What are your plans to save money on a pool this summer? Share with us in the comments!
If you'd like to learn more about how to get a fiberglass swimming pool, you can download our free ebook below or visit our extensive video library for more educational content. Happy swimming!
Up Next:
The Pros and Cons of Fiberglass Pools
Ultimate Pool Planning Guide: 11 Things to Consider Before Installing an Inground Pool

Fiberglass vs. Vinyl Liner vs. Concrete Pools: An Honest Comparison