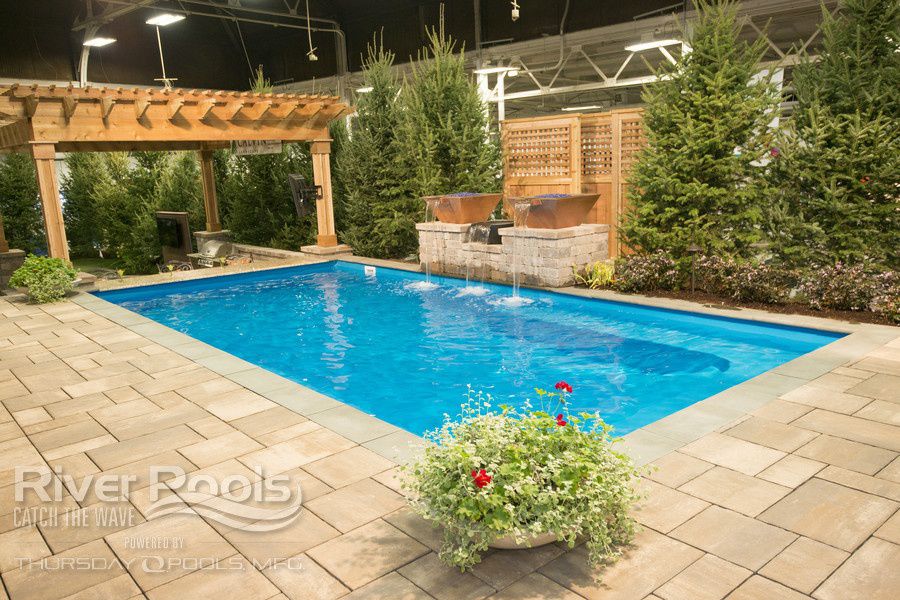 Subscribe
Swimming Pool Design Guide: Friendly Advice From A Pro!
Are you looking for inspiration for your new backyard pool?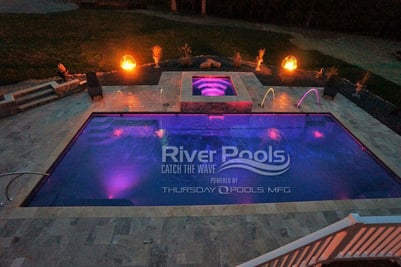 Awesome! After helping hundreds of folks in Virginia and Maryland design and build their dream pool over the years, we would like to help you get your project off on the right foot. But if you're like most people, the prospect of finding the perfect pool can seem daunting. Well, your in luck, because today we're going to walk you through a simple step-by-step process to finding the right pool shape, size, and features for your backyard space. Let's jump right in!
Step One: Determine Your Pool Size
Here are some questions to consider:
How much space do I have to work with?
How many people does the pool need to accommodate?
How do I plan to use the swimming pool?
And here are some pool size guidelines:
The average pool size in America is roughly 15'x30' although sizes vary greatly from region to region.
The smallest pools are usually about 10'x20' and the largest are typically around 40' long.
There are three types of ingound pools: fiberglass, vinyl liner, and concrete. Vinyl liner and concrete pools are more flexible from a design perspective because the shape and size can be customized. However, the vast majority of concrete and vinyl liner pools installed in America are "cookie cutter" designs that are selected from a brochure or catalogue. Fiberglass pools, because they are constructed from an existing mold and shipped to the job site in one piece, are not customizable. However, because of their beauty, low maintenance benefit, durability, and speedy installation, a rapidly increasing number of people across the country feel that fiberglass pools are a good fit for their family. Consequently, the popularity of fiberglass pools has tripled over the past decade. To learn more about fiberglass vs vinyl liner vs concrete pools click here.
Step Two: Determine Your Pool Shape
In terms of pool shapes, the sky is the limit, but there are several predominate styles to choose from that constitute the majority of pools installed today:
Rectangular Pool Design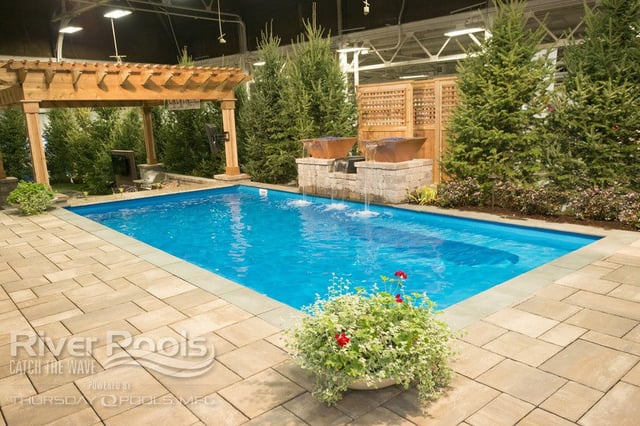 The most popular pool shape of all time is the tried and true rectangle. It's basic geometric shape and proportion make it a fitting style for most outdoor spaces. If you are considering a fiberglass pool, you may be happy to know that we at River Pools Powered by Thursday Pools Manufacturing, have many rectangular designs ranging from 10'x20' to 16'x40' to choose from. Feel free to check out our pool designs here if you're interested.
Freeform Pool Design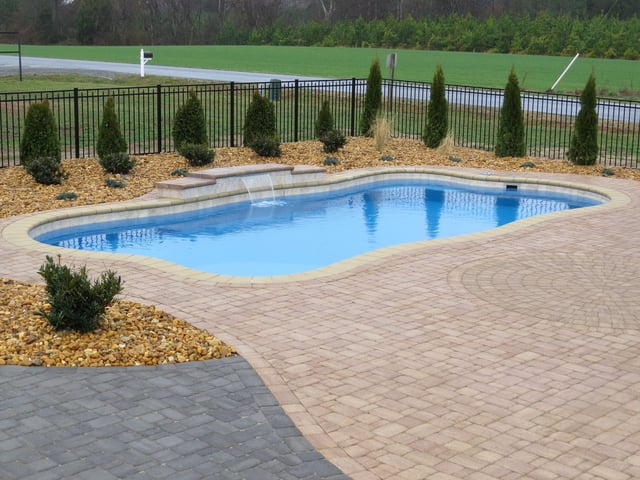 A freeform pool is basically a non-linear pool with flowing lines, and they can take virtually any shape. Some of our most popular freeform pool designs are the Oasis and Titus models.
Lagoon Pool Design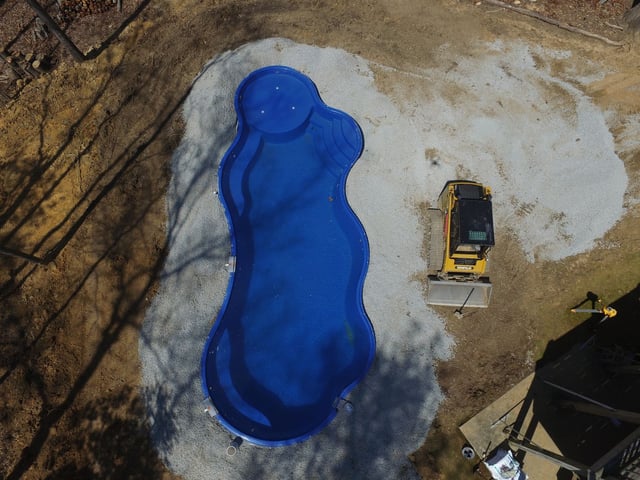 A Lagoon design is a freeform pool with an enhanced serpentine shape. Our Wellspring pool design is a great example of a lagoon style pool.
Roman End Pool Design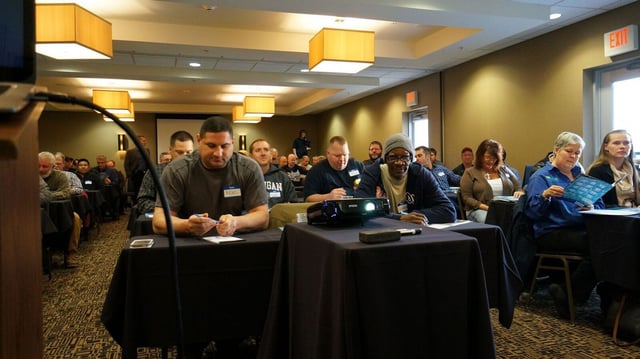 A roman end is a squared end with a centered arch. This classic design is popular in many different settings. Our Cathedral model is a great example of a roman end pool design.
Vanishing Edge Design Pools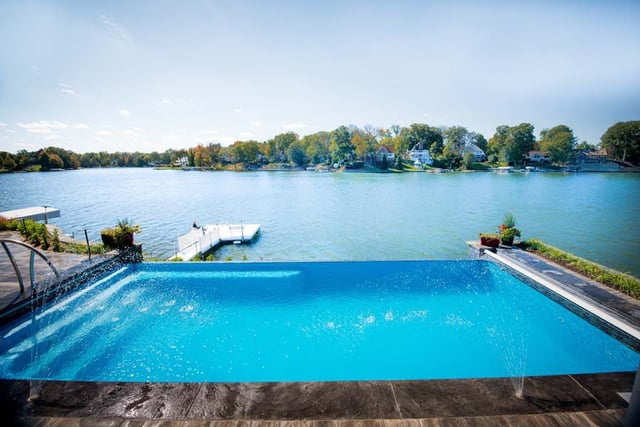 A vanishing edge (also called an infinity edge), is where one or more sides of the pool are lowered so water can spill over the pool lip, giving the appearance of a vanishing waterline. Our Infinity model is a vanishing edge fiberglass pool.
Step 3: Select Special Pool Features
Perhaps there are certain pool features you'd prefer to integrate into your backyard design such as a tanning ledge, attached spa, or water feature. Below is a list of our pool designs along with some popular features. You can check out all of our pool designs here.
Well, we hope this has helped you determine which swimming pool design might be best for you. If you are in the process of determining your pool budget, you may want to check out our inground pool pricing guide.
If you think a fiberglass pool could be an option for your family and would like to speak to a representative click here, fill out the form, and we'll be in touch very soon.
And if you have any questions or comments feel free to leave them below.
Thanks and happy swimming!