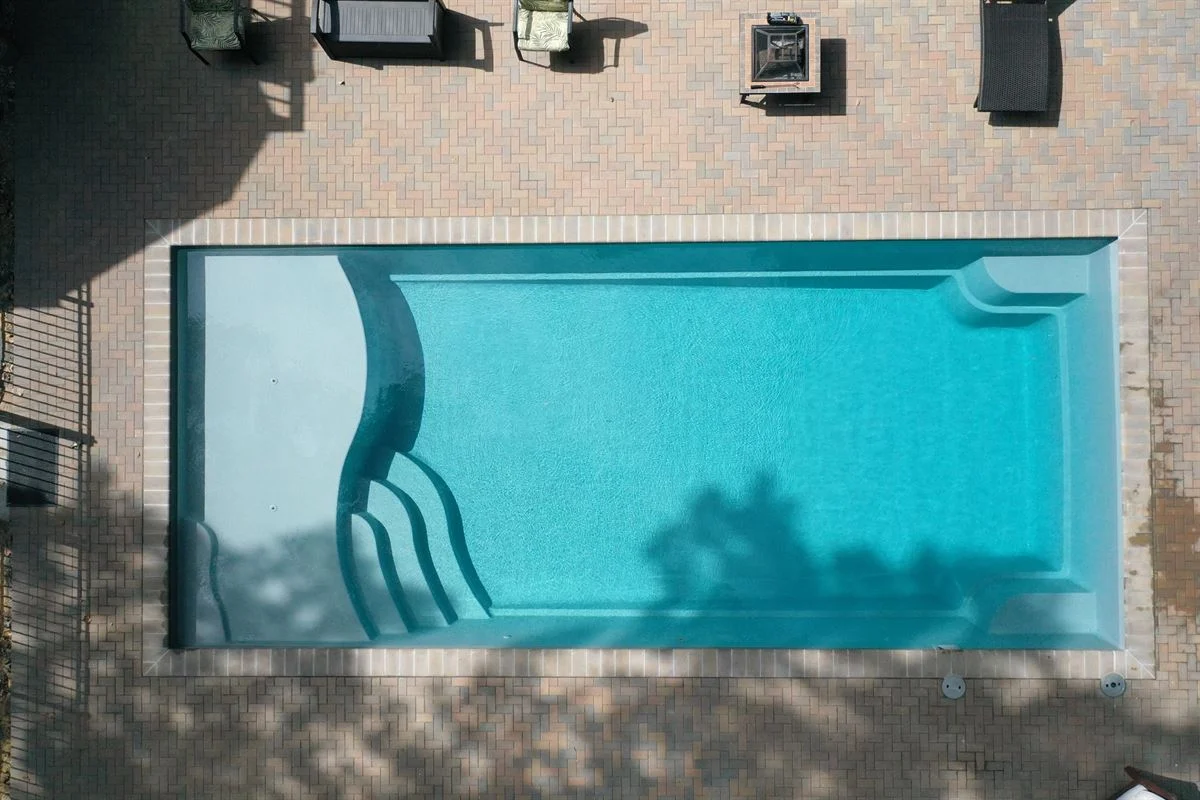 Subscribe
Rectangle vs Curvy Swimming Pools: Which is the Best Shape for You?
Pool Design Guides | Swimming Pool Design
Let us guess…you're sitting there right now, knowing you want an inground pool, but alas…you can't seem to decide on the right shape and design for you and your backyard? We're envisioning this internal struggle looking something like this:
"Should I go straight lines and get a rectangle or roman end design?"
"Or should I go "free form" and add some curve appeal to my backyard?"
Dang it, I can't seem to figure this out!
Fret not friends. This is a totally normal and understandable dilemma to have. Here at River Pools, we've literally helped thousands of families make this important decision. And that's exactly what we're going to do in this article today as well, as we'll address the pros, cons, good, and ugly of freeform and rectangle inground pool designs.
And hopefully by the end, you'll have a clear sense of if one of these choices are the best for YOU.
Sound good?
Let's head in…
Freeform vs Rectangular Pool
So, are rectangular pools better? Or freeform? There's no objective right or wrong when it comes to choosing between a freeform and rectangular pool - but there is a right choice for you and your backyard vision. Whether it's round, roman, rectangular, or even a kidney shaped pool, there's a pool out there that can enhance your outdoor space just the way you like it.
Let's do a quick breakdown of the differences between these two particular styles:
Freeform:
Gives a more "natural" feeling. If you look in nature, you'll find countless rounded and imperfect edges. If your pool follows this same concept, it can create a feeling of free-flowing, natural water.
Makes a statement. This isn't to say that rectangle pools won't also have their own personalities, but the curvy, wiggly edges of a freeform pool can give a playful (or even elegant) feel the instant someone sees it.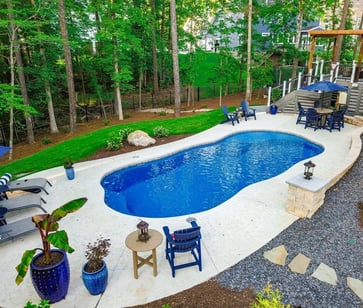 Rectangle:
Gives a clean, modern feel. When you imagine a pool, most people typically picture that classic blue rectangle in a gorgeous, landscaped setting. The defined, solid lines in these pools feel clean, polished and add that nice little element of luxury.
Better suited for certain pool add-ons. This mostly refers to automatic pool covers: rectangular pools are much more compatible with the straight edges of an automatic cover than a curvy design.
When it comes down to making a choice between these shapes, some things to think about are how much swim space you'd like to have versus the overall aesthetic of the pool itself. Some freeform designs focus more on the personality, which means you might be sacrificing swim room. Some will be designed with the opposite intention. With a rectangular pool, overall size and included features, like benches, tanning ledges, etc. can make or break design choices for you. These elements also give the pool its unique vibe.
Sizes, Styles and Features Available for Rectangle Pools
Quick sidebar: we've been focusing on inground pools so far, but if your mind has been drifting towards the above ground option, we'll answer this: can above ground pools be rectangle? Yes, they can! They can also be freeform, and you can find both styles in semi-inground pools, as well.
Shifting back to inground pool shapes and sizes, there are tons of options for whatever your heart desires. We'll focus on rectangular pool sizes and designs for now (if you'd like more info on freeform designs, we have just the blog for you here). What size and features are available will depend on what type of pool you choose. Concrete, also known as gunite, pools are known for being one of the most customizable inground pool types, as they can be built to almost any size and shape. Vinyl liner pools also allow for a wide variety of custom work since they're built in the comfort of your yard. Dreaming of a pool shaped like your favorite food? No problem, but custom designs on these pool types will often cost more than a simpler/more "standard" shape.
Fiberglass pools are more limited in size and shape options compared to the other types due to their production process. They are crafted from a mold designed by the manufacturer, which means shape and size are predetermined. Most inground fiberglass pools won't get larger than 16' x 40'-41' due to shipping limitations. We know this makes fiberglass sound a little limited, but with time and technology has come a much greater range of options for fiberglass. The designs that are out there often include many widely-desired features. There are fiberglass rectangle pool designs with a sun shelf, rectangle pool designs with hot tubs (spas can also be separate from the pool) and more.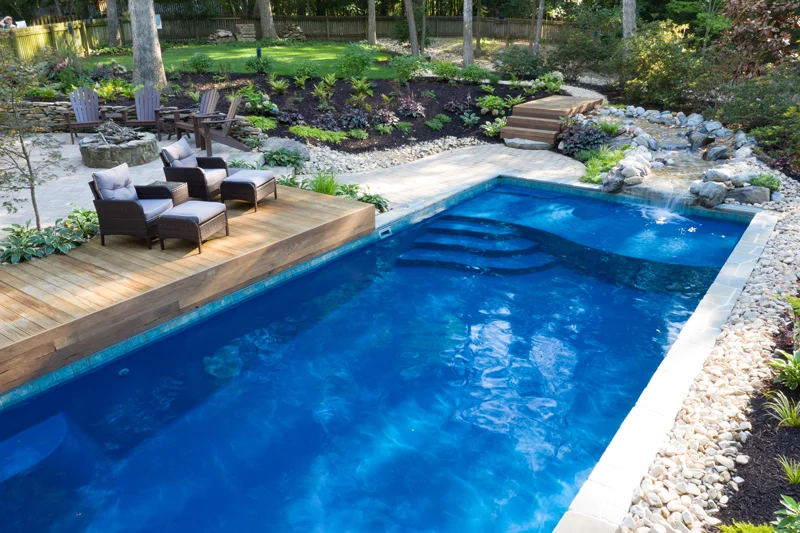 Seeing pictures of rectangular pools is always helpful when there's so many choices to sort through. Pinterest and other image-based social media sites are great places to find inspiration.
Pricing of a Rectangle Pool + Conclusion
When debating on a rectangular pool, one of your main concerns may be "are rectangle pools cheaper?" This depends on what pool type we're talking about.
Whether or not the pool's shape impacts cost depends mostly on the amount of labor or difficulty in producing it. For example, vinyl liner pools are constructed in a way that the pool's finish, which ensures the liner is snug and fitting properly, requires more effort when the walls have curves. So you would most likely spend less on a rectangular vinyl pool. However, when it comes to both gunite/concrete and fiberglass, the price is more often determined by the size rather than shape - so a rectangle design wouldn't necessarily save you more money versus a freeform.
Like we mentioned earlier, we've helped many folks decide what shape/style/type of pool is best for them, so we hope you found this helpful. Our specialty is in manufacturing and installing inground fiberglass pools across the country. If you'd like to get some more information on how much a fiberglass pool may cost you (rectangle or freeform), we'd like to suggest our pool cost calculator. Take a look at our available rectangle inground pool designs here.