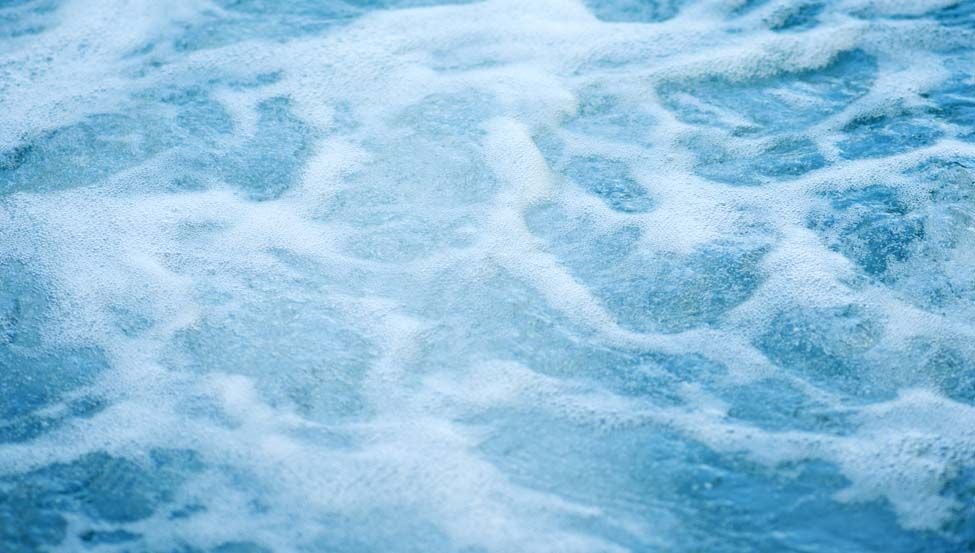 Subscribe
Should You Get a Fiberglass Pool with a Spa?
Having a pool in your backyard can be a luxurious experience on its own. Add a spa to that and you've got an outdoor resort.
If you're thinking about a fiberglass pool with a spa for your home, you're in luck.

We at River Pools have been manufacturing and installing fiberglass pools and spas for years, and our experts are happy to break down your FAQs here to help you decide if a fiberglass pool with a built-in spa is right for you.
Let's start by explaining the pros and cons of choosing a pool model with a spa, and then we'll go over some frequently asked questions.

Advantages of Fiberglass Pools with Spas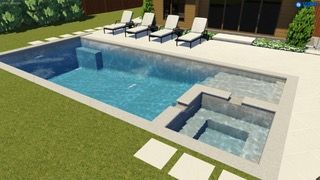 Ease of Use
While at first glance, a fiberglass pool with a spa might seem like more work, it's actually easier to maintain than having a spa that's not attached to your pool. Since your pool filter is always working to collect debris and keep algae away, having your pool and spa connected can keep your spa cleaner as well. Sanitation can also be simultaneous since your spa is attached, making maintenance simpler.
You May Use it More Often
How many people do you know that own hot tubs? And how many of those hot tub owners actually use them all the time? We're betting that many spa owners keep the spa covered most of the year because clean up and set up is too big of a hassle. But with a pool and spa combo, you won't have to worry about cleanup, water, or set up because your system will already be sanitized and running along with your pool.

Saves Space
If you have a small yard, you'll know the challenges of putting anything in it, let alone a whole swimming pool and a spa. Since fiberglass pools are limited in size, you might not have to worry about your yard being too small for a pool model with a spa.
Most separate spas will need an additional 9x9 feet of space plus three square feet all the way around, but you won't have to worry about that with a built-in spa. Choosing a pool model with a spa can also leave you room for other great outdoor accessories like a bigger patio, an outdoor kitchen, or a fire pit.
Backyard Aesthetics
This might be a subjective opinion, but it's always impressive to see a pool and a spa together, isn't it? Whether it's built-in or attached from a separate mold during construction, our pool customers are always happy that they decided to add a spa to their outdoor space. With the bubblers going and the water cascading over the spa's edge, you might even become the envy of the neighborhood.
Same Durable Gelcoat
Another good thing about having a fiberglass pool with a spa is the gelcoat surface. Rather than going with a concrete or acrylic spa, your built-in fiberglass spa will have the same smooth and durable gelcoat finish as your inground fiberglass pool. In case you don't know much about gelcoat, just know this: it's durable, long-lasting, vibrant, smooth, and doesn't need to be resurfaced. Did we mention it's algae-resistant?
Read more: 6 Things You Should Know about a Fiberglass Pool Gelcoat Surface
Fade Together Over Time
Yes, all inground pools will fade over time, but the fading will be even, gradual, and seamless in both pool and spa because they are constructed at the exact same time using the same batch of materials. They're also installed at the same time and will get even sun exposure over their lifespan.
Read more: Will My Inground Pool Fade?
Use One Cover
Pool and spa covers aren't always cheap, and they need to be replaced over time. Not to mention that most of them have to be stored out of sight when the pool is open and in use. But if your fiberglass pool has a spa built-in, you'll only need one cover for both. This can make maintenance and storage a lot easier.
Disadvantages of Fiberglass Pools with Spas

Limits Your Swimming Area
One drawback of a fiberglass spa is that it will cut into your swim space, typically on the pool's shallow end. Remember, fiberglass pools generally are no larger than 40 feet long and 16 feet wide. A built-in spa would take away an approximately 10x10 foot area, limiting the swim and play space in your pool.
No Mixing Colors
Most people will match their spa's gelcoat color to their fiberglass pool, but if you wanted to get crazy and do a blue pool and a gray spa, you wouldn't be able to do this if the spa is built-in. If you want to mix up your pool and spa colors, they would need to be manufactured separately.
Costs More to Maintain
Adding a spa to your project (built-in or separate) will increase your maintenance costs. Spas and hot tubs typically use more chemicals since they operate at higher temperatures, which makes a pool with a spa costlier to maintain than just a pool. Heating your spa can also add a hefty amount to your monthly electric bill.
Read more: Swimming Pool Heaters: Types, Costs, Pros & Cons
Might Not Be the Design You Want
With a fiberglass pool, the design is pretty much unchangeable. That means that you can't move your spa from the left side of the pool to the right or change it from a round shape to a square. What you see in the pool diagram is what you get.

This isn't usually a problem as you'll have hundreds of pool models to sift through across all fiberglass pool manufacturers, so you're bound to find something you like.
Separate Fiberglass Spas
Alternatively, you can add a separate fiberglass spa to your pool project if you don't want the spa built-in. A separate spa leaves you with more options regarding the variety of pool shapes and sizes to choose from, the placement of your spa, and your spa's size and shape. You'll also get to decide whether you want the water to cascade over the edge into the pool, or you can choose to install it inground or above ground further away from the pool area.

Keep in mind that adding a separate spa to your project will be more expensive (in the $15,000 to $30,000 range) than choosing a pool model with a spa built-in.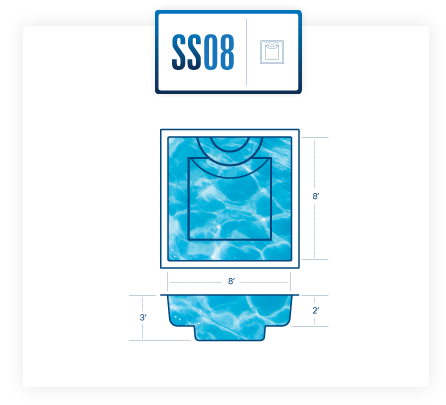 Acrylic vs. Fiberglass Hot Tub
A fiberglass spa won't offer the same experience as a traditional standalone unit, and it will cost much more (you might pay $8,000 to $10,000 for a standalone acrylic hot tub and $15,000 to $30,000 for a fiberglass spa).

Traditional acrylic spas are known for being ergonomic with more jets and multiple hydrotherapy options. Fiberglass spas typically use bench seating (not ergonomic) and fewer jets. They're simpler than traditional hot tub units in function and design, but they are highly customizable when it comes to the installation. Inground fiberglass spas are also beautiful and can be seamlessly integrated into your outdoor living space.

Finally, and perhaps most importantly, fiberglass spas can be used to create stunning water features, like a cascade waterfall from the spa to the pool.
Fiberglass Spa FAQ
To wrap up this article, let's go over some of the most commonly asked questions that we get from customers who want to add a fiberglass spa to their project. If you have any other questions that you'd like us to answer, please leave them in the comments, and we will get back to you as soon as possible.
How long do fiberglass spas last?
Your fiberglass spa can last as long as your fiberglass pool, which can be fifty years or more if maintained well. The structure of your fiberglass spa should be strong and flexible enough to hold up without cracking or breaking, and the gelcoat surface should last many years, if not the spa's entire lifespan, without needing to be resurfaced.
What are the benefits of a fiberglass spa?
Compared to concrete or gunite spas, fiberglass spas are smoother, easier to maintain, cheaper to maintain, and don't harbor algae. They also have vibrant colors (much more so than plaster), and the flexibility of the fiberglass means that it won't crack during the winter as the ground freezes and thaws. Concrete, on the other hand, is prone to cracking in the cold weather.
Can you buy a fiberglass spa without a pool?
If you are only looking for an inground or above ground fiberglass spa without the pool, you can absolutely get one individually. It will likely be more expensive than a traditional showroom acrylic hot tub, but it can also become a durable and more permanent part of your landscaping.
Can you install a fiberglass spa as a pool?
Yes! If space is super limited, you can always look into installing a fiberglass spa as a cocktail pool. You won't exactly be able to swim laps in a unit this small (typically around 10x10 or 8x8), but you'll be able to cool off and enjoy the relaxing effects of lounging in the privacy of your own pool.
How long does it take to install a fiberglass pool with a spa?
Fiberglass pools and spas are exceptionally quick to install compared to concrete. In fact, if you buy a fiberglass pool with a spa, you can expect the pool to be installed within a few days and the entire project to be finished within two to six weeks. This is because fiberglass pools and spas are pre-made in a factory, so most of the building process is already complete by the time your pool and spa arrive.
If you think a fiberglass pool with a spa sounds like the perfect fit for your home, feel free to browse our pool models, visit our gallery, or check out our video library for more educational content.
At River Pools, we manufacture world-class fiberglass pools for customers across North America. If you'd like to get pricing on a fiberglass pool, you can request custom pricing using our button below or try out our free fiberglass pool pricing calculator for a fast estimate.
Up Next:
Swimming Pool Accessories: The Ultimate Cost and Comparison Guide
Inground Pool Slides: Costs, Types, Safety