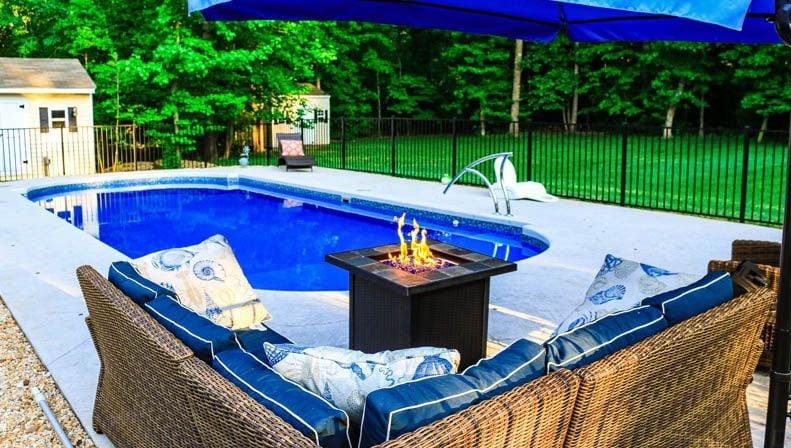 Subscribe
Poolside Fire Pit Ideas, Types, Reviews
Have you ever been blasted by a cold breeze just as you were climbing out of the swimming pool? Did you think about jumping back in just to get warm again?

If you've been swimming on a cool and breezy day, we're guessing that you know what we're talking about.

While shivering in a beach towel is a small price to pay for swimming in less than ideal weather, we want you to know that it doesn't have to be this way. In fact, getting out of the pool can be just as pleasant as getting in it.

Enter the poolside fire pit.
A fire pit is the perfect spot to warm up after your swim, and it creates a great entertainment center for family and guests.
While much of your backyard will be out of commission in the colder weather, including your inground pool, fire pits can be used year-round in many climates. They also take up a relatively small footprint, making them a good option for large and small spaces alike.
As seasoned fiberglass pool manufacturers who provide installation and landscaping services for customers around our home base in Virginia, we've seen countless fire pit designs made from a wide range of materials.
Because fire pits have become an outdoor living space staple and a must-have for many pool owners, we'll break down some poolside fire pit ideas and review some of the materials that you can use to build yours.
By the end of this article, you should know the type of fire pits that you can create and understand a few basic things that everyone should consider before putting a fire pit in their yard.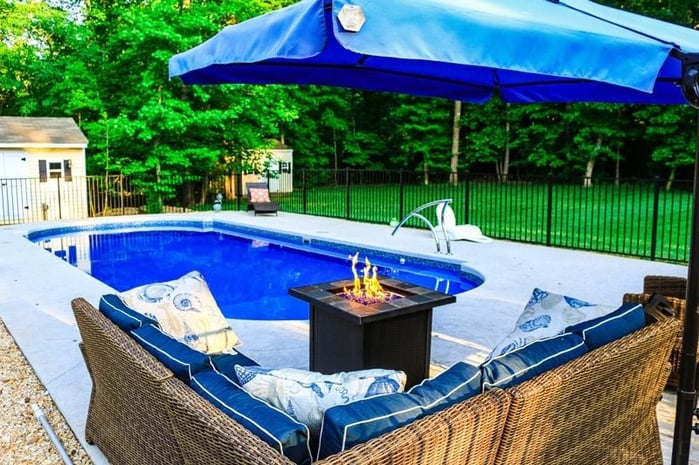 Types of Fire Pits
There are several main categories of fire pits that we want to distinguish before diving into the different materials that you can use. In general, these are:
Above Ground Fire Pit
Many fire pits that you see are above ground fire pits, meaning they retain some a wall or barrier around the fire on all or most sides. Above ground fire pits are usually at least a foot high, but they can be up to 20 inches high on one or more sides.
Usually, fire pits are built to sit slightly below the seating area, but if you want to sit on the edge of the fire pit rather than on chairs or benches, your fire pit should be around 18 to 20 inches high.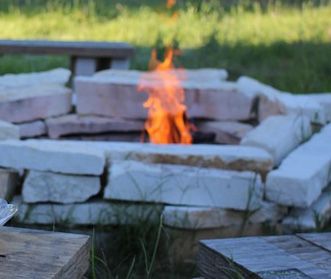 Inground Fire Pit
Some people will dig into the ground and build a fire pit below the ground level, creating a true fire pit. This well-like fire pit can be surrounded by a small patio for safety and seating, and the firewood may be stacked taller than the ground level or totally submerged in the earth.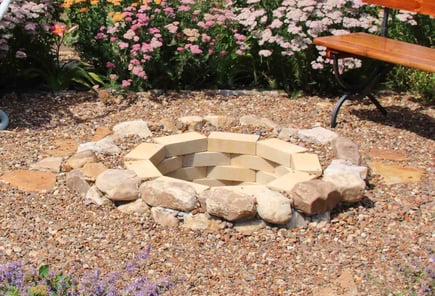 Prefab Fire Pit
Prefab fire pits are manufactured and ready to use at the time of purchase. These can easily be moved to different areas of your yard, and they can be found in a range of styles and materials. Many prefab fire pits are wood-burning, but others operate on propane. The main advantage of choosing a prefab fire pit is ease and simplicity.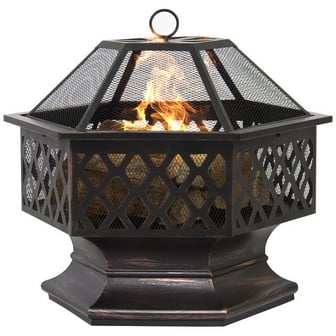 Custom Fire Pit
Hand-built or custom-built fire pits are made from the ground up using a variety of building materials like concrete and brick. These are immobile, and they can be inground or above ground. Most DIY fire pits are custom built using a range of gardening and landscaping materials. The main advantages of building a custom fire pit are customizability and the opportunity to keep costs to a minimum.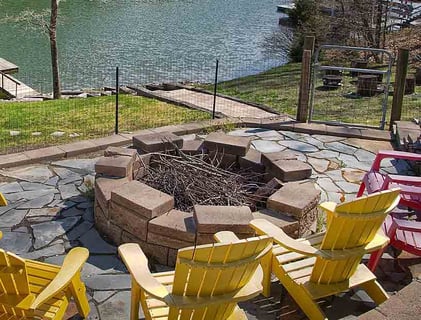 Fire Bowl
A fire bowl is another version of the prefab fire pit (although some may be made DIY), but it's in the shape of a bowl. These can be minuscule in size, fitting on an average patio tabletop, or they can be large and span several feet. Fire bowls are often made from materials like concrete, steel, or cast iron and can burn wood or gas. The main advantages of having a fire bowl are aesthetics and the ability to choose a compact design.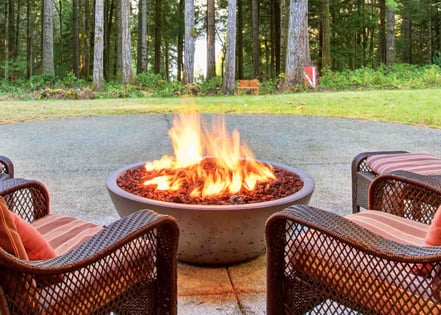 In addition to your fire pit's design, you'll also need to consider what your fire pit will burn and how it will function. Here are a few of your options:
Wood Burning
A wood-burning fire pit provides that classic campfire smell and can give off different scents depending on the type of wood that you use. Wood burning fire pits are also ideal for fire pit cooking with or without a cooking surface. To cook with gas fire pits, you should have a set of heavy-duty pots and pans to avoid cooking directly on the fire.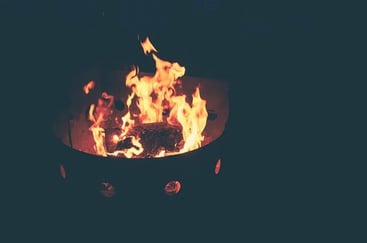 Gas Burning (Natural Gas, Ethanol, Propane)
Gas burning fire pits are often recommended because they produce no smoke, don't spark, and are easier to maintain. They're also cleaner and allow you to burn other materials like fire glass and lava rock.
Pro tip: Don't burn anything not made or sold for fire pits. Toxic fumes and explosions are no fun!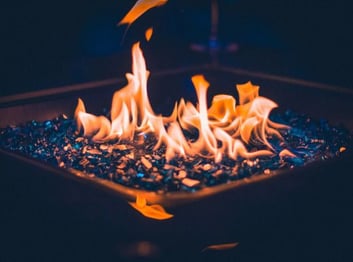 Fire Pit Materials
Choosing how you want your fire pit to look is one of the most important steps in planning your fire pit. Whether you're doing a sunken inground fire pit or an above ground fire pit, here are a few commonly used materials to consider:

Stone
You can use several types of stone for your fire pit from boulders to flagstone pieces to crushed stone. Most, if not all, stone fire pits are custom-built and immobile once set in place.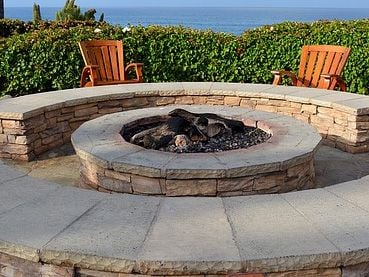 Brick
Brick is heat-resistant and a popular choice for building both inground and above ground fire pits. It's also affordable and easy to manipulate, making it a top pick for DIY fire pit projects.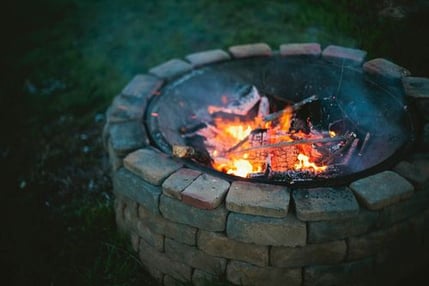 Steel
Usually, we see steel in prefab fire pits, but you can add steel to your custom-built fire pit to increase the fire-resistance and durability of the center.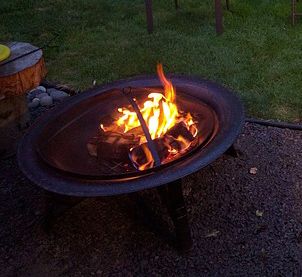 Concrete
Poured concrete or concrete pavers are often seen in fire pits and add a high degree of customizability to the shape and design. Concrete is also often mixed with other materials like brick or stone.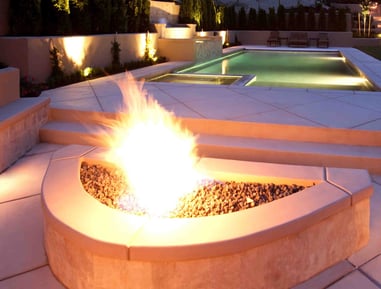 Pavers
Pavers, typically made of concrete or stone, are easy to use, come in a variety of shapes, and are friendly to DIY projects.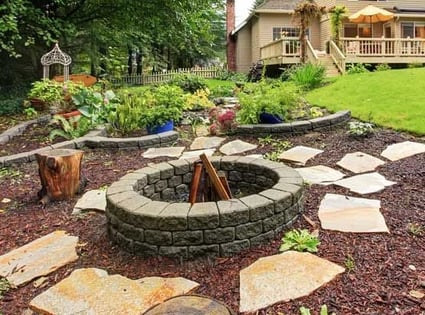 Retaining Wall Blocks
Like bricks and pavers, retaining wall blocks make an easy to assemble DIY fire pit option and are durable enough to support an above ground structure for many years.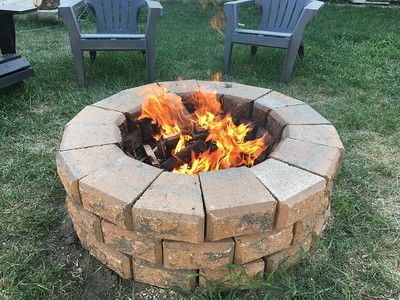 Faux Wood
Prefab fire pits sometimes use faux wood (never real, flammable wood). The materials used are heat-resistant while providing all of the charms of wooden outdoor furniture.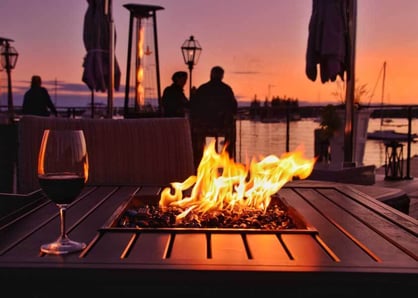 Note: On all fire pits, be sure to use materials that are non-flammable and heat-resistant. They should also not be made from materials that are non-porous and can hold water (like river rock), especially on the inner walls of your fire pit. This can result in an explosion if too close to the fire.
Mixing Materials
Most fire pits will use a mix of materials like pavers and brick or stone and concrete. You will likely use durable and fire-proof materials for the inner walls of your fire pit and more decorative materials for the outer walls.
Fire Pit Shapes
Fire pits can be built in a range of shapes and sizes, but most stick to the following:
Square

Circle

Rectangle

Custom
The vast majority of fire pits are circular or square (inground or above ground), but some are trough-like rectangles and others are made into custom shapes like a star or spiral.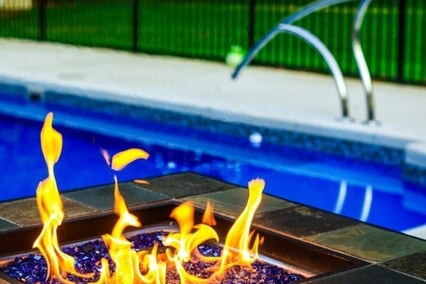 Fire Pit Ideas
Choose a glass burning or lava rock burning gas fire pit.
Build your fire pit inground.
Make a tabletop board to cover your above ground fire pit when not in use (that way, it can double as an outdoor coffee table).
Make a custom grill top so that you can cook on your fire pit.
Build matching benches around the fire pit for safe and durable seating.
Try an easy DIY fire pit using simple materials like bricks and pavers.
Build your fire pit closer to your pool to create an even better entertainment space.
4 Things You Need to Know About Poolside Fire Pits
Before you go, please take a few seconds to read over these points on fire pit placement and safety. If you have any questions, feel free to leave them below in the comments and we will answer them as soon as possible.
You need at least seven to ten feet of space for your fire pit and seven additional feet on each side for extra room and seating.
Check with your city or county planning department about fire pit rules in your area before you begin building.
Place or build the fire pit at least ten feet away from your home, or follow your local regulations.
Your fire pit will need about three feet of open space between the pit and seating area.
We hope this article has helped you decide if you want a fire pit in your backyard and which type of fire pit would look better next to your swimming pool. If you're looking for more outdoor living space and pool accessory ideas, check out our other guides below.
Swimming Pool Accessories: The Ultimate Cost and Comparison Guide
12 Outdoor Living Space Accessories to Add to Your Home
The Best Low Maintenance Pool, Landscaping, and Outdoor Living Space Ideas
At River Pools, we manufacture world-class fiberglass pools for customers across North America. If you'd like to explore your fiberglass pool options for your home, you can browse our pool models, try out our pool pricing calculator, or request custom pricing today using the button below. Happy swimming!