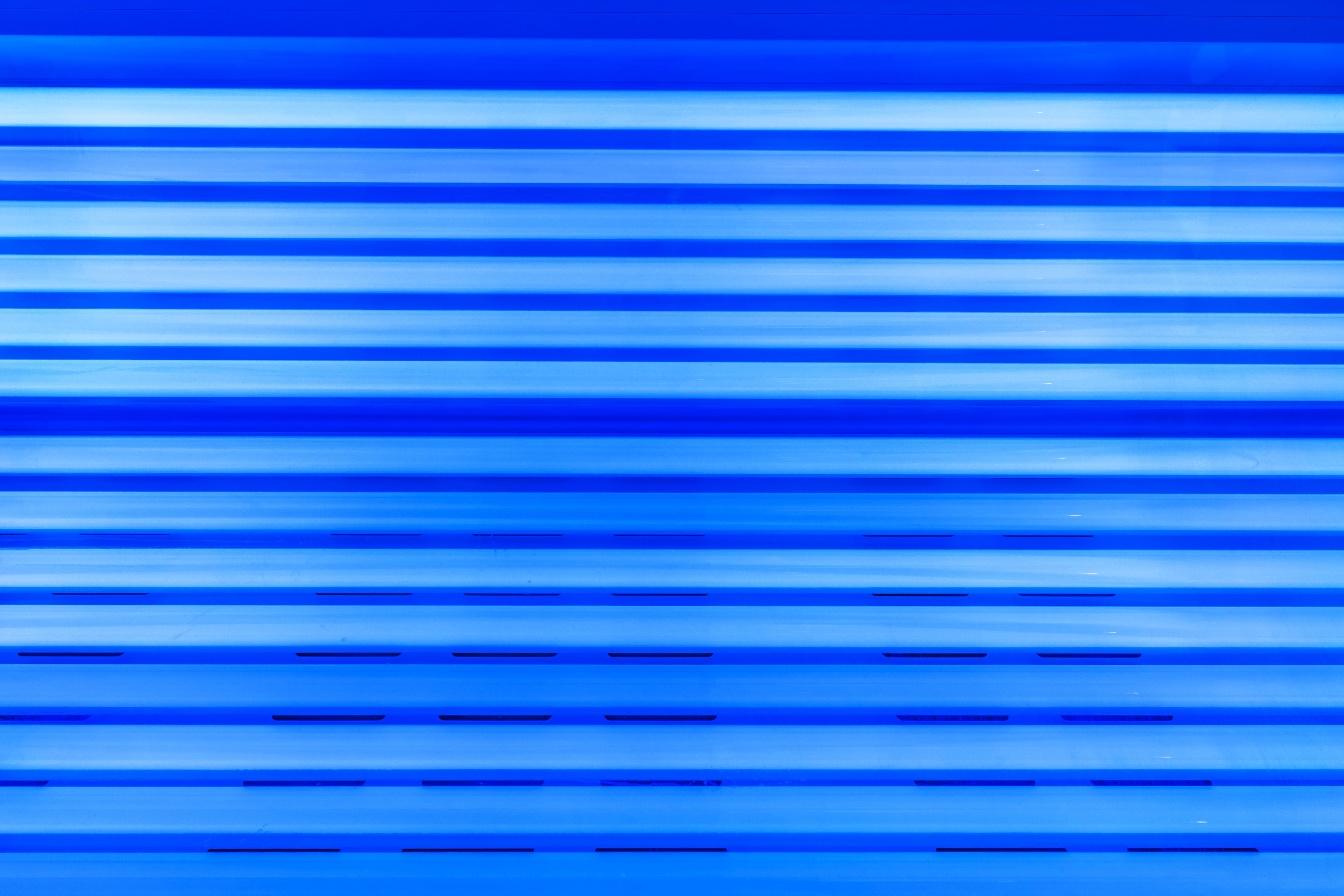 Subscribe
Inground Pool UV System: Cost, Pros, Cons, and How It Works
Options and Accessories | Swimming Pool Accessories
We all know that one of the most important parts of owning an inground pool is keeping it clean. Slacking on maintenance can damage your pool and let's face it, no one wants to see their sparkling oasis turn into a swamp. Luckily, you have a few options when it comes to keeping your pool clean.
You might be thinking, "Well, it's not that hard to keep the pool from turning into a green swamp". True, but the reality is your pool can be dirty even if it's not an ugly green color. Cloudy water can indicate chemical imbalance, and even clear water can have hidden issues.
So how do you keep the pool water clear of bacteria and parasites?
One effective solution is to use an inground pool UV system, which uses ultraviolet light for pool sanitation. These systems don't involve pumping lots of chemicals into your pool, and some say they are superior to the "old fashioned" sanitation method of using chlorine. Or are they?
At River Pools, we manufacture, install, and service fiberglass swimming pools across North America, but we are much more than just a fiberglass pool company. We strive to provide the best educational content for pool shoppers and owners around the world, and that includes keeping up with new technology and breakthrough products.
This week, we're giving you the lowdown on UV pool systems to introduce you to new ways of sanitizing your swimming pool
Let's start with the basics...
What Are Inground Pool UV Systems?
UV pool sanitizers clean your pool almost completely without chemicals. Basically, they work like a germicide to get rid of unwanted microorganisms in the pool.
The UV light rays target harmful bacteria and other microorganisms in your pool water, alter their DNA so they can't reproduce, and then kill them. Talk about high tech.
The UV light is contained so that it doesn't hurt you or any swimmers. You also don't need to rely on as many chemicals when using this method because the UV light takes care of most of the cleaning. In fact, after the water has been through the UV system, it comes out drinking quality (We don't recommend actually drinking it though!).
As we mentioned, you don't need to use a lot of chemicals, but you will need to use some. A UV sanitizer is not a 100% chemical-free system. Pool UV systems still use some chemicals (usually chlorine) to control the bacteria in the water that might take longer to get back to the filter. Sound complicated? Let's break down how this system works in more detail.
How Does UV Pool Sanitation Work?
The UV pool system is installed so that the water goes through the pool's filtration system first, and then through the UV rays. The water flows through graphite housing where a UV light destroys bacteria, algae, viruses, and other microorganisms by attacking them through their cell walls.
Most pools with this system also use chlorine (just so the rest of the pool stays clean), but even then, they use much less than swimming pools that rely on chemicals alone.
But…is it safe? You ask. The UV light doesn't leave the graphite chamber, which makes this a secure and safe way to clean your pool. In other words, you're not going to be exposed to the light. Almost the entire process takes place within the system itself, and as an added bonus, it doesn't need much maintenance.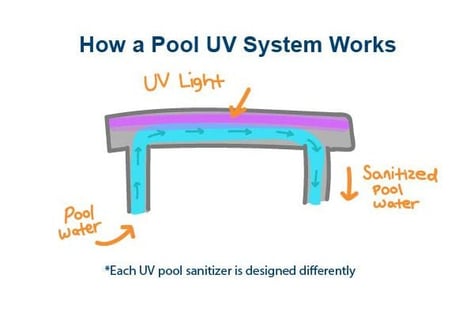 How Much Do UV Pool Systems Cost?
For your pool at home, the prices of UV pool sanitizers vary. They can cost as little as $350 or as much as $2,000. On average, you're looking at around $500-$600 for a system that will do the job right and last several years.
Each brand is different, so it's best to look into each pool UV system option before you buy one to get an idea of how the various options differ. In general, the main factors that affect the price are:
The bulb size

How many gallons per minute you want your UV sanitizer to handle
Keep in mind that systems that run faster might cost more than systems that filter water slower. Many companies also offer a warranty of up to two years, plus a variety of models to choose from.
These prices only apply to residential pools, and they're far less expensive than a system that's made for an industrial pool. For those pools, you'd be looking at a cost of anywhere from $50,000 to $100,000.
UV Pool Systems Advantages and Disadvantages
UV pool systems can be convenient, but they have their disadvantages, just like any other sanitation method. We've put together some of the pros and cons for you to take a look at so you can tell whether this really is the best option for you.
Pros
Ensures the pool is clear of harmful parasites

Requires fewer chemicals

Can be affordable, depending on the brand

May be safer than chemicals alone

Considered by some as the best form of cleaning technology

Low maintenance
With all of these benefits, UV pool systems still aren't foolproof. Here are some of the not so great things about them that you need to know about.
Cons
Sanitation only happens while the water is under the UV light. If the light misses some of the bacteria, it can get back into the pool.

You need to sanitize the piping where the water goes back into the pool, which involves using chemical cleaners.

The UV light becomes less effective over time, so you'll need to replace it regularly to keep the pool clean.
Keep in mind that It's also important to monitor and balance the pH levels in your pool, since these can affect your pool's filtration system. That said, most of the issues you might have with UV pool sanitizers can be prevented with proper routine maintenance.
Our Honest UV Pool System Review
If you're looking to save money and be more environmentally friendly, an ultraviolet pool system might be a good choice. You'll still need a chemical sanitizer like chlorine to take care of bacteria in the pool that's slower to reach the filter, but you'll use a lot less than if chemicals were your primary cleaning method.
However, if you're looking for more of a residual sanitizer, this may not be for you since the sanitation only takes place within the system itself. You'll also have to be prepared to monitor and replace the light and sanitize the piping.
If at this point you're still considering a UV pool sanitizer, you have a lot of options to choose from. Be sure to review each brand as each ultraviolet sanitation system differs from the next. You'll also have to figure out what bulb size you need and how many gallons per minute you want your UV sanitizer to handle since these are the main factors that affect the price.
At River Pools, we manufacture world-class fiberglass swimming pools for installation across North America and have a wide variety of models to choose from. Try our inground pool quote tool today to see how much a fiberglass pool will cost you, or contact us directly for more information.
Up Next:
A Guide to Inground Swimming Pool Size, Costs, and Prices: Everything You Should Know
Ultimate Pool Planning Guide: 11 Things to Consider Before Installing an Inground Pool