Subscribe
The Best Low Maintenance Pool, Landscaping, and Outdoor Living Space Ideas
Patio and Coping | Options and Accessories | Pool landscaping
Are you one of those people who kills your plants every time you try to start a garden?

Do you put off home improvement projects until your house is literally falling apart?

Or maybe you just like to make your life as simple as possible so that you have time for things that are really important to you.

Whatever the case, if you're looking for an outdoor living space that's super low maintenance (and not just a slab of concrete with a picnic table), keep reading!

As fiberglass pool manufacturers who also design outdoor living spaces, we know how crucial keeping up with maintenance can be for the overall look and feel of your backyard. You'd be surprised at how quickly a dazzling blue pool with landscaping can become a swamp surrounded by dead plants.

In this article, we're going to break down the best low maintenance outdoor living space elements from pools to landscaping to patio materials to furniture so that your backyard can stay looking good as new.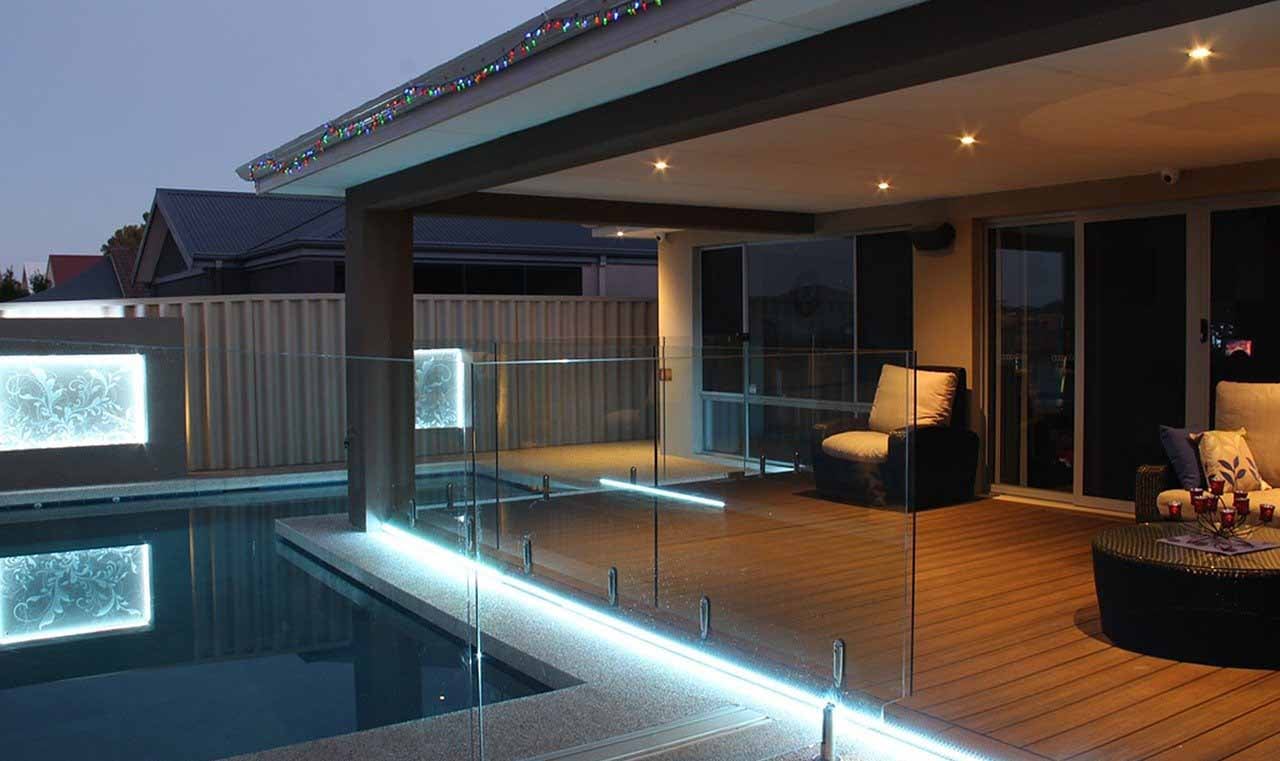 Low Maintenance Swimming Pool
All swimming pools will require some work to keep them in good condition, but fiberglass pools are hands down the lowest maintenance inground swimming pools.
The pool structure is both flexible and durable, so you're less likely to deal with structural issues. Fiberglass pools are also known for having the most durable and low maintenance surface layers of all inground pool types (if manufactured using high-quality materials). In fact, the gelcoat layer can last several decades (possibly the entire lifespan of the pool) if cared for properly.
Fiberglass pools are also algae-resistant, which means they can use fewer chemicals than other pool types.
Read more: What Type of Pool Needs the Least Maintenance?

The clear winner is fiberglass, but let's go over the other pool types for comparison.
Pool Maintenance Comparison
Concrete: Plaster, aggregate, tile, or epoxy surfaces that are often found on gunite or shotcrete pools might last little more than ten years (and resurfacing costs thousands). Pool plaster is prone to cracking and flaking, and you'll need to keep up with your repairs before the damage becomes greater. Concrete pool surfaces also require more intensive cleaning and chemical usage.
Vinyl Liner: Vinyl liner pool walls can be a hassle to maintain as they are not nearly as durable as concrete or fiberglass. The pool liner will also need to be replaced about once every 5 to 9 years ($4,500 on average each time).
Pro tip: You can make any swimming pool hassle-free by hiring a pool service professional to maintain it for you. But bear in mind that it will add to the pool's overall lifetime cost.
Of course, you won't be limited to a fiberglass pool, even if you tend to shy away from maintenance chores. For those of you who have your heart set on a vinyl liner or concrete pool, here are a few ways that you may be able to make your pool a little easier to maintain.

Ways to Make Any Pool Lower Maintenance:
Lowest Maintenance Pool Landscaping
The landscaping elements around your swimming pool can make or break how easy your outdoor living space will be to maintain. While plants aren't your only option, most people choose some sort of living foliage to decorate their backyard, along with various other details. Let's start by breaking down some of the best low-maintenance plants for your yard.
Low Maintenance Plants
Sure, you'll have tons of options when it comes to plants, but not all of them will be low-maintenance. And let's face it, plants can be hard to take care of unless you're a natural green thumb.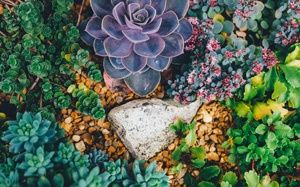 For your backyard, consider choosing succulents and other desert plants that don't need to be watered often. Other good pool area plants include evergreen trees (minimal shedding) and smaller flowering plants like canna lilies and Ophelia shrubs.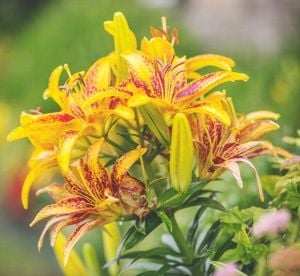 Whatever you decide to grow, be sure to keep your plants easily accessible so that you can have a better time getting to them for watering and pruning.
Keep in mind that your climate can determine which plants will naturally thrive in your backyard and which will quickly wither.
No-nos
Be sure to stay away from plants that shed a lot or have fruit that can fall into your pool. Not only will things like berries be annoying to fish out of your pool, but they can also cause stains. For more information on the best and worst plant species to keep by your pool, check out our article below.
Read more: The Best and Worst Plants to Use in Pool Landscaping
Best Low Maintenance Pool Landscaping Ideas
We all know that plants make up only one part of your landscaping, and your pool area will probably have a healthy mix of plants, rocks, and other decorative elements. To help you get started, here are some of our best low-maintenance pool landscaping ideas:
Use plenty of rocks and boulders to fill in planters and free space (just avoid gravel around the pool area).

Choose succulents, cacti, and other desert plants that don't need to be watered often.

Plant deciduous trees and low maintenance shrubs (but keep the trees a safe distance from your pool so that the roots don't interfere with the swimming pool's plumbing or structure).

Choose a drought-resistant grass or fake your grass with some artificial turf.




Low Maintenance Pool Deck
If you want to keep your pool area maintenance to a minimum, choosing a pool patio or deck material that's easy to keep up will go a long way. Generally, we'd recommend a concrete patio, like a brushed or textured concrete, for the most carefree outdoor living space. Stamped concrete is also attractive, but it can be slippery, and you'll also have to recoat the seal every few years.
Read more: Should You Get a Concrete Pool Deck?
Pavers or anything that is installed in tile-like parts might get weeds growing in between them, which can be a pain to remove. On the plus side, repairs are a breeze compared to concrete cracks. Wooden pool decks can be stylish and unexpected around the pool area, but they can also be more work to maintain than concrete.

Read more: What Are the Best Materials for a Pool Patio?

Low Maintenance Patio Furniture
Pool patio furniture can be one of the most fun elements to play with when decorating your outdoor living space, but if you want furniture that's going to last a long time while being easy to care for, choose something that's resistant to rot, rust, and sun damage.
The most durable outdoor furniture materials that are also the easiest to maintain include:
Synthetic resin (woven, wicker, etc.)

Wrought iron

Cast aluminum
Synthetic resin is one of the best lightweight outdoor materials because it's resistant to rusting and won't become brittle while sitting in the sun. Wrought iron is also an extremely durable and heavy-duty option, while cast aluminum is lightweight but resistant to rust.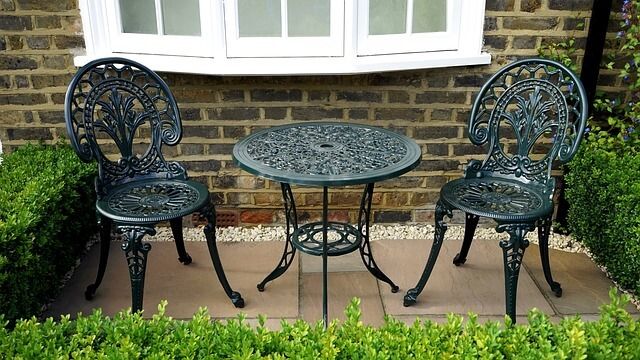 For cushions, be sure to choose something made for outdoor furniture. Most outdoor seating cushions are waterproof, but selecting a fabric that's actually water-resistant (the water will roll right off) can make your life a little easier.
Resin and metals are our top picks for outdoor furniture, but if you have your heart set on an elegant wooden dining table, try a sturdy wood like teak that won't weather easily.
Low Maintenance Outdoor Living Space Ideas
Now that we've laid out some of the essential low maintenance outdoor living space options, let's get into a few more tips and fun ideas to try if you're looking for something beyond the basics:
Add a steel fire pit or simple stone fire bowl (rather than a hand-built fire pit, a one-piece steel fire pit or fire bowl might be easier to keep clean).

Try making a room, like your kitchen, indoor to outdoor. That way, you can keep your space inside and away from the elements, but it can adapt perfectly for outdoor entertaining.

Upgrade your pool or perimeter fence to a lower-maintenance material like wrought iron, aluminum, or vinyl.

Keep less durable furniture and accessories under an awning or pergola.

Make patterns with different colored rocks in your flower beds.

Install good landscape lighting to highlight your features.

Take up some space with fun pieces like a water fountain or giant chessboard.

Don't feel the need to fill every corner. Keep it simple and save room for new ideas later on.

Don't feel pressured to keep living things. If you're not much of a gardener, feel free to expand your patio or do more of your landscaping with different types of rocks.
Read more: 12 Outdoor Living Space Accessories to Add to Your Home
What are your best low maintenance backyard ideas? Feel free to share them with us in the comments!

At River Pools, we manufacture high-quality, low maintenance fiberglass swimming pools for customers across North America. If you're interested in adding a fiberglass inground pool to your outdoor living space, you can browse our pool shapes, request custom pricing from our team, or try our free fiberglass pool cost calculator below for a fast estimate.
---

Want to see about how much that cost will be with all your favorite pool accessories?
Use our Design and Price Tool to walk through your options and approximate price!
---
Up Next:
How to Extend Wi-Fi to Your Pool Deck or Outdoor Living Space
A Quick Guide to Pool Patio Furniture and Outdoor Living Spaces