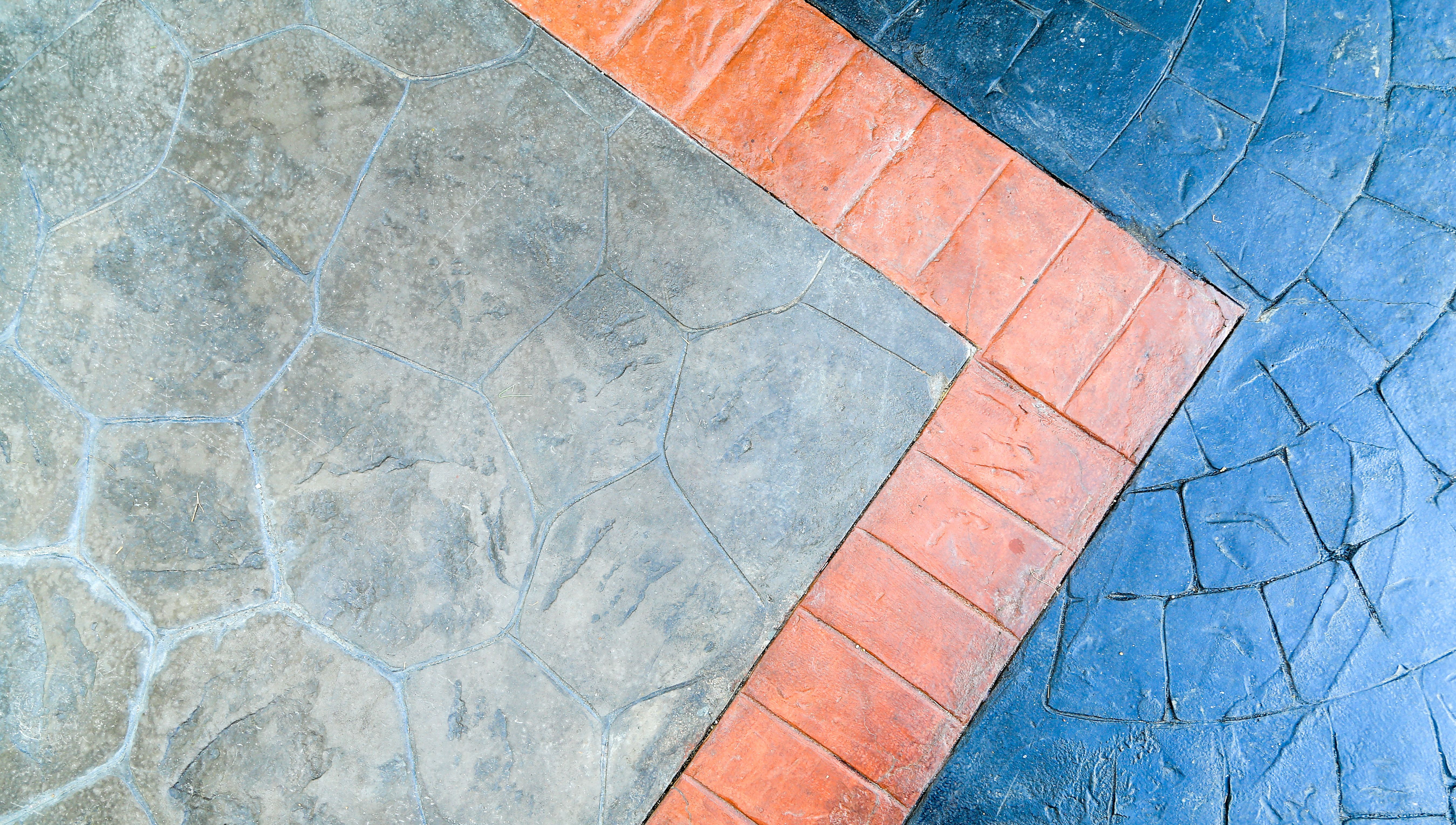 Subscribe
Should You Get a Concrete Pool Deck?
Did you know that concrete has been around since at least 6500BC? That's more than 8,000 years ago and 240 plus generations. So, when you walk down your concrete driveway or relax around your pool's concrete deck, you're actually connecting with a long-standing piece of human history.
As cool as that is, it's probably not why you're considering a concrete deck for your swimming pool, at least not the main reason.
First and foremost, concrete is known for its durability as a decking material. It's also more cost-effective than most other pool deck and patio options. How do we know this?
Here at River Pools, we have installed countless swimming pools over the years, and a vast percentage of our customers request some type of concrete around their pool. We know first-hand not only how concrete is applied but also how it holds up over time, so we decided to share what we know as well as some of the pros and cons of choosing this material.
Concrete Pool Deck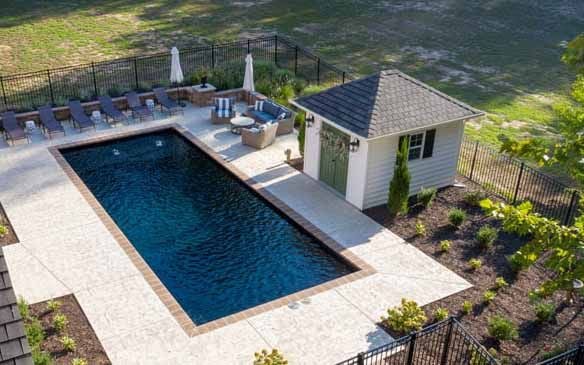 Concrete Deck Basics
Concrete is a good choice for many reasons, but it's not the best option for everyone. However, if you're looking for something simple, classic, and affordable, concrete may be your number one pick.
Even if you have your heart set on a different material, like stone or wood, you might still want to consider concrete for around your pool for a few key reasons. Let's explore these reasons by breaking down the different types of concrete you can use for your pool deck.
Broom Finished Concrete
Broomed or brushed concrete is a textured concrete that creates a slip-resistant surface with a little bit more character than plain concrete. This is achieved by dragging a broom across the top of the concrete before it sets to give it the "broomed" texture.
Broomed Concrete Cost: $5-$8 per square foot

Stamped Concrete
If you ever wanted all wood or premium stone decking around your swimming pool but couldn't afford it, we have two words for you: stamped concrete.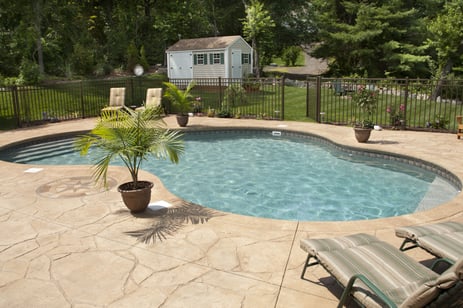 Stamped concrete can not only imitate other deck and patio materials, but it's also a durable and cost-effective alternative compared to the real counterparts. Just to name a few of the options that you have when it comes to stamped concrete patterns, you can pick from…
Brick

Wood

Travertine

Flagstone

Slate

Cobblestone

Natural stone
This is significantly cheaper than the materials that stamped concrete imitates. Take travertine, for example, which costs $25 to $35 per square foot. Going with stamped concrete can save you at around 50% on costs and give you the same style that you're looking for.
Wood decking costs as much as $70 per square foot, so you can expect to save even more as the prices of the materials increase.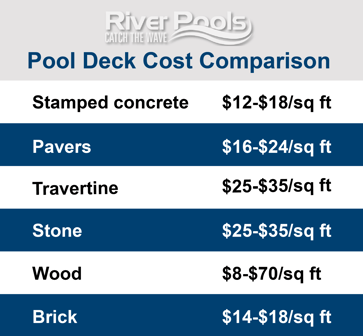 One of the downsides to stamped concrete to keep in mind is that it's typically sealed, which can make it a little bit slippery. Unless your kids always follow the no running rule, you might want to consider an alternative option.
It also requires a bit of maintenance and periodic resealing, which can add to the cost of upkeep.
Stamped concrete pool deck cost: $12-$18 per square foot
Textured Concrete
You can think of textured concrete as a happy middle ground between broomed and stamped concrete. Textured concrete is stamped to give it a texture that adds both grip and character, but it doesn't require color or sealant, making it both cheaper and less slippery than stamped concrete.
At River Pools, we specialize in textured concrete, and it has come to be an all-around customer favorite due to these qualities. As you can see in the image above, it looks nice around the pool and you won't have to worry about your kids or guests slipping on the deck.
Textured Concrete Cost: around $6-$9 and up per square foot (generally half the price of stamped concrete)
Pool Concrete Colors
A range of solid colors can be incorporated into the concrete around your pool, like shades of red, tan, green, or brown. Stamped concrete typically uses two colors to achieve the desired effect (depending on the material that you're trying to mimic).
Aside from aesthetics, the main thing to keep in mind when it comes to choosing a color is the temperature of your concrete pool deck. Remember to choose a lighter color if you want your deck or patio to be cooler. The darker the color, the higher the chance that you will burn your feet on hot summer days!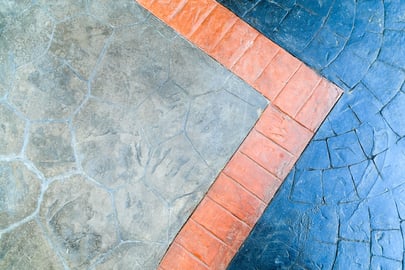 Keep in mind that it might be hard to match your concrete colors if you plan to expand your concrete deck or patio later.
Concrete Pool Deck Pros and Cons
While concrete comes with a lot of options and advantages, there are a couple of drawbacks to consider as well. Here are the main pros and cons of choosing a concrete deck:
Pros
Cost-effective

Multiple style options (stamped, textured, broomed, etc.)

Can mimic other, more expensive materials

Durable
Cons
Colors can be difficult to match

Stamped concrete can be slippery

Concrete is bound to crack (control joints can help manage this, but not always)
Other Pool Deck Options
Is concrete not quite what you're looking for? Have something else in mind? You can read these articles to explore your other pool deck options:
What Are the Best Materials for a Pool Patio?
Pool Patio Ideas and Options: A Personalized Guide
Inground Swimming Pool Pavers 101
At River Pools, we manufacture and install world-class fiberglass swimming pools for customers all over North America. If you're considering getting an inground fiberglass pool for your home, why not check out our catalog of models or try out our swimming pool cost calculator? For the most accurate fiberglass pool cost estimate, click the button below to request pricing and ask us questions.
If you want an in-depth comparison of the three main inground pool types, be sure to download your free ebook below which breaks down the pros and cons of fiberglass, vinyl liner, and concrete pools.