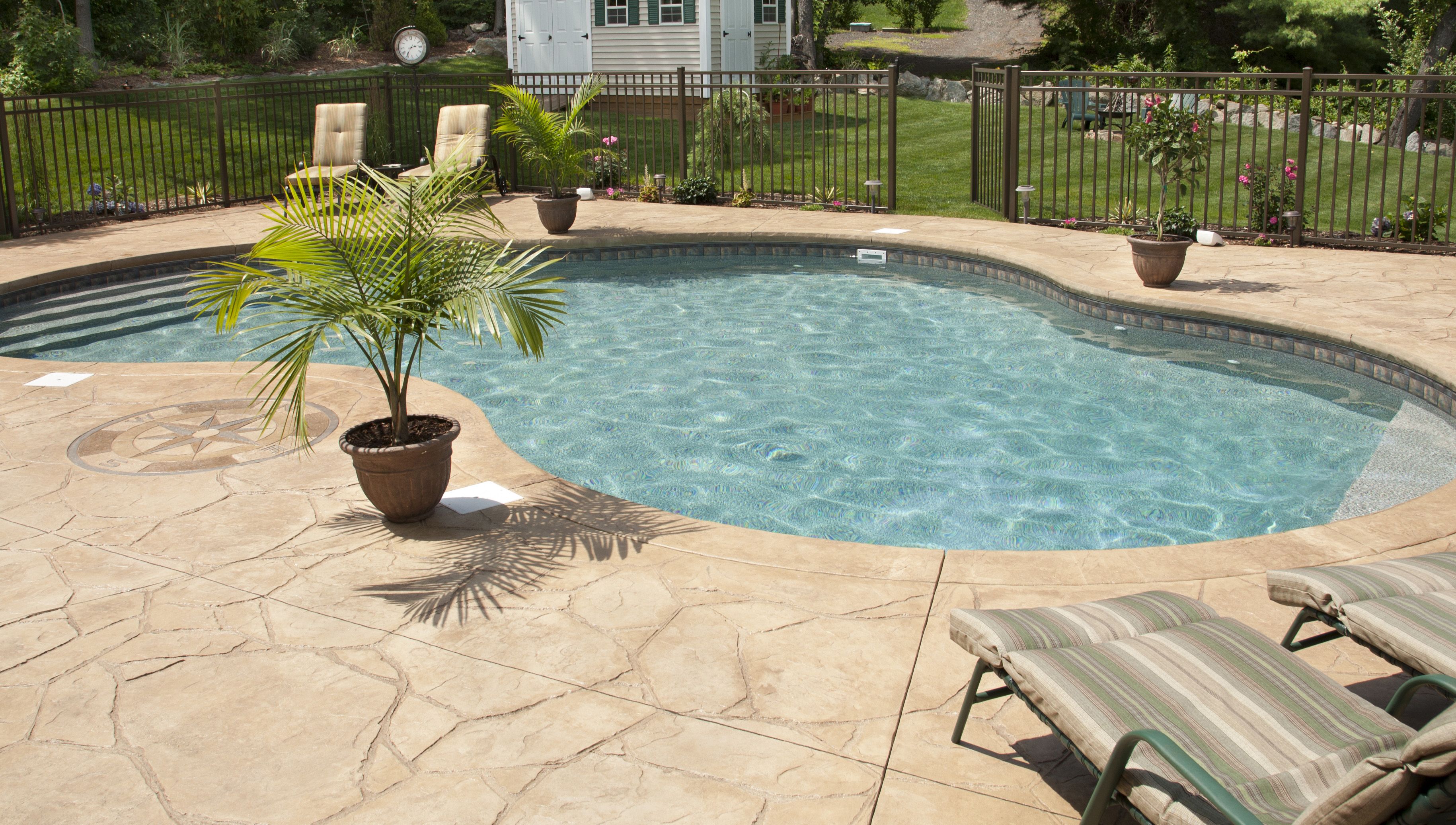 Subscribe
Concrete Pool Deck Pros and Cons
Imagine you're next to your beautiful new inground swimming pool. You're standing on the deck, and you look down at your feet. What's under them? Is it concrete?
If you're dreaming about getting a concrete pool deck around your pool, we can't say that it's a bad choice. But before you make your final decision, we want you to take a deeper look at the pros and cons of choosing concrete as your decking material just to make sure that it's the right fit for you.
Because we at River Pools install many fiberglass swimming pools with concrete decking every year, we can share with you the main things that you need to look out for as well as the advantages to look forward to when you choose concrete.
Concrete Pool Deck Pros and Cons
Concrete is basic, and it doesn't come with a very long list of pros and cons. However, it's worth investigating these key aspects before pouring it around your pool:
Pros
Cost-effective

Many style options

Can imitate more expensive materials

Durable
Cons
Colors can be difficult to match

Can be slippery

Concrete cracks
Let's go through each of these points one by one.
Concrete Pool Deck Pros
#1 Concrete decks are affordable
The concrete deck cost is a major selling point for many pool shoppers. In fact, you can save as much as 50% and up on your pool deck by choosing concrete (you'll pay anywhere from $5-$18 per square foot).
Specifically, broom finished concrete costs about $5-$8 per square foot, stamped concrete can cost between $12-$18 per square foot, and textured concrete can cost about $6-$9 and up per square foot (generally half of what stamped concrete costs). Compare this to pavers, which cost $16-$24 per square foot, or stone which can cost $25-$35 per square foot.
#2 Concrete decks offer many style options
You might be thinking that concrete is boring, but you are not bound to the plain concrete that you see on old sidewalks and driveways. To start, you'll have a choice between broomed concrete, stamped concrete, and textured concrete.
Broom finished concrete is created by dragging a broom across the surface of fresh concrete. It sounds simple, but this actually gives it a nice design and texture. Stamped concrete uses coloring, release agents, and stamps to impress different designs into the wet concrete. It might end up looking like stone or brick, depending on the pattern that you choose. Textured concrete imprints a texture into the deck without color or sealant to give it some extra character and grip.

#3 Concrete decks can imitate more expensive materials
The cool thing about concrete is you can make it look like almost anything. Want wood but don't want to pay the price? Stamped concrete can give you the look you're going for at a cheaper cost and without the trouble of rot, refinishing, and all of the other upkeep that wood requires. If you want your concrete to look like wood, brick, or any other material, stamped concrete is the right choice for you.
Aside from wood and brick, stamped concrete patterns can imitate natural stone, flagstone, pavers, travertine, cobblestone, or even custom designs.
#4 Concrete decks are durable
One advantage of choosing concrete is that your deck will last a very long time. Concrete is an incredibly durable material for patios and decks, so you won't have to worry about replacing it any time soon. It will also prove to be lower maintenance than other deck and patio options.
Concrete Pool Deck Cons
Concrete decks aren't all play and no work. There are a few disadvantages that you need to consider as well if you're thinking about putting in a concrete pool deck, including:
#1 Colors can be difficult to match
If you want colored concrete, or if you're choosing a stamped concrete design, it's important to know that concrete is not always easy to match. If you're doing part of your pool deck or patio now and plan to expand it later, you will need to consider how you want to hide the subtle change in color. To deal with this, consider doing a different stamped concrete pattern, color, or even a different patio material altogether in the expanded section.
Keep in mind that if your concrete ever needs to be repaired, the repaired parts might be hard to disguise.
#2 Pool concrete decking can be slippery
This is not really something that you have to worry about with plain, broomed, or textured concrete, but if you want stamped concrete, you have to consider the fact that it can be slippery. Stamped concrete uses a couple of colors to achieve the look of other decking materials, and to preserve this look, it's typically sealed with a silicone or acrylic sealant.
This seal can make the deck or patio a bit slippery, which is obviously not always ideal near the pool. Textured concrete, which is not sealed, is an excellent alternative if you like the style of stamped concrete but are worried about your children or guests slipping on the patio.
#3 Concrete cracks...it's inevitable
Unfortunately, there's really nothing that you can do to prevent your concrete deck from cracking, but you can try to control where the cracks occur. This is why we create control joints, which are intentional breaks in the concrete where the cracks can form without disturbing the design.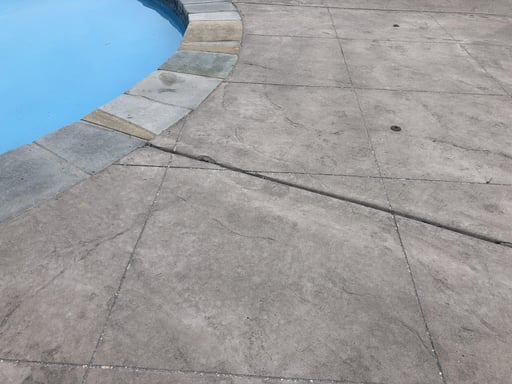 Example of a control joint
Most of the time, this works as planned and the cracks deepen where they should rather than making new fractures in the deck. However, there's no guarantee that you won't end up with unplanned cracks in your concrete deck or patio. That's just the nature of concrete.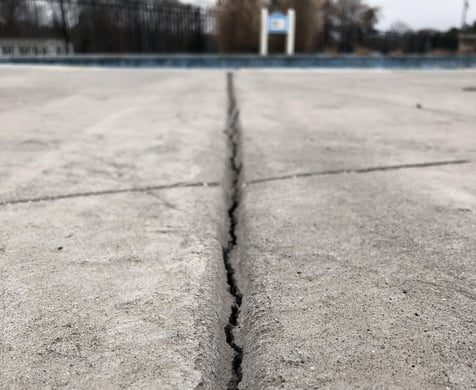 This concrete crack has successfully formed in the control joint
At River Pools, we're fans of concrete, especially slip-resistant, textured concrete. Most customers who opt for this style of concrete have found that it gives them the look they want at a lower cost.
Want to explore your other patio and deck options? Read our full guide on pool deck and patio materials.
Did we forget something? We'd love to hear your thoughts in the comments.
If you're interested in getting a fiberglass swimming pool, don't hesitate to reach out to us to ask questions or request pricing:
You can also download your free ebook below to get started on your journey to an inground fiberglass pool. Happy swimming!
Up Next:
Fiberglass Swimming Pools 101: Manufacturing, Cost, and More
Should You Buy a Fiberglass Pool? (Infographic)
What Is a Semi Inground Pool? A Review of Cost, Problems, and More