You don't have to spend a ton of money to have a beautiful deck around your swimming pool. Enter concrete. Concrete pool decks are affordable, relatively easy to maintain, and easy to customize. They can also be comparable in aesthetics to more expensive pool decking materials. While concrete has a reputation for being strong and durable, it's also prone to cracking. By that, we mean it's almost inevitable that your concrete pool deck will crack at some point in time.
Imagine you're next to your beautiful new inground swimming pool. You're standing on the deck, and you look down at your feet. What's under them? Is it concrete? If you're dreaming about getting a concrete pool deck around your pool, we can't say that it's a bad choice. But before you make your final decision, we want you to take a deeper look at the pros and cons of choosing concrete as your decking material just to make sure that it's the right fit for you.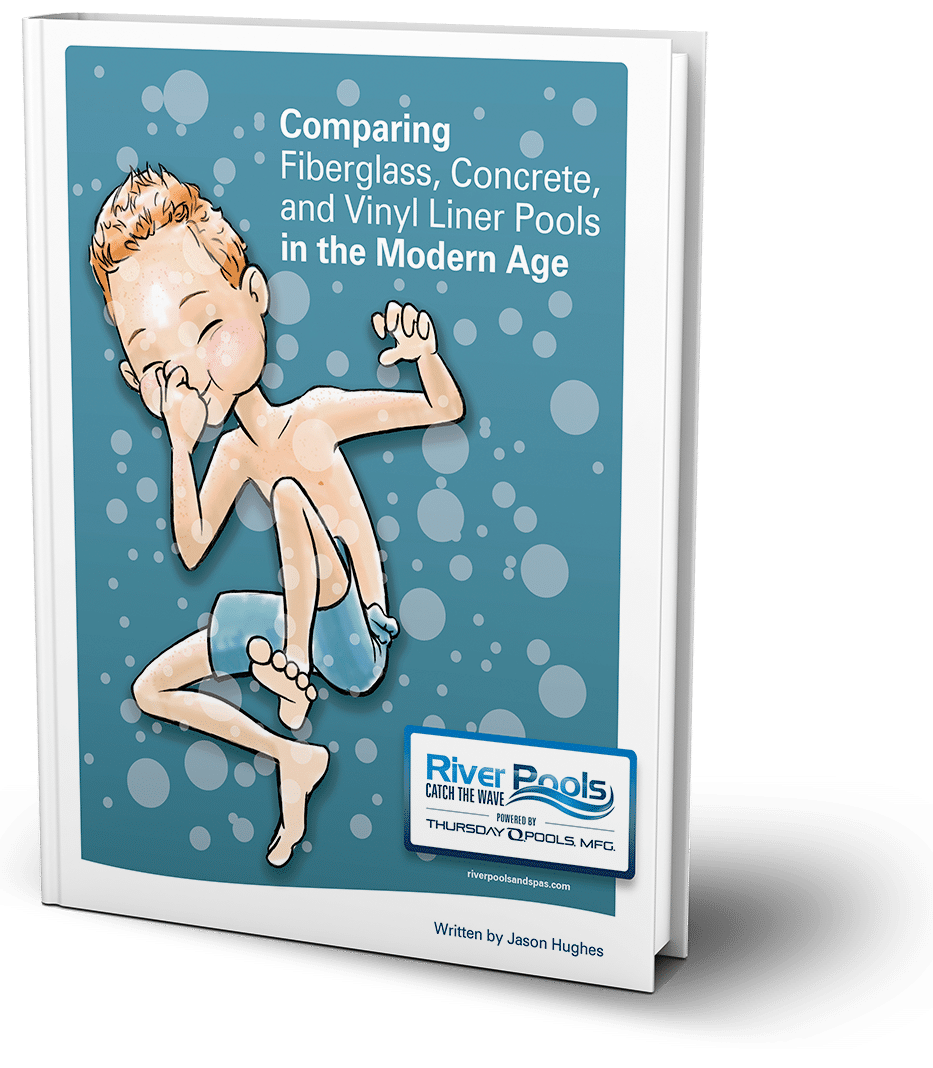 Comparing Fiberglass, Concrete, and Vinyl Liner Pools in the Modern Age
Don't blindly wonder if a fiberglass, concrete, or vinyl liner pool is right for you. Our educational ebook does a deep-dive comparison of the 3 types, all while noting the advantages and disadvantages of each.
Did you know that concrete has been around since at least 6500BC? That's more than 8,000 years ago and 240 plus generations. So, when you walk down your concrete driveway or relax around your pool's concrete deck, you're actually connecting with a long-standing piece of human history. As cool as that is, it's probably not why you're considering a concrete deck for your swimming pool, at least not the main reason. First and foremost, concrete is known for its durability as a decking material. It's also more cost-effective than most other pool deck and patio options. How do we know this?
When you put a pool in the ground, you have to consider much more than just the pool itself. To start, you have to think about what you're going to do with the area around it. After all, you don't want messy dirt tracks taking away from the beauty of your new sparkling pool! Most people either build a patio or deck around their swimming pool, or sometimes both. Decks, in particular, are usually made out of wood and are some of the most popular add-ons to inground pool projects.
Options and Accessories | Patio and Coping
Did you know that most pool owners spend 70-90% of their time around the pool rather than in it? When you consider that the swimming season only lasts a few months out of the year, designing an outdoor living space that is functional and nice to look at becomes much more important. But what are your options when it comes to pool patio furniture and decorating your outdoor living space?
Options and Accessories | Patio and Coping
Have you ever caught yourself daydreaming about the perfect swimming pool? When it comes to your own inground pool, chances are you already know the exact dimensions that you want, the shape, the type, and even the features that you want your swimming pool to have.
Patio and Coping | Pool Design Guides
One of the biggest debates that pool shoppers have during the process of building their swimming pool is which type of concrete to use for their patio. There are many, many types of patios that can go around a swimming pool: brushed concrete, stamped concrete, pavers, stone, brick, overlays, etc. This article will solely focus on helping you to understand the pros and cons to brushed (aka broomed) vs. stamped. By so doing, you will be able to make the best choice for you and your family.
Cost and Pricing | Installation & Construction | Patio and Coping | Pool Design Guides
Let me just say...if you're reading this article, it's pretty safe to say you have good taste. How do I know? Because if you're researching pool coping, you already know you want something special. Am I right?
Patio and Coping | Pool Design Guides
I speak with pool shoppers in Virginia and Maryland, as well as across the country. One of the questions I'm most often confronted with: How big should our pool be? This is certainly an important question to ask. The pool's size and shape has no means of being pulled, stretched, or even shrunk after it's in the ground. The decision needs to be correct the first time, as there is no turning back. So how does one know what size to choose? How do I choose the right pool size for my family? Who are the pool's main users? How often will they likely use the pool? Does anyone plan on doing laps in the pool? How much patio would I like to have around the pool? What objects (grills, furniture, etc.) would I like to fit on the patio? What are the pool's setbacks off the house and property lines? How often do we plan on entertaining? What is the likely number of people at our gatherings? Will our family change size in the coming years?
Cost and Pricing | Finding A Pool Contractor | Patio and Coping | Pool Design Guides | Swimming Pool Accessories | Swimming Pool Design
Most people shopping for a pool think that they know just what they want. For example, 90% of the people who want a diving board think they need it. But after education on the pros and cons of a diving board, only 10% of those people will still get a diving board. You're spending a lot of money on this swimming pool investment. You expect that the person that you invite into your home will be an informed professional and have your best interest at heart. In reality the person who shows up will probably be a salesperson trying to earn a commission that will feed his family or lifestyle. That's what is in his/her best interest, not yours. All too often, the homeowner says, "I want a pool this size and a deck this big," and the salesperson quotes them on what they ask for. It's far easier to sell a pool when the homeowner knows what they want, so why rock the boat? That's the mentality of most salespeople today. The problem: in most cases, what the homeowner thinks they want, and what they really want, are two different things.