It was a blistering July day in Virginia. The heat index was 108 degrees, there was a heat advisory in effect, and we were sitting around the office discussing what an enlightening experience it is for potential clients who decide to make the trip to visit our inground pool park in Warsaw. Dan Dunn, our sales manager mentioned how he not only takes time to show the different types of patio options featured in the pool park, but he actually has his clients remove their shoes to feel the temperature difference between the various patio materials. Immediately a light bulb went off in my mind and I said, "Video!"
Are you considering installing pavers around your inground pool?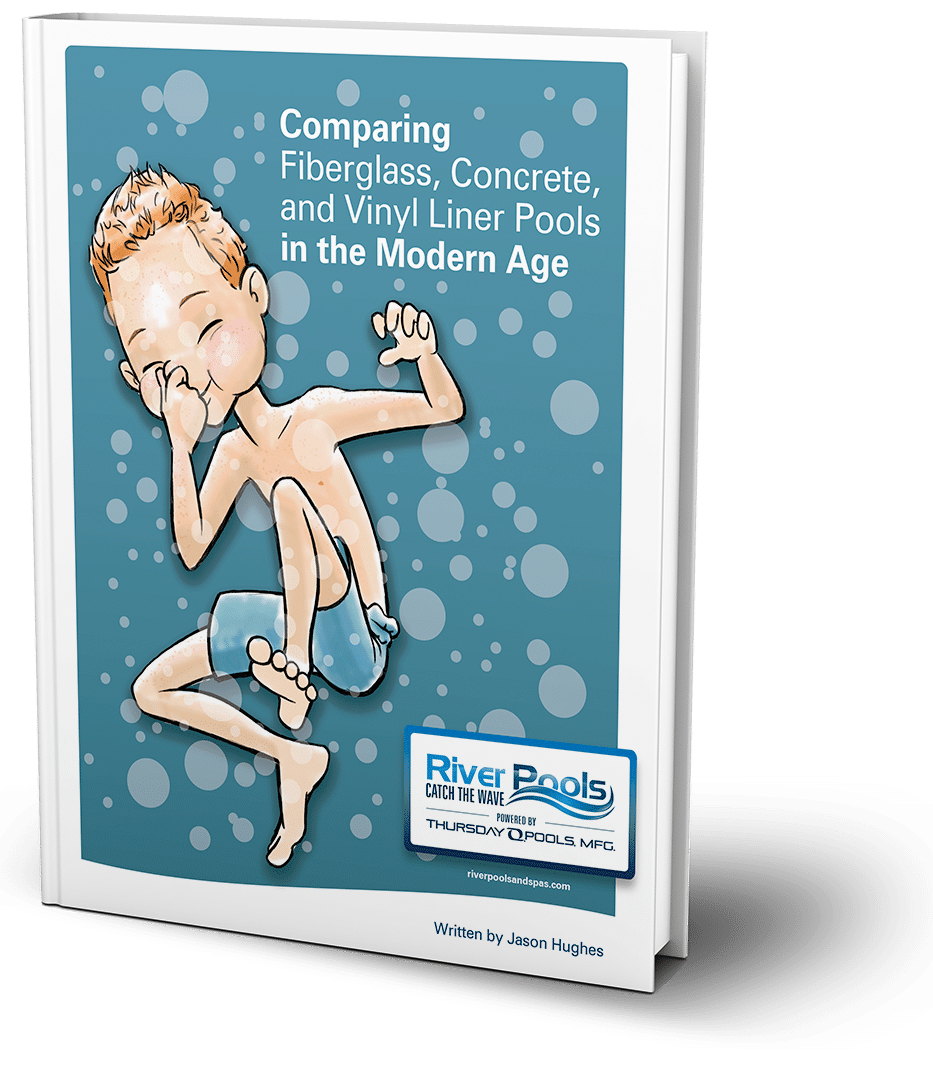 Comparing Fiberglass, Concrete, and Vinyl Liner Pools in the Modern Age
Don't blindly wonder if a fiberglass, concrete, or vinyl liner pool is right for you. Our educational ebook does a deep-dive comparison of the 3 types, all while noting the advantages and disadvantages of each.
If you are considering an inground pool, you've probably noticed there a lot of decisions to make! From the type of pool, to options and accessories, to the type of patio and coping; all of these details impact the look and feel of your finished pool...as well as your budget. One detail that may not initially stand out is the pool coping, or material that borders the perimeter of the pool. In the video below, we discuss a particular type of coping called cantilevered concrete coping.
Fiberglass Pool Information | Fiberglass vs Concrete vs Vinyl Liner | Patio and Coping
In the following video you'll see an existing vinyl liner pool that we converted to fiberglass. The most amazing aspect of this entire project is that the dilapidated vinyl pool you're about to see is only 15 years old…and it's already gone through 3 liners!
Options and Accessories | Patio and Coping | Pool Design Guides | Pool Videos | Retaining Walls, Fence, and Landscaping
In the market for an inground pool? If so, you're certainly looking for the options and accessories that best meet your needs. Let's discuss 10 of the most popular and innovative pool options in the pool industry today! You'll learn why they are gaining in popularity and ballpark costs for each.
Installation & Construction | Patio and Coping
We are frequently asked questions about deck drainage for inground pools.
In the last year or so, we at River Pools and Spas have done more paver patios than ever before with our fiberglass pool installations. With their elegant look, customized design, plus the fact that they never crack, pavers are becoming more and more popular as a patio choice amongst swimming pool consumers.
Cost and Pricing | Installation & Construction | Patio and Coping | Pool Design Guides
Let me just say...if you're reading this article, it's pretty safe to say you have good taste.
Cost and Pricing | Installation & Construction | Patio and Coping | Pool Design Guides
One of the most under-utilized options for fiberglass pools (in my opinion) is the coping material. Many people assume that cantilevered concrete coping is the only alternative…..simply not so.