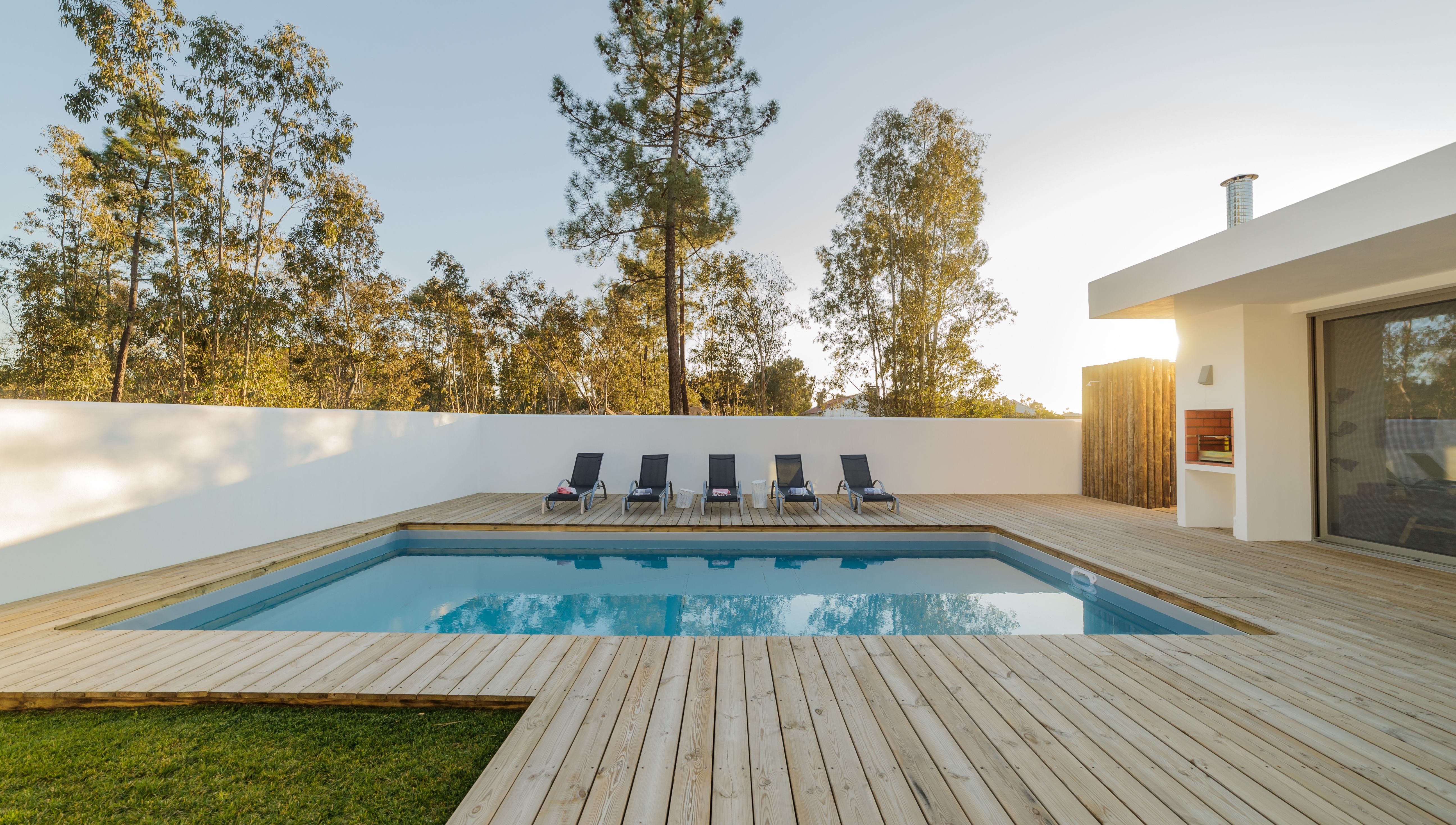 Subscribe
Wooden Decks for Inground Swimming Pools: Cost, Types, and More
When you put a pool in the ground, you have to consider much more than just the pool itself.
To start, you have to think about what you're going to do with the area around it. After all, you don't want messy dirt tracks taking away from the beauty of your new sparkling pool!
Most people either build a patio or deck around their swimming pool, or sometimes both. Decks, in particular, are usually made out of wood and are some of the most popular add-ons to inground pool projects.
At River Pools, we aim to help you, the pool shopper, find all of the information you need from the inception of your pool project down to the finishing touches like decking and fencing. Because wooden pool decks are so popular, we put together an in-depth guide on wooden pool decks to help you decide if it's a good choice for your project.
By the end of this article, you should have a better understanding of the types of wood that you can use, the cost of a wooden pool deck, ideas to try, and the pros and cons of building a deck.
Let's start by looking at the various types of wood that you can use.
Which Types Of Wood are Best for a Pool Deck?
When you're thinking about building your wooden pool deck, one of your first questions should be, What kind of wood should I use?
Here are a few questions to consider before you choose your material:
Is it waterproof?

Is it durable?

Is it pest-resistant?

Is it mold-resistant?

How is it treated?

How much does it cost?
The wood makes all the difference, and before you decide what kind to use, make sure you know what's important to you. Use these questions to prioritize your needs and then filter through the wood types based on their properties.
Some of the most common types of wood used for pool decks include pine, teak, cedar, and mahogany. Let's look at the pros and cons of each one in detail:

Pine
Cheapest but weakest
Better when treated
Doesn't absorb heat - no foot burns!
Can require more maintenance
Teak
More durable than pine
Resistant to bugs and mold
Good combination of style and value
Low maintenance
Cedar
More durable than pine, less so than teak
Looks beautiful
Resistant to pests and weather
Cheaper option than teak with most of the same properties
Mahogany
Beautiful and elegant
Most durable option
Maintenance is almost nonexistent
Very expensive
How Much Does a Wooden Pool Deck Cost?
While you're checking out types of wood for your pool deck, you're probably wondering about the costs, too.
The woods vary in quality, and the price varies with them. Overall, you're looking at shelling out anywhere from $1,000 to $12,000 for your new deck. On the low end, that's $3 per square foot. On the high-end you're looking at around $15 per square foot.
If you have a smaller pool and choose a cheaper wood, like pine or cedar, you probably won't pay more than $5,000 for your deck.
However, let's say you have a large pool and you want a mahogany deck wrapping all the way around it. Then you're looking at closer to $10,000 and up. The cost also depends on whether you're putting in a deck for an inground or above ground pool with above ground pools requiring more work.
One piece of advice: This isn't a DIY project. At least not without prior pool decking experience. If you're not 100% sure about what you're doing, leave this one to the pros.
Wooden Pool Deck Ideas To Try
A pool deck doesn't have to be just a deck. Multifunctional decks are popular, and they have the potential to make your life easier. Let's take a look at some ways to make your deck functional and fun:
Seating
We don't mean putting tables and chairs on the deck, though of course you can do that. You can also add built-in seating, like benches, around the perimeter of the deck. Seating is a simple way to make your pool look fancy and offer space for everyone when you're hosting your next pool party.
Storage
Did we mention that seating can double as storage? Imagine being able to stow towels right by the pool, or store cleaning supplies so that you have them on hand without tripping over them.
Spa
Even in summer, you can have chilly evenings. A spa can be a great place to hang out on your deck and double the use of your space. It also means you can use your deck beyond the hotter months, especially if you live in a mild climate.
Outdoor Kitchen
If you really want to maximize your space (and avoid going back indoors for literally anything), you can look into building an outdoor kitchen on your deck. What's better than having the fridge only a few steps away?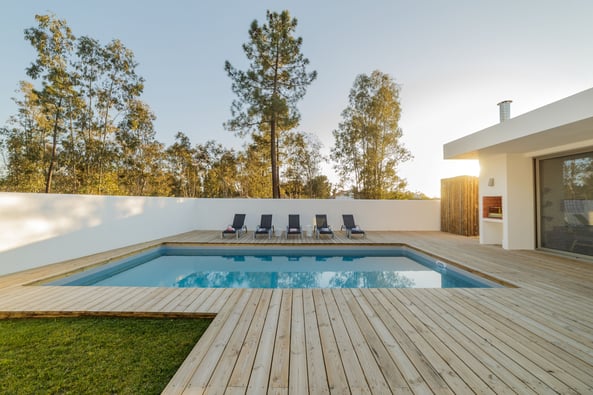 Wooden Deck Vs. Patio
Wooden pool decks work well if you want a customizable space that's multifunctional and shows personality. They may be more expensive and need regular maintenance (power washing and regular refinishing), but you'll get a big return on your investment. And no matter how hard the sun beats down, they're not likely to hurt your feet.
Patios (usually made from pavers or concrete) are cheaper and easier to maintain, and most pool owners opt to add a patio to their pool project. However, they may also require more construction if the ground around your pool is uneven, which will be a deciding factor in how you choose to finish the area around your swimming pool.
Keep in mind that patios are more suitable for inground pools than above ground pools, while decks work great for both above ground and inground swimming pools.
Caught between a wooden deck and a patio? You don't need to choose between the two. You can have both in different areas around your pool and yard.
Combining the two around an inground pool can actually create a more functional and attractive outdoor space.
Wooden Pool Deck Pros And Cons
To wrap up, let's lay out the pros and cons of building a wooden pool deck. If you're still on the fence about whether this is the choice for you, these points might help you make your final decision.
Pros
Flexible, customizable design
Can install on uneven ground
Increase the value of your home
Attractive
Works well in heat
Good for both inground and above ground pools
Can add upgrades like storage, shade, and spas
Cons
High maintenance - needs power washing and refinishing
Less durable than other options when it comes to water and weather
Can be expensive
Weight restrictions may limit what you can do with upgrades and features (check before you get that hot tub)
As you can see, there are a lot of advantages and possibilities when it comes to building your pool deck. If you're not sure whether a wooden deck is right for you, you can always upgrade to one later once you get a chance to use your pool and figure out what your needs are.
At River Pools, we manufacture world-class fiberglass swimming pools for customers across North America. If you're still shopping around for an inground pool, check out our pool models today, try out our pool cost calculator, or contact us for more information.
If you want to learn more about your inground pool options, be sure to download our free ebook below comparing fiberglass, concrete, and vinyl liner swimming pools.
Up Next:
What Are the Best Materials for a Pool Patio?
How Much Swimming Pool Patio Do I Need?
Pool Patio Ideas and Options: A Personalized Guide