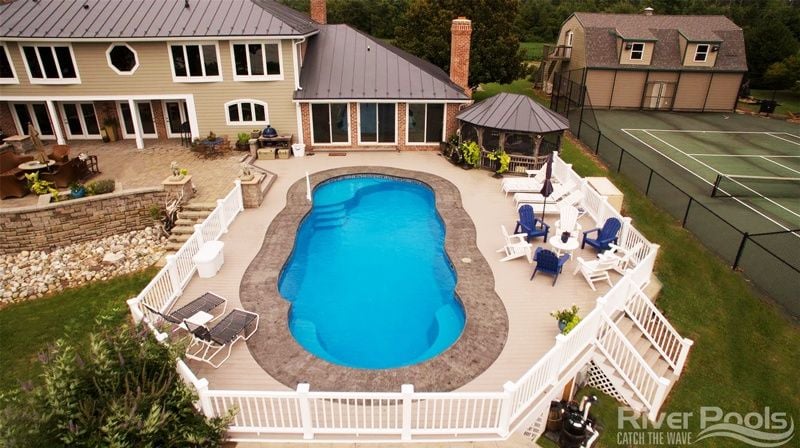 Subscribe
How Much Swimming Pool Patio Do I Need?
Did you know when the average pool owner "uses" their swimming pool they actually spend about 90% of their time on the pool patio and not in the pool? Interesting huh!
That makes the pool patio an essential part of the poolscape that you must get right....and hopefully the first time!
However, when the budget gets tight, and it always does, the first thing sacrificed is usually pool patio space. The #1 regret we hear from pool owners is that they underestimated the importance of their swimming pool patio and didn't either: get enough patio initially or plan for patio expansion in the future.
Ok, now I'll get off my soapbox and give you some pool patio guidelines to help you determine how much area you actually need.
How much patio space do I need for my inground swimming pool?
Most people need between 600 and 900 square ft. of patio around a pool. That's enough room for a table and chair set, some chaise lounges, and a comfortable walking space around the perimeter of the pool. Consolidate most of the patio in 1 or 2 areas, rather than distributing it evenly around the pool.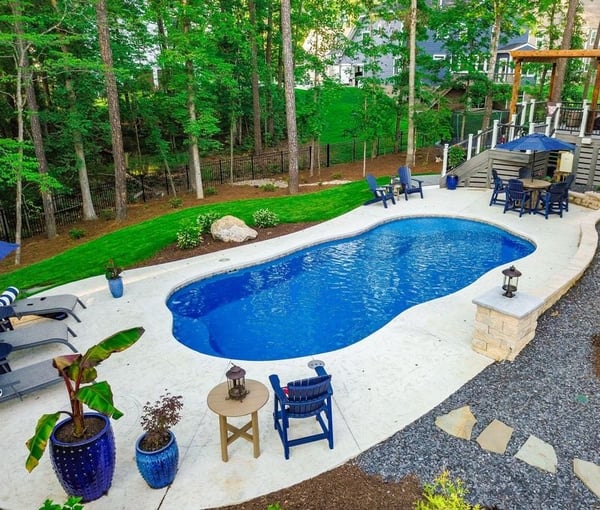 How much patio space do different pool features need?
A conversation area for 3 to 6 people requires a 10'x10' space.
A dining area for four people should be at least 10'x10'
A dining area for six to eight people should be at least 12'x12'
A chase lounge requires an area 4'x7', but figure 7'x7' for two.
You want a minimum of 30" between any patio furniture and the pools edge.
Pathways and other traffic areas should be a minimum of 3' wide at all points.
Two chairs and a small table require a 6'x6' area.
A grill and small side table need a minimum of 6'x6'.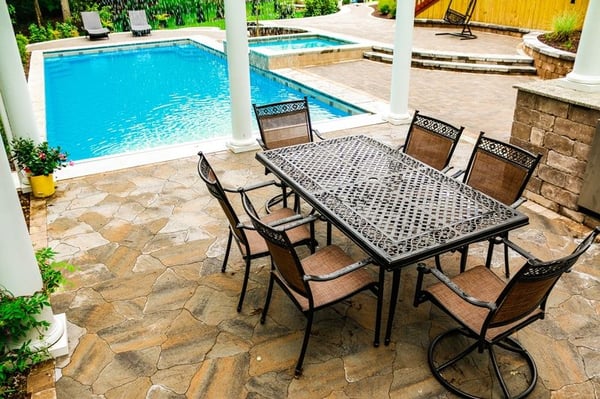 6' feet of space are needed between the base of a set of steps and the water's edge of the pool.
An average hot tub requires a 10'x10' space.
A fire pit needs 30"–36" of open space between the pit and furniture or seating area.
A slide requires a minimum area of 7'x15' beside the pool.
Diving boards require a minimum area of 8' long by 6' wide on the end of the pool.
Allow at least 24"–30" of space between any water feature and the edge of the patio.
An outdoor shower needs an area at least 5'x5'.
The average pool deck is approximately 600–900 square feet, but many are much larger.
Build on to your patio later
Have you tallied up what you need and found that it just doesn't fit into the budget? Don't get discouraged.
Tackle your pool patio in stages. This is very doable as long as it is planned for.
How to pull this off will be the topic of another article, but the most important thing now is to determine how much patio space you need; whether you're getting it now or later.
This will ensure that at least 90% of the time spent around your pool will be enjoyed to the max!
Hope you've found this helpful.
Thanks and, as always, Happy Swimming!
Up Next:
5 Ways to Make Your Pool Project More Affordable
A Guide to Inground Swimming Pool Size, Costs, and Prices: Everything You Should Know
Ultimate Pool Planning Guide: 11 Things to Consider Before Installing an Inground Pool
---
Editor's note: This blog article was updated on November 12, 2020.
Editor's note: This article was updated on December 7, 2023.