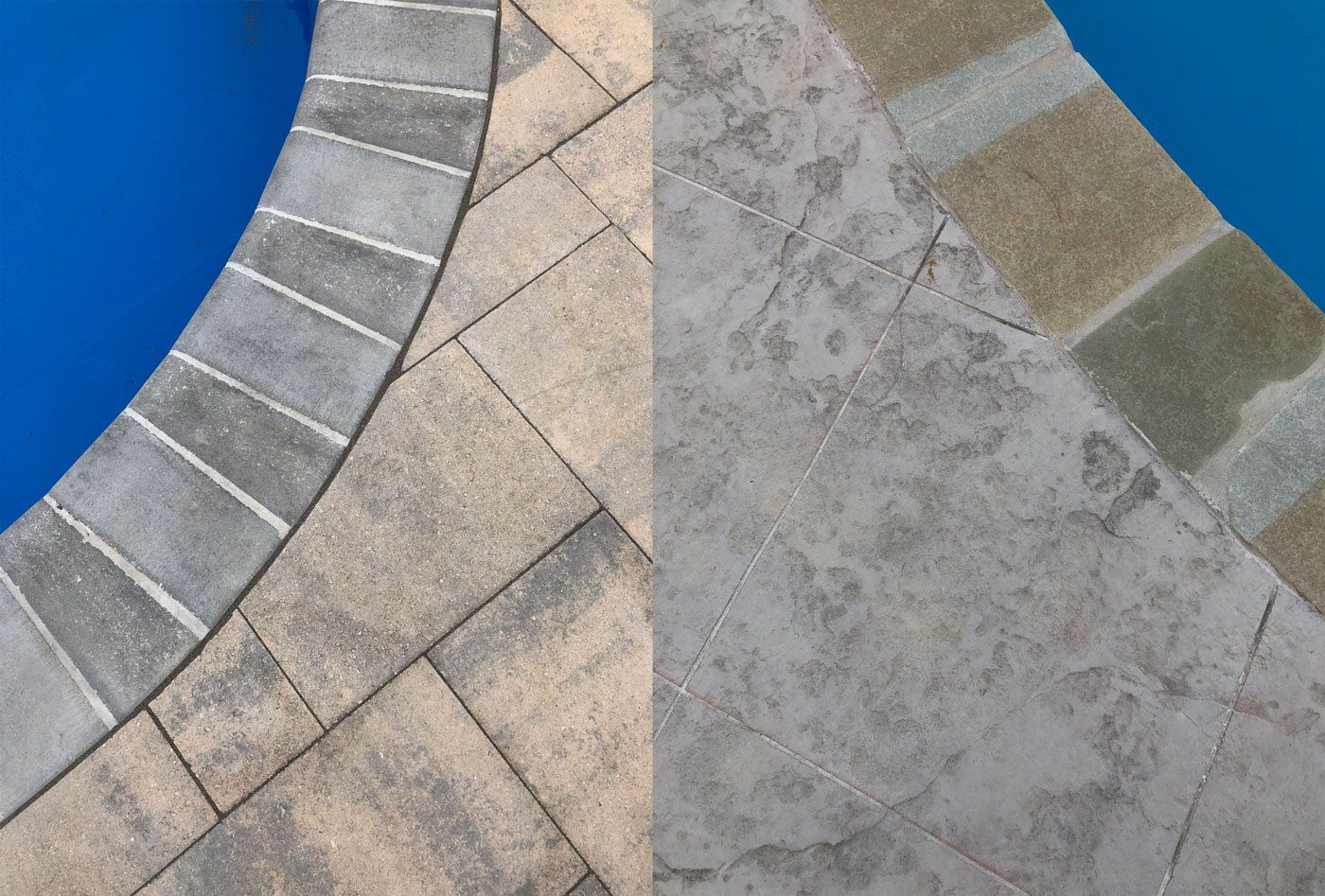 Subscribe
What Are the Best Materials for a Pool Patio?
Patio and Coping | Options and Accessories
"A patio around the pool." Sure. No problem. Sounds simple, right? Until you start thinking size, and shape, and materials, and money… Yuck. Details. The devil's in 'em.
But we at River Pools are here to help! We want to clear out the mess and the stress so that you can make the best pool decision for you and your family. We specialize in fiberglass pools, sure, but no matter what pool type you choose in the end, we provide all the information on all the aspects, good and bad.
Side note: We pool people have trouble deciding on terminology. This is pretty much an established fact. So you might hear a pool patio also called the pool "surround," "deck," or "decking." Sorry for any confusion. We're just going to call it a patio here.
What to look for in a pool patio material
Ask these questions when picking out your pool patio material:
Will it match your aesthetic?
Will it get hot in the sun?
Will it get slippery when wet?
Will it hurt to walk on?
Attractive patio materials
Don't wince when you look at it!
Every type of pool patio material has its own look and feel.
If you have a specific design theme in mind for your pool, look for a material that complements it.
Remember, your patio is long-term. Don't go the cheapest route if you know you'll hate looking at it for years to come. Balance budget with beauty.
Pro tip: if you prefer an upgraded material but can't swing the budget now, start with a small, sufficient patio upfront. You can always add on in the future. Mixing patio materials in this case is usually a great option, as it makes the addition less conspicuous.
Heat-resistant patio materials
Don't burn your feet!
If you're pool will be in direct sun for most of the day, you should consider the temperature of your pool patio.
This is especially important in toasty climates like California or Florida.
Lighter colors will help things stay cooler. Check out the following video on various pool patio temperatures.
Slip-resistant patio materials
Don't fall!
Look for a surface that's textured and slip-resistant. This can be a little tricky. For example, one would expect that stamped concrete would be relatively slip-resistant because of the stamped surface. Not really. The surface of stamped concrete is sealed, and even when a skid-resistant additive is used, it might not provide the skid-resistance you would expect.
(And obviously, don't run around the pool. That's kind of a no-brainer, but just as a reminder.)
Pain-free patio materials
Don't scrape your feet!
A little texture is necessary to keep pool-goers from slipping and falling, but too much texture becomes coarse and even painful (exposed aggregate concrete, for example).
If you choose tiles for the material, make sure they're flat and even. Don't want to slice your tootsies on a sharp edge by accident.
Common materials for a pool patio surface
Side note: ask your contractor if there are any EPA or LEED requirements on your pool patio materials.
Pool decks often use these materials:
Concrete

Pavers

Travertine

Stone

Wood

Brick
Broomed, stamped, or textured concrete
Concrete is economical and durable. For that reason, it's by far the most popular pool patio material.
However, it does crack. (There are two types of concrete: that which has cracked and that hasn't yet cracked.)
It's also difficult to add on to a concrete patio later because the old and new will most likely not match.
Stamped concrete, because the surface is sealed, is usually a bit slippery.
Here at River Pools, we've developed a middle ground between the two, called textured concrete. It includes the "stamped" surface texture of stamped concrete without the extra cost of adding color and sealant.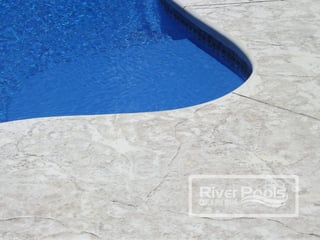 Broomed concrete costs $5-$8 per square foot.
Stamped concrete costs about $12–$18 per square foot.
Generally, textured concrete costs 50% less than stamped concrete.
Pavers
Pavers are durable and go well with any type of coping.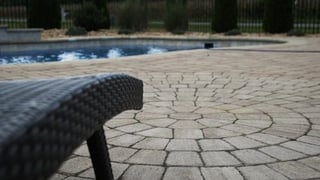 You can easily replace any individual damaged pavers, and in the unlikely event of an underground plumbing leak, they make for an easier repair.
They can cost $16–$24 per square foot.
Travertine
Travertine stays cooler because of its lighter color. It's also very attractive.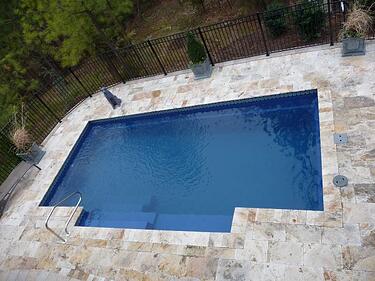 It costs $25–$35 per square foot.
Stone
Stone provides a natural look.
Not all stone is hard enough to be used on pool decks, but if you go with a commonly used material you'll be fine.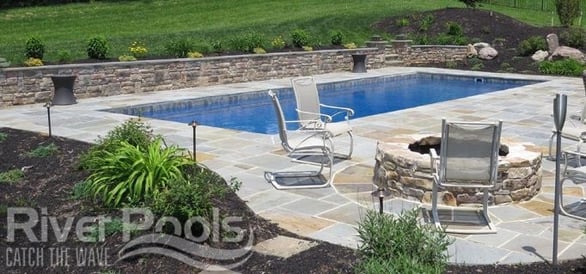 Stone patios cost $25–$35 per square foot.
Wood
Wood such as cedar, ipe, and cypress is naturally beautiful.
However, it can split and deteriorate, so it needs to be consistently well-maintained, including sealing.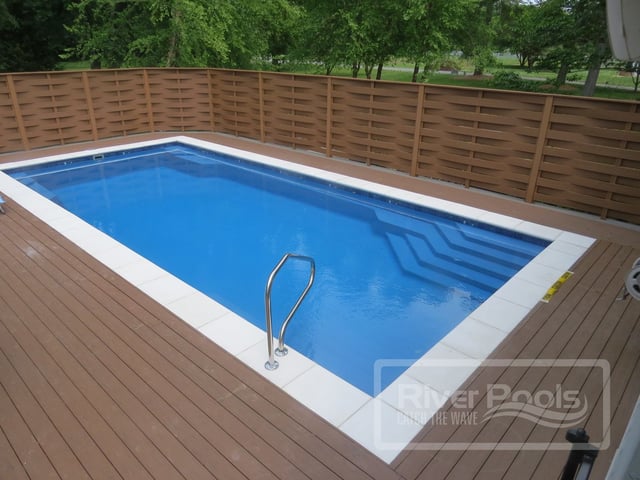 It generally costs $8–$70 per square foot.
Brick
Brick is durable, and if dry laid, you can replace single bricks with little difficulty.
However, they can get quite hot depending on the color.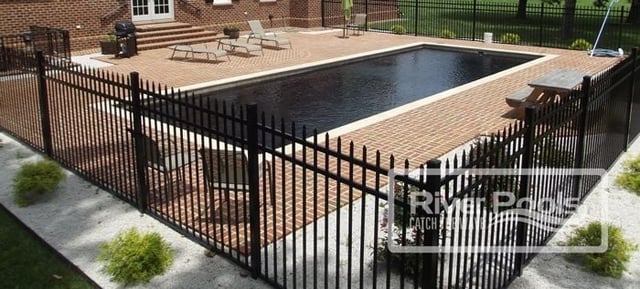 A brick patio can cost $14–$18 per square foot.
What patio material should I choose for my pool?
There's no "100 percent best" pool patio material—it depends on your situation. Some people find that stamped concrete works great for their needs. Others prefer wood. Others are most satisfied with natural stone.
For example, here at River Pools, we are very familiar with textured concrete and pavers.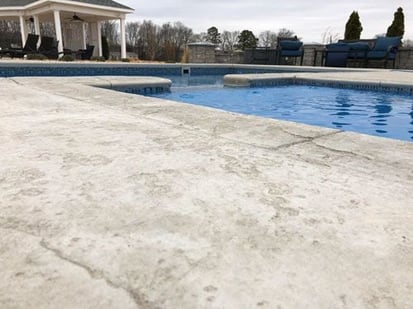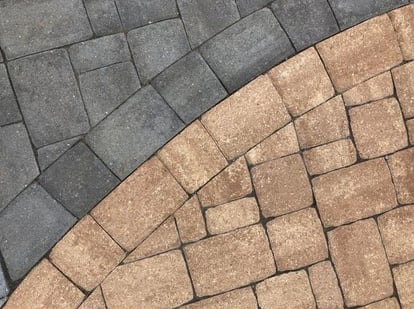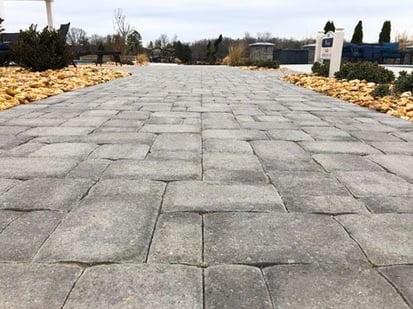 Want to learn more about inground pools?
To be sure you're getting the best pool for your needs, be sure to compare all three pool types. You may find that the advantages of a fiberglass pool fit you better!
Concrete pools generally cost $50,000–$100,000 and look classic. However, they require extensive, expensive upkeep.
Vinyl liner pools cost only $20,000–$55,000 upfront. They need less lifetime maintenance than a concrete pool, but the liner must be replaced every 5–9 years at $4,000–$4,500 a pop.
By comparison, fiberglass pools cost $45,000–$85,000 upfront but have the lowest lifetime expenses of all three, which saves you money in the long run.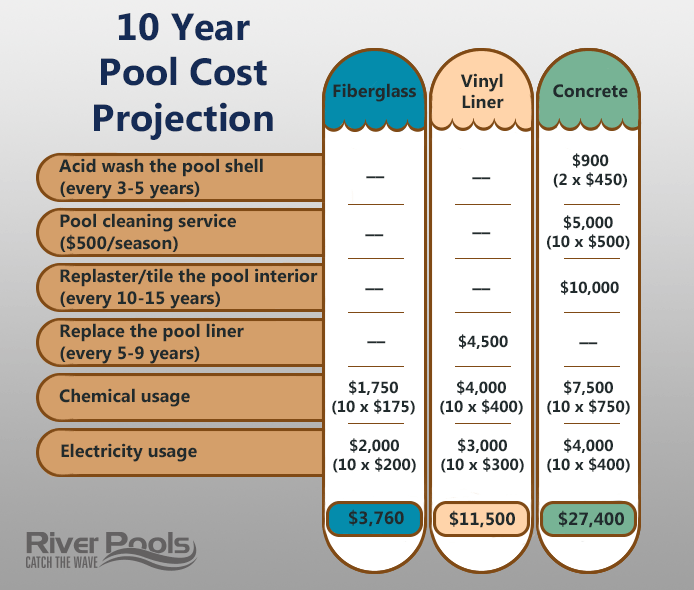 While the shapes and sizes are less customized, most people can find a model that fits their needs.
They're super durable and low-maintenance—not to mention pretty!
Read through our ebook about the three pool types, and click on the button below to get in touch with us to see if fiberglass might be the right choice for you.
We look forward to helping you find the best pool for you and your family!
Up Next:
How Much Swimming Pool Patio Do I Need?
Should You Get a Concrete Pool Deck?
Fiberglass Swimming Pools 101: Manufacturing, Cost, and More
---
Editor's note: This blog article was updated on December 4, 2019
Editor's note: This article was updated on September 20, 2023.