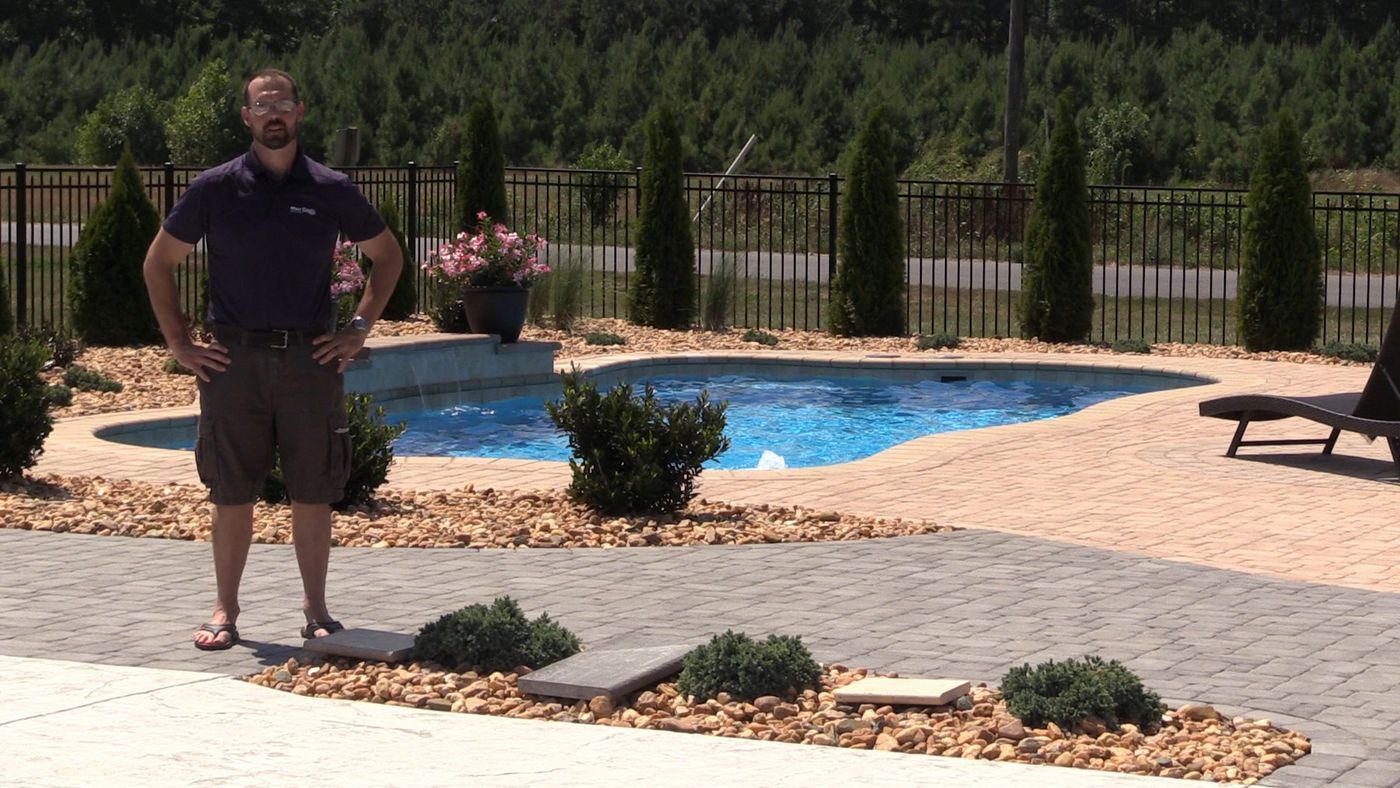 Subscribe
How Hot Do Swimming Pool Patios Get? Temperature Comparison
It was a blistering July day in Virginia. The heat index was 108 degrees, there was a heat advisory in effect, and we were sitting around the office discussing what an enlightening experience it is for potential clients who decide to make the trip to visit our inground pool park in Warsaw.
Dan Dunn, our sales manager, mentioned how he not only takes time to show the different types of patio options featured in the pool park, but he actually has his clients remove their shoes to feel the temperature difference between the various patio materials.
Immediately a light bulb went off in my mind and I said, "Video!"
In no time we had the audio and video equipment set up and the result was the video featured below where we take temperature readings on six different patio materials:
textured concrete

gray pavers

earth tone pavers

bluestone

cream colored travertine

beige travertine
Needless to say, there was a tremendous difference, which you're about to see for yourself.
Enjoy the video!
As we learned in the video, patio temperature is more a consequence of color than the actual material. So, if you are considering installing a pool in an area that receives a lot of direct sunlight, be sure to keep that in mind (especially if you have sensitive feet like mine:).
Questions/comments...please leave them below.
At River Pools, we manufacture and install world-class fiberglass swimming pools across North America. Take a look at our catalog of models or try out our pool pricing calculator today to see how much your inground pool might cost.
Want to get a custom quote for your pool project? Click the button below to get in touch with us and request pricing for your fiberglass pool.
If you're still shopping around for an inground pool, download our free ebook below explaining the key differences between the three main inground pool types.
Up Next:
Should My Swimming Pool Have a Cooler/Chiller? Temperature Comparison Video
Pool Construction: Comparing Concrete, Vinyl Liner, and Fiberglass Installations
What's the Price Difference Between Concrete, Fiberglass, and Vinyl Liner Inground Pools?
---
Editor's note: This blog article was updated on April 17, 2019.