Fiberglass Pool Information | Fiberglass Pool Manufacturers | Finding A Pool Contractor
Okay, I know warranties aren't exactly a fun conversation topic. But bear with me! Most of us skim over Terms and Conditions, but you do actually need to read your fiberglass pool warranty—and you need to know what to look for. As fiberglass pool manufacturers and installers, we at River Pools can offer expert advice.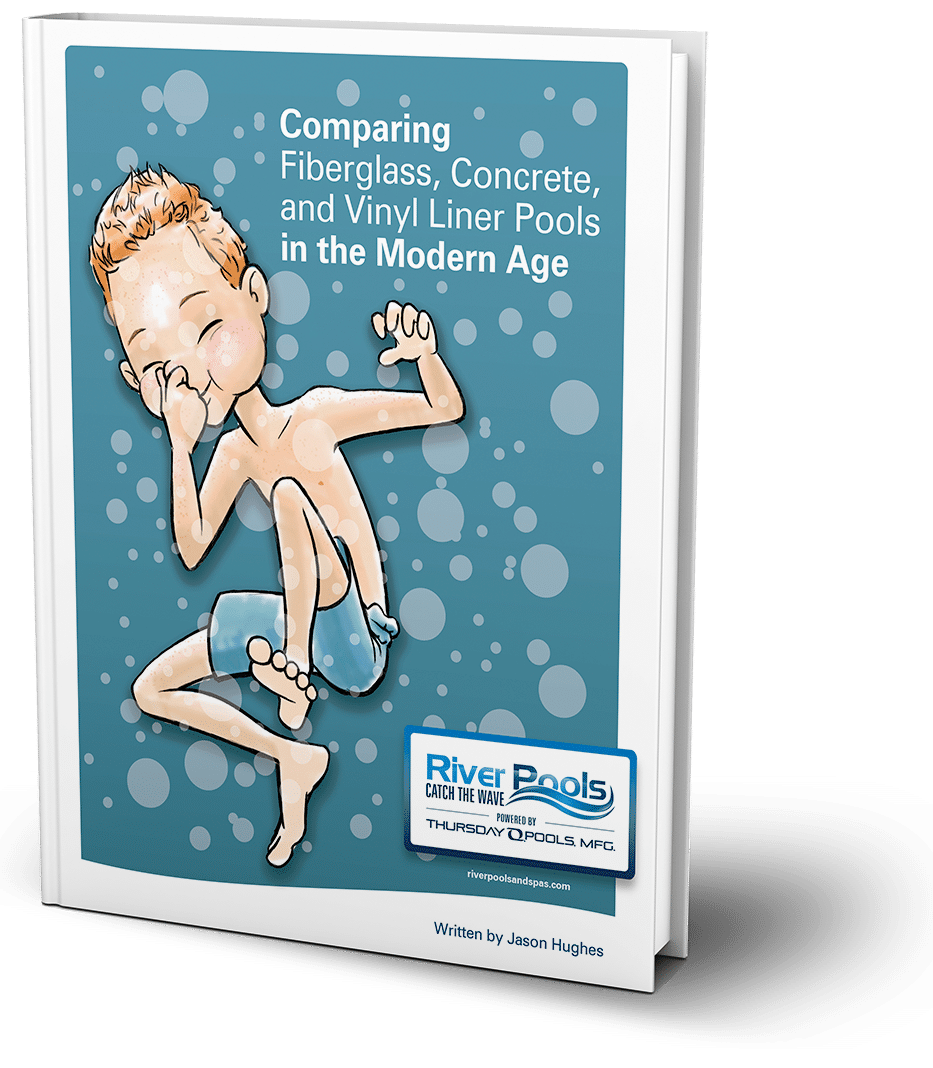 Comparing Fiberglass, Concrete, and Vinyl Liner Pools in the Modern Age
Don't blindly wonder if a fiberglass, concrete, or vinyl liner pool is right for you. Our educational ebook does a deep-dive comparison of the 3 types, all while noting the advantages and disadvantages of each.
If you are seriously considering an inground swimming pool, you've probably discovered that there are a lot of decisions to make! At the top of this list stands one preeminent question: How do I select a reputable swimming pool builder? This question is so important because the expertise and integrity of your pool builder will play a huge role in determining the final outcome of your project. To assist you in this process, we at River Pools have put together a checklist to help you vett potential pool builders. This checklist is based on our experience of not only working with over 1,000 inground pool customers throughout Virginia and Maryland, but also from helping hundreds of folks who found us through the internet find reputable swimming pool builders in their area (see more about this below). So, regardless of where you live or whether you are looking for a concrete, vinyl liner, or fiberglass pool, this checklist will help you identify various criteria to look for when selecting your swimming pool builder. Okay, let's jump right in! The Ultimate Swimming Pool Builder Vetting Checklist Contractor Name: ___________________________________________________________ 1. Business Information and Experience __ The company is licensed and insured note: ask if the name on the license is the same as the company name. If not, find out why. __ Find out how many years the company has been in business Years in business: __________ note: 43% of contractors fail within the first three years after start-up
A man and a woman who met on line are having their first phone conversation. Here's how it goes:
Finding A Pool Contractor | Installation & Construction
Okay, let's cut to the chase. Although as a pool guy this seems crazy to me, the following is an accurate portrayal of the entire conversation most folks considering an inground pool have with a potential builder about a very important topic...their warranty:
Finding A Pool Contractor | Installation & Construction
At River Pools we receive calls on a daily basis from folks who are in the process of looking for a new home or property where they can install a future pool. They all want to know the same thing: "What should I look for in a property where I can install the pool of my dreams?" That's a great question, and we just happen to have some great ponters so let's dive right in!
Finding A Pool Contractor | Installation & Construction | Pool Videos
Are you considering a coping upgrade on your new fiberglass pool? If so, take a minute to check out this video outlining how NOT to install fiberglass pool coping.
Fiberglass Pool Information | Finding A Pool Contractor | Installation & Construction | Pool Videos
Let's be honest: Although fiberglass pools are taking the inground pool market by storm in North America, there are still some potential installation problems that continue to pop-up in the industry:
With the readership of this blog consisting of folks all over North America, Australia, and other parts of the world, each and every year we get emails from folks from what seems like every corner of the globe expressing dissatisfaction with their pool installation and contractor.
Fiberglass Pool Manufacturers | Finding A Pool Contractor | Installation & Construction | Pool Design Guides
There are many factors that make up the quality of a fiberglass swimming pool, and one of the most important is that the appropriate amount of materials are used during the process of constructing the shell.