Are you hoping to be swimming in your own inground pool next summer? Depending on where you live in the country, that might not be a possibility. At River Pools, we manufacture fiberglass pools and work with a wide range of inground pool professionals who have all said the same thing: inground pool construction projects are already booked through 2021 and even into 2022 in many areas.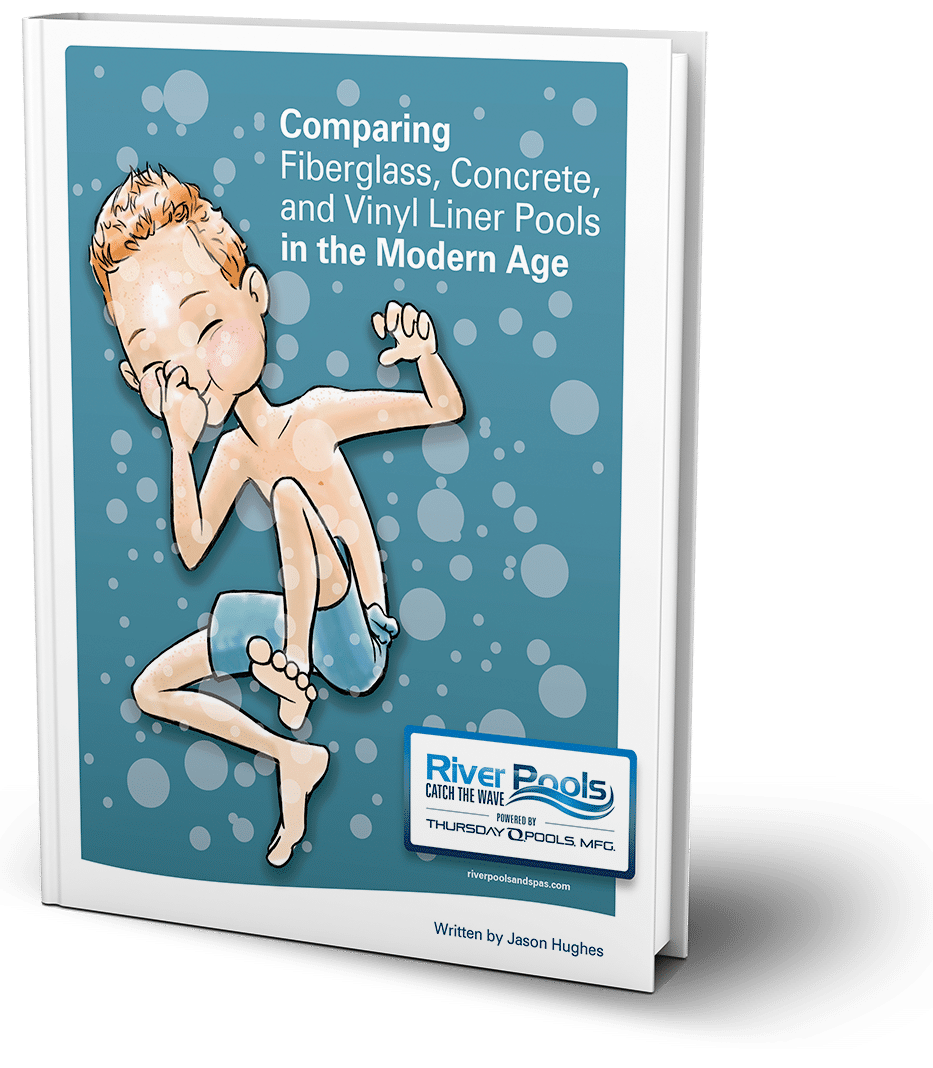 Comparing Fiberglass, Concrete, and Vinyl Liner Pools in the Modern Age
Don't blindly wonder if a fiberglass, concrete, or vinyl liner pool is right for you. Our educational ebook does a deep-dive comparison of the 3 types, all while noting the advantages and disadvantages of each.
Do you live in Wisconsin and want to build an inground pool? Getting a swimming pool can be an exciting time, but even though you might be in a hurry to see your pool in the ground, it's important that you shop around for the best pool builder for your project. How will you know if your pool builder is right for you? First, you'll want to ensure that your pool builder has a good track record (see our pool builder vetting checklist here), and you'll need to do your research to find out what they specialize in.
Finding A Pool Contractor | Installation & Construction
We've heard it before, the naysayers against having a pool in an area that enjoys all of the seasons. "Why build a pool when you can't enjoy it year-round?", they ask. Answer: our summers are shorter, so we take advantage of them while we can! Not to mention, having a pool to relax in after a long day of laying on the sand is basically a requirement when living in Virginia Beach.
Finding A Pool Contractor | Installation & Construction
In the dead of winter, we're all imagining the smell of sunscreen in the air and the sound of cannonballs in our backyard. If these thoughts are making you consider installing a pool, you're not crazy - now is actually the best time.
Cost and Pricing | Finding A Pool Contractor | Installation & Construction | Swimming Pool FAQs
Buying an inground swimming pool is the same no matter where you live, right? Actually, buying and installing a swimming pool in Virginia can be a totally different experience than installing one in, say, Texas or Utah. The state you live in can often mean additional costs to build your pool, whether that's due to local regulations or the nature of your landscape.
Finding the right swimming pool contractor can be a lot of work. The reality is that there are many swimming pool builders to choose from across the state of Virginia, and they don't all offer the same services (or build the same types of pools!). So, how do you find a good swimming pool contractor without spending days sifting through your options? options
Fiberglass Pool Manufacturers | Finding A Pool Contractor
If you are seriously considering an inground swimming pool, you've probably discovered that there are a lot of decisions to make! At the top of this list stands one preeminent question: How do I select a reputable swimming pool builder? This question is so important because the expertise and integrity of your pool builder will play a huge role in determining the final outcome of your project.
One of my coworkers just got engaged. (Congrats again, girl!) I don't know how long it took her fiancé to pick out the ring, but the more I learn about ring shopping, the more complicated it sounds. You have to spend enough that it's lifelong quality, but not so much you put yourself in lifelong debt. You have to choose a high-quality band and stone(s). Just as important, you need a high-quality, trustworthy jeweler. They'll make or break the experience in the long run. You know what's bigger, more permanent, and much more expensive than an engagement ring? An inground pool. So how do you know if your pool builder is a good one?
Cost and Pricing | Finding A Pool Contractor | Patio and Coping | Pool Design Guides | Swimming Pool Accessories | Swimming Pool Design
Most people shopping for a pool think that they know just what they want. For example, 90% of the people who want a diving board think they need it. But after education on the pros and cons of a diving board, only 10% of those people will still get a diving board. You're spending a lot of money on this swimming pool investment. You expect that the person that you invite into your home will be an informed professional and have your best interest at heart. In reality the person who shows up will probably be a salesperson trying to earn a commission that will feed his family or lifestyle. That's what is in his/her best interest, not yours. All too often, the homeowner says, "I want a pool this size and a deck this big," and the salesperson quotes them on what they ask for. It's far easier to sell a pool when the homeowner knows what they want, so why rock the boat? That's the mentality of most salespeople today. The problem: in most cases, what the homeowner thinks they want, and what they really want, are two different things.