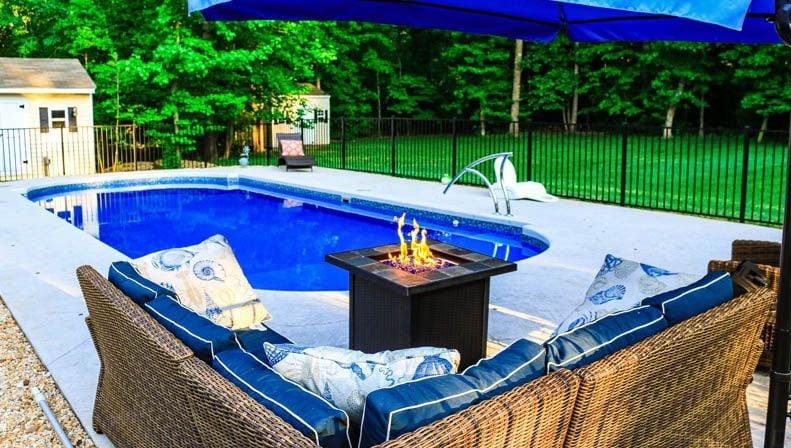 Subscribe
Want to Have a Pool by 2022? You Might be Running Out of Time
Are you hoping to be swimming in your own inground pool next summer? Depending on where you live in the country, that might not be a possibility.

At River Pools, we manufacture fiberglass pools and work with a wide range of inground pool professionals who have all said the same thing: inground pool construction projects are already booked through the entire 2022 build season, and even into 2023 in many areas.

What does that mean for you if you're still shopping around for a swimming pool?
To get a pool next year (2022), you need to act now. You may not even be able to complete construction until 2023, depending on demand in your area. But don't expect to jump in line and get a pool any sooner than next year if you don't move quickly.
In this article, we'll break down what you can do to guarantee a spot on your pool builder's schedule, and a few things to consider before you buy.
How to Get an Inground Pool by 2022 (or 2023)
The main thing is that you need to act quickly if you want to have a pool within the next two years, but we know that you might first want to do some research and ask questions.
(We don't recommend rushing into buying an inground pool without first doing your research and vetting your shortlist of pool builders and/or manufacturers.)
If you're still deciding which inground pool type to buy, you can check out our inground pool comparison guide here or visit our video library for easy bite-sized pool buying and ownership essentials. In the meantime, here's a list of the main pros and cons of each type of swimming pool: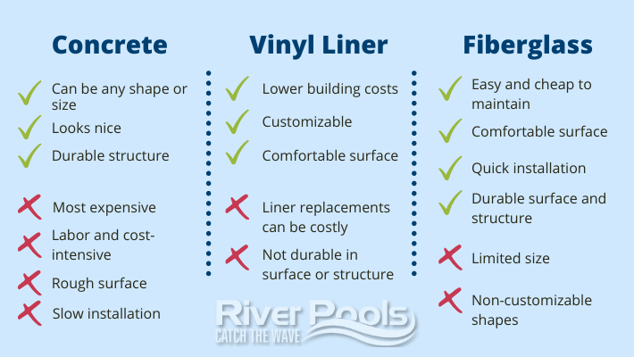 No matter which type of pool you want to buy or which pool builder you want to work with, we highly suggest that you begin reaching out to them now.


You can start the process of planning your pool project with them or schedule an installation date if you're sure that a pool is right for you. Here's a quick list of what you need to do and what you can expect:
Request a call, quote, or reach out directly

Begin your prep work by obtaining a plat of your property and taking some photographs (check out this video to learn more).

Be ready to utilize virtual meeting platforms such as Zoom, Google Meet, or even Facetime

Receive an initial price for your inground pool

Schedule a visit with your pool builder so that they can assess your yard

Plan your pool design

Schedule an installation date
Since we specialize in fiberglass pools, we find that many of our readers have already made up their minds to buy a fiberglass pool and are just looking for more information.
If this is the case for you, feel free to request a quote from an independent authorized builder serving your area using the button below to explore pricing options and get in line for your fiberglass swimming pool. Don't worry - it doesn't cost anything, and there's no obligation to book an installation if what we have doesn't work for you.
How far in advance should you shop for an inground pool?
Normally, we would say it's unnecessary to shop around for an inground pool years in advance.
However, if you're currently considering building a pool in your backyard at any point in the next two years, you might want to get in line now.
You can always book your installation for a later date or cancel the project if you change your mind -- you're not obligated to take the earliest date the pool builder has available.
Even if you're not in a rush to get a new pool, you might still want to start reaching out to your local pool builders or any manufacturers that you want to work with to get a feel for their current schedules and timelines.
The bottom line: If you'd like to have a pool in 2022, or even 2023, we highly recommend you begin shopping around now.
Buying a Home with a Pool
An alternative option to building a new inground pool is to buy a home with an existing pool.
If you don't want to wait until next year or 2023 to build your pool, you can browse your local listings for houses with swimming pools to see what's available.
The Pros and Cons of Buying a Home with a Pool
Pros
Lower cost

No wait time

No installation mess
The breakdown: New inground pools typically cost a minimum of $35k to $100k to build, and buying a home with a used pool can save you significantly on upfront costs.
Pools also take at least two to four weeks to build (fiberglass), but they can also take three to six months (concrete). The installation can also leave a mess in your backyard, whereas a home with a pool will likely have the patio and landscaping finished.
Cons
The breakdown: An older or used inground pool may not be in as good condition as you'd like it to be. It may need renovation or resurfacing, or it can have more significant damage, such as cracks or leaks.
You'll also have a smaller size, shape, and depth selection, which are all features that you can choose when you build a new pool (in addition to color, finish, features, and accessories).
Finally, there will be a chance that your pool's warranty and warranties for your pool parts (like the pump and filter system) are expired or non-transferrable.
Read more: 6 Things You Need to Know Before You Buy a Home with a Pool

2021 Inground Pool Prices and Financing
An inground pool might cost you between $35,000 and $100,000 or more depending on the pool type. National averages for inground pools are as follows:
| | |
| --- | --- |
| Inground Pool Type | Average Prices |
| Vinyl Liner | $35,000 to $65,000 |
| Fiberglass | $40,000 to $85,000 |
| Gunite (Concrete) | $50,000 to $100,000 |
Inground pool prices should be relatively similar over the next few years if you're hoping to build later.

If you want a personalized estimate for your inground pool project, try out our free pool pricing calculator below for an instant quote.
---

Want to see about how much that cost will be with all your favorite pool accessories?
Use our Design and Price Tool to walk through your options and approximate price!
---
Read more: Check out our pool cost infographic for a more detailed breakdown of upfront and long-term pool pricing.
How to Pay for Your Inground Pool
Most people either get a home loan or pool loan, or they finance their pool balances through their contractors or dealers. Lately, we've seen exceptionally low interest rates being offered to qualifying applicants, which can reduce your overall upfront costs.
Alternatively, you may choose to get a home equity line of credit for your swimming pool project.
Read more: Swimming Pool Financing: How Can I Get a Pool Loan?
Wondering how much your monthly pool payment will be?
You might expect your pool payments to be around $550 to $650 per month for a $40,000 pool, $850 to $995 per month for a $60,000 pool, and $1,150 to $1,350 per month for a $80,000 pool (no down payment). You can see more monthly pool payment examples here.
How COVID is Impacting the Pool Market
Since March 2020, we've seen a tremendous uptick in inground pool sales across the country as people have been asked to stay home. Because so many homeowners have rushed to get an inground pool since the beginning of nationwide COVID lockdowns, it might be harder to get your pool by next summer if you don't act immediately.
Despite widespread availability of COVID vaccines, many experts don't expect things to go back to "normal" for months, if not until next year.
And when things do go back to normal, we don't yet know what that will look like. Traveling remains heavily impacted, despite the easing of mask mandates in many parts of the world.
More than likely, the staycations are here to stay. Many companies are choosing to keep their employees working remotely indefinitely, while colleges and universities are adding more distance programs to cater to the current needs.
The bottom line is that people are embracing being at home more than ever, which makes adding an inground pool to your outdoor living space an even better investment if you've been dreaming of having one.
Ready to do some more research before you buy your inground pool? Be sure to check out our learning center and subscribe to our blog to keep up with all of our latest swimming pool guides. Or start designing and pricing your perfect pool with our free tool by clicking the button below:
Up Next:
5 Ways to Make Your Pool Project More Affordable
Small Inground Pools: Sizes, Shapes, Cost, Pros, & Cons

Ultimate Pool Planning Guide: 11 Things to Consider Before Installing an Inground Pool