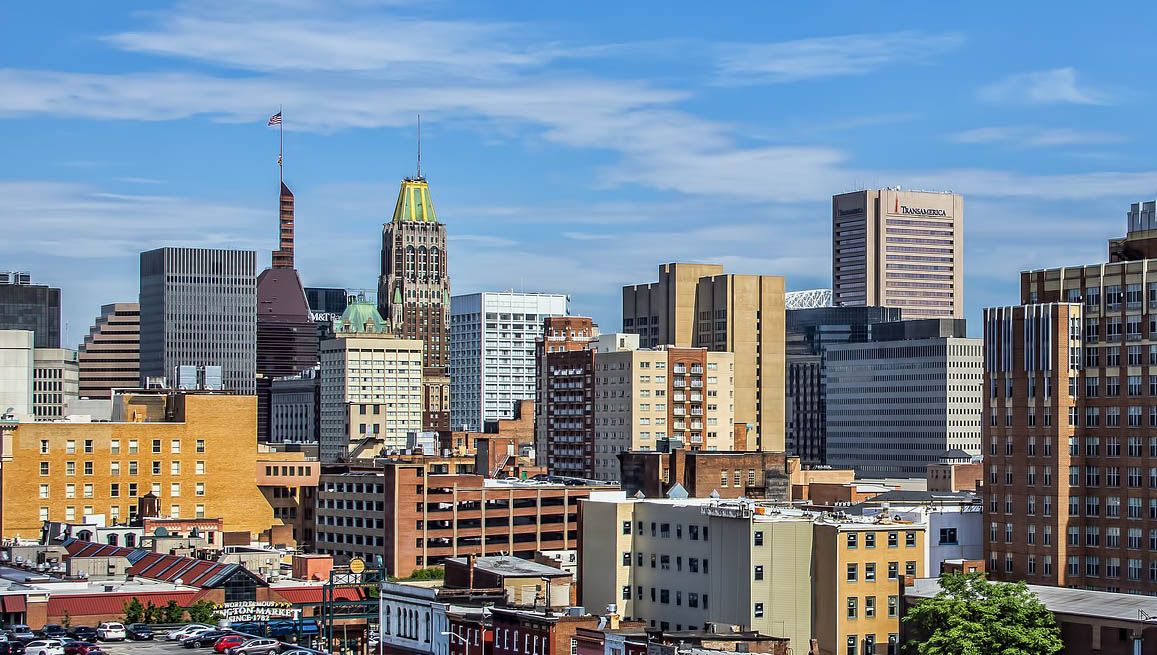 Subscribe
Everything You Need to Know About Installing a Swimming Pool In Maryland
Finding A Pool Contractor | Installation & Construction
In the dead of winter, we're all imagining the smell of sunscreen in the air and the sound of cannonballs in our backyard. If these thoughts are making you consider installing a pool, you're not crazy - now is actually the best time.
Beginning the process earlier will not only give you a head start on construction and permits, but it will help get you through the next few months of shoveling giant heaps of snow.
But before you get carried away planning for an extended deck, giant fence, or pool bar, it's important to review the laws and regulations in Maryland. As inground pool manufacturers who have installed our fiberglass pools in Maryland, we want to share with you a few main things to consider.
You'll Need to Secure Permits
We've all heard them. Horror stories about permits required for household projects that can cause major delays. Unfortunately, pool installations are no exception.
While each county in Maryland is different, you will most likely need to submit a building permit application, an electrical permit application, a pool affidavit, and a pool owner affidavit. It's also important to make note that each of these permits come with fees.
Avoid running into a barrier by taking the following steps:
Step 1: Collect your construction documents to submit permits, including plot plans of the entire property that are drawn to scale and include:
Location of the proposed structure

Measurements from the proposed structure to each property line

Location of and distance from the existing/proposed well and/or septic area

Dimensions and diameter of pool

Deck (if provided as part of the above ground pool – manufacturer's details)

Deck (if framed separately, see deck compliance guidelines)

Road name
Step 2: After ensuring your applications are fully complete, and, most importantly, code-compliant, submit your documents and allow 2-3 weeks for processing.
Step 3: Plan for both building and electrical inspections throughout the process. Electrical inspections will take place during the rough-in and trench stages. Then, both electrical and building inspections will be carried out after the pool is complete.
You'll Need to Comply with Fencing Laws
While the state of Maryland does not have any laws that require fencing around residential pools, individual counties and cities do, with most adopting the 2012 International Residential Code. The law requires property owners to construct a barrier around residential pools that are over 24 inches in depth. Other key guidelines include:
The pool fence must be 48 inches tall.

Pool fencing with horizontal members less than 45 inches apart should have those horizontal members located on the poolside of the fence, according to the CPSC.

The Consumer Product Safety Commission (CPSC) recommends pickets be spaced no more than 4 inches apart.

All-access gates must be self-closing, self-latching, and equipped with a locking device.
Building a fence surrounding your pool is safest for your family and those around you to prevent accidental drownings. For the utmost safety, consider installing a fence before it's filled with water.

Consider Installing a Pool Cover
Most counties in Maryland require pool covers, with some laws specifying the type: tarp, mesh, vinyl, or automated. Automatic pool covers are favored because they offer more safety.
Even if your county does not require a specific pool cover, The Department of Energy recommends using one as they can save massive amounts of energy (evaporation is the largest source of energy loss).
Although several factors can cause fast evaporation, pools kept warm in windy areas with low humidity are at the highest risk. So, with Maryland's climate, increased evaporation is a high probability and something pool owners may have to combat.
You could try to break the wind with barriers such as trees, shrubs, or sheds, but covering your pool is the most effective way to reduce heating costs with savings in the upwards of 50%-70%.
Additionally, pool covers offer other benefits, including reduced cleaning time and less money spent on chemicals.
Research Your Zoning Rules
It's important when planning a pool installation to consider setback regulations. A setback is how far your pool must be from your property line or other things like a well. Most counties in Maryland require 10 feet from the rear and 7-10 feet on either side, but it can vary depending on your zoning.
When searching for setback regulations in your jurisdiction, pay special attention to the variances in specific structures. Many cities have different lengths that depend on what you're building - be it a fence, pool, or deck. This is especially important if you're installing all three.
Your Pool Will likely Cost Between $25,000 and $100,000
Pool costs vary depending on the type of pool that you purchase, the size, added features, and any additional structures such as a deck or fence. The three types of pools and their respective pricing are:
Vinyl liner pool ($25,000-$65,000)

Fiberglass pool ($40,000-$85,000)

Concrete pool ($50,000-$100,000)
Pool Material Costs
If you decide to build a concrete pool, you'll need to factor in the cost of materials (i.e., plaster, aggregate, or tile). While plaster is the least expensive, it also requires more maintenance and only lasts 5-10 years (replastering a pool costs around $10,000 and up). Aggregate is a prettier finish and lasts longer but can be uncomfortable to walk on and can fade quickly. Tile is the most expensive but is also the most durable and requires the least maintenance.
Vinyl liners typically cost $4,500 to replace and need to be replaced around every 5 to 9 years. Fiberglass swimming pools don't need to be resurfaced if well manufactured and maintained. A good fiberglass pool's gelcoat will typically last at least 20-30 years if not the entire lifetime of the pool, but if it does need to be refinished, it should cost about as much as replastering a pool.
Pool Maintenance Costs
Additionally, you'll need to consider maintenance when determining your pool budget. Pool maintenance cost projections should include pool cleaning, electricity, chemical use, and eventual interior replacement or refinishing, which can depend on the type of pool. Cost projections over the life of each type of pool are as follows:
Vinyl - $11,500

Fiberglass - $3,760

Concrete - $27,400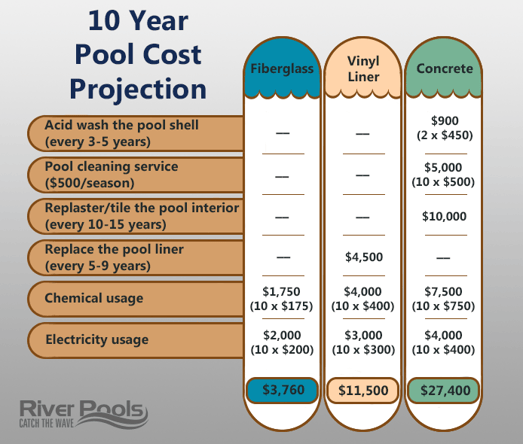 The Top Pool Builders in Maryland
You'll have many options to choose from if you're looking for pool builders in Maryland, and to help you get started, here are some of the top pool builders in the Frederick area to consider. (To help make the process easier and to ensure that you pick the right builder, you can use this pool contractor vetting checklist.)
At River Pools, we manufacture world-class fiberglass pools for customers across North America. In southern Maryland and other areas through our growing network of independent authorized dealers, we help hundreds of customers achieve their dream backyard oasis.
Check out our educational resources to work through your different options and learn everything you need to know about inground pools before you buy. You can also view our catalog of models, contact us for a quote, or try out our fiberglass pool pricing calculator below!
---

Want to see about how much that cost will be with all your favorite pool accessories?
Use our Design and Price Tool to walk through your options and approximate price!
---
Up Next:
Should You Buy a Fiberglass Pool? (Infographic)
Inground Concrete Swimming Pool Cost and Price Guide 2020

Inground Saltwater Pool Cost: Salt, Cells, Generators, and More