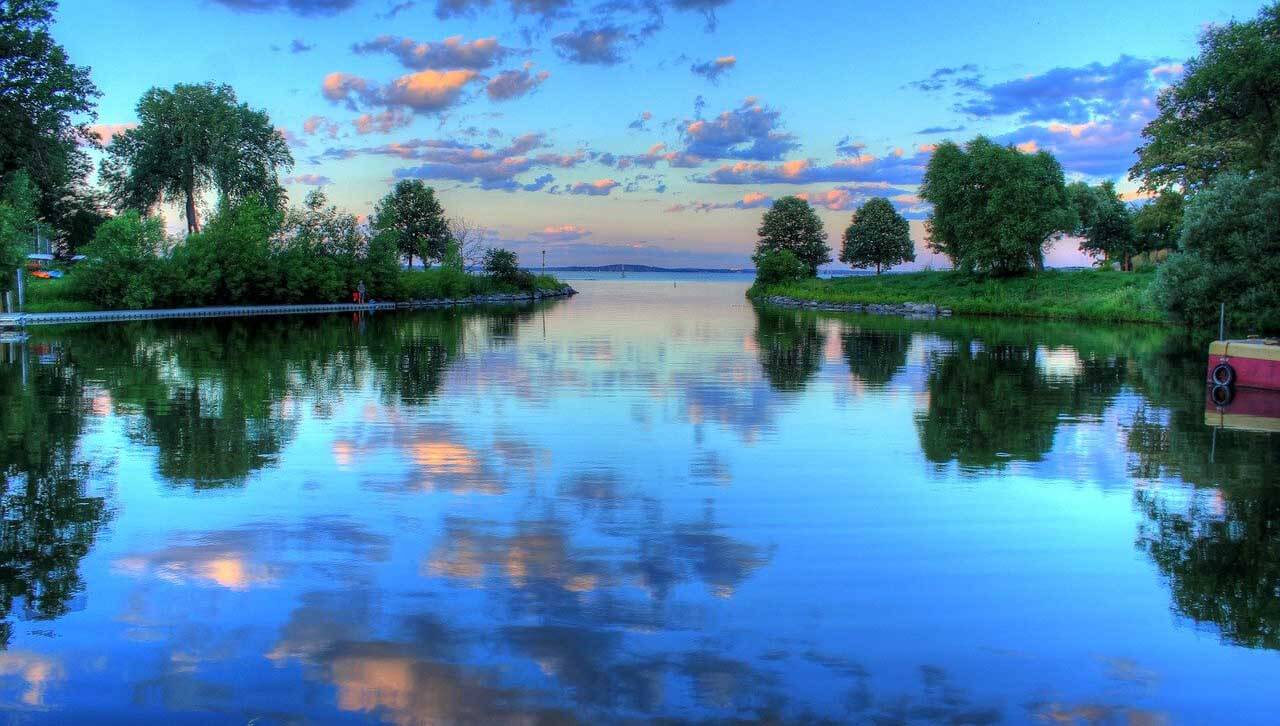 Subscribe
Who Are the Best Pool Builders in Wisconsin? (Reviews/Ratings)
Do you live in Wisconsin and want to build an inground pool?

Getting a swimming pool can be an exciting time, but even though you might be in a hurry to see your pool in the ground, it's important that you shop around for the best pool builder for your project.

How will you know if your pool builder is right for you?

First, you'll want to ensure that your pool builder has a good track record (see our pool builder vetting checklist here), and you'll need to do your research to find out what they specialize in.

For example, we at River Pools manufacture fiberglass pools and personally install them for customers in our area. We're usually a perfect fit for people looking for high-quality fiberglass pool installations, but we'd be the wrong choice for many other pool shoppers.

Ideally, you'll need to find a pool builder who specializes in the types of pools that you are interested in building and make sure that they have plenty of experience in that area.

So, to help you begin your quest for the best inground pool builder in Wisconsin, including Green Bay, Milwaukee, and other regions throughout the state, here are the top pool builders of WI along with the pool types that they offer.
Please note: This list of Wisconsin's top swimming pool contractors is based on online reviews and real customer feedback (and is provided in no particular order).
Penguin Pools
"Our goal has always been to provide the highest quality inground swimming pool possible to fit within a customer's budget. We make every effort to give you the type of pool that you want, not the one that someone is trying to 'sell' you. That's our promise. And, that's the key difference: there's no high-pressure tactic. We NEVER compromise on quality or ease of maintenance. In fact, Penguin Pools includes a number of items as standard features on all their inground swimming pools, which you may be charged extra for, or not even be made aware of with other pool contractors."
Pool Types: Vinyl liner, fiberglass, concrete
Areas Serviced: Southeastern Wisconsin and the Minneapolis/St. Paul regions
Pool Pros
"We know dealing with building and construction projects can be stressful, but we're here to make the process smooth and easy. Since 2003, Pool Pros has been the leading Green Bay Swimming Pool Contracting Firm. With a team of PHTA certified professionals who tackle everything from complex construction projects to property repairs and restorations. Pool Pros is fueled by our commitment to excellence. We go the extra mile to make sure clients are completely satisfied with our work. Get in touch with us today for a free consultation."
Pool Types: Fiberglass, above ground
Areas Serviced: Green Bay, Wisconsin area
KD Poolscapes
"KD Poolscapes has been building pools and the environments around them for more than 25 years. Our focus on creating poolscapes, not just pools, has led us to win an unprecedented 30 awards for projects we've designed and built. This includes awards presented by the National Association of the Remodeling Industry (NARI) on state, regional, and national levels; The Wisconsin Ready Mix Concrete Association, and The National Spa & Pool Institute (NSPI)."
Pool Types: Vinyl liner
Areas Serviced: Southeast Wisconsin
Neuman Pools
"The experts at Neuman Pools, Inc. bring more than 45 years of experience designing and constructing custom residential, commercial and waterpark projects. We are proud members of the National Swimming Pool Foundation and the Associated Builders and Contractors of Wisconsin, and we have the knowledge and creative imagination to take any project from the drawing board to completion."
Pool Types: Concrete
Areas Serviced: Throughout WI (contact to find out)
Springs Pools and Spas
"As a family owned and operated business since 1984, Spring's Pools and Spas has developed a solid reputation in the pool & spa industry. Our philosophy of providing each customer with products at affordable prices, personal attention and after the sale service has made us the premier swimming pool builder in South Eastern Wisconsin."
Pool Types: Vinyl liner, concrete
Areas Serviced: Central and Southeastern Wisconsin, including Plymouth, Sheboygan, Manitowoc, and Fond du Lac
Sun Harvester
"For over two decades, year round, Sun Harvester has been going strong. Since 1980 we continue to grow by "leaps and bounds". Each year brings challenges for us to be more creative and continue to be "the best". Hopefully you will agree with us judging from our high performance in sales, our quality construction and our highly qualified service team, and attentive office staff. We are a family operating business where everyone is proud to be apart of the Sun Harvester Team."
Pool Types: Vinyl liner, above ground
Areas Serviced: Wausau, WI area
Swimming Pool Creations
"Whether you swim to stay fit or simply love being in the water, the team at Swimming Pool Creations can provide you with a pool that you can enjoy for years to come. Our professionals install in-ground pools with skillful efficiency. Operating out of Pewaukee, WI, our company aims to provide every client with excellent service."
Pool Types: Vinyl liner
Areas Serviced: Greater Pewaukee and surrounding areas
Bob's Pool Builders
"The Bob's Pool Promise? We'll help you break out the swimsuits year after year! That's the beauty in building relationships. We're there every season making sure your family has a fun, safe, and simple swimming pool experience. From new pool construction to easing the service and maintenance process, Bob's Pools has been building relationships across Southeast Wisconsin since 1997."
Pool Types: Vinyl liner
Areas Serviced: Sullivan and Southeast Wisconsin area
The Pool People
"Your dream of your own backyard pool is within reach with a swimming pool from The Pool People. Bring the best of summer vacation to your own backyard with an attractive, stylish, and incredibly long-lasting pool. With a complete line of pools available from Doughboy, Embassy, Radiant, and Cornelius Pools, we have the perfect option for you and your family. Enjoy choosing from a wide selection of above-ground, on-ground and semi-in-ground pools. You can browse our selection online or come see our pool park in person at our Wausau location. At The Pool People, there are so many stylish options to fit any budget."
Pool Types: Above ground, vinyl liner
Areas Serviced: Central and Northern Wisconsin
Boneck's Professional Pool Builders, Inc.
"Boneck's Pools are known to be built with the highest degree in design, materials and workmanship. Every time you hear the name 'Boneck', you can count on finding the best value. That's because every one of our swimming pools represents the best of our talents, know-how and resources. Count on it. After all, our success depends on your satisfaction, enjoyment and continued recommendations."
Pool Types: Vinyl liner
Areas Serviced: Wales and the greater Waukesha County area as well as Washington, Jefferson, and the western end of Milwaukee county.


River Pools also works with pool builders in the Green Bay, Wisconsin area. If you're in Green Bay and you'd like to learn more about one of our River Pools fiberglass pool models, you can fill out our contact request form here to get more information and custom pricing. You can also explore our learning center and try out our pool pricing calculator tool below to see how much your fiberglass pool might cost. Happy swimming!
---

Want to see about how much that cost will be with all your favorite pool accessories?
Use our Design and Price Tool to walk through your options and approximate price!
---
Up Next:
Inground Pool Prices (Infographic)
What Is the Cheapest Inground Swimming Pool?