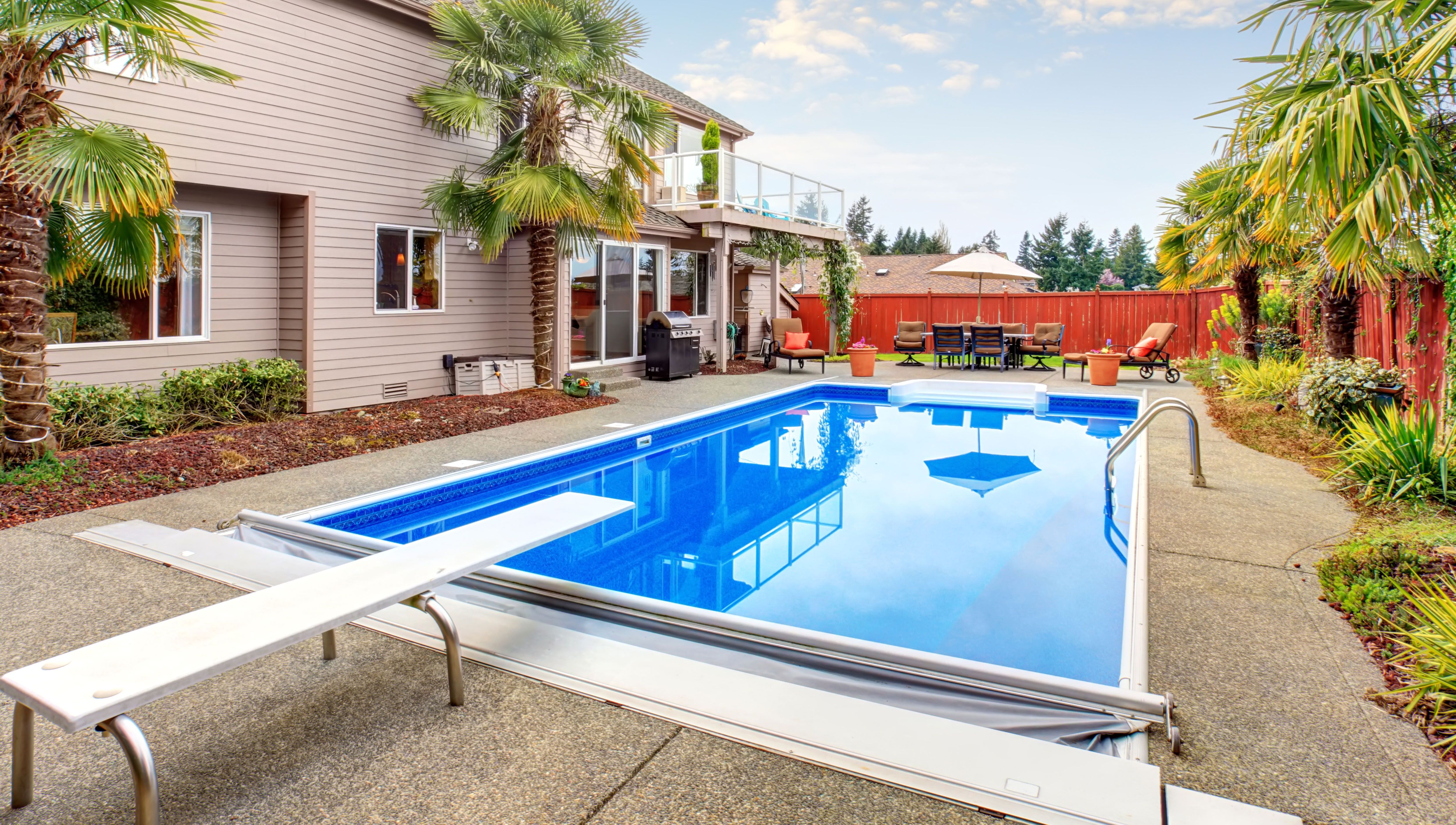 Subscribe
What Is the Cheapest Inground Swimming Pool?
Fiberglass vs Concrete vs Vinyl Liner | Cost and Pricing
The first question pool shoppers usually ask us is, "How much do inground pools cost?"
Nine times out of ten, this question is followed by, "What's the cheapest inground pool that I can buy, and how can I keep my costs down?"
As fiberglass pool manufacturers and installers, we hear these questions every single day.
The truth is that inground pools are not cheap, but they don't all cost $60,000 to $100,000 to build. Cheap inground pools still require a sizable investment, but you can get one for less than the average price.
To help you find the right inground pool for your budget, in this article, we will:
Show you the cheapest inground pools available today

Break down the starting costs for the cheapest inground pool types

List the pros and cons of going with the cheapest option
What's the cheapest inground pool?
Overall, vinyl liner pools are the cheapest inground swimming pools that money can buy. It's rare to find a pool builder who can build a concrete or fiberglass pool at a vinyl liner pool price.

This does not mean that vinyl liner pools are never expensive. Some vinyl liner pools cost more than concrete or fiberglass pools, depending on the project, pool size, features, and accessories.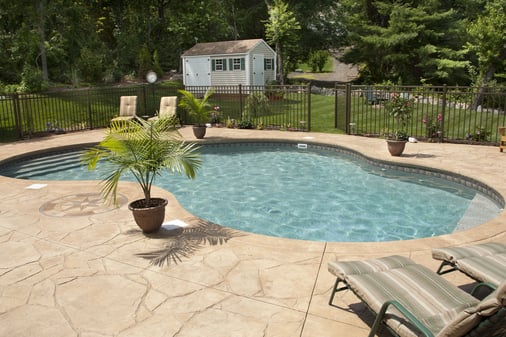 How cheap can a vinyl liner pool be?
Starting prices for vinyl inground pools are around $25,000, but they may be even lower if you DIY your project. Vinyl liner pool costs can go all the way up to more than $65,000, but the average price for a vinyl liner pool sits in the $35,000 to $65,000 range.
How cheap can a fiberglass pool be?
Starting prices for fiberglass pools are around $40,000 but can be closer to $30,000 depending on the area and installation package. The average price range for fiberglass pools plus installation is $45,000 to $85,000. Large, elaborate pool projects can cost more, while DIY pools can save as much as $6,000 to $10,000.
Warning: We do not recommend taking on a DIY fiberglass pool project unless you have fiberglass pool building experience.
Read more: Do It Yourself Fiberglass Pools: The Ultimate DIY Project!

How cheap can a concrete pool be?
Concrete pools (also known as gunite or shotcrete pools) are known for being the most expensive inground pools to build and maintain. Starting prices for concrete swimming pools are around $50,000 but can be lower depending on the pool's size and how much of the work the homeowner chooses to do themselves. Prices for concrete pools can easily go up to $100,000 or more.
Average Starting Costs for Inground Pools
Pool prices can quickly increase as you add more accessories to the project. Sometimes, building costs will improve out of necessity if we discover rock or are dealing with uneven terrain, for example. At the bare minimum, here's what you can expect to pay for each of the inground pool types.
| | |
| --- | --- |
| Pool Type | Average Starting Price |
| Vinyl Liner | $35,000 |
| Fiberglass | $40,000 |
| Concrete | $50,000 |
There's a lot to consider when choosing between the three types of pools, and installation costs are far from the only expenses you'll incur over the life of your pool. Our pool type comparison article also includes ongoing maintenance costs in a handy visual format -- click here to read it.
Of course, cost isn't the only consideration when you're shopping around for a new pool. Maintenance, durability, aesthetics, and usability are all important concerns. We've built a handy Pool Type Selector app to help you figure out which type of pool might be perfect for your backyard. Just click below to take the quiz:
Can you save money with a small inground pool?
No matter which pool type you work with, there is almost always a correlation between the swimming pool's price and its size. Like with a house or any other structure, the more square feet you need to account for and the deeper you need to dig into the ground, the more you will likely pay.

Let's compare two fiberglass pool sizes as an example. You might get a 12x24 fiberglass pool for around $40,000 to $45,000, while a 16x40 fiberglass pool might fall into the $50,000 to $85,000 price range.

If you want to save money on an inground pool, we usually recommend choosing a smaller pool size. With the right design, a small pool can still provide plenty of space for swimming, playing, and cooling off on hot summer days. The smallest inground pools tend to be cocktail pools or plunge pools -- click the link in this sentence to read about these smaller pools and discover if one of these pool types might be right for your backyard.
Read more: A Guide to Inground Swimming Pool Size, Costs, and Prices: Everything You Should Know

The Pros and Cons of Vinyl Liner Pools
If your main goal is to build the cheapest inground pool that you can find, you're probably going to end up with a vinyl liner swimming pool.

The fact is that vinyl liner pools are almost always the cheapest option, and that makes them excellent for anyone who wants to stick to a smaller budget.

But before you start looking for pool builders in your area, we want to give you a quick overview of the vinyl liner pool pros and cons.
Vinyl Liner Pool Advantages
Lower upfront costs - Vinyl liner pools are known as the cheapest inground pools to build.
Customizable shape - Choose from freeform, geometric, or even custom designs.
DIY friendly - You can DIY parts or all of the construction (but it's a good idea to get help if you're inexperienced in pool building).
Soft surface - Pool liners have a smooth surface that won't cause scrapes or cuts like concrete pool plaster.
Vinyl Liner Pool Disadvantages
High lifetime costs - Pool liner replacements alone can cost an additional $35,000 or more over the swimming pool's lifespan.
Not durable - The structure of a vinyl liner pool is not as durable as that of a concrete or fiberglass pool. The surface is also prone to tearing, floating, and cracking.
May not add to the value of your home - Vinyl liner pools aren't typically viewed as permanent structures. Therefore they may not increase the value of your property.
High maintenance - Changing the pool liner every 5-9 years, plus general maintenance, means more work for you.
Not pet-friendly - Dog and cat claws can easily puncture a vinyl pool liner, making vinyl pools a less pet-friendly option.
Incompatible with in-pool furniture - Placing furniture on a soft, tearable liner isn't a good idea. If your vinyl pool has a tanning ledge, be extra careful with what you place there to avoid damaging the surface.
Not salt system compatible - Polymer pool walls will work fine with a salt system, but metal pool walls (cheaper than polymer) will corrode over time.
Looking for more information on vinyl liner pools? Here are a few articles that you can check out next:
Vinyl Liner Pool Basics: Pros, Cons, and How They're Made
How Long Do Vinyl Liner Pools Last?
How to Make Vinyl Liner Pools More Attractive
Ultimate Budget Guide for an Inground Vinyl Liner Pool
Still not sure which inground pool type is right for you? If you haven't tried our Pool Type Selector (you can get to it by clicking the button we placed a few paragraphs above in this article). download our free comparison ebook by clicking below. It's got a treasure trove of info on all three types of pools, so you can make confidently choose the best pool for your home.
At River Pools, we manufacture world-class fiberglass pools for customers across North America. If you think a fiberglass pool might be a better fit for your home, you can browse our pool models, try out our pool pricing calculator, or request custom pricing using the button below.
Happy swimming!