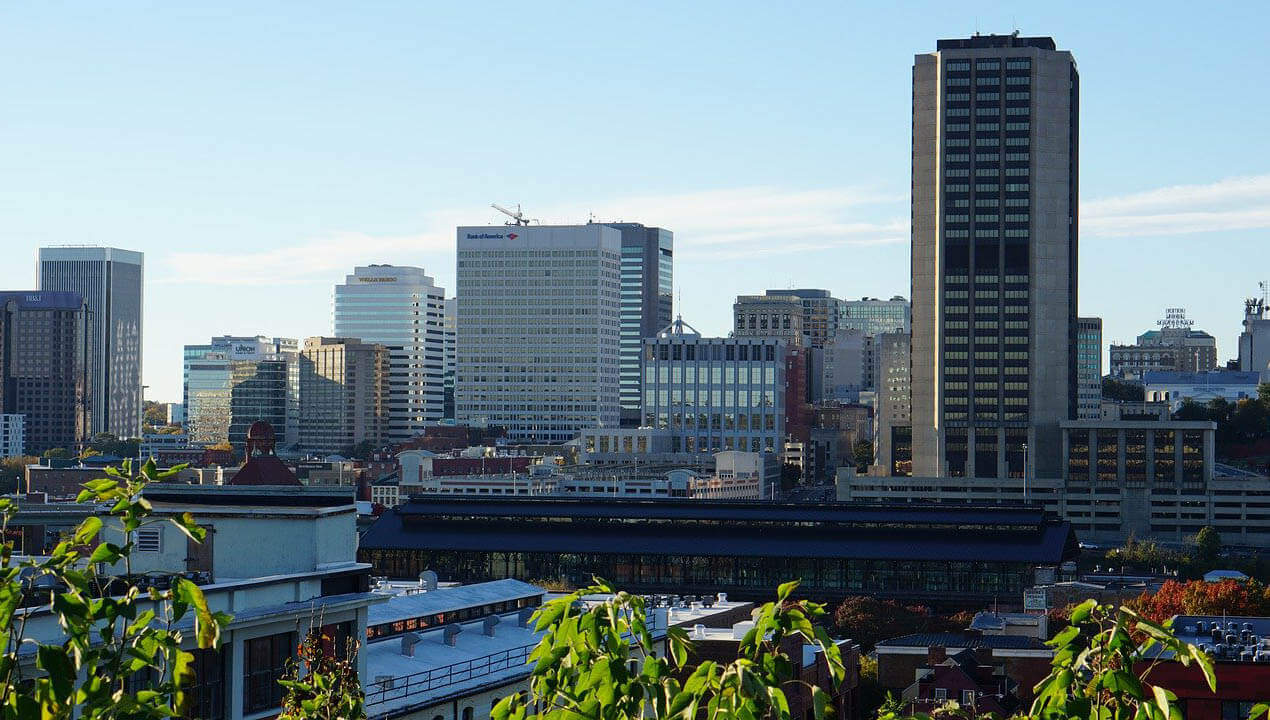 Subscribe
How Much Does an Inground Pool Cost in Richmond VA?
Fiberglass vs Concrete vs Vinyl Liner | Cost and Pricing
Are you shopping for a swimming pool in Richmond, Virginia? Tired of having to go to the river or public pool for a swim?

We get it.

We also get that inground pools aren't always cheap.

As fiberglass pool manufacturers with years of installation experience, we have spoken with many customers and have heard their concerns. Over the years, we've learned that the pool's cost is often the biggest factor when deciding which inground pool to purchase.

Since we know how important pricing is to pool shoppers, we'll break down how much inground pools in Richmond, VA might cost and explore your different installation options.
Richmond Swimming Pool Prices
| | |
| --- | --- |
| Inground Pool Type | Inground Pool Prices Richmond VA |
| Vinyl Liner | $25,000 - $65,000 |
| Concrete | $50,000 - $100,000 |
| Fiberglass | $30,000 - $85,000 |
How much does an inground liner pool cost in Richmond?
Liner pools are the cheapest inground pools to build and cost about $25,000 to $65,000 on average in the Richmond area. Smaller liner pools should cost on the lower end, and DIY pools can cost even less.
It's important to emphasize that a DIY pool can cost even more if you make a lot of mistakes, so be sure to get an experienced professional to help you out.
If you want to keep your building costs down, you can avoid some of the more expensive upgrades. Overall, the cost of your vinyl pool project will typically increase with:
Larger pool kits
Thicker liners
Polymer wall panels
Note: While vinyl liner pools are the cheapest to construct, they are not the cheapest inground pools to maintain.
How much does a concrete inground pool cost in Richmond?
A concrete pool in Richmond might cost between $50,000 and $100,000 depending on the size of the pool and the pool's interior finish. For example, plaster is the cheapest finish, while tile is the most expensive.

Keep in mind that concrete pools take the longest to build at an average construction time of 3 to 6 months. They are also the most expensive inground pools to maintain long-term.
How much does a fiberglass inground pool cost in Richmond?
A fiberglass pool in Richmond might cost anywhere from $30,000 to $85,000 and up depending on the size of the pool model and the installation package. Many small inground fiberglass pools can stay within the $40,000 to $45,000 price range with some careful budgeting, and larger pool models typically fall within the $65,000 to $85,000 price range.

Note: fiberglass pools are the cheapest to maintain, but the pool shapes are generally not customizable.
Inground Pool Installation Richmond VA
Most inground pools can be installed in several different ways, including:
Above ground
Inground
Semi-inground
Vanishing edge
Installing your pool above ground or semi-inground is pretty much guaranteed to increase the cost of your project. The amount that the price increases will depend on your building materials and the detail that you put into the design.

For example, building your swimming pool above ground with a wrap-around deck will cost much more if you use pine wood instead of mahogany. Using more expensive materials for your retaining wall can also significantly raise the cost of your pool.
Note: The more work your yard needs before you can build a pool, the more you can expect your project to cost. You can read about rock, groundwater, and sloped yards to learn more.
Indoor Swimming Pool in Richmond VA Prices
Thinking about building an indoor pool in Richmond? First of all, if you're wondering if an indoor pool will cost more than an outdoor pool, we can confirm that it will.

The indoor facility will need to provide adequate ventilation, insulation, and space to house and maintain an inground swimming pool. That can likely add up to over $100,000 in addition to the price of the pool itself.

Read more: Indoor Swimming Pools 101: Cost, Construction, Advantages
Which inground pool is best?
Being that we're based in Virginia and we do installations here, we've seen our fair share of vinyl, fiberglass, and concrete pools in Richmond. While we can't say which pool type is best for the Richmond area, we can say that the right inground pool for you will come down to budget, aesthetics, and function.

In short, we recommend getting clear on your pool budget early on so that you can find a pool that truly complements it. We also recommend that you explore the different pool types and designs to see which looks best to you (after all, it will be a permanent addition to your home). Finally, it's important to think about the day-to-day functionality of each pool type so that you can make an informed decision.

Here are a few points to consider:
Vinyl liner pools are generally the cheapest pools to build (but not to maintain).

Concrete pools are usually the most expensive to build and maintain over time.

Fiberglass pool prices typically fall somewhere in the middle, but they are the cheapest inground pools to maintain.

Fiberglass pools are low-maintenance.

Concrete pools are easy to customize in terms of size, shape, depth, built-in features, and building materials.

Vinyl liner pools are the most DIY friendly (but proceed with caution).

You may be able to customize the size and shape of your vinyl liner pool.

Fiberglass pool shapes cannot be customized.

Fiberglass pools are installed quicker than vinyl and concrete pools.

Vinyl liner and fiberglass pools have smooth, comfortable surfaces, while concrete pool surfaces can be rough.
Still not sure which inground pool you want? You can download our free ebook or check out the guides linked below.
Fiberglass vs. Vinyl Liner vs. Concrete Pools: An Honest Comparison

Pool Construction: Comparing Concrete, Vinyl Liner, and Fiberglass Installations

At River Pools, we manufacture world-class fiberglass pools for customers across North America. If you're interested in one of our pool models, click the button below to fill out our contact request form, and we'll reach out to you soon to walk you through your options. In the meantime, you can try out our pool pricing calculator to see how much a fiberglass pool might cost with all of your favorite add-ons. Happy swimming!