Subscribe
Inground Pool Kits 101: Types, Costs, Tips
Fiberglass Pool Information | Fiberglass vs Concrete vs Vinyl Liner | Installation & Construction | DIY Fiberglass Pools | Cost and Pricing | Concrete Pool Information | Vinyl Liner Pool Information
If you've ever built a toy model or assembled furniture from a box, you might think that a pool kit is similar to that. In some ways, you are correct. An inground pool kit comes with many of the parts that you need to put your pool together, but in the end, it's more than just assembling the pieces.
Building a swimming pool is a construction project, and it requires much more than you will get in any inground pool kit. At River Pools, we know from our many years in the fiberglass pool business that pool building gets messy and requires a long list of supplies.
So, what do inground pool kits include and what are they missing? How much do they cost and what types of pool kits are available? In this article, we'll answer all of these questions and more.
Inground Pool Kits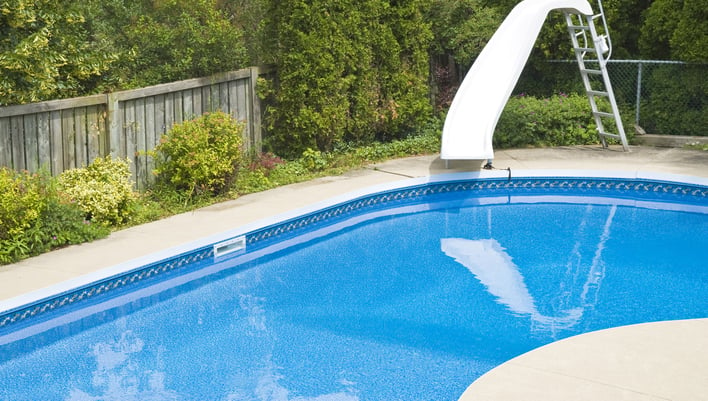 Types of Inground Pool Kits
You'll have three main options when it comes to inground pool kits: vinyl liner, fiberglass, and concrete. If you're buying a pool kit because you want to DIY your inground pool installation, there are a few key questions that you first need to consider:
What kind of warranty do you want your pool to have?

Will you have someone experienced to help you with the installation?

What does your overall pool budget look like?
Before we dive into your inground pool kit options, we want to make you aware of some of the key pitfalls of DIY pool projects. Most importantly, the warranties are often extremely limited, and many people find that installing a pool is a lot harder than they expected.
Take some time to establish your pool budget and consider your other options to see if you can get a professional installation that comes with a more extensive warranty.
Now, let's break down the types of pool kits that you can buy.
Vinyl Liner Pool Kits
When most people search for inground pool kits, they're most likely looking for a vinyl liner pool. Vinyl liner pools are commonly installed DIY, and even people with amateur construction experience can often pull off a liner pool installation, provided they have some guidance from an experienced builder.
What's in a vinyl liner pool kit?
If you are looking to buy a vinyl liner pool kit (in-store or online), you'll have many decisions to make. Specifically, you'll need to choose:
You might also get to add an automatic chlorinator or saltwater chlorinator to your liner pool kit. However, it's important to note that salt systems are not compatible with vinyl liner pools that have metal walls (the salt can corrode the metal and lead to rust or holes in your pool walls).
Keep in mind that each vinyl liner pool kit will vary by manufacturer or retailer. Many of the items are also optional, so the contents of the kit will depend on what you choose to add.
Additional supplies that you'll need
The liner pool kit should contain most of what you will need to construct the pool, but there are still many things that you will need to complete the installation. These include:
Installing a pool is a major construction project, so you'll probably need many other supplies along the way. If you hire a contractor to do the installation for you, they should provide a list of the necessary materials and most likely source them for you.
How much does a vinyl liner pool kit cost?
Because vinyl liner pool kits can vary and many of the items and upgrades are optional, it's hard to tell you exactly how much you will need to pay for one. However, we can give you a price range.
Overall, you can expect to spend between $5,000 and $10,000 on your pool kit, with smaller pools on the lower end and larger pools falling on the upper end.
Custom liner pool shapes can even cost $15,000 to $20,000 or more.
The filter, wall material, liner, and other options that you choose can also dramatically affect the price. For example, just the liner by itself can cost anywhere from $700 (for very small and cheap liners) to well over $2,500 for larger and thicker liners.
Side Note: The total cost to replace a liner is $4,500 or more on average. This includes the pool liner, replacement parts, draining and refilling your pool, repairing damage, chemicals, and the labor to replace the liner.
Accessories like slides, heaters, chillers, lights, and automatic cleaners will also increase the price of your pool kit.
Keep in mind that thicker liners, variable speed pumps, and polymer walls are more expensive and will up the price of your pool kit. It's also important to note that any necessary parts that you don't add to your kit will still need to be purchased separately.
Fiberglass Pool Kits
Fiberglass pool kits are popular among DIYers, but it's also common for people to buy a fiberglass pool kit and hire a contractor to do the installation. All pool kits can vary widely by manufacturer and retailer, but these are the fiberglass pool kit basics that we can share based on our experience.
What's in a fiberglass pool kit?
All fiberglass pool kits will at least include the most important part...the fiberglass pool shell. In addition to the pool shell, a fiberglass pool kit may also include:
Fiberglass pool kits will vary with some being very basic and others including all of the above and more. Many do not include the cost of shipping, which can add thousands of dollars to the price, and most will not provide sanitizing systems or pool covers.
Keep in mind that your fiberglass pool kit will most likely not include the backfill material for your pool, concrete, a heater or chiller, basic tools, water features, or materials for your coping and patio.

How much does a fiberglass pool kit cost?
The price of every fiberglass pool kit will be unique, depending on the pool size that you select and any additional features that you add. Overall, the price of your pool shell plus your pump and filter system and shipping can cost anywhere from $15,000 to $35,000 and up.
The more items that are included in your pool kit and the more accessories that you tack on, the more you can expect to pay.
As with a vinyl liner pool kit, the necessary materials not included in your fiberglass pool kit will still need to be purchased separately.
(Read next: Top 5 DIY Fiberglass Pool Kit Mistakes and Considerations)
Concrete Pool Kits
As you can probably imagine, it's a little bit harder to package a concrete pool into a kit. Concrete pools are built with a web of rebar, sprayed concrete (shotcrete or gunite), and a plaster, aggregate, or tile finish.
While most of what you get in a vinyl liner or fiberglass pool kit is the pool itself, with a concrete pool kit, you'll probably get everything but the pool.
Concrete pool construction requires a long list of tools and materials, and you will have to buy most of what you need on your own. So, what is included and what can you expect? Let's take a look at this in detail.
What's in a concrete pool kit?
First and foremost, you're probably not going to get the rebar, concrete, or shotcrete/gunite equipment to build the actual swimming pool. You also won't get excavation machinery or the hand tools that you'll need to complete the project. However, your concrete pool kit might include things like:
How much does a concrete pool kit cost?
Concrete pool kits are more uncommon than fiberglass and vinyl liner pool kits. Most people simply don't DIY their concrete pool construction because of how extensive and messy it can get (concrete pools can take 3-6 months to build).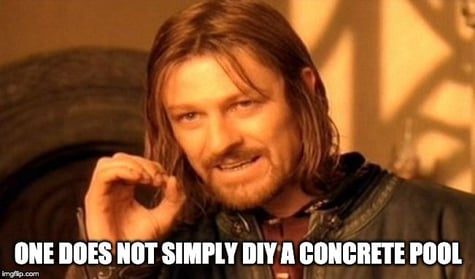 The cost of each kit will depend on what's included, but in general, you can expect to pay $3,000 and up.
Keep in mind that you will still have to pay thousands of dollars for supplies, materials, equipment, and labor as your concrete pool kit will only provide a few basic items.
Have any more questions about inground pool kits? Please leave them for us in the comments, and we will answer you as soon as possible.
At River Pools, we manufacture and install world-class fiberglass pools for customers across North America. We strongly recommend that you work with an experienced pool builder on your inground pool project. If you're concerned about the price, be sure to shop around and check out our pool builder vetting checklist so that you can get the pool that you want and still stay within your budget.
Wondering how much a fiberglass pool will cost plus installation? Try out our pool pricing calculator below or contact us today for the most accurate estimate.
---

Want to see about how much that cost will be with all your favorite pool accessories?
Use our Design and Price Tool to walk through your options and approximate price!
---
Before you go, be sure to download your free ebook for an in-depth comparison of fiberglass, concrete, and vinyl liner pools. Happy swimming!
Up Next:
The Pros and Cons of Fiberglass Pools
What's the Best Small Fiberglass Pool for Your Needs? Costs, Sizes, Features

How Much Does it Cost to Remove a Concrete Pool?