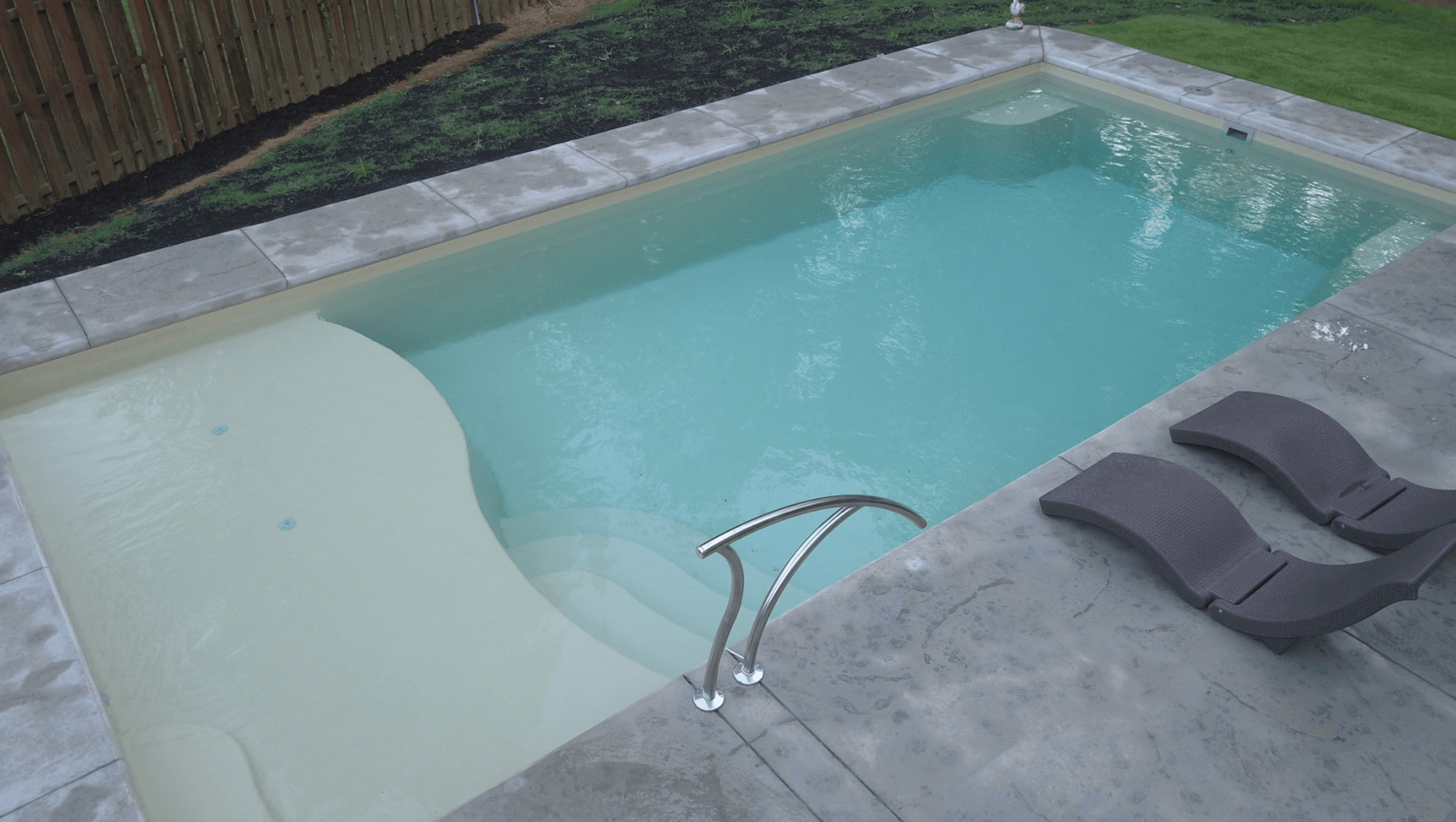 Subscribe
What Can You Expect From a Fiberglass Pool Kit?
Fiberglass Pool Information | DIY Fiberglass Pools
We're not psychics, but we're guessing you're thinking about getting a fiberglass pool kit.
After all, that's why you're here, right?
While we don't have mind-reading superpowers, we are pretty great at manufacturing and installing fiberglass swimming pools. Since you're looking for information on fiberglass pool kits, like how much they cost, what they include, and mistakes to avoid, we want to help you out by sharing as much of our knowledge as we can.
In this article, you'll learn about fiberglass pool sizes, costs, materials, and more, and we hope that it can give you a better idea of whether buying a fiberglass pool kit is the right choice for you. Let's start by breaking down what's included in a standard fiberglass swimming pool kit.
What's included in a fiberglass pool kit?
Your fiberglass pool kit will come with a few essentials, depending on who you buy it from. Typically, it will include:
The pool shell

Some hardware

Dig sheet

Instructions
Some kits may also include:
What's missing from a fiberglass pool kit?
Depending on who you buy it from, you can get either the bare necessities or almost everything you need to install your pool. However, there's still a lot that you probably won't get from any fiberglass pool manufacturer or seller, and these are absolutely necessary to fully completing your inground pool project.
The things that you likely won't get from a fiberglass pool kit include:
While many fiberglass pool kits are comprehensive, including things like saltwater generators, chemicals, or a pool cover, most are pretty basic. You'll find that almost no fiberglass inground pool kit will include concrete, backfill material, or the actual equipment and tools that you need to get the installation done.
You might think that the patio is an easy DIY job if you've worked with concrete, pavers, or other decking materials before, but it's the coping that's the tricky part. Be sure to find someone who has done fiberglass pool coping before to help you out.

Fiberglass pool kit prices
To give you a rough idea, a small fiberglass pool shell can typically cost between $9,000 and $13,000, a medium-sized fiberglass pool shell might cost between $12,000 and $16,000, and a large fiberglass pool shell can cost between $16,000 and $24,000.
As you probably figured out, the pool shell is the first major thing that will determine the cost of your fiberglass pool kit. Your swimming pool shell cost will be determined mostly by size, but it also varies by the manufacturer and the quality of their materials.
A quick note on fiberglass pool sizes: Small pools are usually in the 10x20 to 12x24 size range. Medium pools might fall between 15x30 and 16x32 feet, and large pools might be in the 16x40 to 20x40 range (Keep in mind that fiberglass pools can only be about 16 feet wide due to shipping requirements.)
Speaking of shipping...don't forget about shipping costs! Most manufacturers will not transport something as large as a fiberglass pool shell for free unless it's included in the kit price. You can expect to tack on an additional $600 to $2,500 or more to ship the pool to your home, depending on where it's coming from.
As we explained in the first section of the article, not all pool kits include the same things. The price will definitely be affected by the amount of accessories and equipment that come with your pool shell, but at the very least, you can expect to pay up to $1,000 or more for your pump and filter system.
Fiberglass pool kits for DIY projects
People who buy fiberglass pool kits are typically those who want to DIY the pool installation. While this can help you save money, it's important to keep in mind that you can risk damaging your pool or make critical installation errors, especially if you have no experience. You might also void your warranty if you don't install it according to the manufacturer's instructions.
In our expert opinion, it would be best to hire a fiberglass pool installer or find someone who has lots of experience in this area to help you out.
What are my small fiberglass pool kit options?
A lot of people ask us about fiberglass pool kits because they want to save money. For this reason, the small fiberglass pool kit is one of the most popular requests because it tends to be the most affordable.
With most fiberglass pool manufacturers, you'll find a variety of small swimming pool designs to choose from, including freeform and linear. You'll also find plenty of designs that have built-in features like tanning ledges and spas, even on the smallest models.
So, if you really want to invest in a small fiberglass pool kit, you'll have no shortage of options to choose from across all fiberglass pool manufacturers.

Where can I get a fiberglass swimming pool kit?
Here's one thing that you may find while shopping around for a fiberglass pool kit: not all manufacturers offer pool kits for sale. While every manufacturer sells swimming pools, you'll find that some will only sell the pool if it's going to be installed by a professional. This is a policy that is normally instated to ensure that the customer gets the best experience possible with their fiberglass swimming pool.
Keep in mind: A fiberglass pool installation is not an easy DIY project. We would compare it to building a house. This project will require a lot of equipment, plumbing work, electrical work, and other hidden factors that can turn your fun DIY project into a major headache. It takes practice and expertise to do it right.
But don't get us wrong! If you're a home improvement king or queen and you have the resources and experience to do it, we won't deny you the savings or bragging rights that you get from installing your own pool. Just consider getting help from an experienced contractor if you have any doubts.
Ready to take the next step in your project? Watch the video below to learn about the fiberglass pool kit mistakes to avoid.
At River Pools, we manufacture and install world-class fiberglass swimming pools for customers all over North America. If you want to explore some fiberglass pool designs, sizes, and features, feel free to check out our catalog of models.
Interested in learning about the price of a fiberglass pool with all of your favorite add-ons? Try out our fiberglass pool pricing calculator below, or contact us today to get the most accurate estimate.
---

Want to see about how much that cost will be with all your favorite pool accessories?
Use our Design and Price Tool to walk through your options and approximate price!
---
Before you go, make sure to download your free ebook to help you get started on your journey to a fiberglass pool. Happy swimming!
Up Next:
Fiberglass Swimming Pools 101: Manufacturing, Cost, and More
Fiberglass vs. Vinyl Liner vs. Concrete Pools: An Honest Comparison
A Guide to Inground Swimming Pool Size, Costs, and Prices: Everything You Should Know