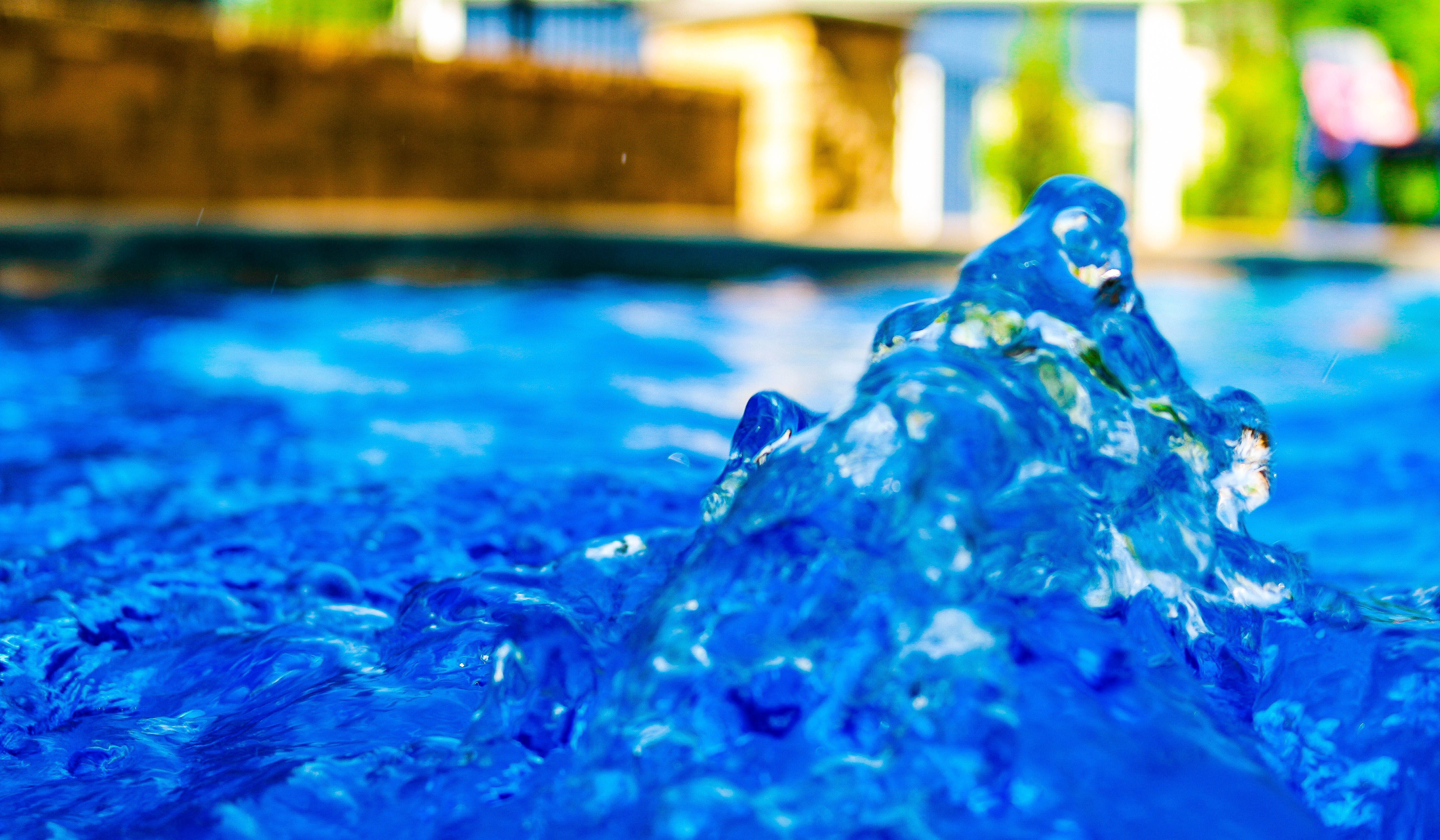 Subscribe
Customizing Your Tanning Ledge: Lights, Bubblers, and More
Options and Accessories | Swimming Pool Accessories | Tanning Ledges
We all know that swimming pools aren't just for swimming - they're for playing, exercising, and most importantly...relaxing!
Picture yourself lying on your pool's tanning ledge with a magazine in one hand and your favorite drink in the other while your kids begin another round of Marco Polo.
You get to relax and they get to play. Everyone is happy.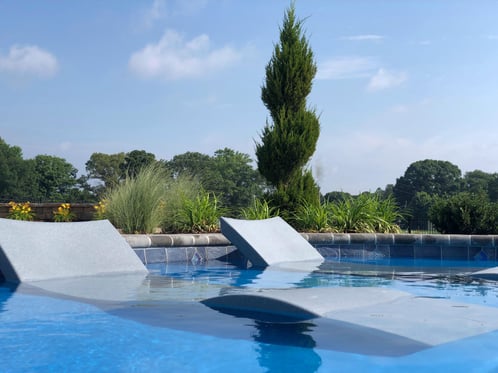 A tanning ledge with two loungers
Your pool should have features that will cater to your family's every need, whether that need is to swim, float on a giant inflatable pizza, take a nap, or keep a close eye on the kids.
Tanning ledges, in particular, can be used for many purposes, but their main function is to provide space for quality R&R. There are a lot of cool features, like bubblers, waterfalls, and lights, that can be added to improve your tanning ledge experience, too.
So which options do you need to consider when building or installing a tanning ledge? We'll break down all of the essentials and offer some pro tips to help you make the best choices for yourself and your family.
At River Pools, we manufacture, install, and service fiberglass swimming pools across North America (including pools with tanning ledges), but in this article, we'll discuss tanning ledge customization across all three inground pool types (concrete, vinyl liner, and fiberglass).
What is a tanning ledge bubbler?
A bubbler is a beautifying feature that not only looks great but sounds great too. Basically, it sends a stream of bubbling water to the surface of the pool, creating a mini fountain effect in the tanning ledge, or any other shallow area where it's installed.
You can also install bubblers that have standard or color-changing lights built in. Now you're ready for a party!
Naturally, kids can't resist playing in these, and the sound of the water can also help to relieve stress as an added bonus.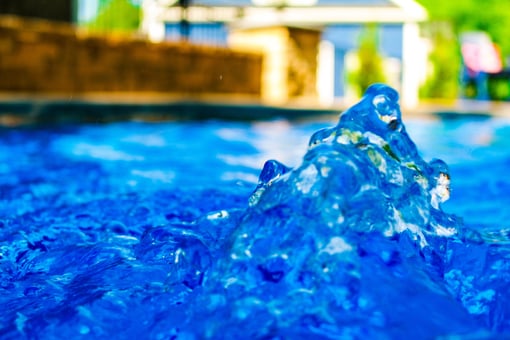 Should you install a bubbler in your pool's tanning ledge?
If you're on the fence about installing a bubbler in your tanning ledge, we recommend getting one anyway. Bubblers are virtually impossible to install once the building or installation of your pool is complete, so you'll need to consider what you'll want as a pool owner later down the line.
Unless you are 100% sure that a bubbler is not for you, we recommend getting at least one in case you do ever change your mind. Each bubbler will cost you $450 to $700, depending on the type, so be sure to leave room in your budget for this.
How many bubblers can you put in a tanning ledge?
The number of bubblers that you install will depend on the size of your tanning ledge and your personal tastes. One bubbler is enough for any tanning ledge if all you want is the relaxing bubbling water sound.
A lot of people choose to install two bubblers to double the fun, give their design some symmetry, and amplify the sound. Some people even install up to five bubblers on their tanning ledges, but the average range is typically one to three.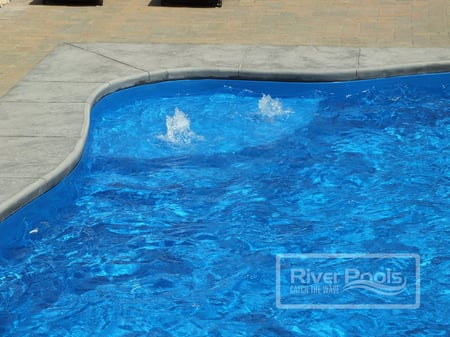 Tanning ledge waterfall
Want to have your own personal swimming pool waterfall? You have two main options for this:
Build one on the side of your pool, or

Create one using your tanning ledge
To make a tanning ledge waterfall, your builder or installer will place your ledge at a slight elevation so that the water can cascade down into the pool.
These waterfalls provide endless fun and offer the calming water sounds that people love. You can create this with fiberglass, concrete, and vinyl liner pools, so this will be an option for you no matter which type of pool you want.
Keep in mind that adding this style of tanning ledge to your pool will increase the cost and build time across all three pool types. Fiberglass is the quickest to install, however, and will only add a few hours to the entire project. Concrete and vinyl liner pools will take at least a day or more to build a tanning ledge waterfall.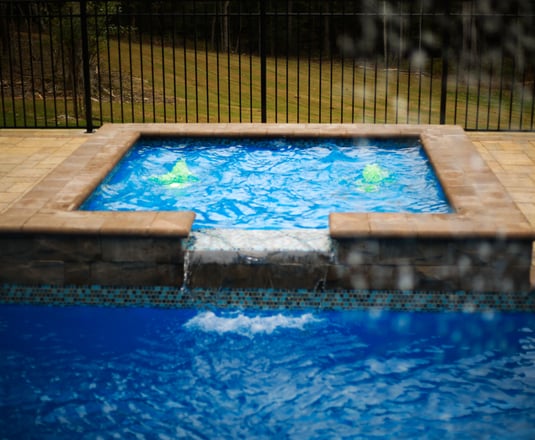 Lighting your tanning ledge - how many lights should you install?
You know that you need lights in your pool, but you might have overlooked your tanning ledge. It's okay, lots of people do! In all honesty, you don't absolutely have to install tanning ledge lights if you don't want to, but we highly recommend installing at least one.
You may want to spend some of your evenings relaxing in the tanning ledge, like when you're entertaining or throwing a party. It won't be as nice if you're in the dark though. Equally important, you'll need to be able to see the perimeter of your pool so that you don't accidentally step into the water late at night.
How will you customize your tanning ledge?
Make sure to let your contractor or installer know what you want in your tanning ledge as soon as possible, whether you're interested in a pool waterfall, bubblers, or color changing lights. These features are nearly impossible to add later on, and your contractor needs to be able to plan accordingly.
As manufacturers of world-class fiberglass swimming pools and tanning ledges, here at River Pools, we're experts in swimming pool customization. If you have questions regarding tanning ledges or anything else, contact us directly or leave a comment below.
While you're here, check out our fiberglass pool models to see if durable fiberglass is the right fit for you. We have swimming pools of all shapes and sizes with tanning ledges built in, like the D Series, the C Series, and the L36.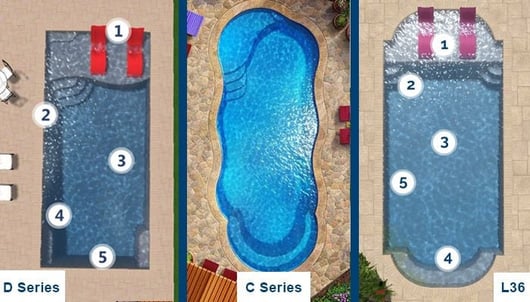 Want to know how much your inground fiberglass pool might cost? Try our free quote tool to get a customized swimming pool estimate today.
If you're curious about the differences between concrete, fiberglass, and vinyl liner pools, download our free ebook below for a full comparison.
Up Next:
How Deep Should a Tanning Ledge Be?
A Massive Review of Concrete Swimming Pools: Costs, Maintenance, Longevity, and More