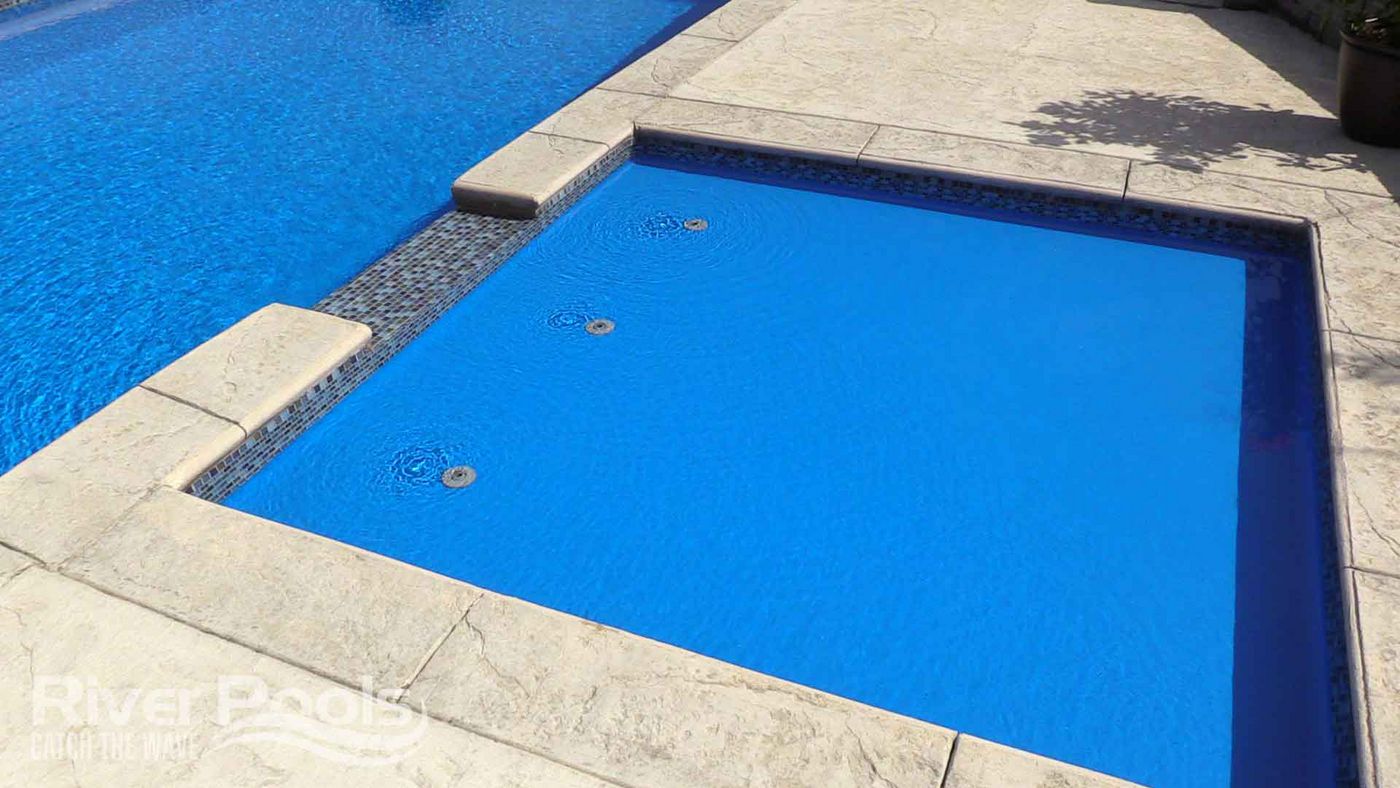 Subscribe
How Deep Should a Tanning Ledge Be?
Pool Design Guides | Tanning Ledges
Gone are the days of either lying next to the pool or standing in it.
Enter the tanning ledge: a place where you can actually lie down in the pool, with or without furniture (and without having to hold your breath!).
If you don't know what a tanning ledge is (some call it a baja shelf, sun shelf, or tanning shelf), think of it as a very shallow zone in or next to the main pool where you can relax and keep cool.
It's a simple concept, but the depth is an important detail that can make or break your whole experience.
In this article, we'll dive into the proper tanning ledge depth and tell you what you need to know about them before purchasing or building your swimming pool.
At River Pools, we manufacture, sell, and install fiberglass swimming pools, but we'll fill you in on standard tanning ledge dimensions across all pool types so that you can decide which depth is right for you.
What's the average tanning ledge depth?
Most tanning ledges are between 9 inches and 18 inches deep, but they can be even deeper, depending on the builder or manufacturer. As you'll find out, a shallower tanning ledge is much more usable and versatile than a deep one.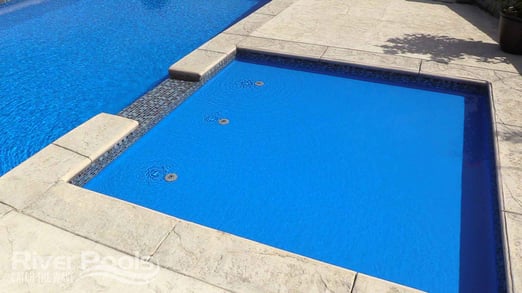 How deep should a tanning ledge be?
Our expert opinion is that the perfect tanning ledge depth is between 9 and 12 inches. Keep in mind that this is not the depth of the water but the tanning ledge itself. The water will be about three inches lower than the ledge, so a 9-inch ledge will have 6 inches of water, and a 12-inch ledge will have 9 inches of water.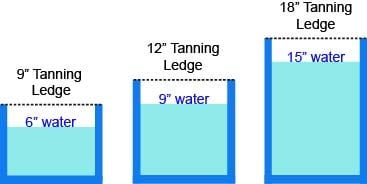 This might seem kind of low to you, but there are three key reasons why 9 to 12 inches is the best depth range:
Most furniture will float in water that is more than 9 inches deep. This means that if your tanning ledge is over a foot deep, you'll need to buy special furniture that won't float away.
This depth range is perfect (and safe!) for small kids and pets. Tanning ledges deeper than 12 inches are not as pet friendly or kid friendly.
You can comfortably lounge and relax in the water without furniture. Deeper water will make this almost impossible.
See for yourself: Take a ruler or measuring tape and lie down somewhere comfortable. At six inches, see how much the water would cover you and test how far you would need to lift your head to breathe. Try it again at nine inches, then at fifteen inches. You'll notice that by fifteen inches you'd practically have to sit up just to get air.
Check out our illustration to see how the water depth affects your children, pets, and furniture. Keep in mind that the dog was drawn to have a height of a golden retriever, which is a relatively large breed.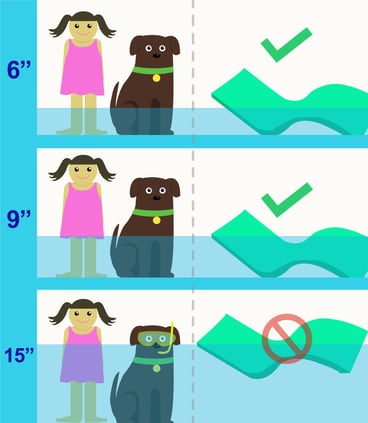 How to find out your tanning ledge dimensions
When it comes to concrete and vinyl liner pools, you need to discuss the depth of your tanning ledge with your builder or designer. Don't make the mistake of leaving this part of the design up to them or else you could end up with a tanning ledge that is way too deep.
At River Pools, we manufacture all of our tanning ledges to be no deeper than 12 inches, which means that the water in your tanning ledge will be never be more than 9 inches deep.
Warning: not all fiberglass pools are created equal. Other fiberglass pool manufacturers may make their tanning ledges as deep as 18 inches. In our opinion, this minimizes what you can do with it and takes away a lot of the fun. Be sure to ask your fiberglass pool manufacturer for the exact tanning ledge dimensions before making a purchase.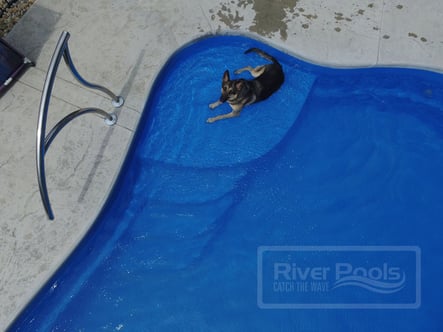 We know of several scenarios where your ledge may be too deep. For example, your dog may be too short to walk in 15-inch deep water, and you can't just use any furniture when the water is this high without it floating out to sea. You can't really recline in this depth either while lying directly on the ledge, so it's just not optimal for most people.
Like everything else, however, the depth of your tanning ledge will also come down to personal preference. Who are we to say that you can't have what you want? Sure, we're swimming pool experts, but you know your needs best!
Tanning Ledges Vs. Benches
If you find yourself interested in both shallow and deep tanning ledge options, you don't necessarily have to choose between the two. Deeper tanning ledges are a lot like benches, which are smaller shelves that you can sit on in the pool (think of it as a regular bench but underwater).
These can be in the shallow end or the deep end, and you can expect the water to come up to your waist or your shoulders, depending on how tall you are.
A lot of swimming pool designs across all pool types have integrated benches. Many have benches and a tanning ledge with each offering a different experience. If you can't seem to choose between a 9-inch tanning ledge and an 18-inch one, consider building or installing a pool that has a tanning ledge and one or more benches.
Take a look at our L36 model below to see what it would look like to have both a deep-end bench and a tanning ledge.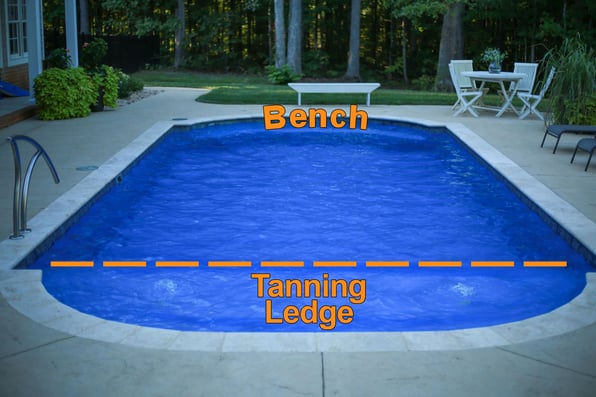 So what's the best option for you?
Ultimately, to determine which tanning ledge depth is right for you, you need to ask yourself two questions:
1. Why do I want a tanning ledge?
2. How will I use my tanning ledge?
If you're still on the fence about whether a tanning ledge is right for you, check out our infographic to help you decide.
As manufacturers of world-class fiberglass swimming pools, we have a wide selection of models with and without tanning ledges to choose from. To learn more about our models, pricing, and installation, contact us today or leave a comment below.
Want to know more about how fiberglass pools compare to the other two types? Download our free ebook now for all the details.