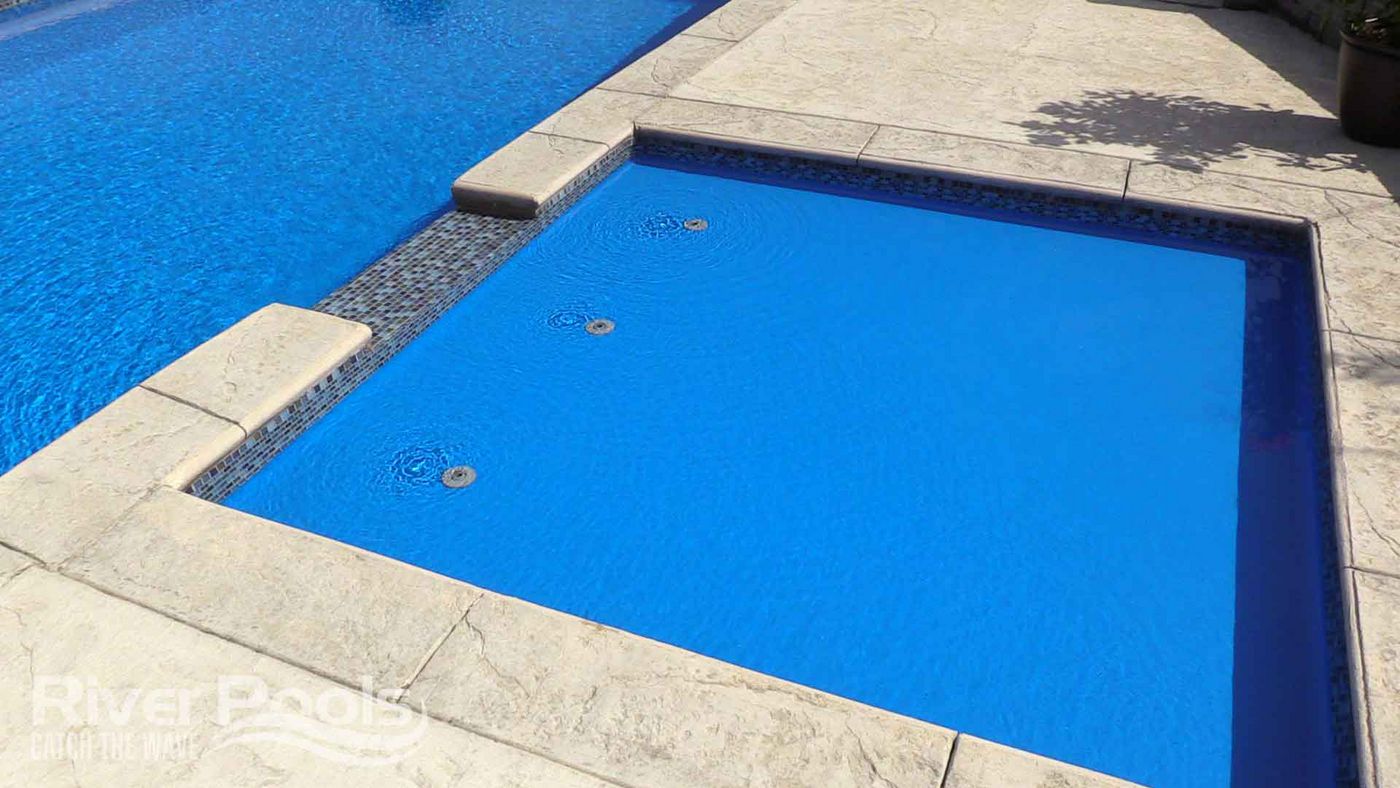 Subscribe
Should You Get a Tanning Ledge? (Infographic)
Options and Accessories | Swimming Pool Design | Tanning Ledges
How would you feel if we told you that there is a feature that could double the usefulness of your swimming pool? We know that you're not spending thousands of dollars on your pool just to stare at it (although swimming pools are beautiful things!).
The feature we're talking about puts you back in the pool for all the activities you would traditionally do poolside.
This feature is a tanning ledge. Some call it a baja shelf, a sun shelf, or a tanning shelf, but it makes no difference.
Your tanning ledge is a ledge or shelf in the pool that extends several feet, usually giving you enough space for one or more pieces of furniture. It's typically only deep enough to keep you cool, meaning you're not actually going to swim or float in it. Take a look at the picture below to see what we mean.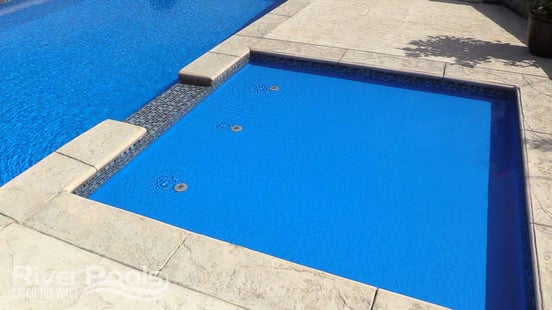 You might be wondering why anyone would want such a shallow area in their pool. Read on to see what people usually do with their tanning ledges and why they can be a great feature.
At River Pools, we manufacture, sell, and install fiberglass pools, but we'll give you the lowdown on tanning ledges across all pool types. By the end of this article, you should have a good sense as to whether this feature is right for your swimming pool.
What is a tanning ledge for?
Maybe the best way to tell you about all of the things you can do with a tanning ledge is to provide a list of ways that people use them. Be sure to leave a comment below if we left anything out!
Keeping cool in the summer

Resting after swimming and exercise

Napping

Enjoying a drink or having a meal

Socializing with friends

Playing with your dog

Using it as a safe play space for babies and toddlers

Tanning...while wearing sunscreen of course

Playing a board game

Reading a book

Bird watching, if that's your jam
You get the point. All of the things that you would typically do poolside you can now do in the pool while cooling off in the water. Now that sounds like the best way to unwind after a long day, or just because! Go ahead, you deserve it. It's called self-care.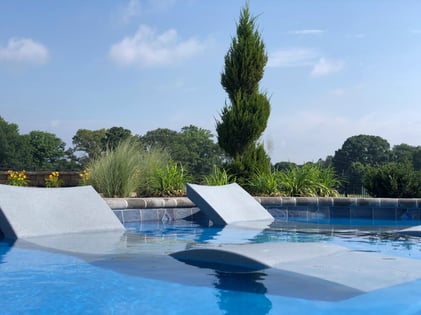 Who would benefit from a tanning ledge?
If none of that sparked your interest, consider the other people who are going to be using the pool. Do you have small children? Will your pets be in the pool? Would anyone in your household enjoy lounging in the pool on a chair? If you answered yes to any of these, you might want to consider choosing a design with a tanning ledge or adding a separate tanning ledge on the side.
Will the tanning ledge take up a lot of space?
Your tanning ledge doesn't have to take up a lot of space if you're concerned about that. Some are only large enough for one lounge chair while others can fit several. Take a look at these two models that we offer to get a better idea of what your options are in terms of square footage.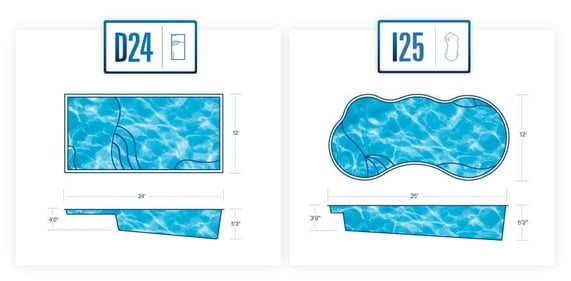 The D series pools have tanning ledges that span the entire width of the pool, while the I25 from the I Series has a tanning ledge that takes up a much smaller area. Concrete or vinyl liner pool tanning ledges can be customized to suit your needs, so you can have the dimensions that work for you.
Choosing a fiberglass pool with a tanning ledge built in will not add any additional customization costs to the project. You will, however, have to pay more for your tanning ledge if you're building a concrete or vinyl liner pool.
In-pool furniture
If you like the idea of having furniture in your pool, you definitely need to request a tanning ledge. You won't be limited to lounge chairs and umbrellas - we've seen everything from tables to ottomans to couches on tanning ledges, so there are more options than you probably think.
Of course, you don't need to put furniture in your tanning ledge, but having a tanning ledge gives you that option if you ever decide that you want that.
Pro Tip: If you don't want furniture but still want a tanning ledge, we definitely recommend going with a fiberglass swimming pool that either has a ledge built in or a separate ledge on the side. The gelcoat has the smoothest finish and is the most comfortable for standing, sitting, and playing while still being slip-resistant.
Are tanning ledges pet friendly?
Yes! Just to be clear, we're thinking dogs (although some cats are avid swimmers). If you have pets that like to get in the water and swim, or if you think they might, you may be interested in a pool with a tanning ledge. Unless you have a very tall pet, like a St. Bernard, your dog won't really have a place to walk around on in the pool without a tanning ledge.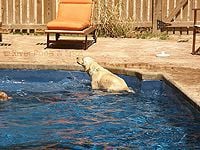 Caution! Vinyl Liner tanning ledges are not the best idea if you plan to have pets or furniture on the ledge. The liner is sensitive to wear and tear, and heavy furniture and/or animal claws can do some real damage!
Some vinyl liner contractors will build tanning ledges with concrete, and in that case, you'll be good to go for furniture and pets. Concrete tanning ledges tend to have rough surfaces, however, and they are less pleasant to walk and sit on.
Are tanning ledges kid friendly?
We can confirm that kids of all ages enjoy using tanning ledges. Most parents love them because they provide babies and toddlers with a safe space to join the family in the pool. Older kids often like to use the tanning ledge to rest between racing and playing games.
Teens also use tanning ledges to socialize with friends or relax when they just want to hang by the water. It's definitely not a feature that your kids will outgrow.
Who would not like a tanning ledge?
If you're not much of a poolside lounger and no one in your family likes to do this either, you might not want a pool with a tanning ledge. If you only want your swimming pool for swimming laps and exercise, there's really no need to build or install one.
If you're somewhat interested but not fully invested in the idea, you might want to choose a model with a smaller ledge built in or install a separate fiberglass tanning ledge beside your pool. In the case of vinyl liner and concrete projects, you can build a small tanning ledge in or next to your pool so that you always have the option to use it.
Still unsure if a tanning ledge is right for you?
Check out our infographic below to see whether a tanning ledge is a good fit for your needs: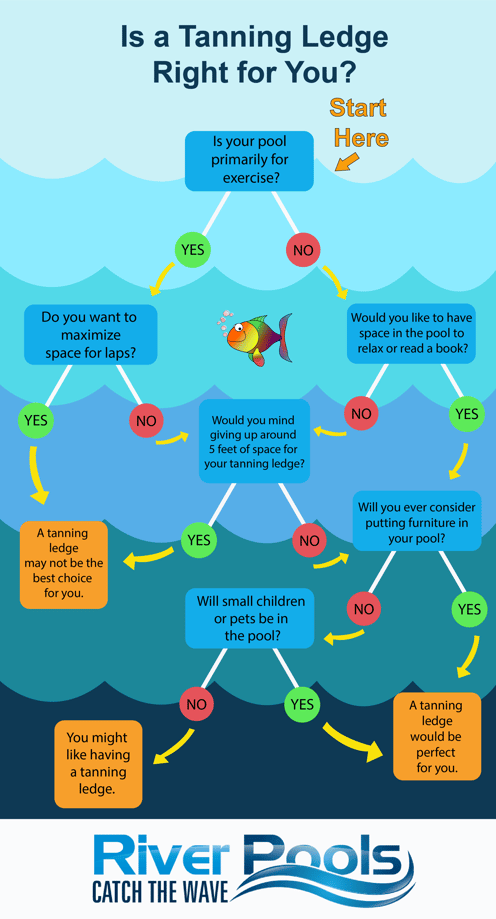 As manufacturers of world-class fiberglass swimming pools, we have a large selection of models with and without tanning ledges as well as separate tanning ledges available. View all of our models and check out our pricing guide today to learn more.
If you have any questions about our models regarding pricing, installation, or anything else, contact us directly or leave a comment below!
Want to know more about how fiberglass pools compare to the other two types? Download our free ebook for all the details.