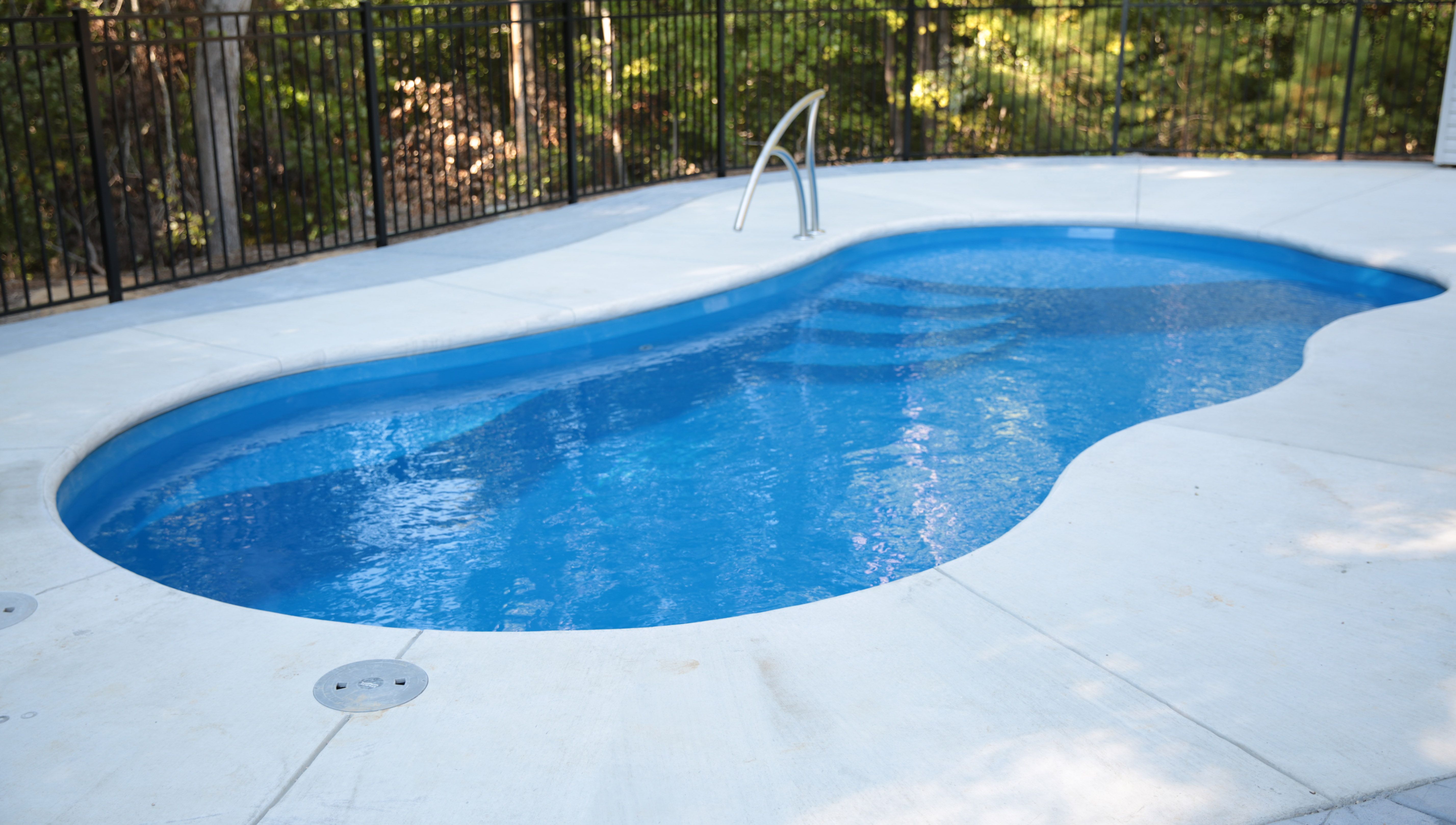 Subscribe
21 Small Inground Pool Ideas for All Budgets
Options and Accessories | Swimming Pool Accessories | Swimming Pool Design
Inground pools aren't just for people with big yards and big budgets.

Actually, some of the coolest projects we've seen featured small swimming pool models. Say whaaaaaaat?

While there are tons of reasons why you may want a small inground pool, we have discovered over the years that people prefer small inground pools because they tend to cost less, depending on the complexity of the install, and fit in most spaces.

Smaller pools are often called cocktail pools or plunge pools, depending on their dimensions and depths. Click the link in the previous sentence to learn more about these smaller pools.
But to give you as many ideas as possible and to provide the most inspiration, we've rounded up all of our top small pool ideas with pictures, including budget-friendly and space-saving options. You may not be able to fit every single kid from the soccer team in the pool, but there are options out there that can help you and those you care about have a summer to remember. Don't forget your phone for pics and to play that poolside playlist!


One more friendly reminder for you all: this is a compilation of things we have seen in the inground pool industry. Ultimately, to obtain pricing specific to your project and needs, you should speak to the builder you are considering hiring for the job.


Without further ado, here are 21 small inground pool ideas to consider adding to your pool project.
Small Inground Pool Design Ideas
1. Add a Tanning Ledge
(or choose a pool with one included)
A tanning ledge is the perfect spot for relaxing in the pool on a hot summer day. Also known as a tanning shelf or Baja shelf, a tanning ledge is a must for anyone who wants pool furniture, water features, and space to rest or for the kiddos to play. If your pool design does not have a tanning ledge built-in, you can often add one to the side of your pool.
Many River Pools® fiberglass pool models have built-in tanning ledges! The C Series and I Series freeform models all include ample tanning ledge space. And the rectangular D Series models have tons of tanning ledge area, as does the L36, and the three sizes of the M Series.
2.
Go Neutral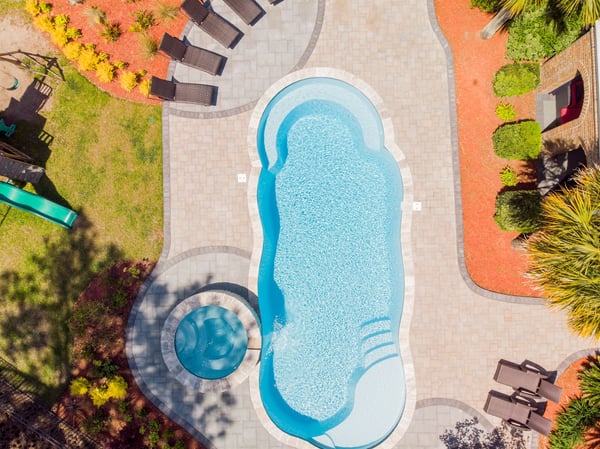 Big bold colors may be appealing now, but colors come and colors go. Neutral-toned pools (such as gray, white, or lighter blues like Caribbean Sparkle pictured above) will set the stage for you to play with colors around your pool for years to come. You can also choose from a wide range of pool colors across all three inground pool types.
By the way, for those of you who are curious about trending colors...Viva Magenta 18-1750 is 2023's Pantone color of the year. Seems like it may be a great color to use as accents around a neutral colored pool. *wink
3.
Install Color-Changing Lights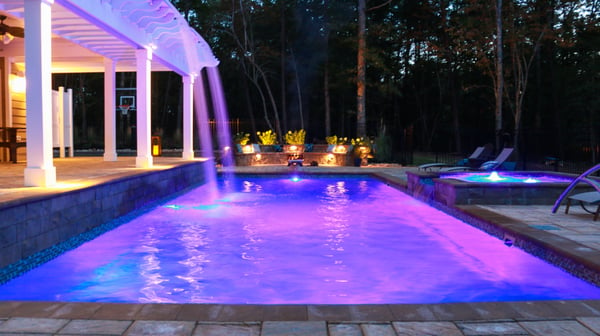 Let there be light! LED color-changing lights can be added to any inground pool project to make your parties and night swims that much cooler. Small LED lights likely cost ~$900+ each and must be installed during the pool's construction. Ask the independent installer completing your pool project for details on this add-on.
4. Upgrade Your Coping and Patio
One super easy way to upgrade your small pool is to invest in some beautiful coping and patio materials. You can choose anything from a stamped pattern for concrete, to brick pavers, to natural stone…heck, you could add gold bars, but that may be a bit flashy. Just make sure that the pool patio and coping materials are slip-resistant. (Okay, textured gold bars.)
5. Install an Underwater Mosaic
"How can I add even more style to my already stylish pool?" Great question, my friend! An underwater mosaic or mural can add so much character to your pool and outdoor living space. Some pool tiles even glow in the dark! The best thing about underwater pool mosaics is that they are 100% customizable and can be unique to your swimming pool.
There are a variety of products out there that can help you add a little flare underwater. Speak with your builder about options that would work with your pool.
6. Build a Rock Waterfall
A rock waterfall can seamlessly connect the surrounding landscape to your swimming pool, as shown in the image above. A simple, stand-alone rock waterfall can also be installed on any side of your pool. Can't you just hear this image? This is a great way to bring a sense of peace and calm to your backyard space and make it truly feel like an escape.
Check out our in-depth pool waterfall guide by clicking here!
7. Add a Cascade
A retaining wall creates a perfect place to incorporate a cascade waterfall, but you can add a cascade to any side of the pool, with or without a retaining wall. You may also be able to customize the height of the waterfall.
Pro tip: Waterfalls and cascades should be planned for in advance and preferably added when the pool is built.
8.
Add a Spa (Or Choose a Pool with One Built In!)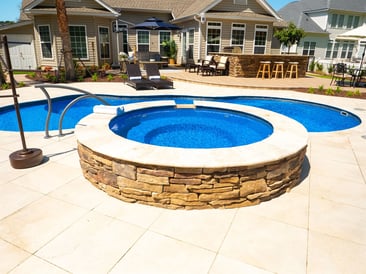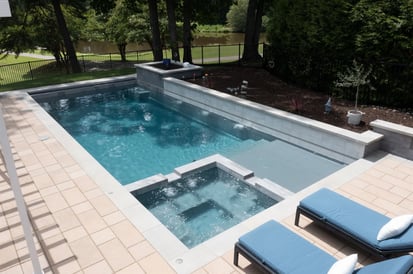 Looking for a space to relax in your backyard? It may be safe to assume you're one of those folks who is searching for some hot water to soak in when you're on vacay. Which, to be fair…don't we all?
If this is you, how about building a small inground pool with a spa for year-round enjoyment at home? If your spa is not integrated into your pool's design, you can always add one next to your pool and create a spillway between the two.
River Pools offers three spa add-ons. Check them out here!
9. Install Ambient Lighting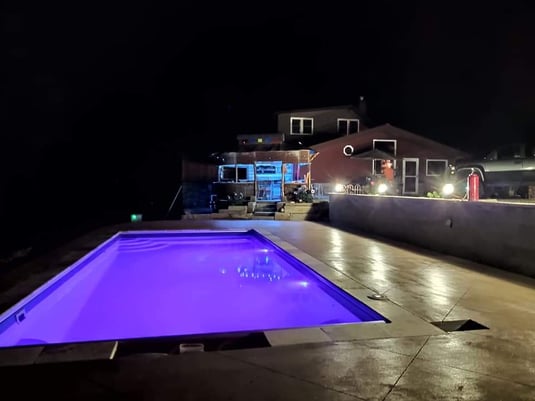 Do you enjoy night swimming or want to host evening pool parties? You can upgrade your pool landscape lighting to make the space instantly more inviting. Strategically placed hardscape lights and spotlights make this pool area well-lit while preserving its charm and keeping it safe for all of your amazing party guests.
Pro tip: Opt for multiple lighting points rather than a single source of bright light, like a floodlight. And, start using terms like "uplighting" when chatting with your landscaper. You'll impress them with your terminology. (Uplighting, by the way, is what it says it is. Light fixtures that point upward to cast light onto an object from below.)
10. Close It In
Pool enclosures and pool cages can be purchased to shelter your swimming pool without giving up the natural sunlight. Because each square foot will cost more, a smaller pool will likely be cheaper to close in than a large pool. This is a good option for anyone who wants to extend their swim season or increase their privacy.
If you want to go all the way with your enclosure and make it a part of your home, check out our indoor swimming pool guides for tons of details on the costs, considerations, and options available to you:
11. Make It Pet-Friendly
Have pets who like to swim, or do you suspect they might? To make your swimming pool pet-friendly, you'll want to consider the following:
You may want a pool that has a tanning ledge for them to walk on
The tanning ledge isn't too deep for them
The pool's surface can't get damaged by claws
Pro tip: Fiberglass pools are often built with a gel coat that is resistant to scratches from your pet's paws. If you're a pet owner and you're not sure which type of pool is best for you, take our quick Pool Type Selector quiz. It's even got questions about your furry friends, so you can make a pet-friendly choice with confidence:
12. Get Fancy with Waterline Tile
Here's your fun fact for the day: tile isn't just for interior design! Waterline tile is a must if you want to bring your inground pool design to the next level. The right waterline tile can also help you integrate your color scheme and incorporate any elements you want to bring to your outdoor living space.
13. Bring Fire Features to the Pool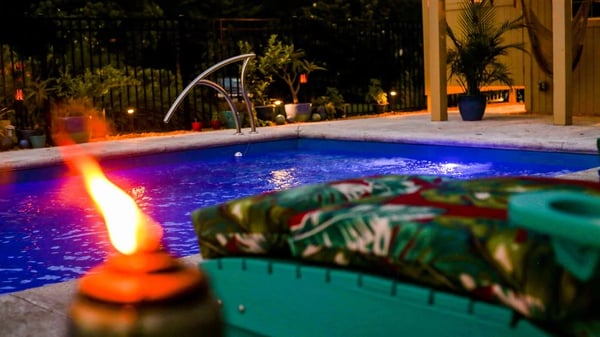 Love the idea of having a poolside fire pit? Maybe you like the idea of s'mores by the pool more? Why not bring fire features into your pool so that you can enjoy them while you swim or lounge in your tanning ledge? Fire bowls can be added almost anywhere, so feel free to get creative and make your yard both hot and cool.
Perhaps adding fire features to the pool project is a little too much of a walk on the wild side? Adding a simple fire pit by the pool is still a great way to diversify your outdoor space. Pricing on a fire pit may vary, depending on the size and type.
We've got an amazing fire pit buying guide to help you figure out your fiery options and create a perfect nighttime poolside experience. Click here to give it a go!
Check out The Ultimate Backyard Fire Pit Buying Guide for Pools and Patios
14. Build a Deck
One easy way that you can upgrade your pool is to choose a wooden deck. A wooden deck provides a refreshing, modern design and helps to separate the pool area from the rest of the outdoor living space. This can be accomplished with traditional wood materials or faux wood materials.
15.
Make It an Infinity Pool
Infinity pools are perfect for anyone with a fantastic view from their backyard, or if you just like the look and sound of water going over the vanishing edge. This feature can really set you apart from your neighbors, but we caution it may change your last name to Jones.
Keep in mind that infinity pools usually cost much more to install than regular inground pools.
Note: An infinity pool option is not offered on any River Pools fiberglass pool models at this time. As a manufacturer, we do not modify the pool shell. However, the installer would be the one who could modify it to create this effect. Very few builders may offer this option, so if this feature is striking your fancy, check with the builder you intend to work with to get a better understanding for the pros and cons and see if it's something they even offer.
Budget-Friendly

Small Inground Pool Ideas
We know that many pool buyers want to upgrade their small pool for as little money as possible. To help you get the best inground pool for the lowest cost, here are seven more awesome things that you can add to your pool without blowing the budget.
16. Add a Bubbler (or two)

Bubblers are essentially in-pool fountains, and they go perfectly in shallow areas of the pool like tanning ledges. The relaxing sound that just one bubbler can bring to your backyard makes it a good option for anyone looking to create a serene outdoor retreat (plus, it can keep your little ones entertained for hours - like, "where are those bubbles coming from?!", they'll wonder). Each bubbler can cost ~$450 to $700 on average and will need to be installed when the pool is constructed.
17. Basketball or Volleyball, anyone?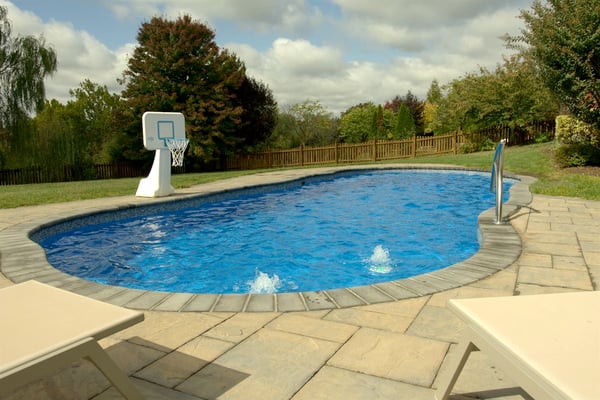 Who doesn't like a little competition amongst loved ones every now and again? Swimming pool games can make the pool more fun in the summertime, and adding a basketball hoop or volleyball net can bring that fun to the next level. A pool basketball hoop or volleyball net can vary in price depending on the manufacturer and type, but it maybe a more affordable option to add some more excitement to your inground pool experience.
18. Add Seating Around the Pool
Okay, we'll admit it: maybe not everyone is into friendly competition during pool time. Adding lounge chairs and seating areas to your pool patio is a no-brainer for when folks just want to keep dry, kick back, and take it easy. But if you want to maximize the space and make your pool the focal point of your backyard, try adding seating and outdoor furniture all around the pool rather than clustering it in one corner.
Pro tip: Dry seating makes a great place for judges of Biggest Splash competitions.
19. Add Plants to the Pool Area
Instead of surrounding your pool in concrete, why not try planting some pool-friendly plants on one or more sides? The above image features plants in the surrounding pool landscaping as well as in strategically placed planters along the rock retaining wall. You might be shocked at just how much a lil' pop of color and nature can enhance your pool space. A few hundred bucks could be all you need.
20. Add Jets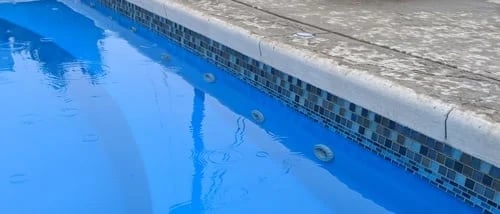 Is a traditional spa just not big enough for 'ya? A couple of jets can turn your small pool into a spool (a pool with a spa-like experience) and make it much more enjoyable to relax in. Jets can be added along bench seating areas or steps and cost around ~$500 each. They also need to be installed during the pool's construction.
21. Add In-Pool Furniture
While you might not find good in-pool furniture at a local box store, it can be relatively cheap compared to other inground pool accessories. You can bring anything from loungers to tables to beds into your pool, and you can always upgrade your collection over time. Just make sure your tanning ledge is big enough for the type and amount of furniture that you want.
Caution: Be sure the furniture won't damage the pool's surface, particularly if you have a vinyl liner pool.
What are your best small inground pool ideas? Share them with us in the comments!
Fiberglass pools are widely regarded as a great choice for small inground pools because they tend to be lower-maintenance with lower lifetime costs, and they can be quicker to install.
If you'd like to learn more about your fiberglass swimming pool options, feel free to visit our learning center, try out our pool pricing calculator, or fill out our contact request form to get in touch with an independent installer near you using the button below.
If you're still shopping around for the right inground swimming pool for your home, you can download our free ebook for an in-depth comparison of the three main inground pool types. Happy swimming!
Up Next:
What's the Best Small Fiberglass Pool for Your Needs? Costs, Sizes, Features
Small Inground Pools: Sizes, Shapes, Cost, Pros, & Cons
What is the Best Small Pool Design for a Small Yard?
*Editor's note: River Pools is a brand of inground fiberglass pools produced via the River Pools division of the manufacturing facility in Fortville, IN. While our expertise is in fiberglass pools, the collective years of experience of our team spans manufacturing, project design, installation, and pool service. We also are a part of a network of inground pool experts, from all over the country, which has extensive knowledge in manufacturing, project design, installation, and pool service. We tap into this collective knowledge base frequently, and share information freely with homeowners, just like you, who are considering having a swimming pool installed in your backyard. This article was originally written by Jason Hughes in June 2020 and was updated on November 20, 2023, with current information.