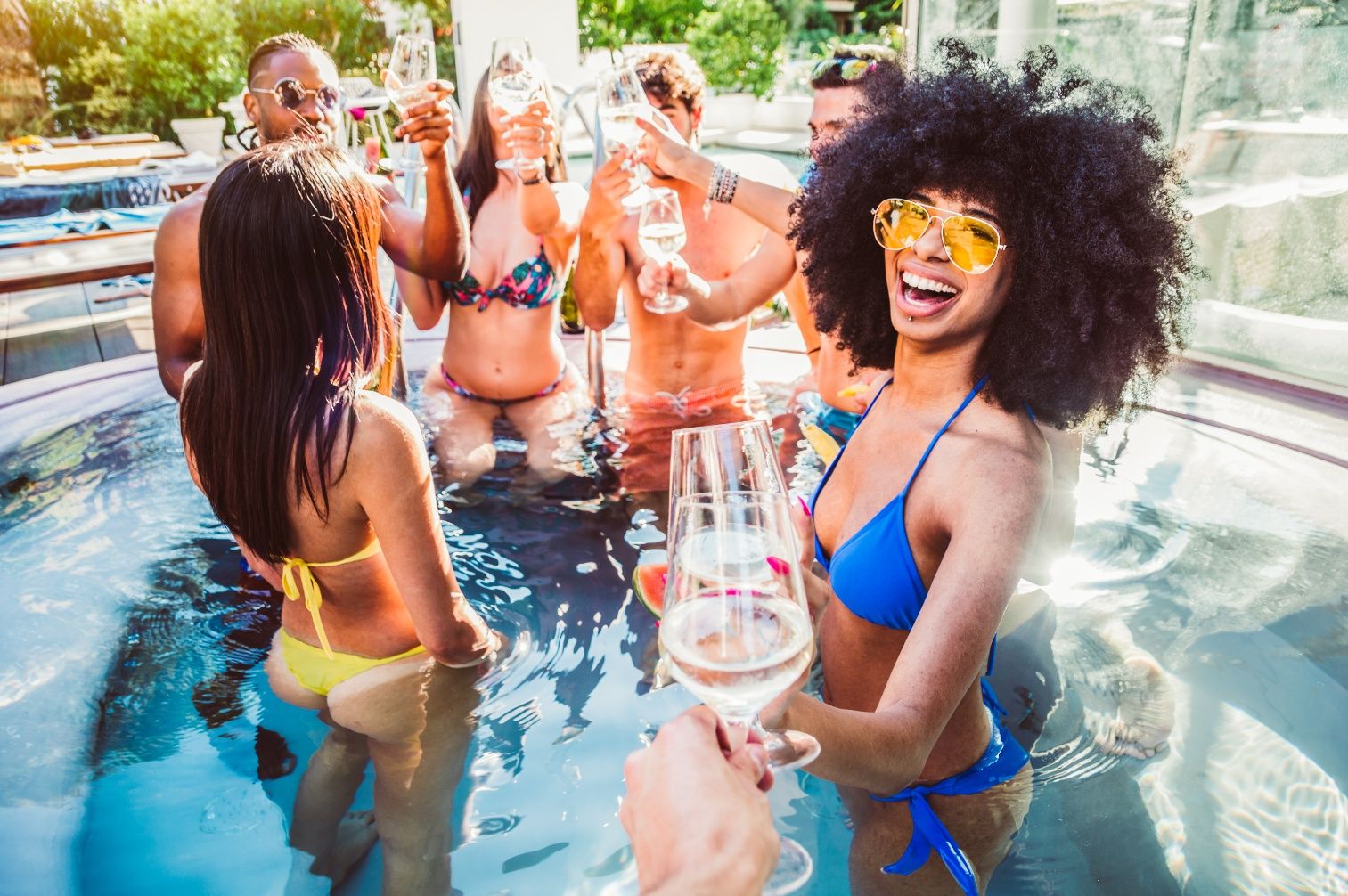 Subscribe
The 17 Best Pool Toys and Floats for an Unforgettable Pool Party
Options and Accessories | Swimming Pool FAQs | Swimming Pool Accessories
Summer's in full swing, With life gradually returning to normal, you're probably feeling overdue for a fun get-together… and if you've got a pool, there might be no better place to host a sweet party than your own backyard.
You might already have a few pool toys, perhaps some pool noodles, an aquatic basketball hoop, or even a full-size float with built-in cup holders for some next-level lounging. But we're willing to bet you haven't seen toys quite like these.
Take a look at our roundup of the funniest, coolest, weirdest, and most memorable pool toys you can bring to your next pool party. Just one will make your event unforgettable. As always, the only limit is your imagination (and your budget)...
Inflat-a-Bull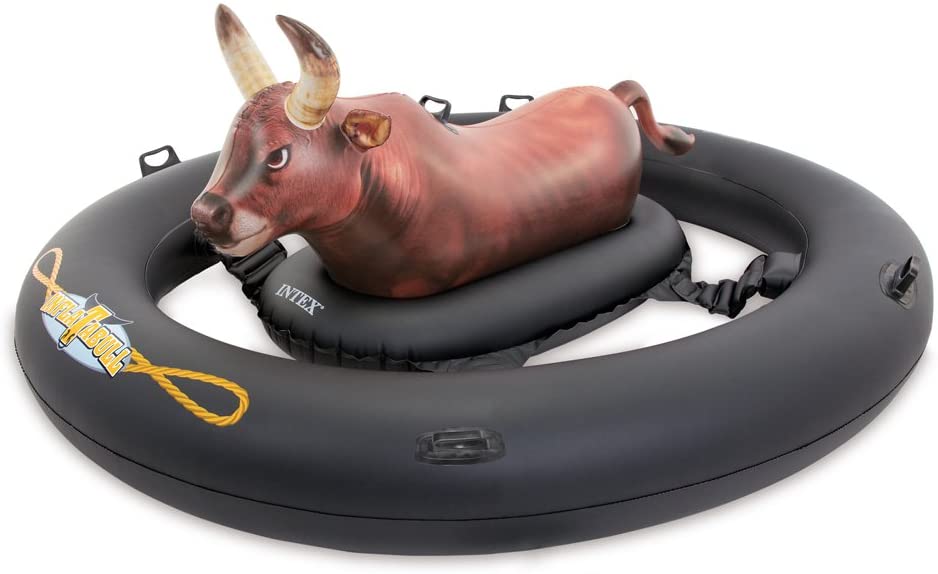 Do you love country bars? Do you not feel fully dressed unless you're stepping out in a nice pair of leather boots and a cowboy hat? Have you ever wanted to ride a bucking bronco without any risk of injury or humiliation?
Well, we can't promise you won't humiliate yourself on the Inflat-a-Bull, but you can clamber on without worrying about the potential for head trauma or a slipped disc. Challenge your friends and family to stay on as long as they can… and then dive underneath and tip them over. That'll show 'em!
Inflatable Pizza Slice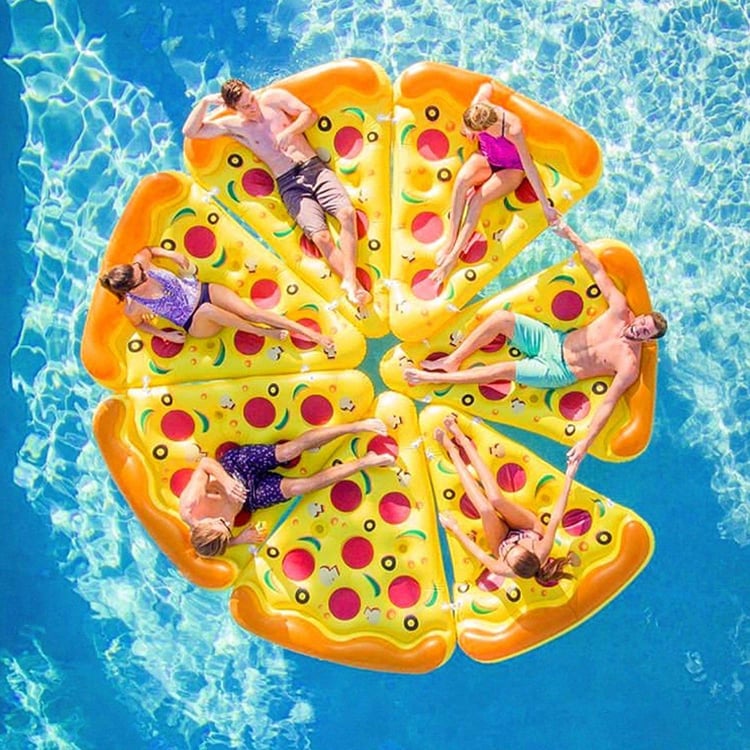 Order a pizza and kick back in your pool for an extra-cheesy pizza party with this fun inflatable pool toy. Proclaim your love of dough, cheese, and tomato sauce (plus your choice of toppings) with this full-size float in an immediately-recognizable design.
As an added bonus, you can buy an entire pizza's worth of floats for eight people! Hold hands and float off into mozzarella-flavored bliss, or just dominate the middle of your pool so all the other guests have nothing else to do but be jealous of your commitment to your favorite food (and the lack of pool space you've created with it).
Diving Masters Pool Game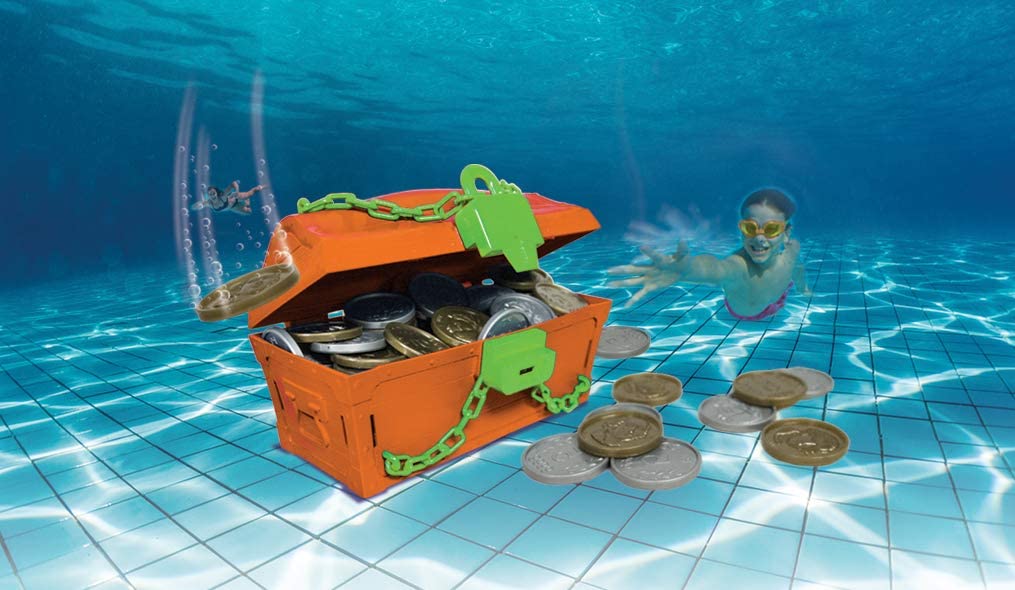 Want to encourage your kids and/or guests to use the whole pool, including the underwater parts? With the Diving Masters "loot chest" game, you can! The bright orange (or green) treasure chest comes with 39 supersized novelty coins. Challenge kids to dive as deep as they can to retrieve the coins -- whoever recovers the most treasure wins!
Pair this loot chest with the pizza slice floatie and have a pizza party for the winner. Everyone else can have some pizza, too, but only the loot chest champion gets to enjoy their slice on the floatie slice. Just an idea...
A 6-Pack of Pool-Friendly Water Guns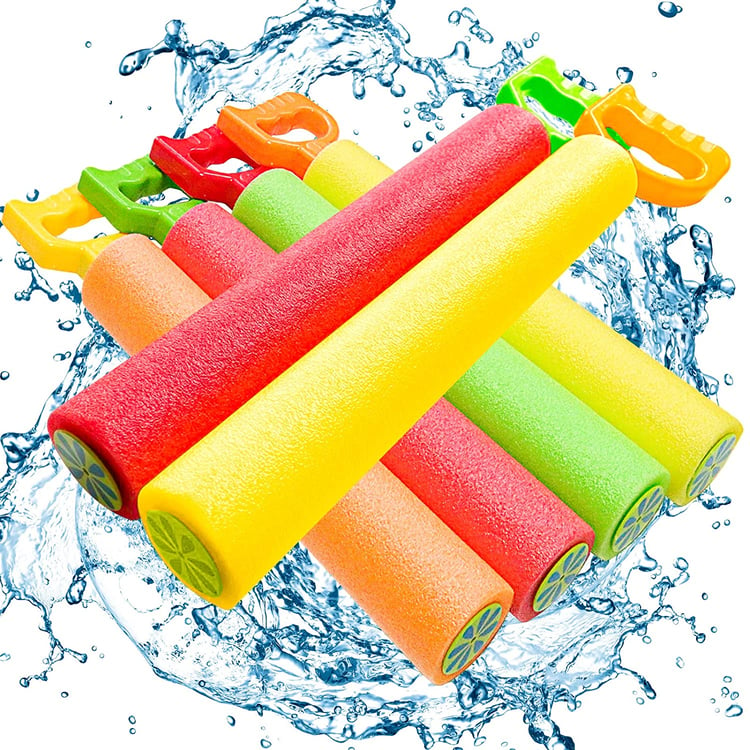 Why get anything else for a pool blaster battle when you can pick up 6 for barely more than $2 apiece? These pneumatic pool noodle-looking squirt guns are pool-friendly and should come in a range of colors, to make it easier to divide your pool warriors into two opposing armies for maximum strategic squirt-gun chaos.
The 35-foot maximum range of these squirt guns allows you to snipe your enemies (and friends) from afar. Their only drawback is the manual reload -- you'll pull the pump back to fill your gun in just a few seconds, and it empties even faster, so you may spend as much time on refills as you do blasting folks.
Inflatable Boat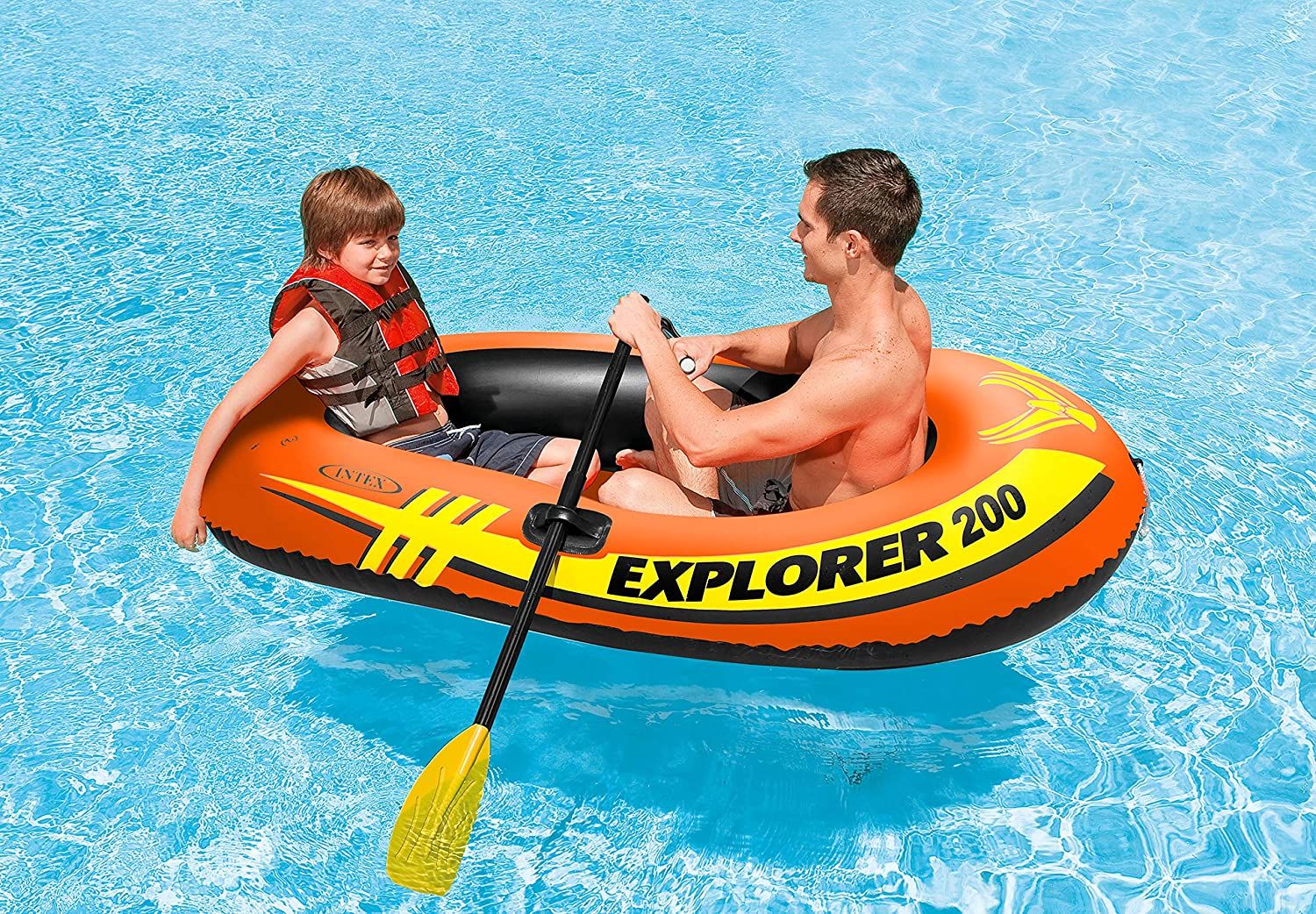 It's the floatie that'll give you a workout! Well, for a few oar-strokes, anyway. This inflatable mini-dinghy adds the perfect fish-out-of-water look to your party, and it's thematically on point for boaters with big backyard pools, too.
Two children, or one reasonably-sized adult, can paddle the boat around with the included oars. You can buy a kit with no oars for $10 less, but the oars also come with an air pump, so it's highly recommended. If you're feeling adventurous, you can bring this inflatable boat to your neighborhood lake or pond and row around to your heart's content. It's that rare pool toy that adds fun to other non-pool aquatic scenarios!
Inflatable Beer Pong Table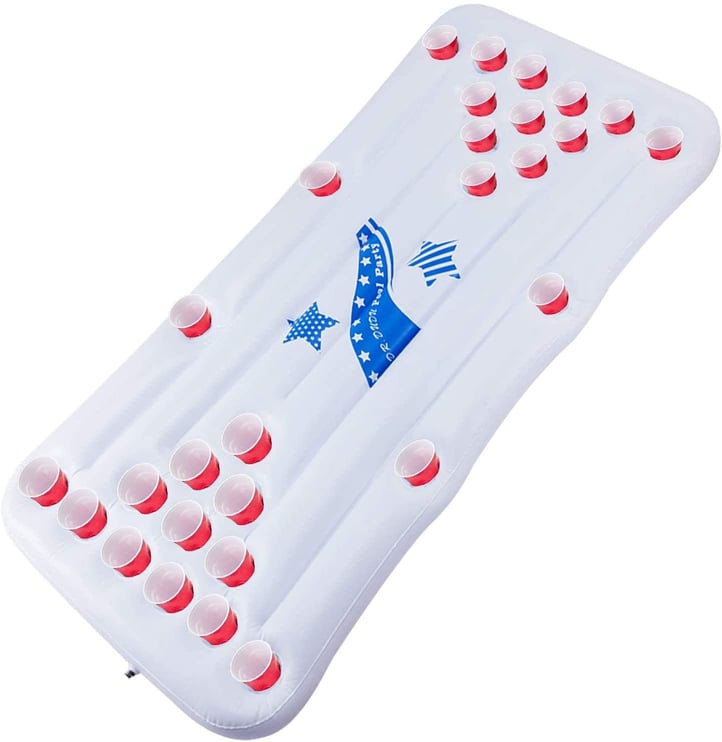 The perfect toy for a well-equipped frat house! Also a great float for letting your guests know how dedicated you are to the party.
In the before-times (you know, pre-COVID), I attended more than my fair share of parties featuring a long table -- usually the cheapest folding table you could find -- stacked with triangular formations of Solo cups full of booze.
It's the quintessentially American house-party activity, and now you can bring it outside with this inexpensive but fully functional pool toy! You could use beer, or margaritas, or straight shots of Jack, or even some Sprite if you're trying to keep things calm(ish) at your pool party.
Inflatable Cornhole Set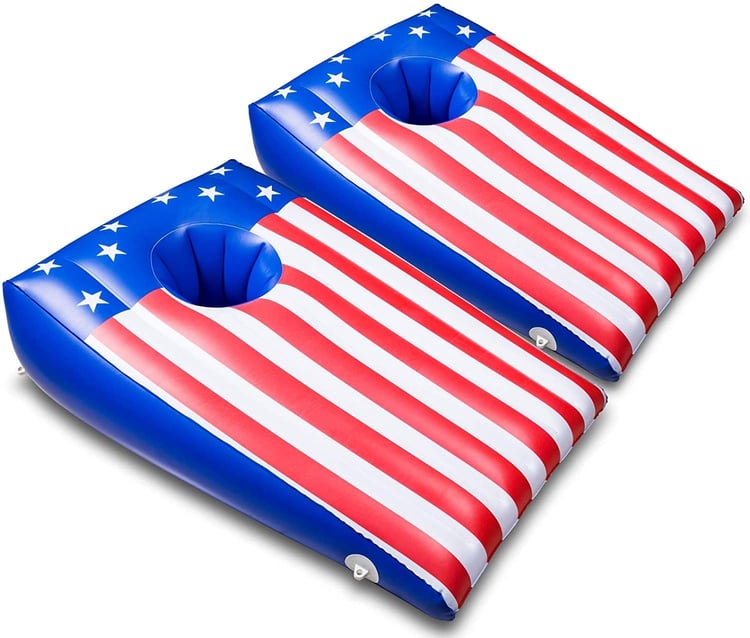 Why stop at beer pong when you can bring cornhole into your pool, too? It's another classic beach party favorite reimagined for in-water fun. The set comes with eight weighted bags, and each board has built-in anchor points to help you keep the game stable... and keep the opposing team honest, while you're at it.
Inflatable Ring Toss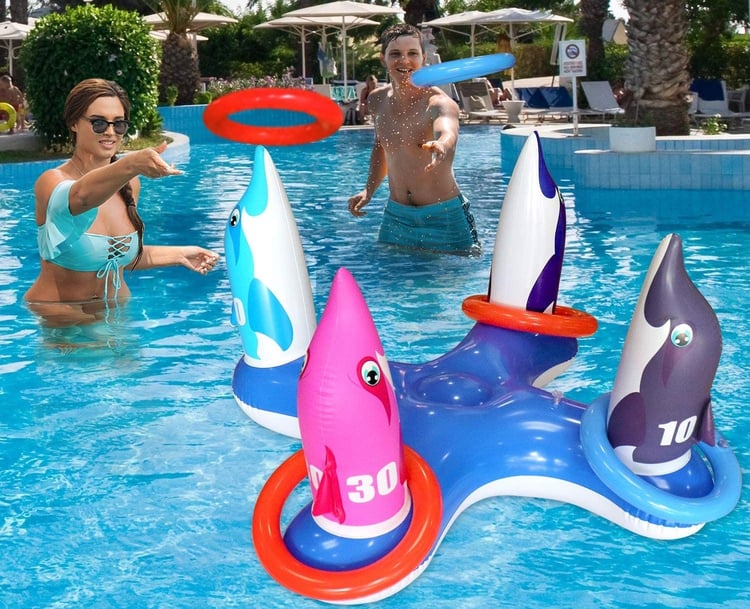 Another reimagined pub and carnival favorite is now available as a blow-up inflatable toy for your pool. You'll get the central ring-toss set, which is stylized with dolphin designs, six inflatable rings, and one small pump to get your game set up in no time.
Splash Pass Pool Football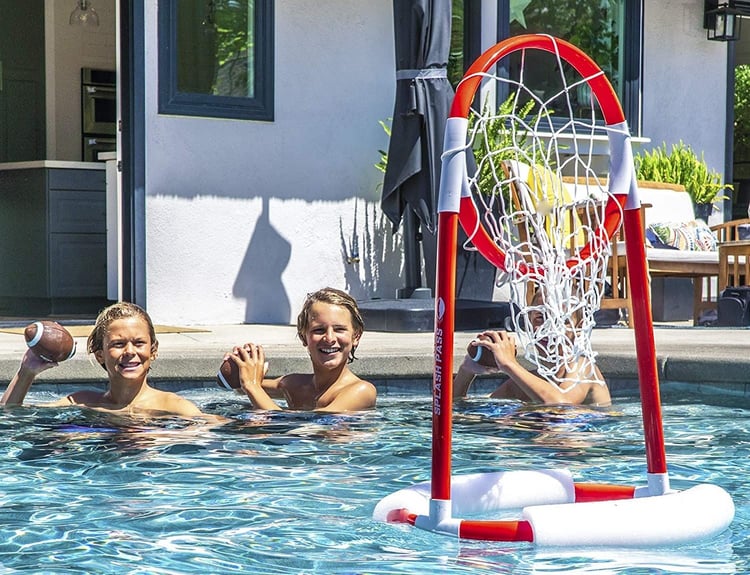 Anyone can try to dunk on a pool basketball hoop. Why not do something different and practice your spirals with this floating net target for football passes?
The net apparatus itself isn't inflatable -- it uses a few custom-length pool noodles as flotation devices -- but the four included "water footballs" are, and they come with a pump for easy inflation. You can practice your throws by yourself or try some head-to-head battles to establish your passing dominance.
Party Gator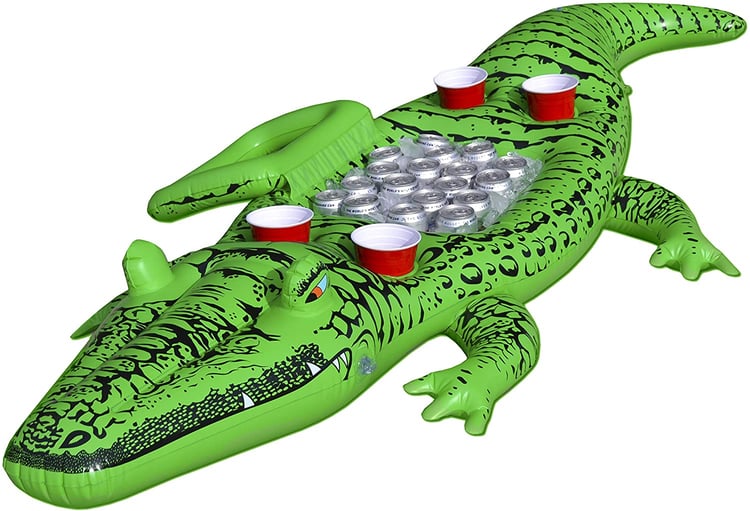 It's not a game, and you can't float on it… but what's more fun than kicking back with a few ice-cold beverages in your backyard pool? It's a literal floating cooler with built-in cup holders, and it looks like an alligator! It's the perfect goofy, yet practical addition to any pool party, whether you're stocking up on Sprite for the kids or Bud Light for the bros.
As an added benefit, the alligator design may help scare frogs and other small animals away from your swimming pool.
Flamingo and Unicorn Pool Float 2-Pack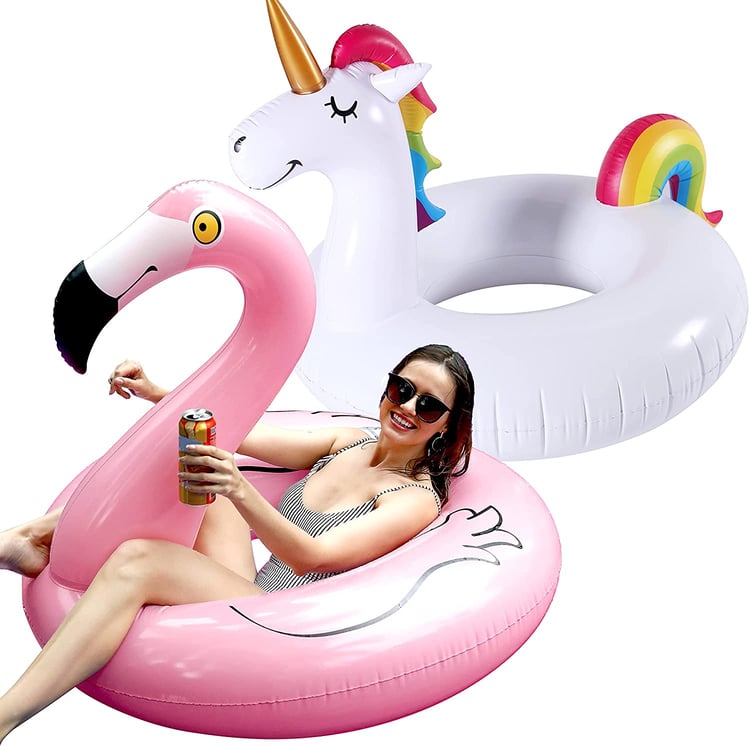 Why choose between the two most popular pool float designs when you can have BOTH for one (reasonably) low price?
This pool float two-pack includes the mega-popular flamingo raft and the sought-after but still somewhat uncommon unicorn raft. Relax in your floatie of choice, or joust with family and friends to see who can duck-paddle their way to victory! Combine these floaties with the water guns mentioned earlier to create a fun but safe pool jousting tournament.
Peacock Pool Float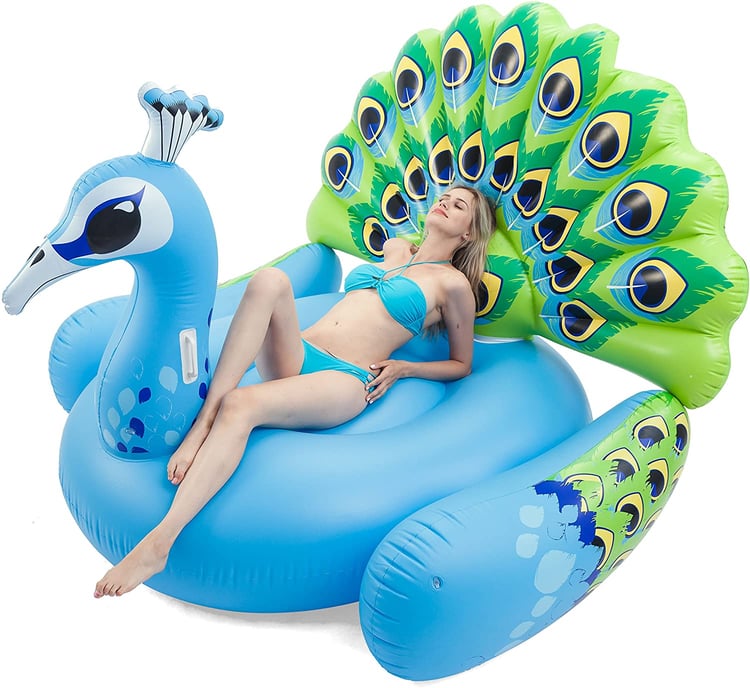 If a flamingo and/or a unicorn aren't ostentatious enough toys for your pool party, you can also get a peacock floatie! This supersized pool toy will let everyone know who's sitting stylishly in charge of any pool party. It's huge, it's elaborate, and it can hold up to 400 pounds. The only thing missing is a built-in cup holder...
Inflatable Tank (with Water Gun!)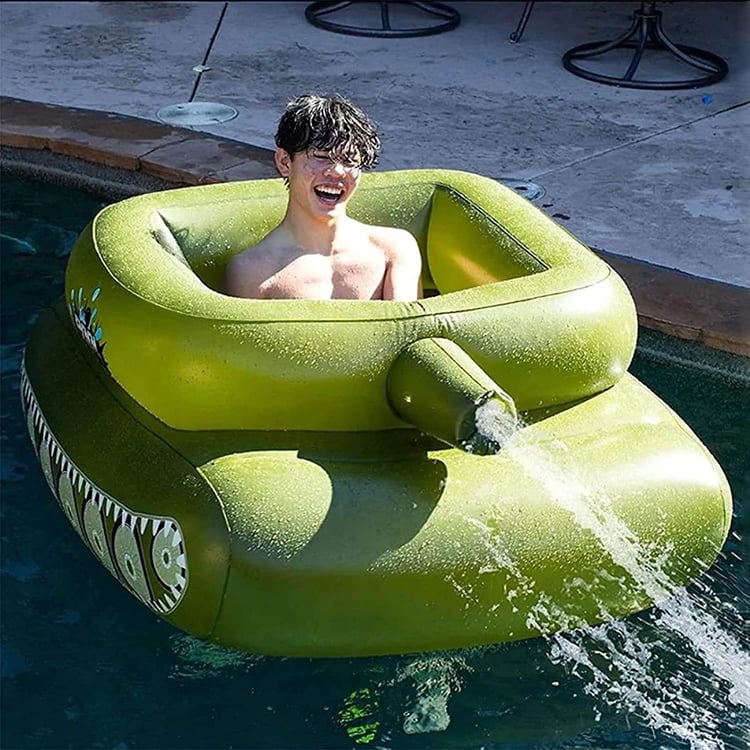 2021's hot pool toy is a frickin' tank -- literally! Blow it up and get the included squirt gun into position in the forward-facing barrel, and you'll be ready to have a blast!
The downsides to this particular toy seem to revolve around the quality of materials used in manufacturing it, particularly with the water gun. Limited reviews on similar products highlight thin plastic and barely functional squirt guns. You might need to shop around for a quality tank, and bring your own squirt gun, to truly get the most out of this unique pool toy.
Inflatable Drink Holders (3 Pack)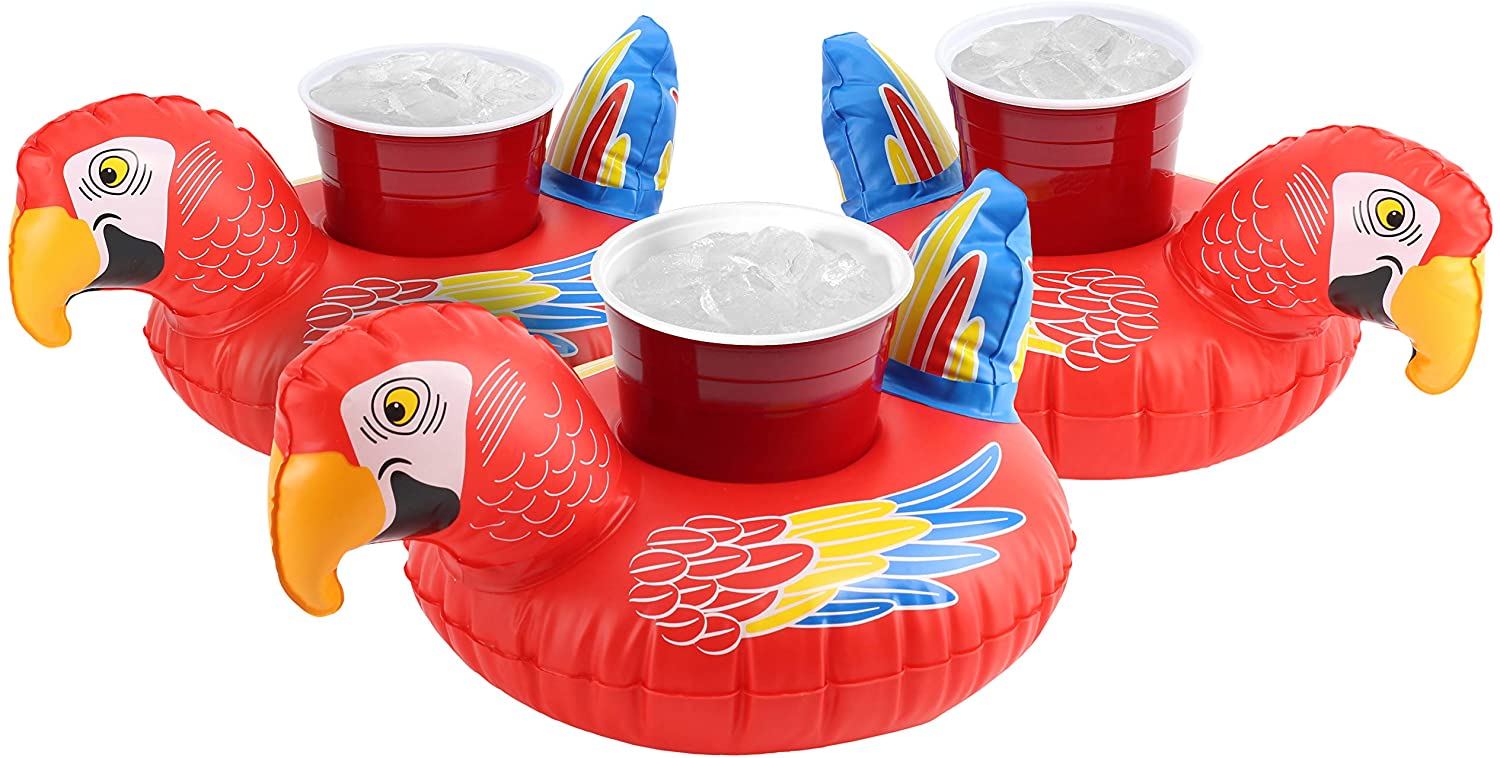 Don't have enough cup holders in your other pool floats? Get a three-pack (or two, or more) of these GoFloats Inflatable Drink Holders.
There are over a dozen largely animal-based designs to choose from, including parrots, dragons, flamingos and unicorns (to match your full-size floatie), or rubber ducks. You can also get some more understated and simplistic designs, like a rainbow, a palm tree scene, or a lifeguard-esque "drink guard" style.
Motorized Pool Lounger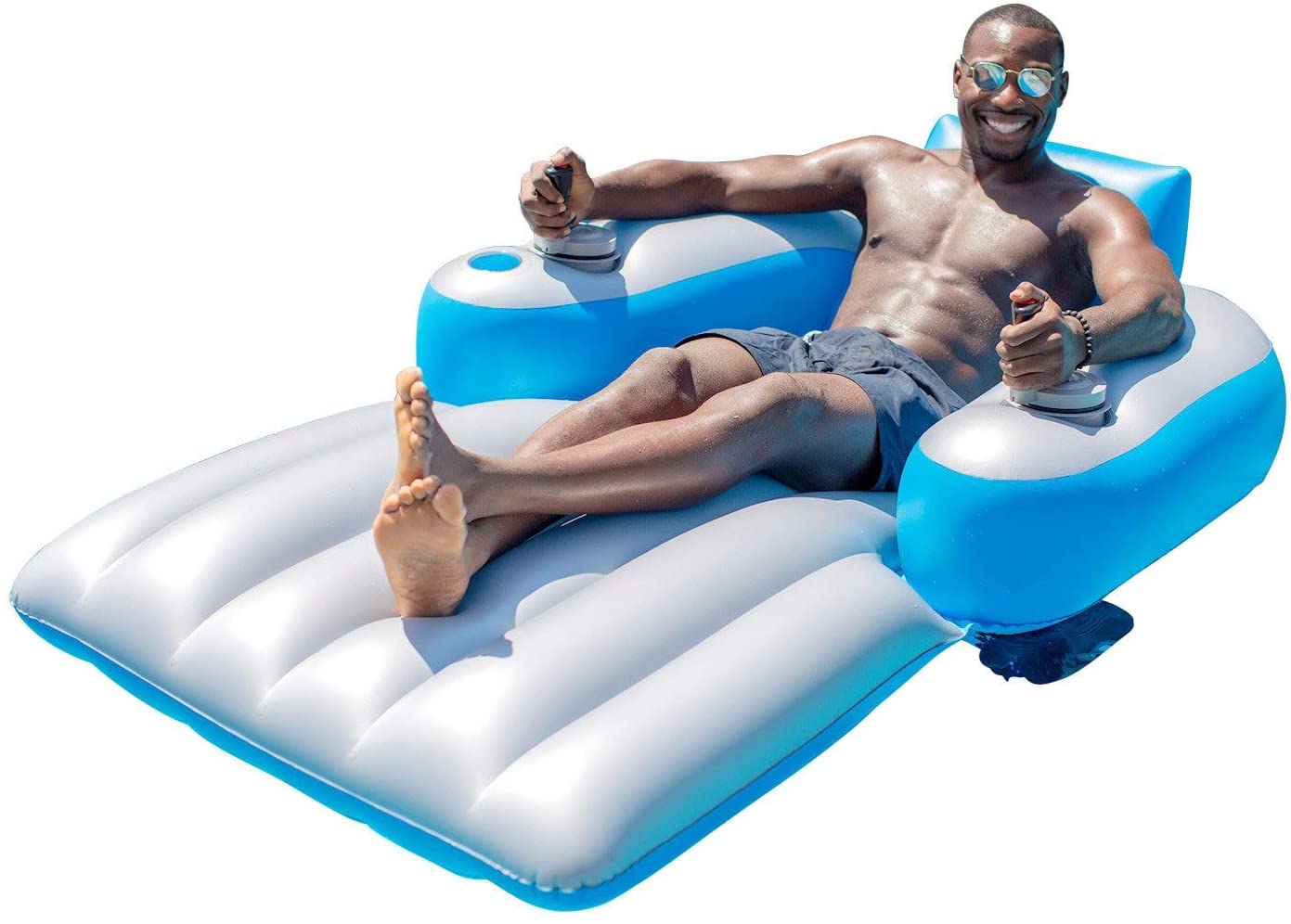 Don't feel like getting out of your floatie to fetch another drink? When you're kicking back in this motorized pool lounger, you won't have to! It's got two 66-watt motorized propellers to scoot you through the pool like a proper billionaire.
Want guests to leave? Ram them with your motorized lounger till they get the hint. Feeling frisky? Use the propellers to sidle up to your significant other without breaking a sweat or getting wet. Nosy neighbors keep spying on you through the fence? Hop on your motorized lounger and putt around in circles until they go away or go nuts, whichever comes first.
Many reviews point out the risk of damage to the propeller batteries with the default setup. You may want to add extra protection to the non-waterproof motorized bits, just so you won't have to get new batteries any time soon.
Inflatable Luxury Yacht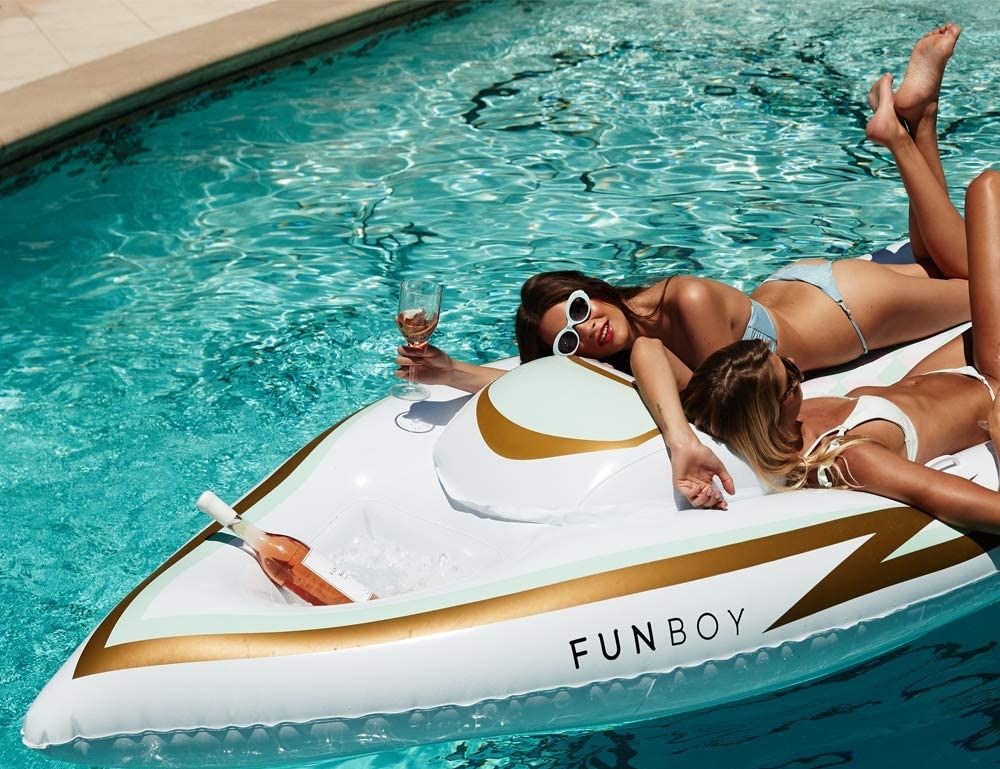 This fancy floatie is one of several FUNBOY inflatable pool toys, all of which are designed to be "the most Instagram-worthy floats" on the market -- those are the manufacturer's words, not mine. FUNBOY also makes an inflatable private jet, an inflatable rainbow cloud daybed, and an inflatable Jet-Ski, among other fancy-looking floaties.
The luxury yacht float includes a cooler in its bow (the front of the boat) and cupholders in the middle of each side. Keep your fancy booze here and leave the regular drinks in the alligator cooler for all the poor folks.
Flamingo Party Island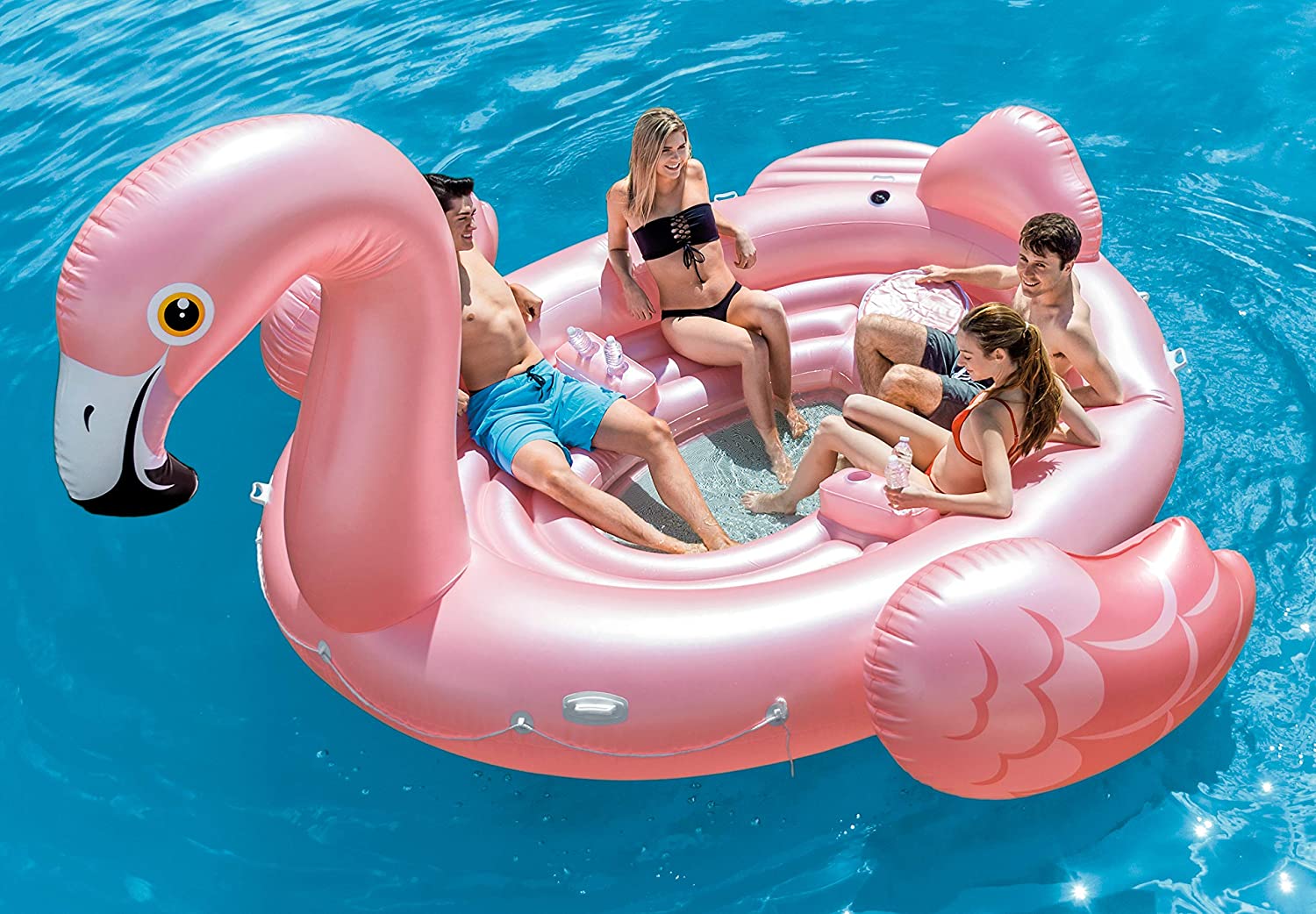 When a one-person flamingo just won't cut it… there's this massive flamingo, which holds up to 880 pounds (or four adults, generally speaking).
If you'd rather float on your pool than swim around in it, this gigantic inflatable pool toy might be perfect for you, because it's by far the largest inflatable we've come across. It even has a detachable "boarding platform" to make it easier to hoist yourself into the party flamingo.
This toy also comes in unicorn style, but you might not be able to host more than one of these giant floaties in your pool, unless you've got a truly massive pool.
Ready to have more fun in your pool?
There are hundreds of pool toys on the market, and we could never hope to cover the full range of options in a single list. This particular list highlighted some of our favorite quirky, different, and just-plain-weird choices for a standout summer. Do you know any must-have toys we've missed? Let us know in the comments -- we strive to provide the most accurate, up-to-date information for pool owners, and your help is always welcome!
At River Pools, we manufacture world-class fiberglass pools for customers across North America. If you're shopping around for a fiberglass pool, feel free to take a look at our catalog of models, visit our extensive video library, try out our pool cost calculator, or request custom pricing using the button below.