Fiberglass Pool Information | Swimming Pool FAQs
Fiberglass pools are becoming more and more popular...but they're still a relatively new addition to the pool scene, compared to vinyl liner and concrete pools. What do you actually know about them? If the answer is "not much," fret not. This is a judgment-free zone, and we've got you covered. We've collected the fiberglass pool FAQs, and succinct answers for all of them. Plus links if you're interested in more in-depth info. Let's dive in! (Get the pun?)
Fiberglass pools have many benefits over concrete and vinyl liner pools. Fiberglass is low maintenance, quick to install, uses fewer chemicals, has a smooth finish, is extremely durable, and has an attractive and elegant look. Because of all of these benefits, you may want to have a fiberglass pool installed at your house. One of the questions that people often ask is when they should have their fiberglass pool installed. Another benefit to these pools is that they can be installed year-round, regardless of the climate or weather conditions where you live.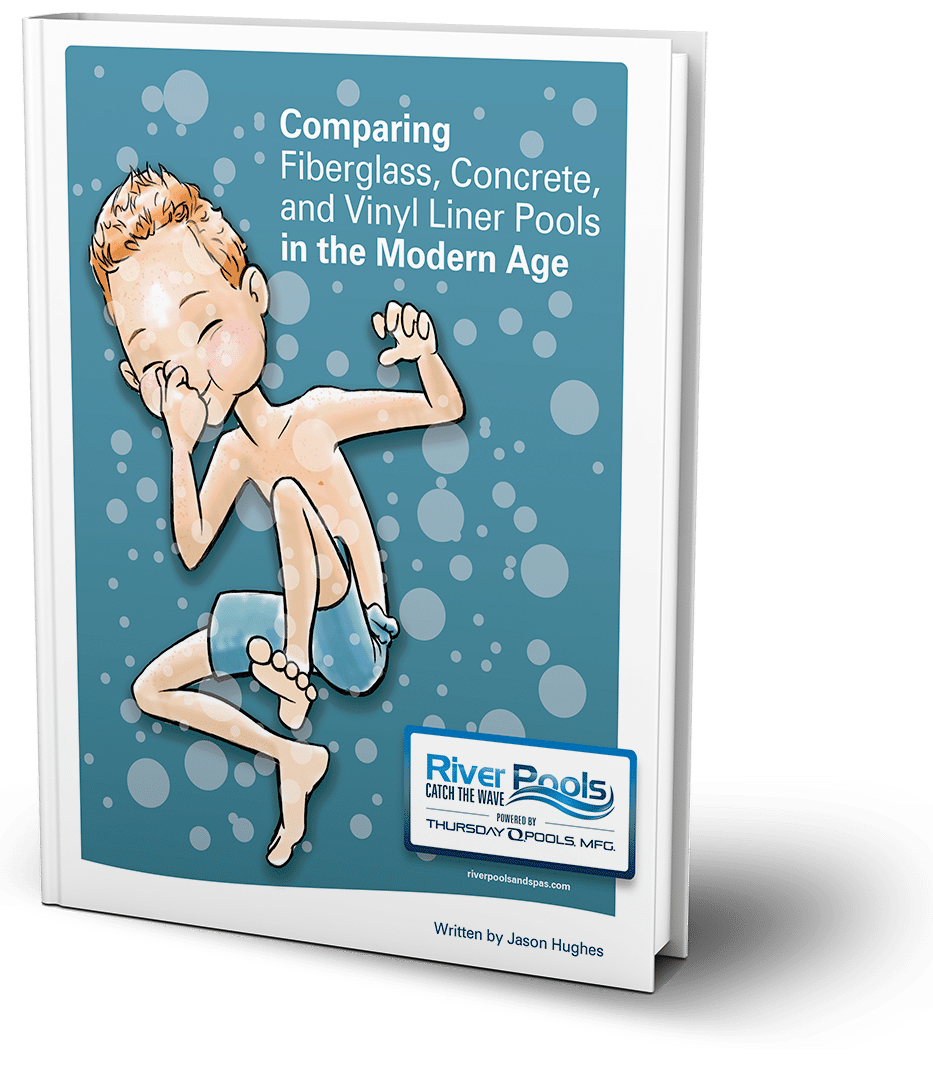 Comparing Fiberglass, Concrete, and Vinyl Liner Pools in the Modern Age
Don't blindly wonder if a fiberglass, concrete, or vinyl liner pool is right for you. Our educational ebook does a deep-dive comparison of the 3 types, all while noting the advantages and disadvantages of each.
Fiberglass Pool Information | Installation & Construction | Pool Manufacturing Process | Swimming Pool FAQs
When I first visited River Pools in person, the first things I noticed were the...red-orange lumps outside. What kinda yard decorations are those? The answer: Not decorations at all. (Whew!) Turns out, these are pool molds—we make them ourselves and then use them to manufacture our fiberglass pools. Fancy, right? But what does all that really mean? Let's talk about these weird-looking lumps: What a pool mold is, and what it is not How we make a mold for a fiberglass pool How we use a mold for a fiberglass pool How we maintain a mold for a fiberglass pool
Is drowning really an issue? Yes! I know it's easy to think, "That only happens to other people." We get lazy. We make assumptions. But this is the absolute worst time to learn what they say about people who assume. Drowning kills children under 5 years old more than anything else besides birth defects. About 1 in 5 people who die from drowning are children 14 and younger. For every child who dies from drowning, another 5 receive emergency department care for nonfatal submersion injuries. We can prevent these tragedies by knowing both how to prevent potential issues beforehand and what to do if an accident does occur.
Pools are party central, basically by nature. They're a great opportunity to win over your grumpy neighbors or spend quality time with your extended family. And, bonus, they offer a reprieve for awkward guests like me, who answer three questions about writing or work and then hide behind the refreshments table for ten minutes. Here at River Pools, we've learned that pools bring people together like nothing else. We specialize in fiberglass pools, but we're here to help you regardless of whether or not you buy a pool from us. Whether you have 3 guests or 30 (which seems like a lot to me, but still), we want to help you make the most of this bonding experience. And it's so satisfying to pull off a successful party!
Pool Maintenance | Swimming Pool FAQs
When I was a kid, I hated my mom's chore charts. I vowed, with the seriousness of any 8-year-old, that if I had children, I would never make them do that. I now make chore charts for myself. Moms really do know everything. As you plan out the swim season, it may help to make a pool chore chart for your family—or at least to mentally review what you'll need to do.
Fiberglass Pool Information | Swimming Pool FAQs
Considering a fiberglass pool? Every pool type has its advantages and disadvantages, and these are no exception. Weird, I know—a fiberglass pool manufacturer is saying that? Out loud? (Well, metaphorically out loud.) Yeah. At River Pools we believe pool buyers should have all the information, regardless of whether you buy a fiberglass pool from us. So we're going to go over the things you should know about fiberglass pools, both good and bad, so you can make an informed decision on whether or not it's the right choice for you and your family.
Fiberglass Pool Information | Pool Maintenance | Swimming Pool FAQs
Lifespan matters for just about everything. As an exotic pet owner, I check how long a snake breed is expected to live before adding that snake to my menagerie. As a laptop buyer, I check user reviews for the real-time battery life before purchasing that model. So how long will your fiberglass pool last?
You know that feeling when you have so much to do that you end up just binge-watching Netflix instead of doing anything at all? Pool research can feel that way. What should I search first? What should I search for? If it's your first time looking into all this stuff, it can be overwhelming. There's a lot of information, and somehow you're supposed to figure out how to navigate it all. How are you supposed to know what you don't know? Well, fear not. I'm going to give you a super quick rundown of the most common questions—and links to learn the answers. Boom. It doesn't get much easier than that.
Pool Maintenance | Swimming Pool FAQs
Odds are, you've heard pool people tell you, frantically and with tears in their eyes, "Don't drain your inground pool!" They mention hydrostatic pressure as the reasoning before running off to warn the next pool owner they can find. It's nice of them to alert you…but what are they talking about? Why shouldn't you drain your pool, really? What does "hydrostatic" even mean? Not to worry, friend. I have your back. Let's talk pool physics.