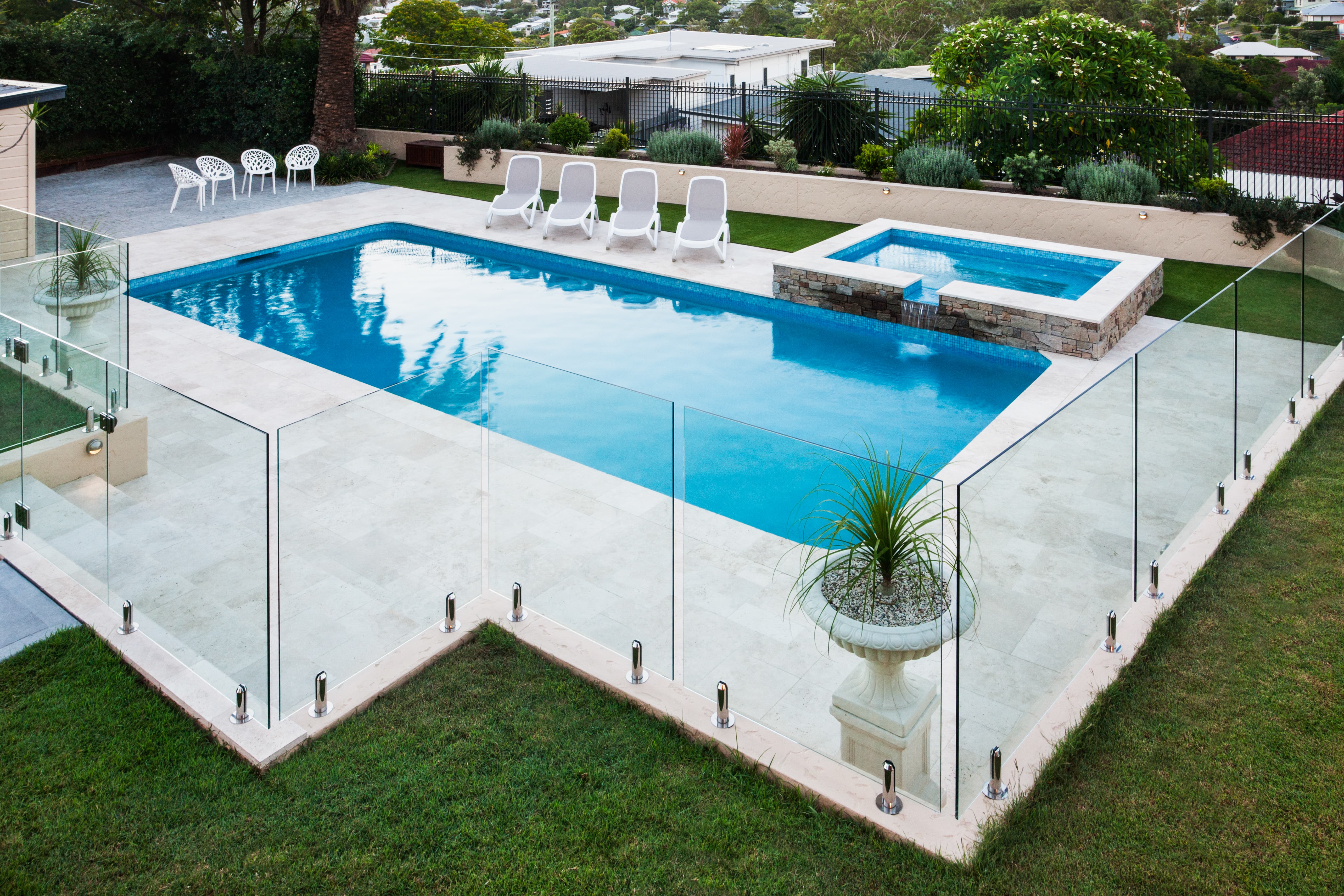 Subscribe
16 Pool Fence Ideas That Will Upgrade Your Yard
Options and Accessories | Retaining Walls, Fence, and Landscaping
So you're getting that beautiful swimming pool and now you're asking yourself, "OK, what type of fencing should I choose? Which is best for me? How do I get the protection I want without sacrificing the look and feel of my wonderful backyard?"

If you're asking these questions, fret not. In fact, you're not alone. Throughout our collective industry experience, we've literally seen hundreds of types of swimming pool fences over the years.
Some are functional. Others are beautiful. Some are expensive. Others are more budget minded.
Fact is, there are pros and cons to just about every type of swimming pool fencing that you can think of, which is exactly why we decided to write this article and take a deep dive into the various fence options you'll have as a pool owner.
We'll cover cost, style, maintenance, and other options for each type of fence.

Let's jump in...
Wood Pool Fence Ideas
First thing's first, if you're building a wooden fence (or any type of fence) you need to determine the height. Make sure to double-check your state's regulations as they will have clear guidelines about the minimum (and in some cases, maximum) height that the fence around your pool should be.
Raw wood fence
Sometimes it can be hard to beat the rustic charm of a nice raw wood fence. Raw wood can take many forms: it can be raw in the sense that it hasn't been painted or treated, or it might simply consist of tree cuts with the bark still attached.
While these can be charming, wood fences are prone to splitting and cracking. Untreated wood may also take on a different color over time.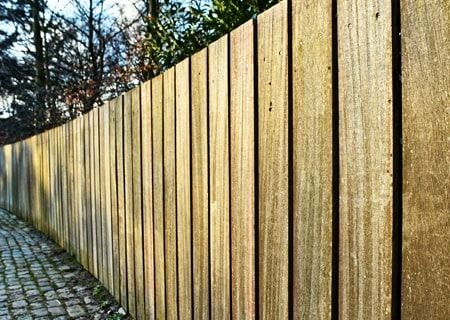 Painted wood fence
Typically, people who choose a painted fence pick a more traditional style (think of the ubiquitous white picket fence). Alternatively, you can pick a color that matches the color scheme of your home and garden.
According to Home Advisor, most wood pool fences will cost between $8 and $100 per linear foot, depending on the type. These fences will require some upkeep to maintain cleanliness and vibrancy.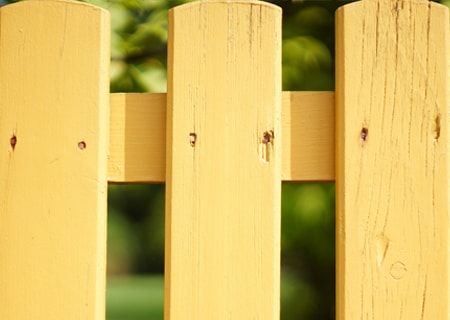 Lattice wood fence
Lattice (diagonal crisscrossing) wood fences offer another traditional look that is both quaint and cozy. This style of wooden fence also allows for plenty of natural light to get through, but keep in mind that it might not meet the pool fence requirements in certain areas.
Lattice wood fences typically cost between $4 and $30 per foot.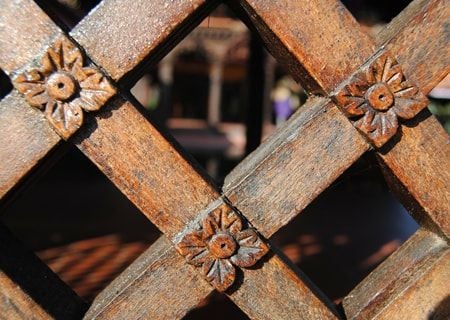 Glass Pool Fence
Glass pool fences are in trend and for good reason. Most are made from glass balustrades (thick sheets of safety glass) and interspersed with metal posts to support the structure. The main advantages of glass fences are that they look fantastic and they provide you with an unobstructed view of your pool.
On the other hand, glass pool fencing can be expensive to install (between $90 to $200 per foot), and maintenance can be demanding. It may not require much structural upkeep, but you should expect to spend a great deal of time cleaning it if you want it to stay crystal clear.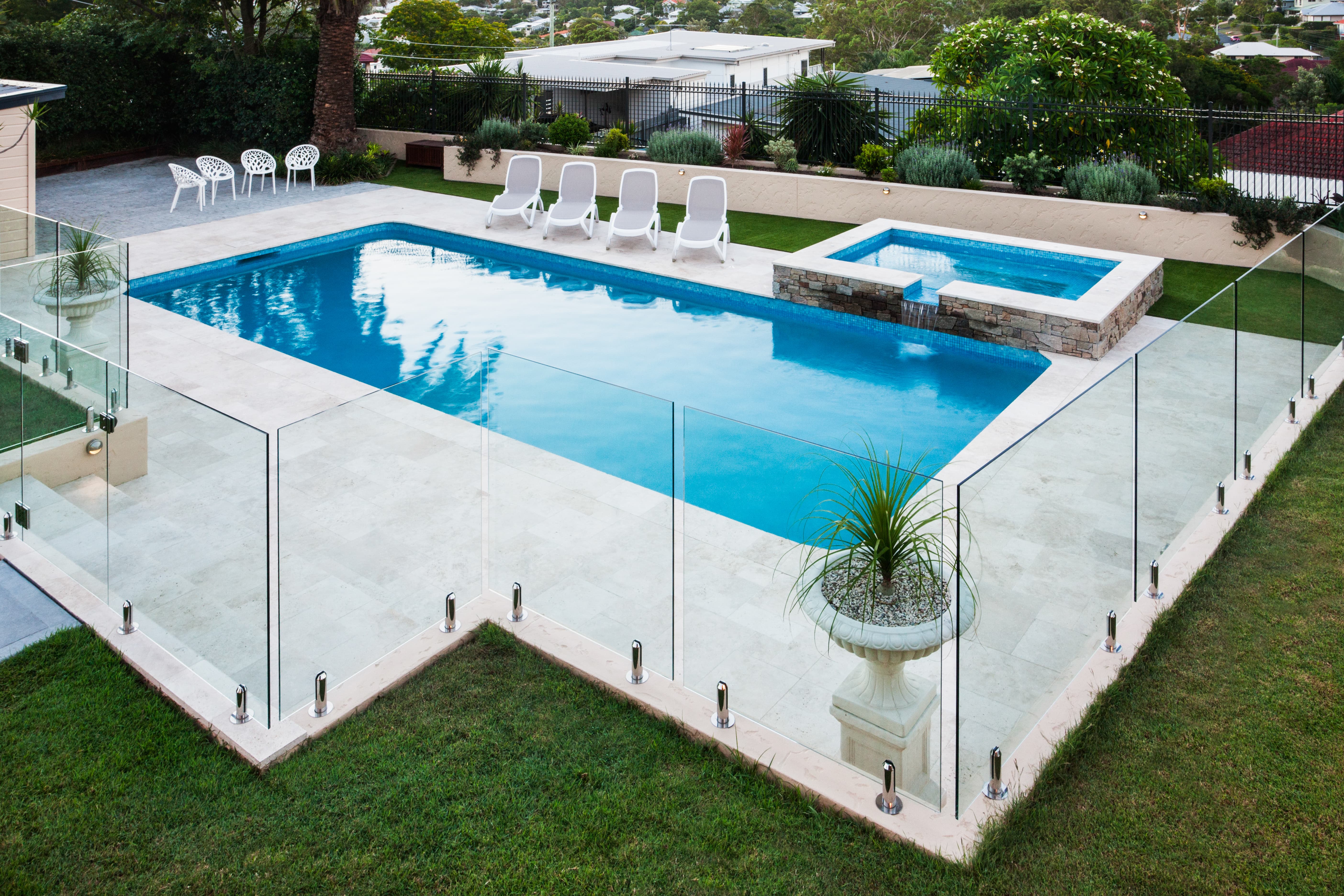 Vinyl Pool Fence
Vinyl pool fencing is an incredibly popular option, and it's easy to see why. First, it offers a great price point, especially when compared to other types of pool fencing. Second, there's a huge range of styles to choose from. In the long term, vinyl pool fences are also durable and easy to clean.
Typically, you should expect to pay around $20 to $40 per foot (plus labor) for your vinyl fencing.
Caution: If you live in an area that experiences a lot of high winds, you might want to steer clear of vinyl fencing. Many vinyl fence designs don't leave enough space between panels, and this can make them vulnerable to wind damage.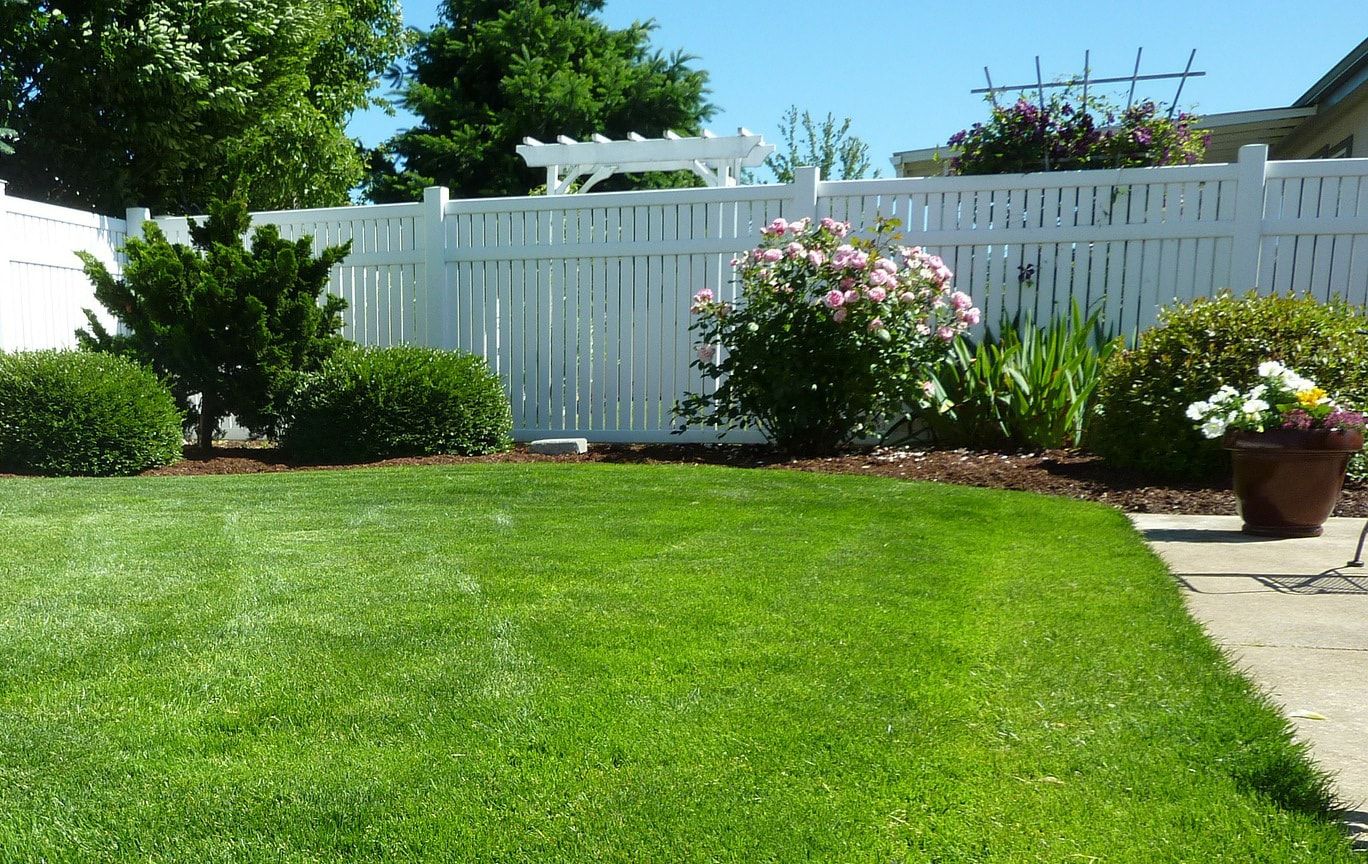 Bamboo Pool Fence
We've seen a big uptick in the popularity of bamboo pool fences in recent years. Bamboo fencing is one of the more inexpensive options (between $15 to $25 per foot), and for many, that's a win-win for cost and style. These fences are strong and stable and they also resist termites.
This beautiful and durable fencing can add so much personality to your outdoor space, especially if you're going for a tropical theme. Bamboo is also a great choice if you're looking for maximum privacy in your pool and backyard.
Caution: If you live in an area that is prone to wildfires, bamboo might be a bad idea (especially if you want it for perimeter fencing around your property). It's quick to combust and can put your home at greater risk if it catches fire.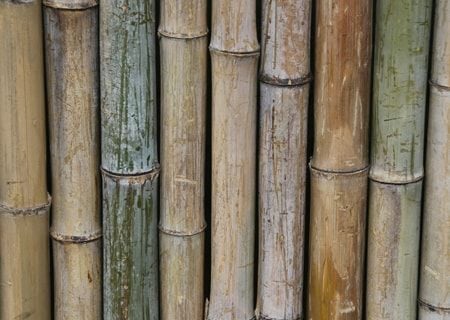 Want to know what your pool project might cost with fencing included? Want more insight into the true price ranges for pool installations with any options, accessories, and add-ons you may desire? Try our Design and Price tool and get a customized range with just a few clicks:
Mesh Pool Fence
Nobody is going to argue that a mesh pool fence is the most attractive option available. It doesn't have the character of bamboo nor the wow-factor of glass. What it does do though, is provide maximum visibility and safety at a relatively low cost.
It can also be one of the more versatile options because many mesh fences come in separate panels that can be rearranged to suit your safety needs.
You can expect to pay roughly $1,500 to set up one of these fences around your pool, but the price will ultimately depend on the manufacturer.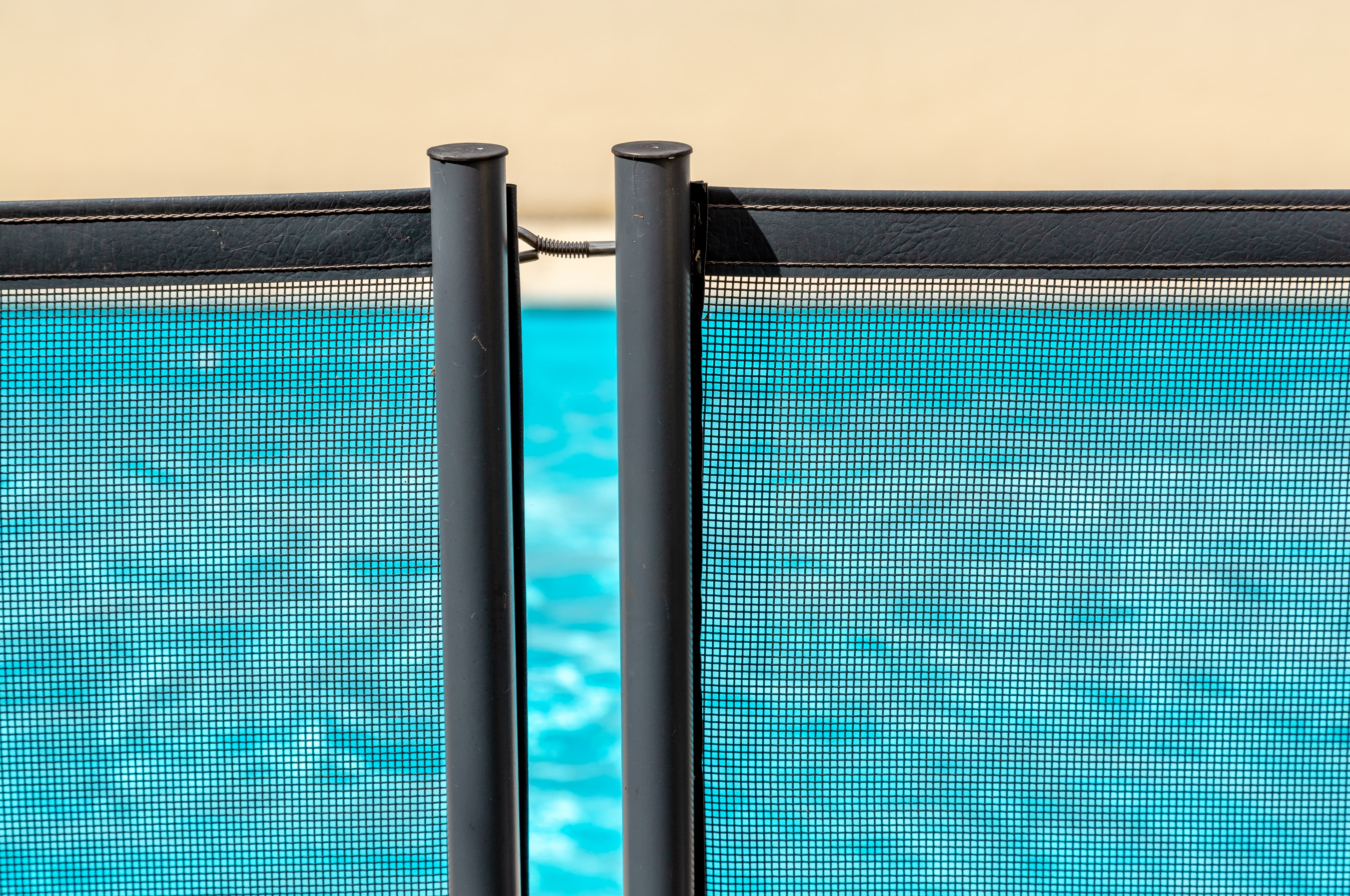 Metal Pool Fence Ideas
Broadly speaking, if you're interested in a metal pool fence, you will likely consider one of three main types: iron, aluminum tube, or tubular steel. In addition to being on the affordable end, they are also very attractive and provide a long-lasting safety barrier.
You will have to stay on top of the upkeep though, especially in regards to preventing rust. If privacy is important to you, you might want to skip over this option.
To give you a rough cost estimate, wrought iron fencing can cost between $30 and $300 per foot, aluminum tube fencing can cost between $12 and $30 per foot, and tubular steel fencing can cost you between $7 and $10 per foot.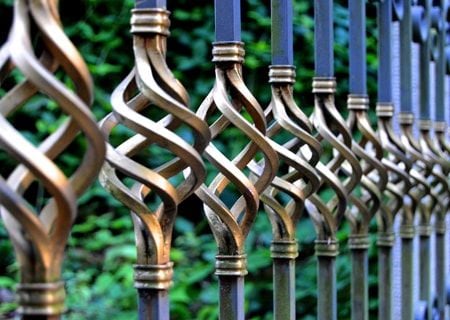 Pool Fence Ideas for Privacy
Stone wall
A stone wall can seriously beautify the space around your pool while offering you full privacy. They complement other natural features as well, like plants and trees, and make great backdrops for pool fountains and waterfalls.
The one thing you may have trouble with is keeping it clean. The rough, porous surface will require a little extra work to keep the dust and dirt off.
You can expect to pay between $9 and $30 per square foot depending on whether you buy stone veneer, natural stone, or other types.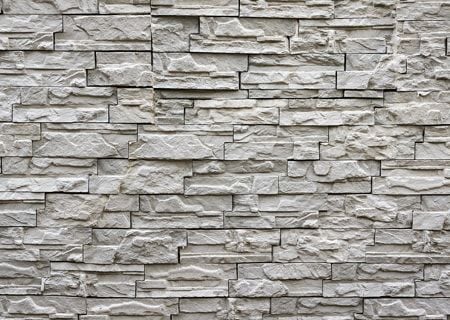 Brick wall
If stone walls aren't your thing, then you might want to consider a brick wall. Again, a solid brick wall offers more privacy around your pool space, and it might be easier to tie into the decor of your home.
If your home is finished in a nice red brick, for example, a matching wall around your pool can really pull the space together. You can also paint the brick to change things up.
A brick wall will cost you between $10 and $30 per square foot, depending on the type of brick. Keep in mind that while brick looks amazing, you'll have limited options when it comes to color and style. The mortar will have to be touched up when it starts to wear out as well.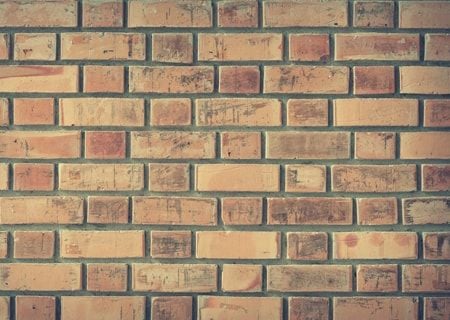 Concrete wall
A solid concrete wall around your pool will offer tons of privacy and should last a lifetime. Many concrete walls are left bare, but there's no need for that. You can paint it, tile it, or even cover it with a mosaic.
If that sounds like too much wall for you, you can break it up by integrating metal fencing or railing throughout.
Concrete block walls are relatively cheap at $6 to $8 per square foot, but you'll also need to leave room in your budget for paint, tile, or whatever you want to finish it with.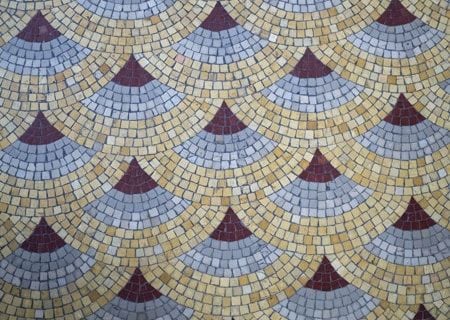 Pool Fence Ideas With Plants
Hedge fence
Provided the hedge is thick enough, it can make a fabulous pool fence. A hedge pool fence can not only keep children and animals safe, but it will also give your home a touch of luxury.
Bear in mind that it will require a lot of maintenance and will need to be trimmed about twice a year. It's also going to take some time for it to thicken to the point of actually qualifying as a fence.
If you buy seedlings, you might be looking at a few years. Even if you buy mature hedges, it's going to take upwards of 6 months for them to fill out. Still, it's worth the wait.
A hedge fence like this can cost you up to $200 per square foot, including labor.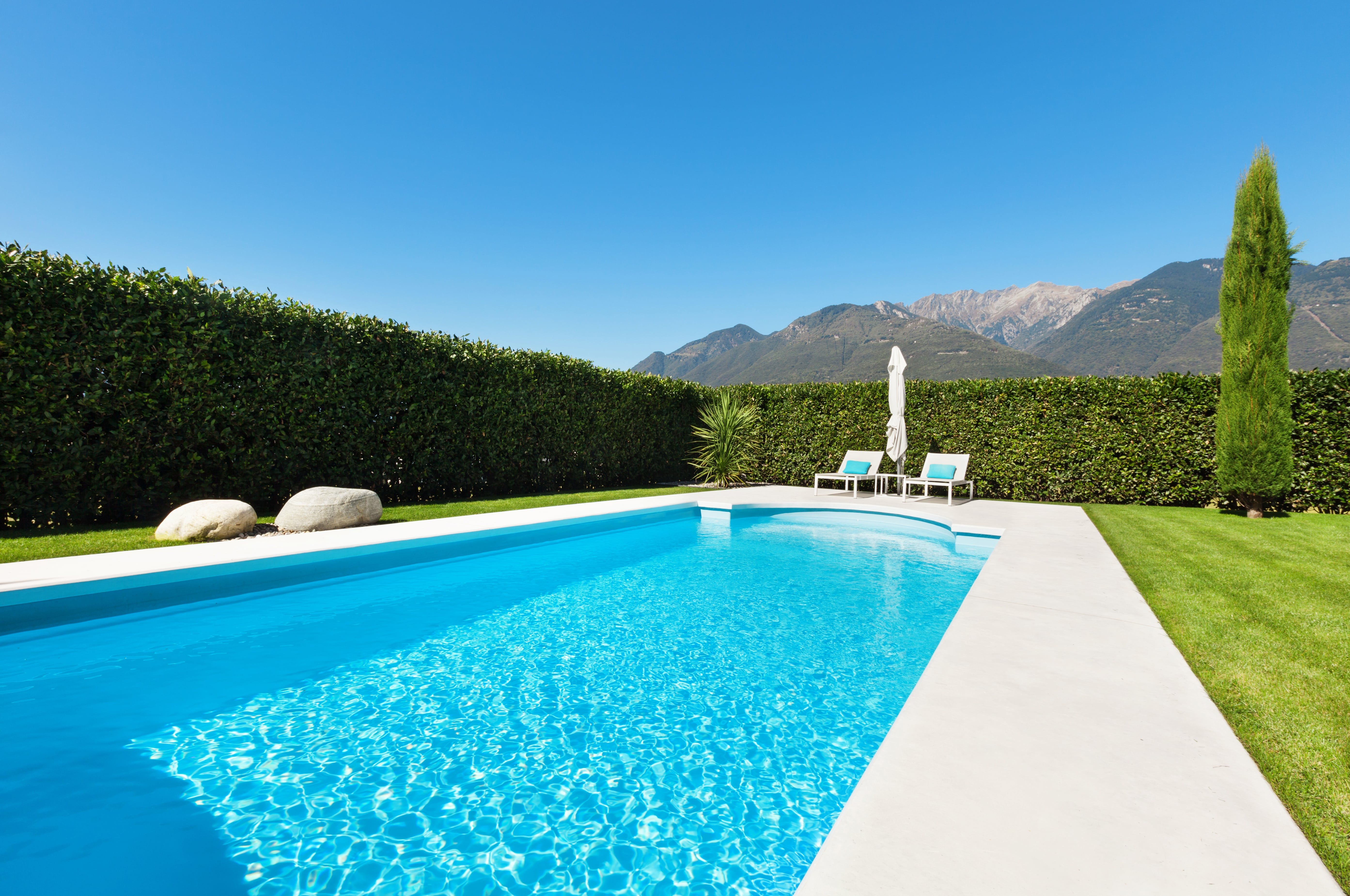 Tree barrier
Trees can also be used to increase the privacy of your pool area. These can be especially useful if you have neighbors at higher elevations who can look down into your yard.
Keep in mind that you're probably still going to need some type of fence around the bottom of your trees in order to meet your local requirements.
For maximum privacy, you should aim for evergreen trees that can be planted close together. For a tropical theme, you can go for palm trees or fruit trees.
Like with hedges, there's going to be additional upkeep to think about, especially for taller trees (they'll likely increase the amount of pool cleaning that you'll have to do, too).
The cost of your trees will vary depending on the type and number of trees that you want to plant, so check with your local plant nursery for a custom estimate.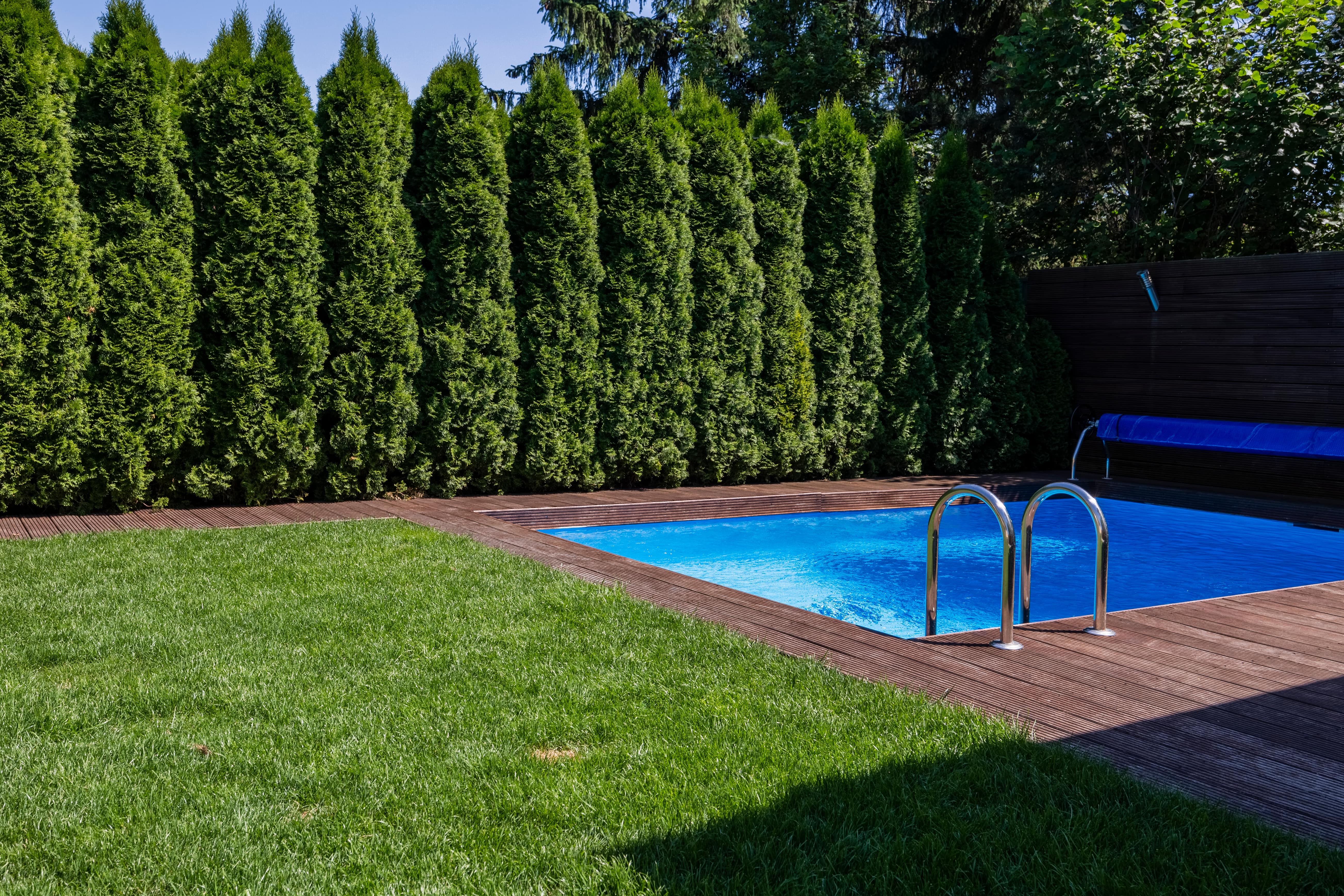 Mix and Match
Who says that you have to use one type of fence all around your pool? Feel free to mix it up so that you can get exactly what you want.
For example, if glass fencing is too expensive, you can use it to border the pool on the side facing your house for an unobstructed view and use a different type of fencing for the rest.
You can also have an accent wall or a privacy wall on one or more sides, or grow a low hedge in front of a fence.
Remember, it's your home and you can customize it however you want.
At River Pools we offer a wide selection of fiberglass pool models to choose from. Why not take a look at our pricing guide today and download our free ebook below to learn more about your swimming pool options?
Up Next:
7 Pool Extras That Won't Break the Budget
What's the Best Small Fiberglass Pool for Your Needs? Costs, Sizes, Features

Shopping for a Fiberglass Pool Shell? 6 Things to Look for
Editor's note: This article was updated on September 8, 2023.