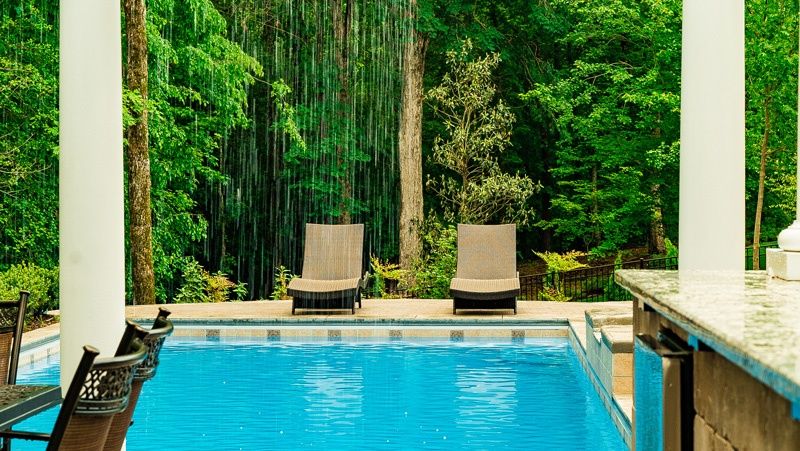 Subscribe
Shopping for a Fiberglass Pool Shell? 6 Things to Look for
If you're a savvy shopper, you probably wouldn't buy a big-ticket item, like a car, trailer, or swimming pool, until you've researched the manufacturer, looked at the specs, explored reviews, and assessed the product's strengths and weaknesses.
For a fiberglass swimming pool, you not only have to research the company that installs the pool, but you also have to research the people who make the fiberglass pool shell (sometimes they are the same, but often they are separate).
There are dozens of fiberglass pool manufacturers in the United States alone, and it's not always easy to sift through your options and choose the right fiberglass pool for you. Since we are experts in fiberglass pool manufacturing and produce some of the top fiberglass pools in the industry, we want to share some of the most important things to look for when shopping around for a fiberglass pool shell.
Even if you don't buy your pool from us, we want to make sure that you have the best swimming pool ownership experience possible. Let's jump into some things that you need to look for.
Does the pool come with a structural and surface warranty?
Here's one word of advice that we want to offer: don't buy a fiberglass pool that doesn't come with any warranties. Speak with the manufacturer directly or check their website to find out what type of warranties they offer on their fiberglass pool shells. They should at least offer a structural warranty, but it's ideal if they offer both a structural and a surface warranty.
At River Pools, we offer a lifetime structural warranty and a 15-year surface warranty on all of our fiberglass pool shells.
Pro tip: Be sure to find out what the warranties cover and always read the fine print before you buy. For example, in most cases, if the pool breaks and needs to be drained, we will drain and brace the pool as well as pay to replace the water. Other manufacturers won't.
Read more: 4 Questions to Ask about a Fiberglass Pool Warranty
Does the pool have a vinyl ester barrier coat?
This isn't something that you can actually see when you look at the pool shell, but it must be included in the manufacturing process. A vinyl ester barrier coat is a watertight layer that prevents tiny water molecules from penetrating the pool shell.
Ultimately, this will keep your pool from developing osmotic blisters (annoying little bubbles that form in the gelcoat). If that fails, look to the manufacturer's warranty. Our surface warranty covers osmotic blisters on the off chance that they still form even with the vinyl ester barrier.
Was the gelcoat applied at the right thickness?
Every fiberglass pool manufacturer has their own opinion on what the right gelcoat thickness is. Some view a thicker gelcoat as stronger and more durable, while others think flexibility is more important. Note: A gelcoat doesn't have to be super thick to be durable.
We think that a gelcoat that's too thick is more prone to cracking during transport and installation. If the gelcoat is too thin, it can lead to blisters. A flexible gelcoat at the right thickness, on the other hand, won't crack as easily when the pool shell moves.
At River Pools, we know from experience that there is an optimum thickness that is both flexible and durable. The ideal gelcoat thickness for a fiberglass pool shell is 25-30 mils, and it's how we apply our gelcoat to our fiberglass pool models.
Was the pool shell built on a level surface?
It's critical for the installation phase that the pool shell is built on a level surface. If the pool is not built level, it's going to be very difficult for the installer to make the pool level when they're putting it in the ground. The longer it takes to get the pool level, the more chances the installer has to damage the pool. Not ideal.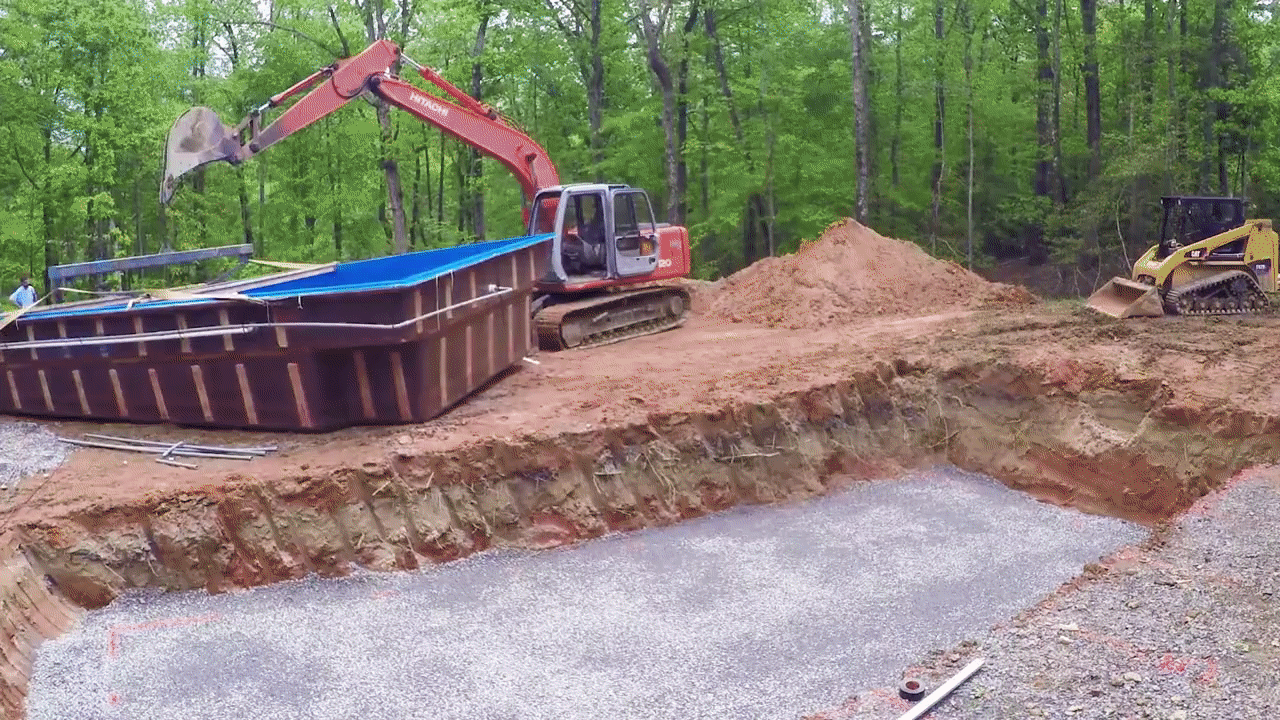 The pool should move as little as possible during the installation. A few adjustments are normal for most installers. Unlevel pools will go through many more adjustments and are at risk of cracking in the process.
Pro tip: the more transparent the manufacturer is about their pool building process, the better. If they hide their building steps or materials from the public, it's usually not a good sign. We walk customers through our manufacturing phases in our many online videos and educational resources. You can get a sense of what good fiberglass pool shell manufacturing looks like by watching our video series below:
Is the pool design right for you?
The design of your pool is hugely important, and it's also where you'll have the most options. Choosing your favorite pool is usually the fun part, but some people might find it overwhelming.
When it comes to choosing a pool design that will meet your needs, you have to think about more than just how the pool looks. As a future pool owner, you'll have to consider the pool's size, depth, shape, and features.
Pro tip: most people don't need as big a pool as they initially think they do. You can save significantly on overall costs by installing a smaller size. (Read about pool prices by size here.)
To help you figure out what you really need from your fiberglass pool, take a few moments to answer the following questions:
Are you mostly buying your pool for exercise, socializing, or relaxing?

Do you have small children or pets that will use the pool?

Do you want a spa? Integrated or separate?

What are your goals in buying the pool?

Do you plan on entertaining often? How many people?

Do you want or need an automatic pool cover?

What are your landscaping and patio plans?
If you mostly want your pool for swimming laps, you'll probably want to maximize the pool space for exercise. For example, this might mean going with a larger model (rather than something like a cocktail pool), choosing a pool design with a swim lane, or skipping the full tanning ledge. If you mostly plan to use it for relaxing and socializing with friends, make sure the pool has plenty of built-in seating and a tanning ledge for in-pool furniture.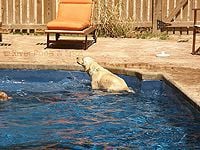 Have small children or pets that will use the pool? You'll definitely want a design that includes at least a small tanning ledge. This allows toddlers and pets space to join the rest of the family in the pool and safely walk around in the water.
A separate spa can be added to any fiberglass pool design, but not all pools will come with the spa integrated into the pool model. Keep in mind that a separate spa can leave more space for swimming, but it can also add to the overall cost of your pool. A separate spa will also take up more total square footage and may not be ideal for small yards. (Read more: What's the Best Small Fiberglass Pool for Your Needs?)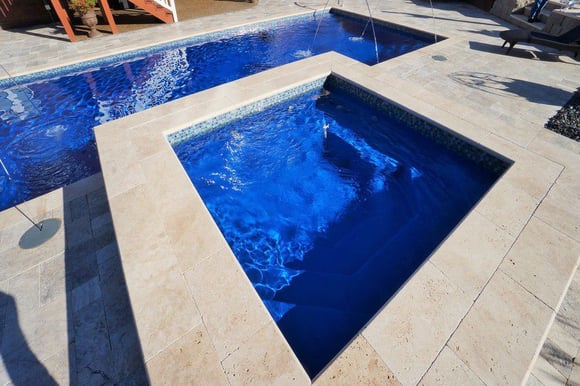 Plan on having lots of pool parties? How many people will you be entertaining? The more people you plan to host in the pool, the bigger your pool should be (for safety reasons and because it's more sanitary). If you think that most of your guests will be on the patio during your gatherings, you can choose a smaller pool model and invest in more patio space. Patio features like fire pits are also great for hosting pool parties.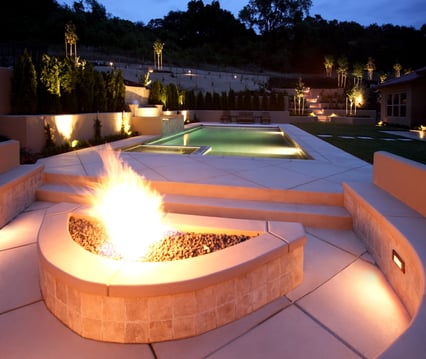 If you want or need an automatic pool cover (some people may be required to have one if their fence is not code-compliant), you might want to choose a rectangular pool design. The automatic cover track is easier to hide on a rectangular pool, and they work better on rectangular pools overall.
Pro tip: skip the salt system if an automatic pool cover is a must for you. Salt quickly corrodes the metal parts in the cover track, and replacing these parts can be difficult and expensive.
Finally, you need to take your landscaping plans into account when choosing your fiberglass pool shell. Do you want palm trees? A pool house? How about an outdoor kitchen? Will the pool size leave room for what you want to plant or build? Make sure to figure these things out in advance.
Is the gelcoat applied as a solid surface?
The gelcoat can be applied to a fiberglass pool shell in a few different ways. One way is spraying on the gelcoat as a solid surface (our method). This includes all of the elements in one formula.
Another way is to apply it in layers (one color coat, one clear coat, etc.). Both look good in the end, but the gelcoat that's applied in different layers is harder to repair in the event that you have a surface problem, like damage from a sharp object, or spider cracking.
If it's not applied as a solid surface, it won't be easy to match the surrounding gelcoat and the repair will be more obvious. With a solid surface gelcoat, repairs are simpler and easier to hide.
If you found this information useful, here's a quick graphic that you can save, pin, or share! (Keep scrolling for a list of questions to ask your fiberglass pool manufacturer.)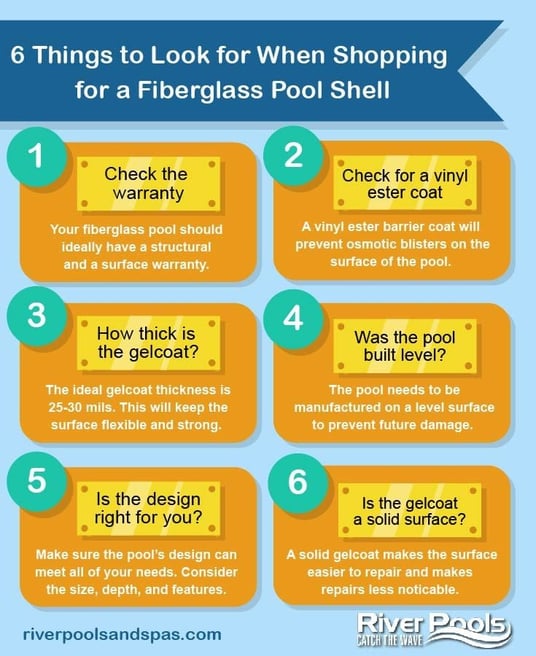 One last thing…
We want to leave you with a handy list of questions to ask your fiberglass pool manufacturer before you buy a fiberglass pool shell. Let us know in the comments if you have any other questions or concerns about the fiberglass pool shopping process, and we will get back to you as soon as possible.
10 Questions to ask your fiberglass pool manufacturer
What kind of warranty do you offer and what does it cover?

Do you offer warranties for both the pool shell and the surface?

Do you include a vinyl ester resin layer in all of your pool shells? What percent of the formula is vinyl ester? (We use a 100% vinyl ester resin formula, but even a blend with just 1% vinyl ester can be called a vinyl ester resin. Find a manufacturer who uses at least 50% vinyl ester in their formula, but more is better.)

How thick is your gelcoat layer?

Are your pools manufactured on a level surface?

How do you apply your gelcoat?

How is the pool shell inspected?

Where does the pool ship from?

Do you add fillers or pigments to your resins? (Fillers save the manufacturers money but deliver a weaker pool shell, and pigments can make it difficult to roll out air bubbles when building the pool.)

Where can I learn more about your manufacturing process? Check it out here.
At River Pools, we manufacture top of the line fiberglass swimming pools for customers across North America. If you're interested in one of our fiberglass pool shells for your home, feel free to take a look at our catalog of models, try out our pool pricing calculator, or explore our video library today. You can also contact us directly for a quote using the button below.
Up Next:
How Much Is My Fiberglass Pool Really Going to Cost?
Fiberglass Swimming Pools 101: Manufacturing, Cost, and More