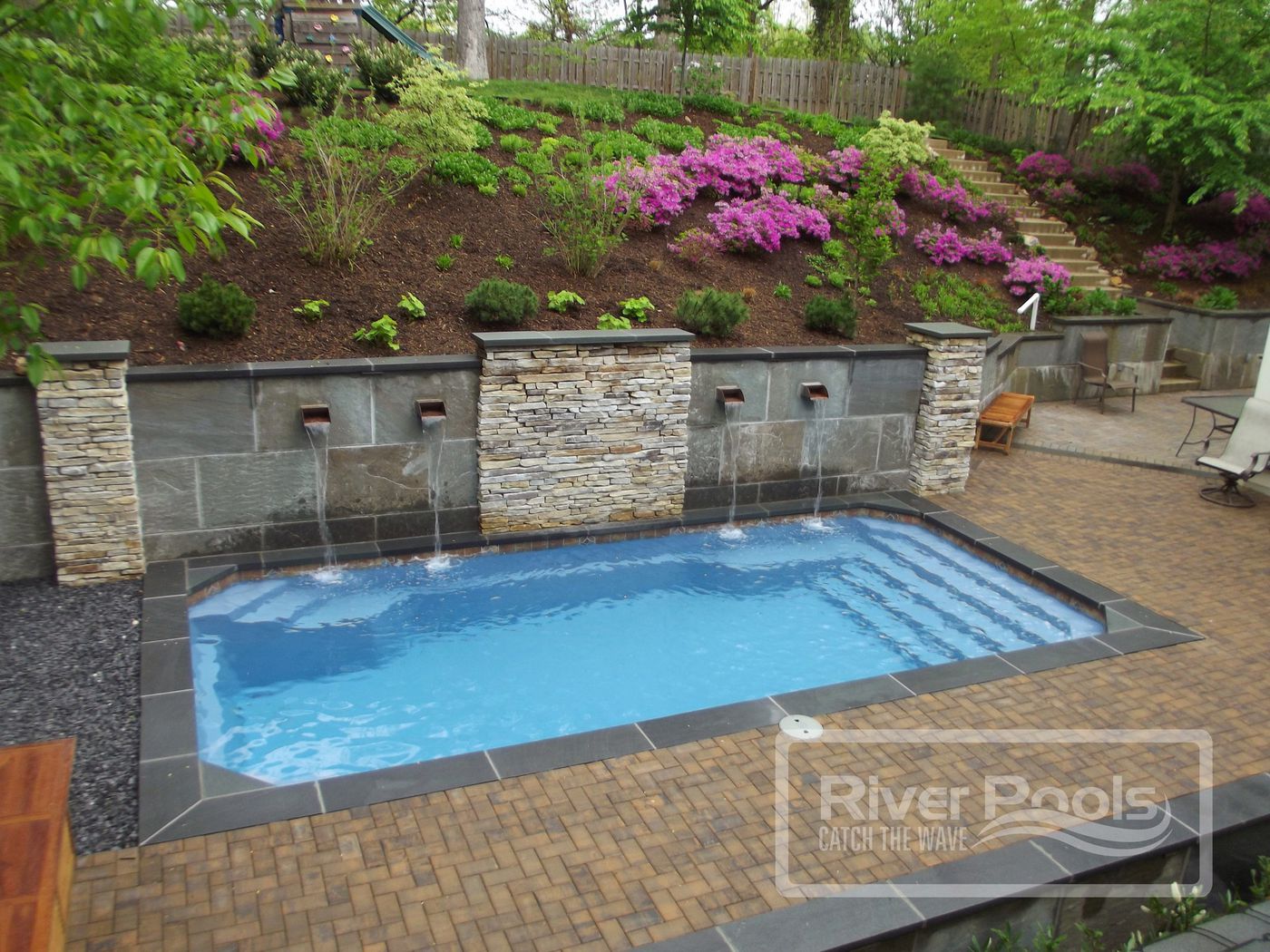 Subscribe
Pool Retaining Walls for Sloped Yards: Cost, Materials, and More
Retaining Walls, Fence, and Landscaping | Swimming Pool Design
Few yards are perfectly flat. (Well, maybe in Ohio, which is so flat I can see Cincinnati from Toledo. But in normal places, no.)
Some yards have only a teeny-tiny grade (2 ft. or less), so pool builders can grade the dirt off the patio to compensate for the difference.
However, not every situation is so simple. When you have a big slope, you need a big solution. How will you keep the water from running onto the pool deck? How will you keep the pool in place?
Enter retaining walls, stage left.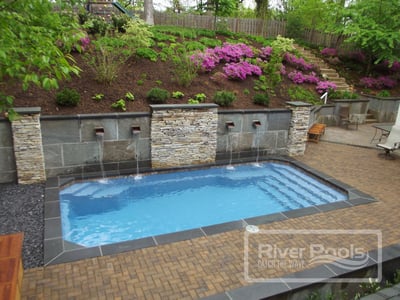 Here at River Pools, we specialize in fiberglass pools—including education about them. We even touch on things outside of the pool itself: the accessories, plumbing, patio, landscaping, and... you guessed it... retaining walls (when part of the design). Whether or not you're getting a pool from us, we're here to share our knowledge so you can make the best decision for you and your family.
Things you should know about retaining walls:
What exactly do you use them for?

How do you design them?

What are they made of?

Can they have water features?

How much does a retaining wall cost?
What exactly do you use a retaining wall for?
The problem: trying to fit a pool into a sloped yard
The solution: a retaining wall designed to meet your needs and beyond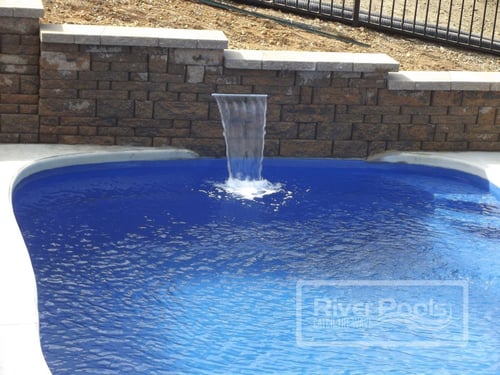 On that slope, you basically have three options for where to set the pool:
at the high point

the low point

somewhere in the middle
Mind-blowing, I know.
Note: as a general rule, the pool must be set high enough that no water runs onto the patio. You may need to include other drainage methods to ensure water runs away from the pool and to the right area.
A retaining wall fills in any blank space on the low end and holds up any soil on the high end.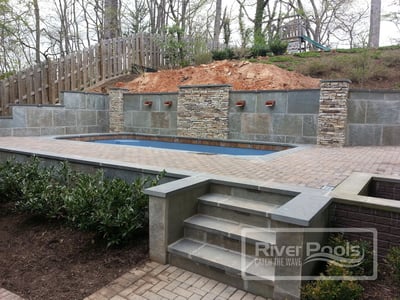 With dramatic declines, the wall is obvious. When there isn't a huge hill, the retaining wall might end up looking like a decorative bench—until you walk around to its other side and see that it holds the patio up higher than the ground. Surprise!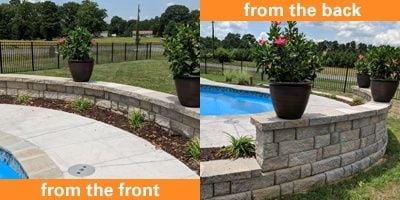 How do you design a retaining wall?
You and your pool designer can work together to create the best design to fit your needs. If the wall is over 2 feet high, you'll need an actual engineer as well. (This height requirement might be different based on where you live, so be sure to check your local codes.)
You can design the wall as an elevated patio, which is always nice.
Another option is to put the wall right on the pool itself. Maybe even with a cascade or two in it! Bonus: you can also use it as a sitting wall if it's 12–24 inches tall.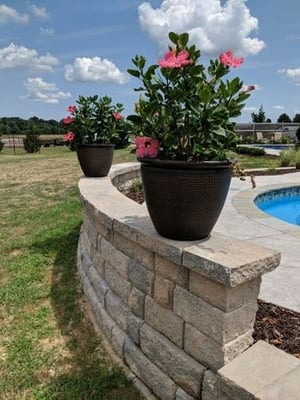 What is a retaining wall made of?
A retaining wall is usually made of either concrete or stone, and falls into one of two categories:
Masonry walls: either poured concrete or concrete block, and faced with another material (often stone)
Segmental retaining walls: pre-cast concrete blocks, dry-stacked together (no mortar)
Many people prefer a segmental block retaining wall because it's attractive and budget-friendly. It's also a good DIY project if you're into that.
Bonus: many color options are available.
How to tell the difference at a glance
Look at the wall and ask yourself, "Does it look like someone stacked some blocks together?"
If yes, it's a segmental wall. We have a segmental retaining wall here at our pool park, actually.
If not, it probably looks like a sheer stone face—maybe you can see that it's different squares or tiles, but they don't look stacked. And that's a masonry wall. Fancy, fancy.
Can a pool retaining wall have water features?
You can totally spruce up a retaining wall! Why leave it there to uselessly take up space like an unemployed friend crashing on your couch?
Cascades are often a feature included in retaining walls. This adds to both the visual aesthetic and the auditory experience. Just close your eyes and listen to the waterfall... Soothing, right? The water falls from a subtle slot, usually under the top layer of stone or concrete block.
Bonus: the wall doesn't have to be big or complex for this to look great.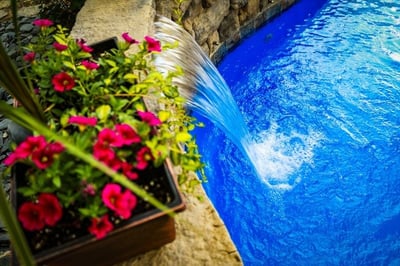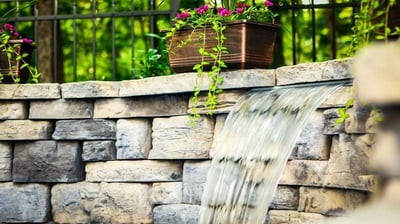 You can also arrange the wall to feature a full natural waterfall, deck jet, or pretty much any other neat-o design.
How much does a retaining wall cost?
Like pretty much anything else, retaining walls cost more for each square foot you add. If staying within budget is your priority, you'll want to keep things lean—as short and slim as you can manage.
If you go for a masonry wall, the type of stone you use on the outside can raise the price dramatically, depending on the type you choose.
The cost of segmental walls is also determined by the size and shape of the block used. You can make it extra attractive by using blocks of multiple different sizes. This will generally increase the overall cost.
On average, pool owners who need a retaining wall will spend $7,000–$20,000 on it.
On the other hand, if you decide to adjust the patio and fill dirt on a slight slope instead of building a whole wall, that costs $1,000–$4,000.
How can I get a retaining wall for my pool?
Working directly with a pool designer/builder to create the backyard pool of your dreams would be a great place to start (including a retaining wall if necessary (or even if you just like how they look!]).
Feel free to check out our linear, freeform, and Roman-end fiberglass pools offered nationwide through independent installers.
Want even more awesome information? If so, read through our comprehensive ebook about fiberglass pools, and get in touch with us to see if this might be the right choice for you. We'd love to help you on your pool journey!
Up Next:
5 Seamless Ways to Integrate a Retaining Wall into Your Pool Project
Editor's note: This article was updated on September 12, 2023.