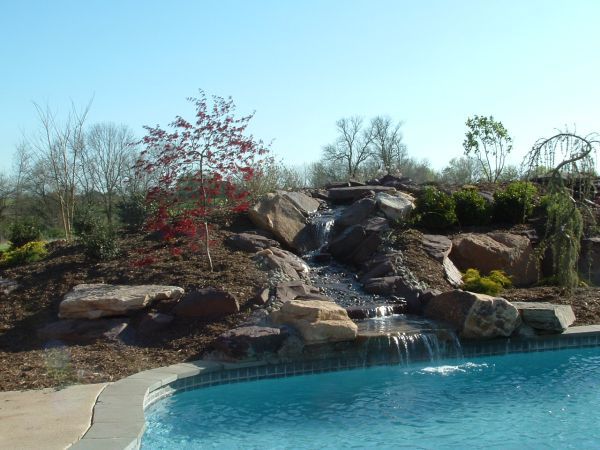 Subscribe
5 Seamless Ways to Integrate a Retaining Wall into Your Pool Project
Installation & Construction | Options and Accessories | Retaining Walls, Fence, and Landscaping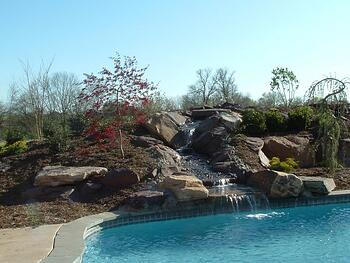 Note from Marcus: This is a guest post from one of the most prominent landscape designers in the Northern Virginia area, David Marciniak of Revolutionary Gardens.
---
Sometimes the hardest thing about building your new swimming pool is creating a flat, level spot for it, along with the patio, to reside. In many cases, your pool builder can accomplish this through grading, but occasionally you'll need to integrate a retaining wall. If you're going to devote a portion of your budget to a retaining wall, it needs to earn its keep. Here are a few key design tricks I use when I'm designing a pool and walls are needed.
1. Keep the walls low
In most municipalities, any wall 5 feet tall or higher requires an engineer's seal to be submitted with the permit application. Engineers are smart people, and they get paid accordingly. By keeping walls under five feet tall, you can often use your county's typical wall detail tables. Just as important, shorter walls help the space feel more open. Ever see a swimming pool in a racquetball court? Exactly. (Note: Don't go thinking you can build a three foot tall wall, step back a foot and build another three foot wall and avoid the engineer for a six foot grade change, however. If there's not enough distance between the walls, the forces act on them like they're one wall. No cheating!)
2. Make the walls part of the living space
The ideal height for a seat wall is between 18 and 22 inches. If you have to make up 18-24 inches of grade to make the pool happen, why not build in a patio surrounded by a seat wall? Guess what? You have a pool – you are now the social hub of your friends. A nice, comfortable seat wall provides plenty of extra seating without having to contend with dozens of lawn chairs.

3. Use the walls to make a splash – literally
If you have a significant height difference between parts of your yard, why not use that elevation change for a waterfall? If you need a retaining wall anyhow, plumbing it for a sheer descent or even a natural stream bed doesn't add much more to the overall cost. It's a great way to turn a liability into an asset.
4. Make it stand out
If you have to have a wall, why make it boring? I've worked with clients who have had murals painted on their retaining walls, created tile mosaics on their walls, even trained fruit trees to cover the walls. Functional doesn't have to mean boring.
5. Make it blend in
On the other hand, maybe your yard calls for a more integrated approach and a wall is just a wall. Make the wall a harmonious part of the design. If your pool deck is exposed aggregate concrete, use a rough face wall block that pulls the tan and gray colors from the concrete. A flagstone pool deck is set off by a natural stone wall with a flagstone cap.
The most important key to a retaining wall, of course, is to make it safe. Always start by following local codes and construction standards and then figure out how to make it beautiful. With a little creativity and planning, you can have an amazing backyard.
Have further questions? If so, don't hesitate to leave your thoughts below or just contact Dave directly at Revolutionary Gardens.
At River Pools, we manufacture fiberglass swimming pools for customers across North America. If you're interested in getting a fiberglass pool for your home, you can take a look at our catalog of models, try out our pool pricing calculator, or request custom pricing using the button below.
You can also download our free ebook to learn more about fiberglass pools before you buy. Happy swimming!
Up Next:
Pool Retaining Walls for Sloped Yards: Cost, Materials, and More
What Is a Semi Inground Pool? A Review of Cost, Problems, and More
What is an Above Ground Concrete Pool? Cost, Construction, Problems